The Magic of Chutney Podis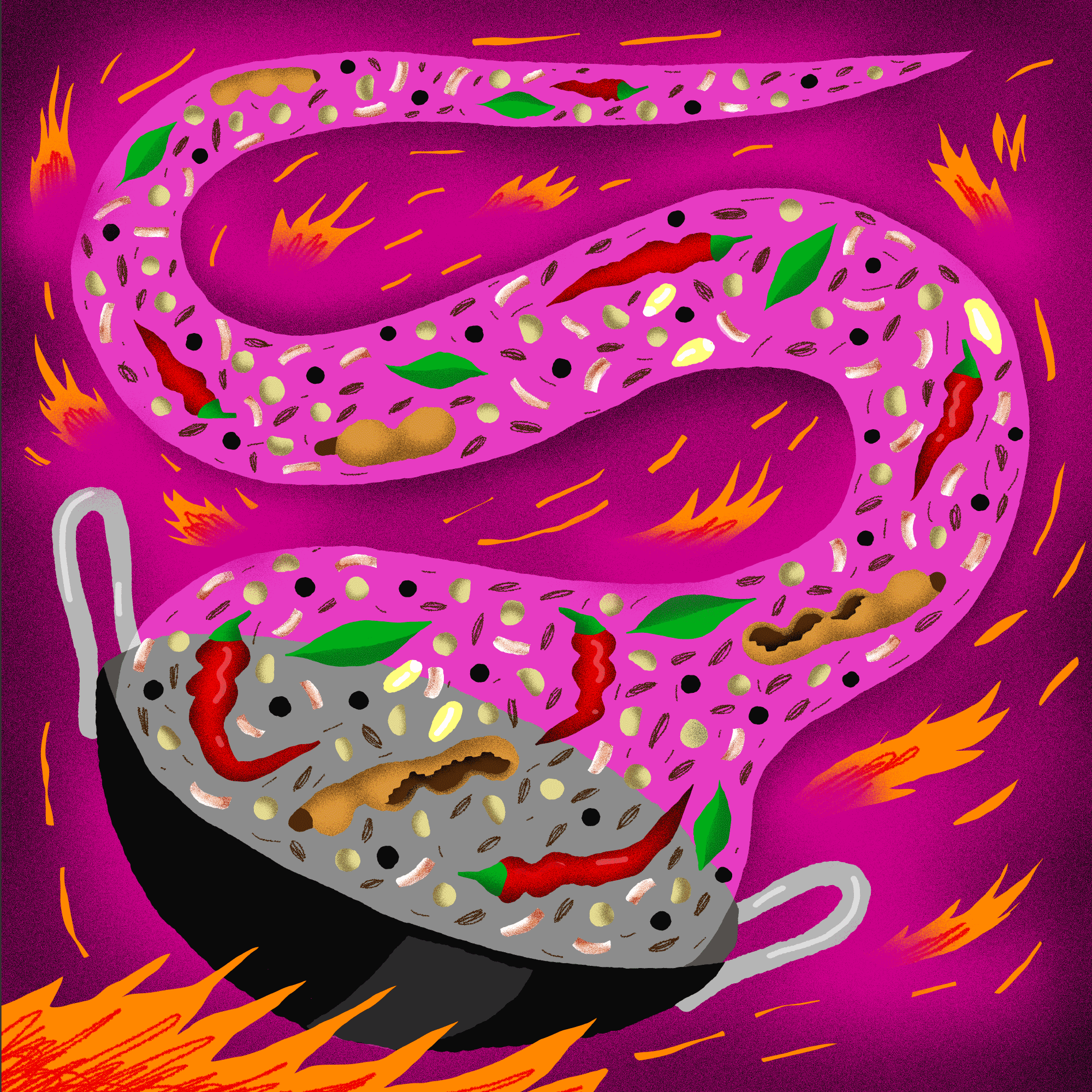 Indian chutney powders bring heat, texture, and aromatics to both Eastern and Western dishes.   
A year ago, I packed my bags and moved from sunny Bangalore—a city in southern India—to frosty Stuttgart, Germany. Naturally, I stuffed my suitcase with South Indian chutney podis, or powders, bringing tamarind's delightful tartness, the robustness of whole peppercorns, and the acerbic heat of red chiles along with me. They were what I needed to provide bursts of flavor—and a reminder of home—when I grew tired of cheesy spätzle and maultaschen.
Chutney podis are ingenious condiments, perking up any meal with a blast of aromatic spices. They are also a regional culinary curiosity, constantly experimented with and mostly found in India's southern states, where rice is the prominent staple. Their steel storage containers—a set is called a masala dabba—are present in every South Indian kitchen and are perhaps proof of their enduring appeal.
Archana Pidathala, author of Five Morsels of Love, a South Indian heritage cookbook focusing on the states of Andhra and Telangana, contemplated why chutney powders dominate the South Indian dining table. To her, the region's preference of rice lends itself better to mix with chutney podis and ghee rather than flatbreads, more common in the North.
Pidathala's late grandmother would often begin her meal by feeding her a morsel or two of steamed rice mixed with a chutney powder so potent it's known as Andhra gunpowder. A dry-roasted blend of lentils, dried red chiles, cumin seeds, dried coconut, and garlic, the gunpowder is worked into a paste with a tablespoon or two of ghee before being mixed with piping-hot rice.
I grew up watching my mother make chammandi podi. She roasted lentils with whole peppercorns and red chiles until fragrant and added grated coconut, curry leaves, and a pinch of tamarind flesh to the mix. After it turns golden brown, the mixture is cooled and ground coarsely. She often coughed and sneezed as the acridity of the roasting spices infuriated her sinuses, but she relentlessly soldiered on until she tamed the heat of the spices and contained their flavors in a jar, only to unleash them later during our meals.
Now I have my own collection of chutney podis, albeit in glass jars instead of a masala dabba. What's inside each jar is so much more than another store-bought spice blend. Whether it's Keralan chemmeen chammandhi podi, made with dried shrimp and roasted coconut, or the fiber-laden goodness of flax seed chutney podi from Karnataka, each podi has a distinct personality from its own state. And when I'm looking for heat, I of course turn to fiery Andhra gunpowder. All of these podis are satisfying in their own right and evoke nostalgia along the way.
For me, podis have far exceeded the boundaries of South Indian cuisine. Their piquancy and grainy texture bode well for cross-cultural experimentation, fit for dips and spreads. Sometimes my partner and I mash a podi into butter to make a quick and easy spiced spread for a thick slice of German bread. The chutney podi butter is essentially a gussied-up garlic butter, acting as a creamy carrier for the coarse, pungent podi. Or we spoon it into bowls of hummus for an added kick. One morning, my partner added a spoonful of Andhra gunpowder on top of avocado toast. The combination nearly made me choke on my coffee, but he swore by it.
Still, I prefer podis the traditional way, with steaming hot rice. Spoons of these culinary soldiers carry me through a dull day. I take comfort in the knowledge that my supply of chutney podis, resting in my fridge, has the power to elevate even the most mundane meal. What I mix it with will solely be dependent on how imaginative I feel on any particular day.
In this nook of Germany, where sausages and sauerkraut dominate the supermarket shelves, a meal with chutney powder is there to remind me of what I have left behind–an astonishing bounty of spices, ground and roasted and fried, enriching each meal and providing a taste of home.