The Lure of Leisure at America's Japanese All-Day Cafés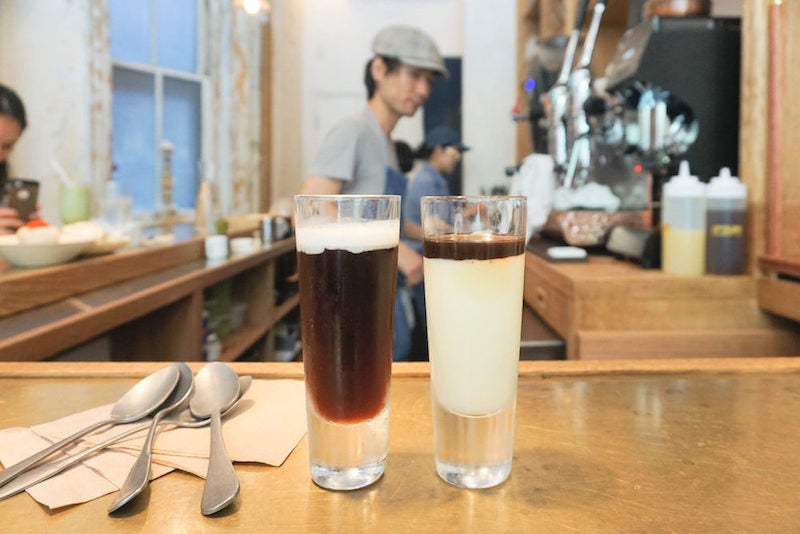 Inspired by kissatens, these American interpretations have the same focus on simpler and slower times.
If there's a green goddess grain bowl or honey-mascarpone-fig toast available on the menu, and at any hour of the day, you're likely sitting at an all-day café. The pastel ceramic mug you're sipping your almond milk latte out of is probably from a local pottery studio, and you're likely battling for electrical outlets with other freelancers eating breakfast food at the crack of 3:30 p.m.
All-day cafés encompass an identity somewhere at the crossroads between an indie design store, trendy New American restaurant, and WeWork. But for a small group of Japanese all-day cafés in California and New York, the all-day café is something completely different. Instead, this new style of café seeks to pay homage to Japan's simple, comforting food and casual, understated approach to dining. Its unpretentious nature reflects a whole greater than the sum of its parts.
A common thread between the inspiration behind these cafés lies in Japan's kissatens. These traditionally noncorporate tea and coffee shops predate trendy third-wave roasters and cut-and-paste coffee chains. Embodying a post-WWII, 1960s nostalgia that cannot be replicated, kissatens often served as a space for listening to jazz records while a coffee master donning a bowtie meticulously brewed coffee. Forgoing modern espresso machines, owners opted for hand drip and siphon methods to have complete control over their craft. They're old-school without contrived "vintage" elements (a kitschy payphone for display or manufactured retro signage from Pier 1), akin to America's rail-car-style diners adorned with their original neon lights and checkered floors. Along with coffee, these mom-and-pop shops serve yōshoku (Western-style cuisine adapted for Japanese tastes) such as ketchup spaghetti and curry rice, often associated with homey comfort foods.
Yudai Kanayama, who owns Davelle, a Japanese all-day café in New York City, describes kissatens with nostalgia. "They were casual spots for studying and hanging out with friends over a cup of coffee for a while, having a smoke, or chatting up the coffee master behind the counter. There wasn't any Wi-Fi there, so we spent a lot of time talking. Not to the computer, but to each other," he says. After realizing this kind of ambience was lacking in New York, he opened Davelle in March.
Davelle's homey atmosphere invites you to linger. Making the most of its tiny space, minimalist, rustic touches are a mere backdrop. Instead, the lull of quiet conversations and fleeting aroma of warm curry rice are the focal point that initially draws you in, but ultimately welcomes you to stay.
After speaking with Yudai, it seemingly came together. He tells me choosing the name Davelle was loosely inspired by the Japanese word "daberu," which he translates to talking a lot with friends. He goes on to say, "In the dictionary, the definition actually includes 'at the kissaten,' so I thought it was perfect." Looking at everyone there, they were all partaking in daberu.
Yudai has introduced a small selection of comfort food dishes like pork curry—forgoing the usual process that uses premade bricks of curry roux and created with the help of a curry consultant, and for breakfast, ogura toast—a thick slab of milk bread spread with sweet red bean paste.
But as idyllic as this leisurely approach to dining may sound, it's not always realistic. In cities like New York, there's just not enough room most of the time. At Hi Collar, an East Village kissaten by day, sake bar by night, there are only 13 seats at the bar. They specialize in Japanese comfort classics like mentaiko spaghetti, fluffy hotcakes, and coffee sourced from small-batch roasters. Yuki Izumi, Hi Collar's barista, breaks out a Bunsen burner to brew coffee with a siphon bulb and recommends coffee beans with the detail of a sommelier.
Every weekend, lines commanding 30- to 45-minute waits still manage to attract customers hungry for omurice (a mound of ketchup rice blanketed with a softly cooked omelet and demi-glace) and snack-sized katsu sandwiches (juicy fried pork cutlets with crustless white bread). One recent Wednesday at 3pm, there were plenty of openings at the bar and I could actually get a few words in with Yuki after she made my usual siphon coffee order. Long lines have definitely changed the spirit of Hi Collar's original intention, but she still sees plenty of regulars, who know to come at calmer times during the week or after the weekend lunch rush so they can enjoy her specialty coffee at their own leisure. In light of their growing demand to serve more customers, they still don't cut corners despite labor-intensive brewing techniques. "It changed a lot since we've opened," she says. "In the beginning, we were more known for our coffee. Then someone found out about omurice, and the game changed. So we're a little more restaurant-oriented. But I'm adapting."
On the West Coast, forthcoming daytime restaurant Konbi in Los Angeles similarly reflects the laid-back nature of kissatens in a small space. Upholding simple yet substantial characteristics, co-owners Akira Akuto and Nick Montgomery also drew inspiration from Japan's widely revered conbini (convenience store) snacks like onigiri and katsu sandwiches. They tell me one of their main goals is to create a place that fostered a work-life balance, with no workspace (or Wi-Fi) to fit at their eight-seat counter. Instead, diners can rifle through Konbi's handpicked supply of daily newspapers and magazines. There's no official menu yet (they will be opening this summer), but they hint that the offerings will include conbini favorites like tamago sandos (pillowy eggs sandwiched between spongy slices of white bread) and katsu sandos. Once open, Akira and Nick tell me they hope that Konbi will become "a meeting point for the community and a place one goes to leave happier than when they arrived."
What makes a Japanese all-day café special is offering more than just a menu with matcha and bowls of rice. And it's not a simple matter of longer business hours, either. Ideally, it feels like home with its comfort and dependability, from the familiar face at the coffee counter who knows your routine order to the trusty plate of mentaiko spaghetti that always hits the spot when you dine solo to the go-to nook where you grab drinks at 4 p.m. and stick around until the menu transitions to dinner. It's hard to pinpoint and put into words, because it's about how you feel when you're there.