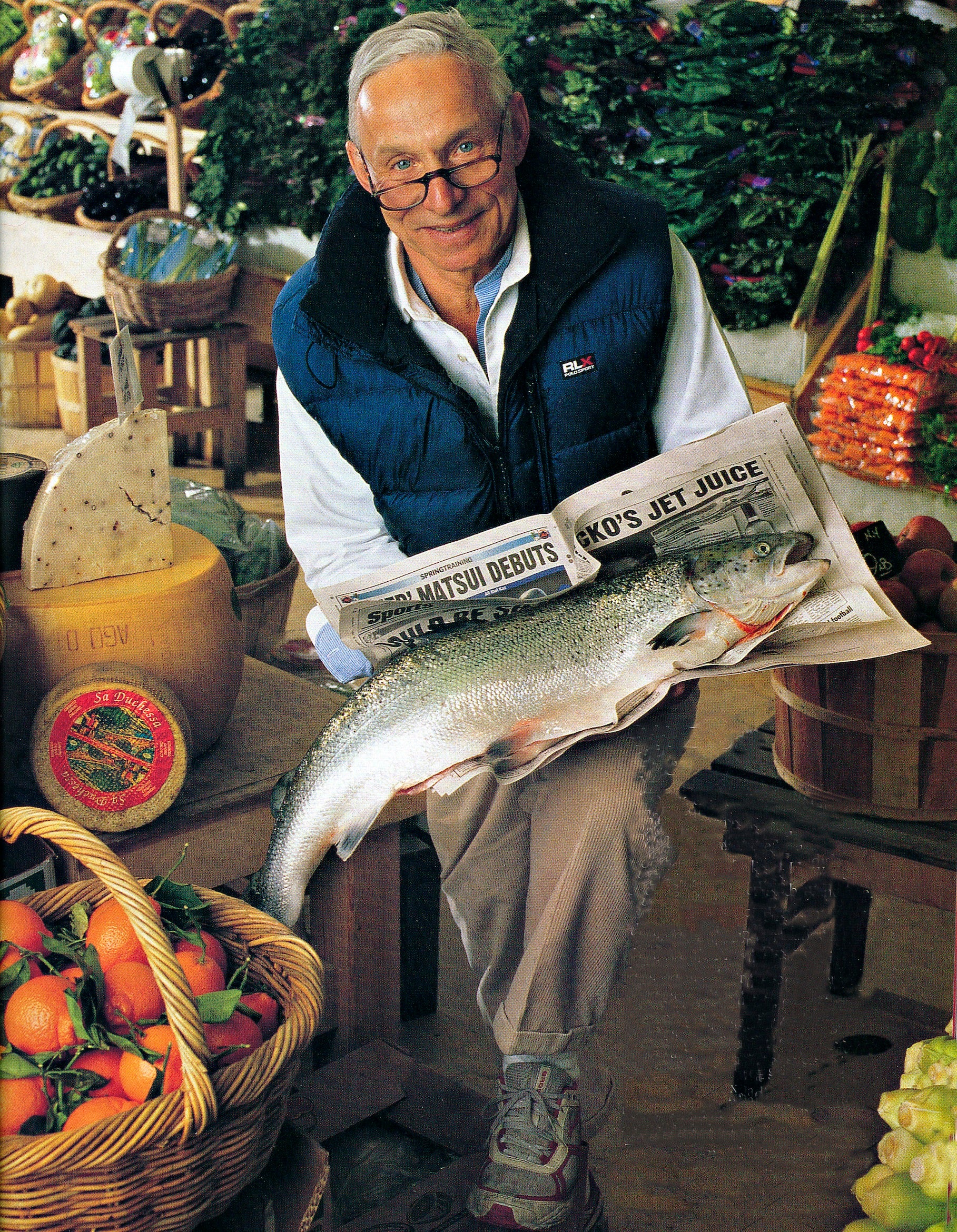 For nearly 50 years, Eli Zabar has run a pioneering bakery and grocer on New York's Upper East Side. And no, he doesn't care what you think about the $29 ham and cheese sandwich.
Eli Zabar has some beautiful tomatoes. Lush and disfigured, just like God intended. He's required to use both his hands to hold the Zapotec Pink Ribbed heirloom that he presents to me as a gift, plucked from the section of his namesake store on Third Avenue on the east side of 80th Street. Then we walk over to the olive oil. He says I need a really good bottle to go with this perfect tomato, which he has personally grown on a nearby rooftop because he got obsessed with having exceptional ones. He picks up a bottle with a red string tied around the top. There's an illustration of a Tuscan house in gold, and below it, the words "II Palagio" and the names Trudie and…does that say "Sting"? Is this Sting's olive oil? 
"He's a customer," Zabar tells me as he hands me Sting's olive oil and tells me to put it in my bag. "It's perfect with that tomato."
I respect Zabar's quest for a great tomato. At age 80, he's obviously wealthy. How much money does he have? I don't know. But he has amassed plenty of real estate on the Upper East Side and around Manhattan, as well as more than a dozen shops, a wine store, and a beer bar in the Eli empire, so that should tell you he's doing well. Wealthy people today want to score a ride on Elon Musk's rocket ship, or dress in the most expensive, boring, "stealth wealth" fits, à la members of the Roy family from Succession. Eli Zabar, meanwhile, just wants people to be able to have a nice tomato any time of the year. He grows Big Beef ones and bicolor Mr. Stripeys, green Big Zebra tomatoes, and lush yellow Pineapple Pigs. 
Zabar is, of course, a Zabar. Everybody knows Zabar's, the Upper West Side smoked-fish-and-fine-cheese, Nora Ephron–adjacent food emporium. But Eli Zabar, the youngest son of founders Louis and Lillian Zabar, has been doing his own thing for 50 years now on the other side of Central Park. "I've turned this little part of the Upper East Side into my shtetl," he jokes as we sit down at Eli's Table, his restaurant that sits next door to his flagship market on Third Avenue. 
In 2023 terms, Zabar is a food world nepo baby. Though, to be fair, striking out on his own as a twentysomething child of a locally successful immigrant grocer in the early 1970s is a little different than, say, Brooklyn Beckham deciding he wants to be a professional chef. This wasn't an era when venture capitalists were throwing cash at people to open businesses, and banks weren't interested in loaning money to people looking to open up shop in a city that was famously falling apart at the time. Zabar was thinking big, but he had to be smart and thrifty about the way he did it. In her book about the family's history, the late Lori Zabar writes of the early days of Eli's gourmet grocer and café, E.A.T. She says that her uncle, mimicking one of the luxury stores on Fifth Avenue, "took the Gucci approach" to his new venture, opening a "hushed temple of highly expensive, curated fare." He needed help, though, so Lori took a job as a salesperson. Lori writes about one instance of just how obsessive and different the East Side Zabar shop was from Zabar's on the West Side, one customer asked for Jarlsberg, and Eli shouted that he didn't carry it—"because it's a terrible cheese, and I refuse to sell it." 
The history of modern New York is full of famous food cranks. From the late Kenny Shopsin to the "Soup Nazi," they're a special part of the landscape. There's something about people like them that appeals to the masochistic side of most locals, but there's also usually a reason they're the way they are. "I've been finding myself through food and building a philosophy," Zabar says, suggesting we start our meal with a glass of Chenin Blanc. But before the wine arrives, the thing that started it all for Zabar hits the table: the bread. When he was that twentysomething schlepping around France, England, and wherever else he was traveling, he found himself drawn to the bakeries—and the way the bread looked and tasted like nothing he could find back in New York at the time. "So I said, fuck it, I'll learn how to bake myself." 
He walks me over to a fresh Parisian loaf, the kind that's ubiquitous now, with its almost shell-like crust. But in the 1970s, it wasn't the sort of bread most Americans were used to. That is, it wasn't white, and it wasn't sliced by a machine, packaged in a plastic bag that said "Wonder" on it. Zabar's bread has a sour taste to it, and it's dense. His bread is the forefather of a million avocado toasts. It's the sort of bread that, after you take one bite, you start to get mad about all the bad breads you've digested.  
Zabar taught himself to bake bread the way he saw people in Europe making it. The only problem was that he wasn't actually in Europe most of the time, and in the early 1970s, there weren't food blogs or TikTok bakers talking about the poor quality of flour in America—mass-produced garbage "that doesn't have any flavor to it," an assertion Zabar still believes is true today. So he came up with an idea. "I figured I'd bake the bread at a very high temperature in order to caramelize the top, but people told me nobody would want burnt bread." Enter the bien cuit. 
In 2023 terms, Zabar is a food world nepo baby.
Well-done bread wasn't a thing you saw a lot when Zabar started baking. Just like many Americans' taste buds have slowly evolved through trendy gateways—sriracha for spice or kale for bitterness—Zabar was at the forefront of showing Americans you could make bread with a hard outside and a firm but moist inside. Try going to any hot brunch spot in the United States tomorrow, and you likely won't find anything else. Whether or not that's all Zabar's doing is hard to say, but he certainly had a hand in popularizing it. 
The naysayers were wrong, and in 1973, Eli opened E.A.T. at 1064 Madison Avenue. I wasn't alive back then, but I know plenty of New Yorkers who were, and more than a few of them tell me E.A.T. was the start of the sea change in how the city obsessed over food. The original Zabar's had its foot in the old world of Eastern Europe, with its smoked fish and everything bagels that had become part of the city's Jewish food culture; Eli Zabar, on the other hand, leaned more on the simple pleasures of rustic and delicious foods from the western side of Europe: cheese that he personally sourced from France, foie gras that Jackie O. served at parties, and cured meats from Emilia-Romagna. 
But the bread was the center of everything. These days, you can't go more than a few blocks without finding a place selling a righteous pain au chocolat or kouign-amann—half the time sourced from Balthazar Bakery—but Zabar claims to be the first person in New York to bake and sell his own simply because he didn't like the ones he found in bakeries. 
Within a decade of opening his first store, Zabar was being called the "maverick youngest brother" of his clan, and he was at the center of what Anthony Haden-Guest called New York's "new food culture" in a 1982 New York profile. That article placed E.A.T. alongside staples of the emerging 1980s yuppie Manhattanite culture, including Dean & DeLuca, DDL Foodshow, and Balducci's.
He was doing his own thing. He was a Zabar, but he wasn't Zabar's. New Yorkers have spent years reading about what seems like a lukewarm relationship between the Zabars of the East Side and the ones who continue the tradition on the West Side. When I bring up the iconic store that bears his family name, Zabar has kind things to say about it and about his family members who still run the landmark. Thirty years ago, a New York Times article described how Zabar, with his "bad-boy image," had succeeded in making his own name, detailing how he quit the family business after they wouldn't make him a partner. In that article, his eldest brother Saul said there was no jealousy and that he thought Eli "made the right choice." When I ask Zabar if he still crosses the park to shop in the store he grew up in, he gives a slight shrug and isn't exactly effusive with his answer. "It's a nice store. They do a good job."
Zabar was critical of the competition, calling the flagship restaurant, Pasta & Cheese, a "thin concept" and describing DDL Foodshow as "a tenth-rate film producer opens a tenth-rate food show"—a reference to owner Dino De Laurentiis, whose company produced such films as Serpico, Blue Velvet, and Army of Darkness. (The guy had some misses, but he wasn't exactly tenth-rate.) Still, Zabar was onto something. All those places are gone, and he remains. Of course, it costs money to make money—that is, Zabar's prices aren't low. This past spring, a ham and cheese sandwich at E.A.T. was spotted selling for $29. Was there anything exceptional about the sandwich? Chris Crowley at Grub Street tried it and said it was "nothing special," and the New York Post called it a "rip-off." Zabar missed a lot of the hubbub. He's blissfully not an online guy. "No social media, and I don't think I've ever ordered anything online." 
Zabar's success can be attributed to smart business decisions (people on the Upper East Side will still pay $29 for a ham and cheese sandwich, no matter how easy it might be to make jokes about it) and the fact that he's remained obsessed with everything he sells. But there's another reason, and it can be understood through the collection of some 60,000 bottles of wine he has in his cellar. He enjoys it, and he wants people that come to his place to enjoy themselves. 
"Every bottle of wine I have here, with a couple of exceptions, comes directly from the domaine," he says, referring to the producer—a costly and labor-intensive conceit. Going to France and making relationships with winemakers is something he's been doing for a few decades now, and the Bible-size book of bottles that Zabar offers is something that he's fixated on letting grow up. "I have ideas about the way things should be, and the thing that interests me about wine is that people drink their wines too young. They don't let them mature enough to let the flavors come through, and they don't get what the winemaker thought or what God wanted the wines to taste like."
He mentions that he hardly leaves his neighborhood, let alone visiting the trendy wine bars of Brooklyn or the Lower East Side, but he knows that wine has been having a moment. He knows they've learned about different grape varietals below 14th Street. But he's trying to stay the course, the way he always has, making sure the name of the game is quality wine, even the stuff that's sold by the glass. He looks at the list and notes that the single glass offerings for that week come from 2009, 2010, and 2017; then he notices a '94 and a '97.
"I said, fuck it, I'll learn how to bake myself."
I look over the list. It's almost 50 pages, and almost all the wines are from France, Italy, and Spain, broken up by regions, with about half a page dedicated to whites and another to reds from places like Portugal, Greece, and Slovenia. I notice there aren't many of the trendy, organic, funky, biodynamic wines I've grown used to seeing in Brooklyn and Lower Manhattan. There is one orange wine, usually available by the glass, but it has to be one Zabar likes and not one they serve just to please the 25-year-old coming uptown from Bushwick to eat with his parents. "It's a wave," he says of things like pét-nat and the seemingly endless river of bad rosé that people will chug like water. "This is so much bigger than that," he says as he taps his wine book.  
But the main reason Zabar has been able to find sustained success for five decades is that he stuck to a neighborhood—and it ultimately stuck with him. As we sit and talk, munching on the last of the season's French white asparagus in a tangy mustard vinaigrette and soft-shell crabs from Maryland, a woman comes over to talk with him, showing off an impressive brooch that looks like it could have been worn by somebody at one of Gertrude Stein's Parisian salons. Zabar tells me she's a famous patron of the arts. A few minutes later, the owner of a well-known film studio walks over to pay his respects. 
Zabar's trick, while everybody else expanded to other boroughs or cities, was staying put in his little area. "The rest of the Zabar family lived between 80th and 90th Streets on the West Side. I went east, and I expanded. I go [from] 73rd to 92nd." Just as he says that, a woman who looks like the matriarch of some long-established Upper West Side WASP clan comes over to say hello. She's got a mane of beautiful white hair, big round glasses with tinted lenses, and two strands of gigantic pearls flowing around her neck. She looks at me and says, "You're dining with the king of the Upper East Side," and she gives Zabar a hug. As she walks away, Zabar looks at me and gives a small smile, but he seems a little embarrassed. "It's nice people remember who I am," he says.