Love at the Crispy Bottom of the Pot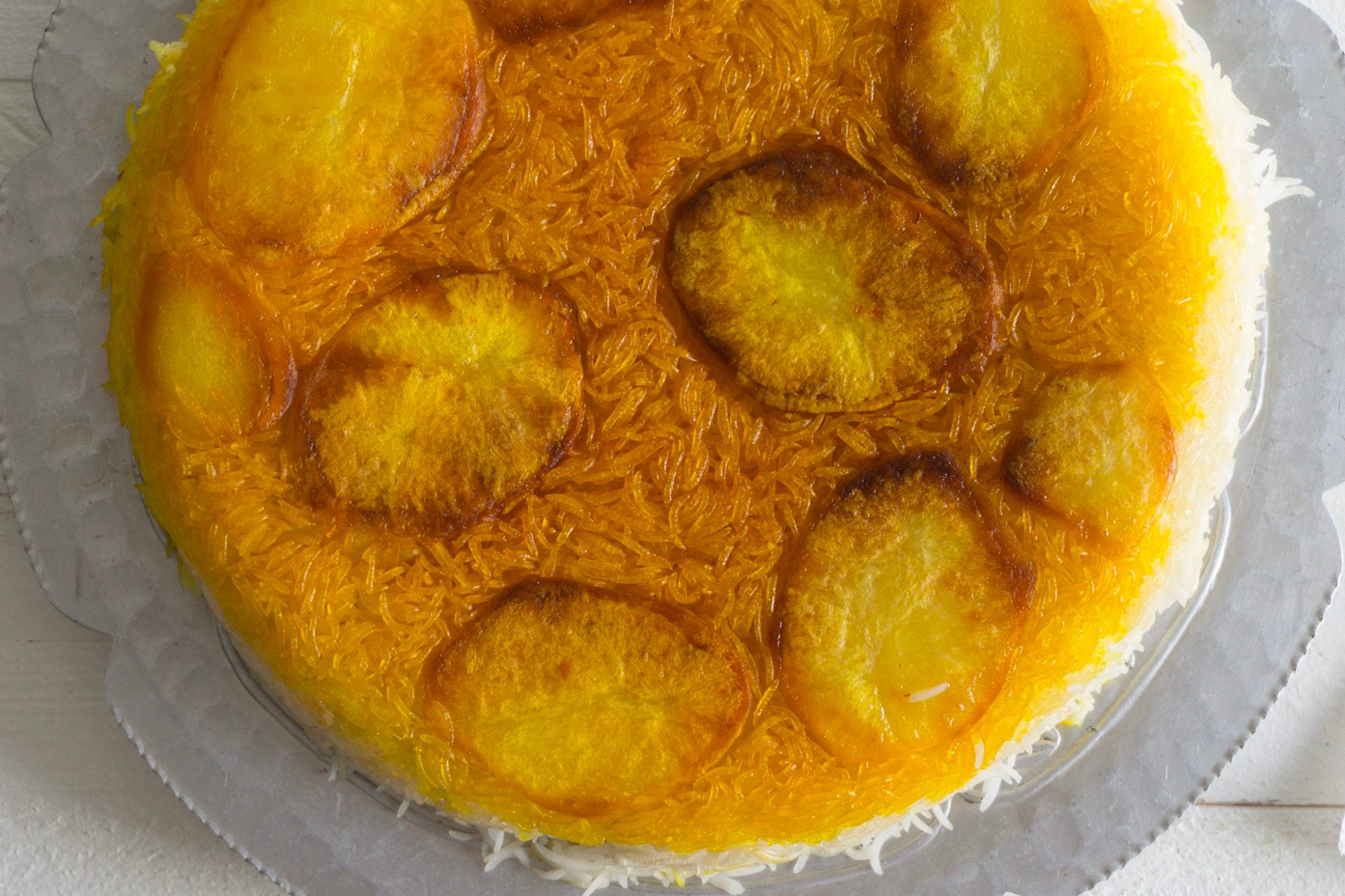 When mastering tahdig becomes a lesson in both Persian cooking and real romance.
One day, a few months after I began dating my fiancé, Alex, I arrived home to find a package from his mother. It contained two gifts that—as I've since discovered—every Persian mother bestows upon her child's significant other: a Persian rice cooker and a copy of The Food of Life, the most comprehensive Iranian cookbook ever published. The package was a not-so-subtle signal; I knew immediately that I had better learn to make Alex's childhood favorites, or else his mom would start shipping Tupperware containers of various frozen khoresh to ensure his continued nourishment. Luckily for Alex, I fell in love with Persian cuisine and have since learned to make all of the dishes he knows and cherishes, along with many others that even he hadn't tried.
The first thing I learned to make was ghormeh sabzi, an herb stew that is widely considered the national dish of Iran and also happens to be Alex's favorite. For my second act, I decided to take on another classic, one that is both specifically Persian but also, in a way, universal. In almost every food culture, there is a fixation on the "crispy bits." Whether it's the crunchy pieces of pasta at the corners of a lasagna, the burnt strands of cheese in a bowl of French onion soup, or the chewy edge pieces that cling to the side of the brownie pan, we happily fight even our nearest and dearest over these coveted morsels. Tahdig is the "crispy bit" of Persian cuisine; literally translated as "bottom of the pot," it is a giant saffron rice cake whose crispy outer layer begs to be cracked and picked off. Have you ever lost it over the spicy-tuna-topped crispy rice rolls at a sushi restaurant? Well, imagine that, but super-sized.
Though it took many failed attempts involving burnt and soggy rice, I became skilled at making tahdig, eventually mastering a perfect, golden crust. But I had a bigger challenge ahead of me when I found out about Alex's favorite variation on the classic: potato tahdig. Similar to its O.G. counterpart, it's adorned with French fry–like slices of potato that line the top crust. Unlike regular tahdig, where sizzling butter and yogurt help to ensure the formation of that perfect crust, potatoes require the cook to rely only on oil and saffron water (plus a good amount of prayer). But the extra effort is worth it: Everyone I've ever met who enjoys Persian food raves about potato tahdig. And why wouldn't they? Two crispy starches, after all, are better than one.
To learn to make potato tahdig, I reached out to Alex's Auntie Diana, who lives on the Upper West Side (previously Great Neck, where there's a huge Persian community). A skilled home cook, Diana strays from tradition by soaking the potato slices in saffron water to enhance the crust's vibrant golden color. The first thing she taught me during our lesson was to soak the rice with water and salt. This seasons the rice a bit, and more importantly lets it absorb some water; because water conducts heat better than starch, soaking helps the rice to cook more evenly.
Diana lined the bottom of the pot with oil and slices of potato, and then topped it off with the par-cooked rice and saffron water. Before she covered the pot, she wrapped a dish towel around its lid; this helps absorb the steam and prevent condensation from dripping down the sides of the pot and ruining the crust (nobody likes a soggy bottom). After a quick cigarette break and about an hour of slowly sizzling the rice over low heat, Diana inverted the pot onto a platter, revealing a gorgeous golden crust that we immediately ripped into and mixed with a yellow-split-pea-and-tomato stew. At the end of the meal, Diana packed up the leftovers to bring to her daughter at college (Tupperwares of frozen food run in the family) so that she could get a little taste of home.
The next day it was my turn to give it a go. While Diana recommends an electric cooktop (or Persian rice cooker, as they all use now), I used the tiny gas range in my galley kitchen because I wanted to learn how to make the tahdig the real, old-fashioned way. But I followed Diana's method neurotically, meticulously turning the pot every five minutes to ensure it turned out just as consistently golden. My neurosis was rewarded: Eventually, I inverted the pot to reveal a perfect potato tahdig. As we sat down to enjoy it with a Persian carrot-and-prune stew I'd made, I was warmed by the grin on Alex's face. The only thing better than the crust of crispy rice and potatoes was Alex's joy in watching me learn the dishes so near and dear to his heart.