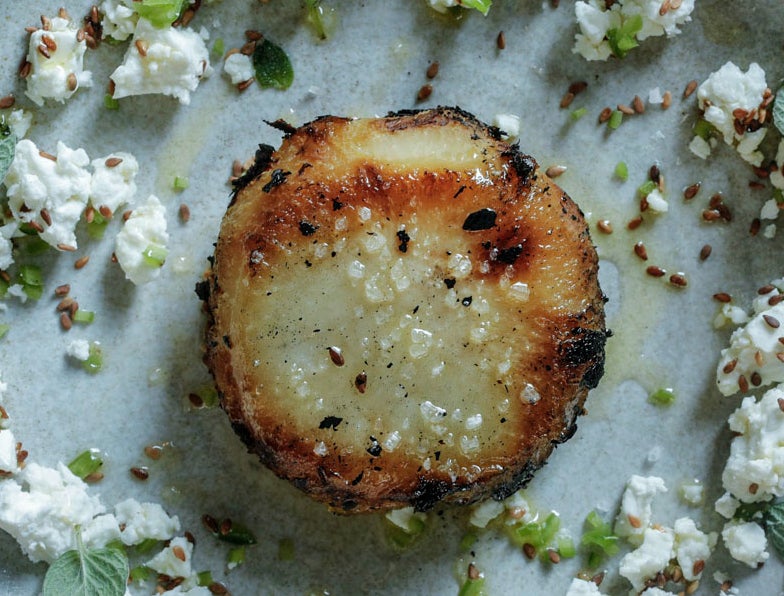 At Tel Aviv's Dok, chef Asaf Doktor attempts to define Israeli cuisine through the many fruits of the land.
The kohlrabi, a humble brassica in its raw form, comes to the table flexing with hubris—browned, burnished, and ready to be cut into like a choice cut of steak. Roasted over coals for hours until its flesh turns soft and sweet, it is cooled, peeled, and dressed with grassy olive oil and local cheese before getting a sprinkling of sesame seeds.
But those are the only sesame seeds you'll find on the menu in any form. Asaf Doktor, Dok's chef and owner, has barred the use of tahini in his kitchen. What? Tahini, the queen of many Middle Eastern kitchens and a focal ingredient in the modern Israeli kitchen in particular, is milled from sesame seeds. But it's nearly impossible to find purely Israel-made tahini—modern industrial tahini plants and small mills alike produce a product made from sesame imported from Africa and East Asia. Sesame, one of the Fertile Crescent's most important (and plentiful) crops for millennia, has almost disappeared from local fields, and the little still grown by traditional methods is low in oil and unsuitable for tahini (hence using a small amount to garnish the kohlrabi, and nothing more).
Dok's kitchen uses only locally grown ingredients—a radical principle that has guided Doktor since 2015, when he opened his 30-seat restaurant. The idea of an Israeli chef cooking "local" raises fascinating questions about the lengths one will go to keep his or her cooking close to home. For example, can ingredients native to a certain region but not grown there today still be considered native? (Quinoa, for instance, indigenous to the Andes mountains of South America, is now grown in California. Does that count?) Should we classify as "local" raw materials originating elsewhere—tomatoes, chili, eggplant, and citrus—that are now grown abundantly in Israel? And what about spices brought here eons ago, along ancient trade routes: black pepper, cinnamon, cardamom, and other dried spices—all integral to dishes identified with local cuisine.
"I love a challenge," Doktor says of his locavore mandate, with a grin, in his native Hebrew. "Thinking inside the box means you can step out of it, and the first thing I did was to grab a sheet of paper, divide it into major food groups—fish, meat, vegetables, fruit, dairy products, legumes, and spices—and see how much I've complicated my life." Ultimately, the chef set some ground rules. Local for him means whatever's growing in Israeli territory right now, whether it came here a thousand years ago, a hundred years ago, or a decade ago.
Though his methods are ambitious and bear the whiff of the do-gooder, the menu lacks any pretense of self-righteousness. What you get instead is delicious food, like slices of challah lavished with schug (Yemenite hot sauce) butter and topped with strips of seared steak; a standard salad made special by a rotating cast of seasonal fruit ranging from plums to persimmons; and desserts like a citrusy tart that highlights both Israel's incredibly short lime season and the talents of Dok's pastry chef, Tina Martinov.
"My goal was to see what matches our geographical-cultural space, then to factor in sustainability, incentivizing the local economy, and building ties with small-scale farmers and producers."
Naturally, tahini isn't the only problematic raw material. Legumes are a world of trouble for those insisting on locally sourced crops—chickpeas and fava beans (fresh, not dried) can be found only on small-scale local farms. Apart from imports, beans and lentils—the ones King David used to make desserts for his beloved 5,000 years ago—are not available. Rice, too, a mainstay of local dishes like makluba (rice, vegetables, and meat), mujadara (rice with lentils), and stuffed vegetables, isn't grown in Israel at all. The ancient Asian grain reached the Middle East via Persia 3,000 years ago, but it's a thirsty tropical plant that can't thrive in the local climate, so all the rice used in Israel today is imported.
Some crops haven't disappeared but are unavailable in commercial quantities, like pistachios and other tree nuts. When he endeavored to make a sorbet from pitanga, a variety of cherry grown in Tel Aviv, Doktor managed to source just 17 pounds of the tiny red fruit. His brother Yotam, his partner in Dok and the nearby grilled meat restaurant Ha'Achim, posted an old-world barter proposition on Facebook: Bring us fruit from your garden in exchange for a meal at the restaurant. "In a few days, around 130 pounds of pitanga berries arrived," Doktor recalls. "And later we crowd-sourced with capers and pine nuts."
Dok's menu, due to the insistence on local raw materials, is highly seasonal. At the peak of Mediterranean's short anchovy season, Doktor and his staff go fishing and cans most of what they catch ("I use them as a rainy-day option, when good seasonal ingredients are lacking," he says). Bitter oranges growing along nearby city streets are used to make jelly, sauce for fish, and the signature elixir they use as a replacement for tonic water and pair with local gin.
Showcased on shelves behind the open kitchen are jars of preserved, pickled, or fermented vegetables and fruits. Other raw materials come from small-scale producers: dairies, fishermen, wine and alcohol producers, meat growers, foragers, and farmers who now market their distinctive products directly to restaurants and consumers.
Over the past three years, Dok's modest kitchen has morphed into a riveting research lab, and its limitations are helping train Israeli cooks and diners alike to think differently about dinner. Its ever-changing menu supplies creative and intelligent solutions, encourages a reexamination of regional products, and utilizes traditional techniques used long before anything was imported. Subbing in for rice in stuffed vine leaves is freekeh—lightly smoked green wheat that's grown and processed in Arab villages in the northern Galilee region. Imported industrial mustard is replaced by the flowers and seeds of wild mustard plants, foraged in the Jerusalem hills during a fleeting spring season.
There are three irreplaceable items that Doktor has left on the menu. One is high-quality wheat for bread making; the cultivation of traditional wheat varieties is just taking off here, and it's difficult to source top-quality local wheat flour. Sugar, once grown and refined here, is no longer cultivated. And there's black pepper. "We tried to work with local plants to replace it, but it was unsuccessful," says Doktor.
Thinking about localism is reflected not just in the pantry's contents, but also in the use of traditional local techniques. One of Doktor's most celebrated dishes is a contemporary take on matfuna—mutton or chicken baked in ashes for hours in an excavated pit. "It's a traditional method of nomads," explains the chef. "Bedouin in southern Israel still use the steady low heat of a dying campfire, and I aim to reproduce that technique using the restaurant's charcoal grill."