Lotus Root: It's What's Inside That Counts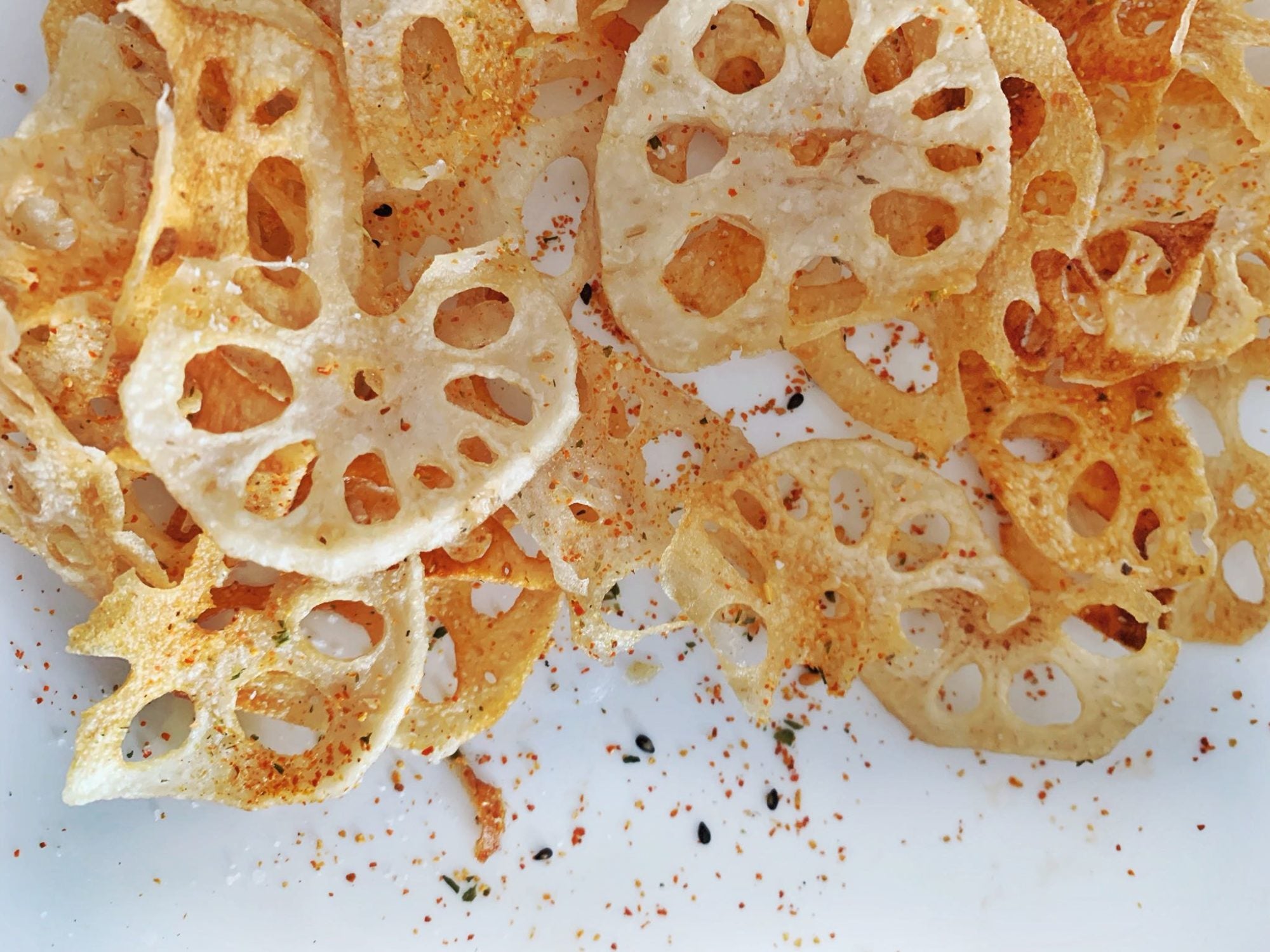 After slicing into this porous tuber, you'll be rewarded with incredible possibilities for braising and frying.
A lotus root's initial appearance is largely unassuming, especially when compared to the ethereal blossomed flower it anchors. But slice the sausage link-shaped root crosswise, and the root reveals a beauty of its own: an irregularly radial pattern of pores resembling abstract spokes of a wheel.
Known as lian ou in Chinese herbal remedy soups or renkon in sesame oil-slicked Japanese stir fries, the crisp, earthy root vegetable is common throughout East Asian dishes. Its hearty core can handle a quick fry, but also stays intact even after a slow braise in soy sauce and pork belly juices.
The mighty root is incredibly adaptable: you can stuff ground pork between two slices of it before dropping the mini sandwich into a sizzling oil-filled pan, swish around a handful of the slivered tuber in a wok with chile oil and garlic, or use larger chunks and stuff them with sticky rice before being immersed in a sugary, bubbling broth, finished off with a drizzling of floral osmanthus syrup.
Similar to its root vegetable cousins like potatoes and taro, lotus root is a great candidate for deep-frying into crunchy chips. Seasoned with anori flakes and served as an izakaya snack amongst sizzling yakitori, their crunchy, salty attributes are a great foil to a pint of Asahi.
Equipped with a mandoline (or more consistent knife skills, which I do not have), a shallow pool of oil, and your favorite spices, lotus root chips are just as easily made at home for a deceivingly sumptuous snack.
The key is getting the thickness of each slice right. Too thin, and they'll quickly burn once they hit the oil, and too thick will yield an unwieldy texture. Keeping each slice around ⅛ inch keeps them crisp, while a soak in vinegar water and a good pat dry before frying keeps its pale color in check.
If you crave lotus root's pure, earthy taste, salt is all you need. But ignoring your spice rack would be a mistake. After all, no one is reaching for the plain bag of Lay's—sour cream is always the first one to run out. Each freshly fried batch would benefit from a few flecks of chile, a dusting of cumin, or a sprinkling of togarashi. Garlic, onion, or curry powder are fair game too.
Treat lotus roots as you would potato chips: eat them on their own, as a side dish, or add a layer of them into your sandwich. Each batch can serve as a test run in blending seasonings until you find your favorite. And trust me, there will never be just one batch.