Looking for Cookies in All the Wrong Places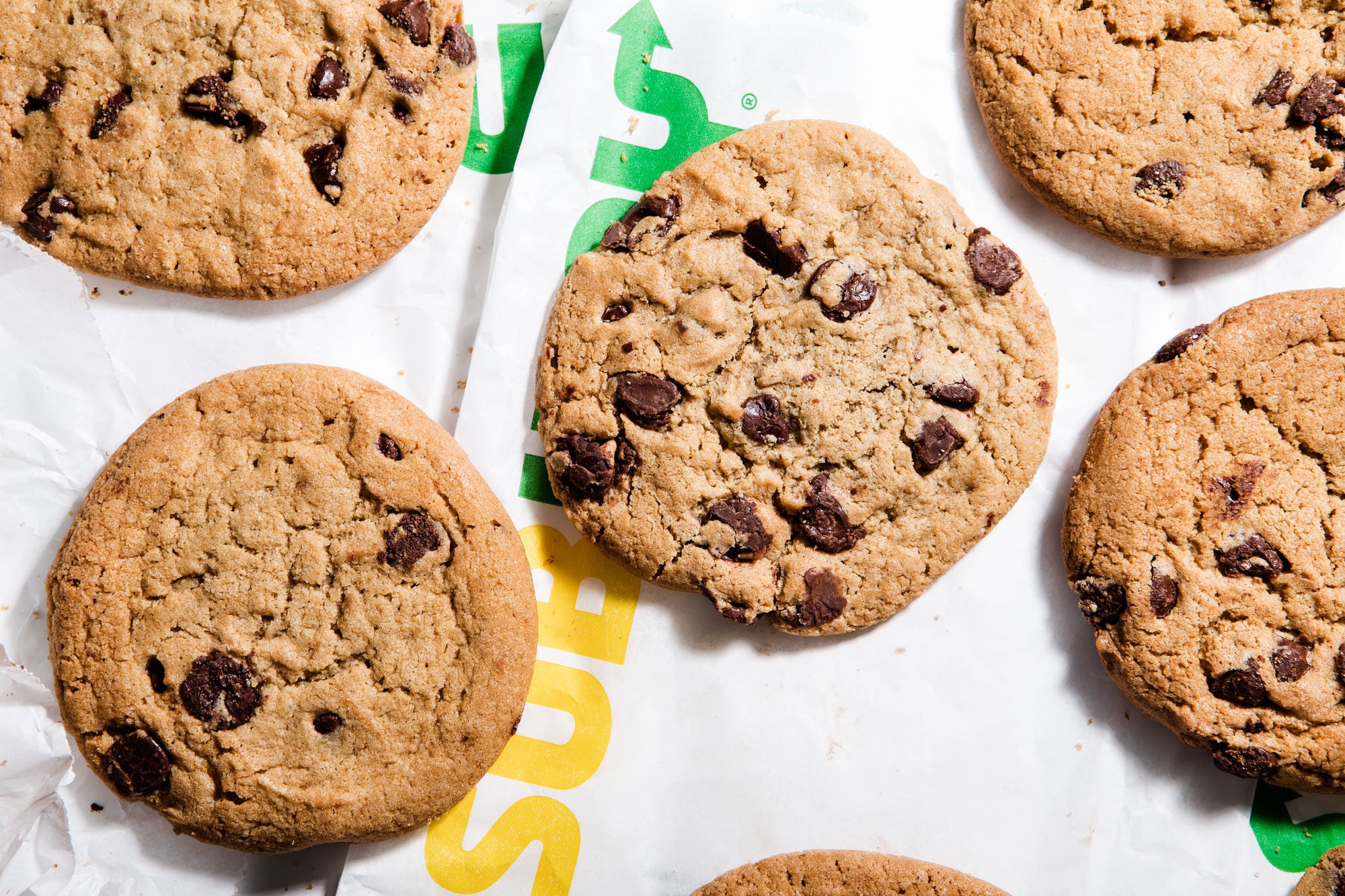 How a furniture store, a sandwich chain, and a hotel became famous for their chocolate chip cookies.
At one point, the best chocolate chip cookie I had ever eaten came from a small and nondescript coffee shop called Smile to Go, located around the corner from my office when I was working at the food magazine Lucky Peach. On many occasions, a member of our small team would venture out for plastic cup of cold brew and return with a wax-paper bag stained with melted chocolate. The office work would stop, and we'd all surround the cookie like it was a museum specimen, gawking at the large puddles of chocolate goo, the generous studs of salt crowning the coaster-size treat, the sturdy yet melty structure. Here we were, people whose jobs it was to seek out the best culinary experiences, apotheosizing a coffee shop cookie and nibbling on it as if it were the last food on earth.
There had been other superlative chocolate chip cookies I'd found in random places. The ones they served straight off the baking sheet at one of my alma maters' dining halls. They were so weighted down with enormous chunks of chocolate that they almost fell apart. The free chocolate chip cookies given out at check-in at DoubleTree hotels, where I stayed frequently as a high school debater traveling for national tournaments. Those cookies sat under a cloche, as if they were some rare confection, and they were always warm (more on that later). You could take extras if you wanted, and no one would say anything. These days, I'm big on the "ultimate" chocolate chip cookies sold at the regional grocery chain Wegmans—they come in family packs, with chocolate chips nestled so deeply into the cookie that their existence comes as a pleasant surprise.
And lest we forget that iconic episode of Friends when Monica laboriously attempts to duplicate Phoebe's grandmother's famous homemade chocolate chip cookies, only to find out it was just the recipe written on the back of a bag of Nestle Toll House chocolate chips.
In the United States, the chocolate chip cookie is one of the most relatable desserts. It is widely available—sold everywhere from gas stations to high-end restaurants. There's a Sesame Street character who subsists on a diet of them. In any given city, people are always seeking out the best version of a chocolate chip cookie. There are the usual suspects—the Levains, the Tartines. But then there are the less expected choices. Like a furniture store.
When I put out a call on social media asking people about their most memorable chocolate chip cookie experiences, responders shouted out everything from Bob's Discount Furniture ("so soft it would melt in your hand") to the United Nations headquarters cafeteria ("a self-serve warm cookie oven!") to Pret A Manger ("warm with gooey chocolate, but a little crisp on the edges") to Culture Espresso in New York ("a phenom"). The most common response? Subway. Yes, the sandwich chain. "They come out of the plastic case warm and gooey," explained one person. Another just sent the drooling emoji.
How did a sandwich chain (or a hotel, or a cafeteria, or a furniture store, for that matter) come to produce an iconic chocolate chip cookie? Why do these places even put in the effort to serve one that's decent, let alone superlative?
"I don't have a brilliant answer for you," says Linda Neumann, a co-owner of Teaism, a teahouse in D.C. serving udon and okonomiyaki—and a salty chocolate oat cookie that has earned a cult following. "People like cookies."
"I never once thought it was a strange thing to have cookies on the menu," she says. "We have tea, and we wanted something that people could nibble on with their tea."  In May alone, Teaism sold close to 2,000 of these cookies, which it gets from Kayak Cookies, based in Maryland.
At Subway, guests specifically asked for cookies, says Andy Dismore, the chain's director of menu management and innovation. It was an easy enough request to accommodate. "Since our iconic bread is baked in restaurants every day," he says, "it made sense to add freshly baked cookies, too." Subway has now served cookies for more than 25 years.
Baylee Reeves, the general manager of the popular Dallas barbecue joint Pecan Lodge, invented the restaurant's now-iconic sweet and salty chocolate cookie, dubbed the Texas Tumbleweed Cookie (it has peanut butter, coconut, and pretzels mixed into the dough), because she felt like it was the right pairing for barbecue.
"Having a cookie with this salt-sweet combination goes really well with a smoky meal," she says. There are people who skip the brisket at Pecan Lodge entirely and place large catering orders just for cookies.
"Bob's chose cookies because they viewed it as welcoming customers into their home," Sean Flanagan, a Bob's Discount Furniture spokesperson, told me over email. "Nothing says welcome like cookies." In 2018, Bob's served just under 2.3 million free cookies across all its locations.
Which brings up an interesting point: Sometimes our love for a chocolate chip cookie has less to do with the cookie itself and more to do with the environment in which we are eating it—whether it's the novelty of eating really good cookies in a furniture store or the surprise of finding a decent—and warm—cookie in a hotel lobby.
That's why at DoubleTree, one of the most important elements is keeping the cookies warm. "We are trying to create this comfortable feeling, like your grandmother's cookies at home," says Shawn McAteer, the senior vice president and global head of the brand. Each front desk has a cookie warmer to ensure not just consistently gooey cookies, but an intense cookie smell throughout the lobby. It's scientifically proven that the fragrance of baking cookies can stimulate positive emotions in our brain.
Maybe I liked those DoubleTree cookies so much as a high school debater because after a long flight, delays in getting the rental car, and hauling four tubs filled with research through a crowded airport, here was something warm and sweet and edible. It was unexpected—as opposed to the experience of a Levain cookie, where there is always way too much anticipation.
The best chocolate chip cookie is the one we never sought out, but subsequently couldn't live without. Not the chocolate chip cookie that we want—but the chocolate chip cookie that we need.