The Long History of Sri Lanka's Short Eats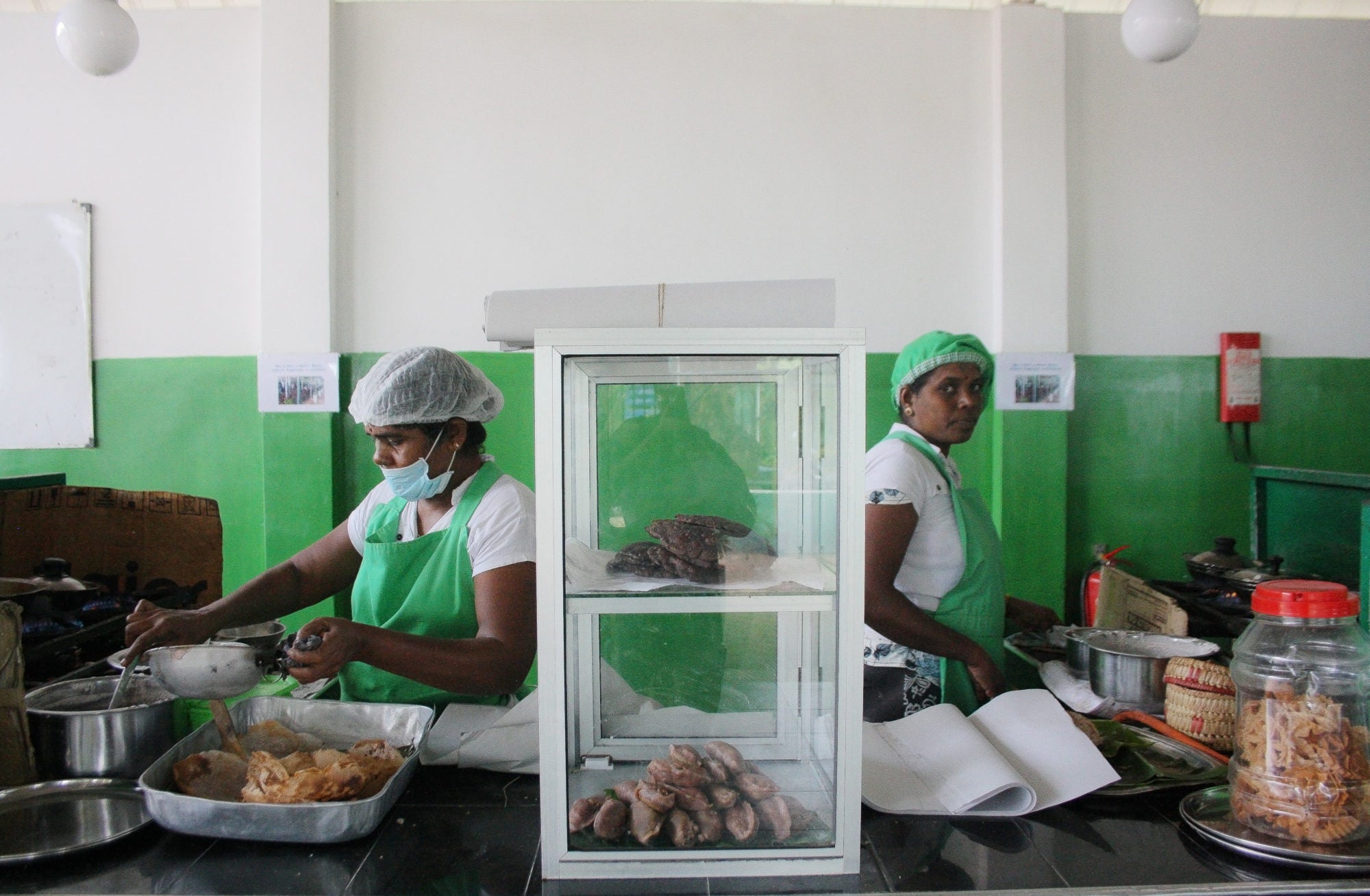 A family of deep-fried snacks reflects the island nation's rich history of immigrant diversity, as well as its tumultuous past and complicated present.
"These need to be eaten quickly," says N. Jazy, a shop owner in Jaffna, Sri Lanka, as she packs hot ulundu vadais into a paper bag. Vadais are deep-fried snacks made from flour and a variety of legumes; Jazy's are made from lentils, and she sells them with spicy red chutney. "Don't let them get cold and soggy," she warns.
The vadai is just one of the many snacks that are known as short eats, the Sri Lankan snacks that are peddled on nearly every corner of the small island country. A short eat is usually stuffed and fried, and it comes in many shapes and sizes. There are rolls filled with vegetables, meat, and egg; patties that resemble empanadas stuffed with potatoes and fish; and curry rotis, in which vegetables or meat are packed tightly between flatbread and browned in a pan. Sweets are also part of the short eats family. Popular ones include boondi ladoo, deep-fried spheres of sugar and chickpea flour; and kesari, molded orange-hued cakes of sweetened semolina.
Short eats were introduced to Sri Lanka by the many settlers who arrived there: Rolls came with the Chinese, cutlets and patties arrived with the British, and vadais with the Tamils from India. They all soak in the island's dense history of immigration and diversity as readily as they do the crackling pots of hot oil in which they're fried.
In Jazy's shop, the mothagam is the short eat of choice: A specialty of Jaffna, the largest city in the island's north, it's a steamed dumpling filled with boiled lentils, sweetened coconut, and bits of coarse palm jaggery wrapped in a soft shell of rice flour. Jaffna's specific short eats come from its predominantly Tamil population, an ethnic minority in Sri Lanka but the majority in Jaffna.
"When I was a young boy, we made all our short eats at home from local ingredients like red rice, coconut oil, and bananas," says Kandan C., a restaurateur who grew up in Jaffna and returned in 2011 after 20 years of refuge in India during Sri Lanka's civil war, which lasted from 1983 to 2009. "These days, many women make them to sell to small shops, but they use cheaper ingredients, like white flour and vegetable oil. It is a way for them to make money after the war."
Jaffna was the epicenter of the war, which was waged between the Sri Lankan army and the Liberation Tigers of Tamil Eelam (LTTE), who fought for a separate Tamil state. The city endured terrible violence, losing almost half of its inhabitants to death and displacement. It still lives with memories of war crimes and terror under the majority Sinhalese army; only recently has it "come back to life," as Kandan explains.
"A specific short eat was even devised during the war," he says of the mithivedi, a flat roll stuffed with potatoes and a boiled egg; its namesake is a landmine used during the conflict. "The short eat has seen it all."
The short eat plays a crucial role at Ammachi's, a not-for-profit organization that brings local women into a community kitchen where they make food to sell. There are many snacks at Ammachi's, including kundu dosai, small, fermented doughy dumplings served with a coconut sambol; and mushroom cutlets, which throngs of students buy to eat with milky tea.
"I never had a job before this," says Mary Mathyvathany, the cook responsible for the mushroom cutlets. "I spend half a day here cooking and support my family at home."
"For women in Jaffna, especially Tamil women, selling their own short eats is a way to prestige," says Revathi Muthruban, the coordinator and organizer at one of Ammachi's two branches in Jaffna. "A short eat can transition with ease from the kitchen into the world."
Rolls, patties, and rotis are standard throughout Sri Lanka, but all of its major districts—like Jaffna, Colombo, and Kandy—differ in their preference for the snacks. In the Muslim Hotel, a restaurant in Kandy, the largest city in Sri Lanka's central province, the beef samosa is a favorite. Brought over by Indian immigrants with Arab lineage, it's small enough to be eaten in one mouthful, with one layer of crisp pastry packed around spiced ground beef.
"We have customers come from around the world for this samosa," says Mohammad Riyaz, the restaurant's service supervisor, as he sits down with two cups of sweet black tea and a short eats platter brimming with snacks like pinchers, deep-fried dough loaded with spicy chicken, and dal vadais, fritters made from coarse chickpea lentils. "The short eat has so many options and can be eaten in so many ways," he adds. "Standing up, sitting down with tea, or wrapped to take home."
It is this fluidity that has helped the short eat travel abroad with the diaspora. Mutton rolls, for example, are the short eat of choice among Sri Lankan Tamils in Britain. The fried, lamb-stuffed snacks are particularly easy to find in little stores throughout East Ham, where London's Sri Lankan community is concentrated; they're also served at Hoppers, a popular Sri Lankan restaurant in Soho.
Nivetha Tilakkumar, a Briton of Sri Lankan Tamil origin, remembers that her father would bring home a box of mutton rolls in the evening. "We'd eat them with tea," she says. "They're rarely available in Sri Lanka [because] the meat is expensive, but they're irreplaceable to our lives in London."
"I still have a strong memory of eating a fat mutton roll with my father outside a train station when I was a little boy," says Shiva Tharmalingam, a Sri Lankan Tamil also based in London. "We now make these at home. My kids inhale them."
But the short eat's value goes beyond being delicious, points out Shiva's wife, Arundhaty Tharmalingam. "[It's] important to the growing representation of Sri Lankan food in the U.K. and the West," she says. "It's strictly Sri Lankan. It makes sure we aren't just clumped under Indian food but get our own space."
The short eat exists at the intersection of Sri Lanka's arduous past and complicated present and offers a glimpse at the island's social fabric separate from the more tourist- and Instagram-friendly images of pristine beaches, tea boutiques, and a cuisine simplified into "rice and curry." Wherever you go in Sri Lanka, the short eat appears, whether it's eaten by locals on train journeys through tea plantations, bought by giggling schoolgirls from push-carts, or cooked in strategic street corners by enterprising women.
"Meetings, protests, birthdays, even funerals—there is never a gathering without the short eat," says Jekhan Aruliah, who lives in Jaffna. "Deep-frying stuffing in its case is more than just a snack. It's an act of holding communities together through food."