What Your Local Costco Says About You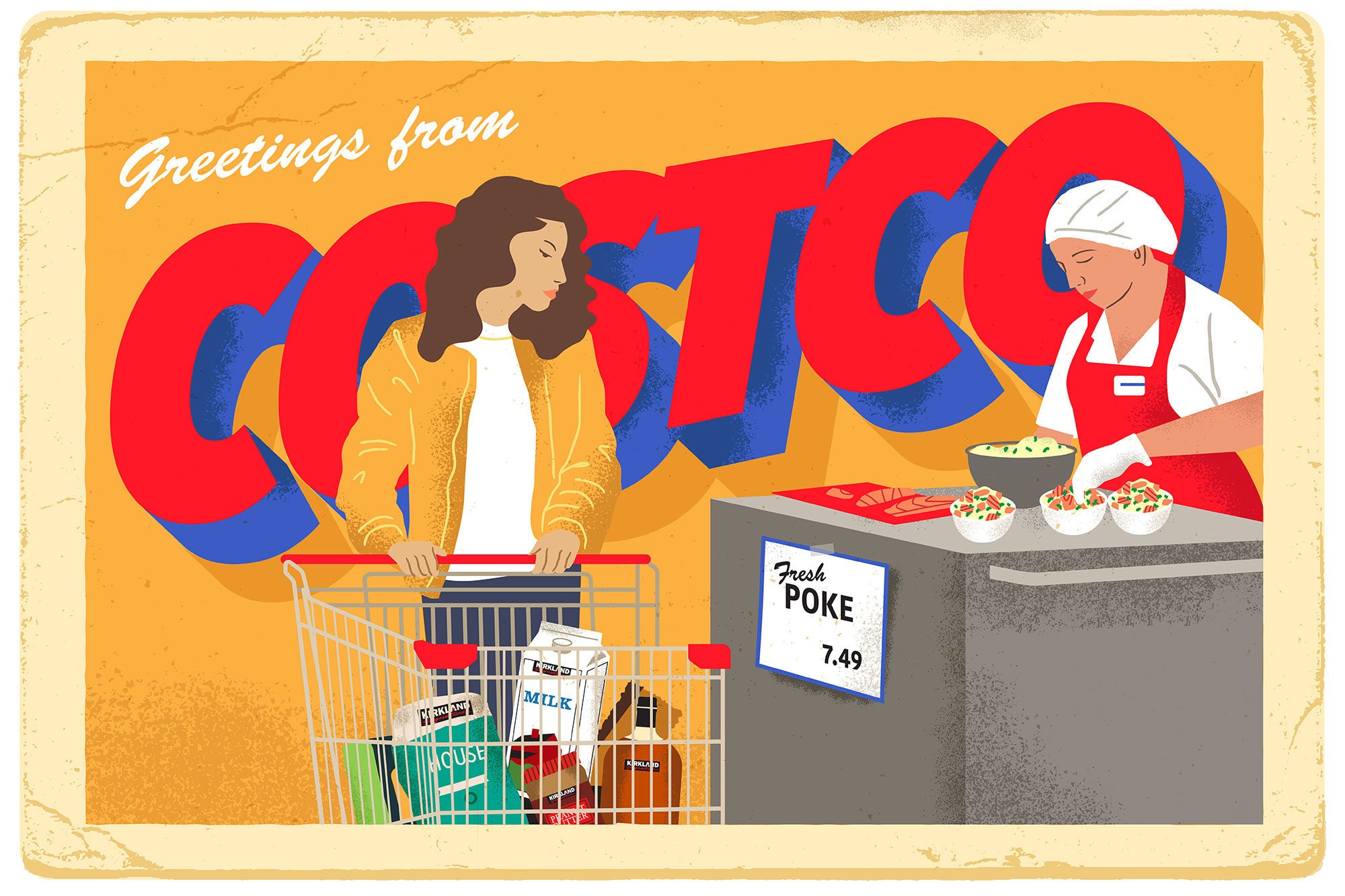 There's a world of fish sauce, black-and-white cookies, poke, and paneer to be found at the bulk chain behemoth. You just have to live in the right place.
A few years ago, Michelle Matsunaga made a stop at Costco on her way to a cousin's house in Honolulu from the airport to pick up some snacks.
She was a fan of Costco—the mega-grocer with more than 700 locations across the United States and abroad. She had visited locations in Seattle, where she's from, and San Francisco, where she lives and works for a tech company, but this one was very different. The refrigerated cases were stocked with fried saimin, a noodle dish popular in the 50th state. There were several kinds of Chinese sausage available, chocolate-coated macadamia nuts, shrimp chips, and Hurricane Popcorn—all in bulk. There was even a reasonably priced poke bar, with fish sold by the pound (that's how you know it's legit, Matsunaga says).
"I was shocked," she says. Now she can't leave Hawaii without stopping at the Honolulu Costco to pick up gifts for friends back home.
Costco may be a warehouse chain found in every major suburb across America, known for its house-brand coffee beans, rotisserie chickens, and aggressively priced-down single malts. But to the people who buy the $60 annual memberships, a trip to Costco is about much more than picking up a few necessities. It's a sport of uncovering the unexpected seasonal, regional treasures that are there for the taking—if you know where and when to look.
At the Costco in New Orleans, shoppers have spotted Camellia beans, andouille sausage, and even the very specific stand that connects to a gas canister to start a crawfish boil. In New Mexico, there are tamale-ready corn husks for sale in plastic bags at Christmastime, and green chile dip year-round. In the suburbs of northern California—in cities like San Jose and Sunnyvale—where there are large Indian populations, you'll find multiple varieties of dal, enormous blocks of paneer, and kaju katli, a cashew-based sweet.
At the Costco in New Orleans, shoppers have spotted Camellia beans, andouille sausage, and even the very specific stand that connects to a gas canister to start a crawfish boil.
"There is a degree of pride" in seeing locally popular foods at Costco, says Jennifer Foote, who lives in Albuquerque. "In New Mexico, the green chile and the red chile are a huge part of the culture."
This mentality seems built into the Seattle-born public company (which earned over $100 billion in revenue in 2018, according to MarketWatch). Costco's sweeping success across the country feels inextricably linked with its ability to play a dual role to its loyal customers—as both the "everything" store and the local market.
Shannen Joachim, a New Yorker who works in the restaurant industry, spent her childhood shopping at Costco, even buying her first guitar there. Then she discovered a few years ago that the location she frequents in Westbury, Long Island, was stocking black-and-white cookies—and that they were actually good. "Now I can literally get everything at Costco," she says.
In response to an inquiry about how Costco sources local products, a representative for Costco management wrote: "Our buyers research the marketplace, determine which products offer the quality, and then negotiate the best possible value for members." A variety of factors go into these decisions—buyers evaluate trends, forecast seasonal goods, and pay close attention to what members are asking for. There is a portal on the Costco website called OpinionLab, which allows members to provide product suggestions that are shared with each regional buying office; individual stores also enter product suggestions that they receive from members. And, to gauge interest in new offerings, the chain uses free sampling regularly and liberally.
When Nicole Washington moved from Washington, D.C., to New Orleans two years ago to work at a nonprofit, Costco was a big part of how she learned about the area's food culture. She tried andouille and green onion sausage, and she learned that tails are one of the most prized parts of the crawfish. "Whoever is stocking the store seems to really be paying attention," she says.
And that close attention tends to keep customers on their toes. Amit Runchal, who works at a start-up in Los Angeles, says that whenever he travels for work, he tries to visit the local Costco. He loves walking the aisles, noticing all the unique regional products. He's visited at least 15 locations.
To Runchal, while a lot of grocery stores represent a fairly whitewashed portrait of home cooking in the United States, "Costco reflects a very interesting, multicultural America," he says. "It reflects the predominant ethnicities and cultures of the region." Very often, he adds, the shoppers are as diverse as the food itself.
Matsunaga noticed that at the Honolulu Costco, Asian ingredients aren't relegated to an "ethnic" aisle. "It is just mixed in with all the other stuff from the mainland, like it was natural and that is the norm," she says.
Still, Costco isn't necessarily on a mission to diversify American tastes. Its in-house brand, Kirkland Signature, generally sticks to olive oil and bacon—with minimal culinary diversity. The ubiquitous Costco food court—stands set up just beyond the register—doesn't stray too far beyond its hot-dog-and-pizza standards, no matter where you are. (A Costco representative declined to comment on any of this.)
There's nothing revolutionary about selling products with local appeal—it's just good business. But it can be encouraging to see bulk packs of Ito En bottled green tea in a Los Angeles Costco. And being able to buy fish sauce and a bicycle in the same place? It's all part of the American suburban dream.