Life Through Hibiscus-Colored Glasses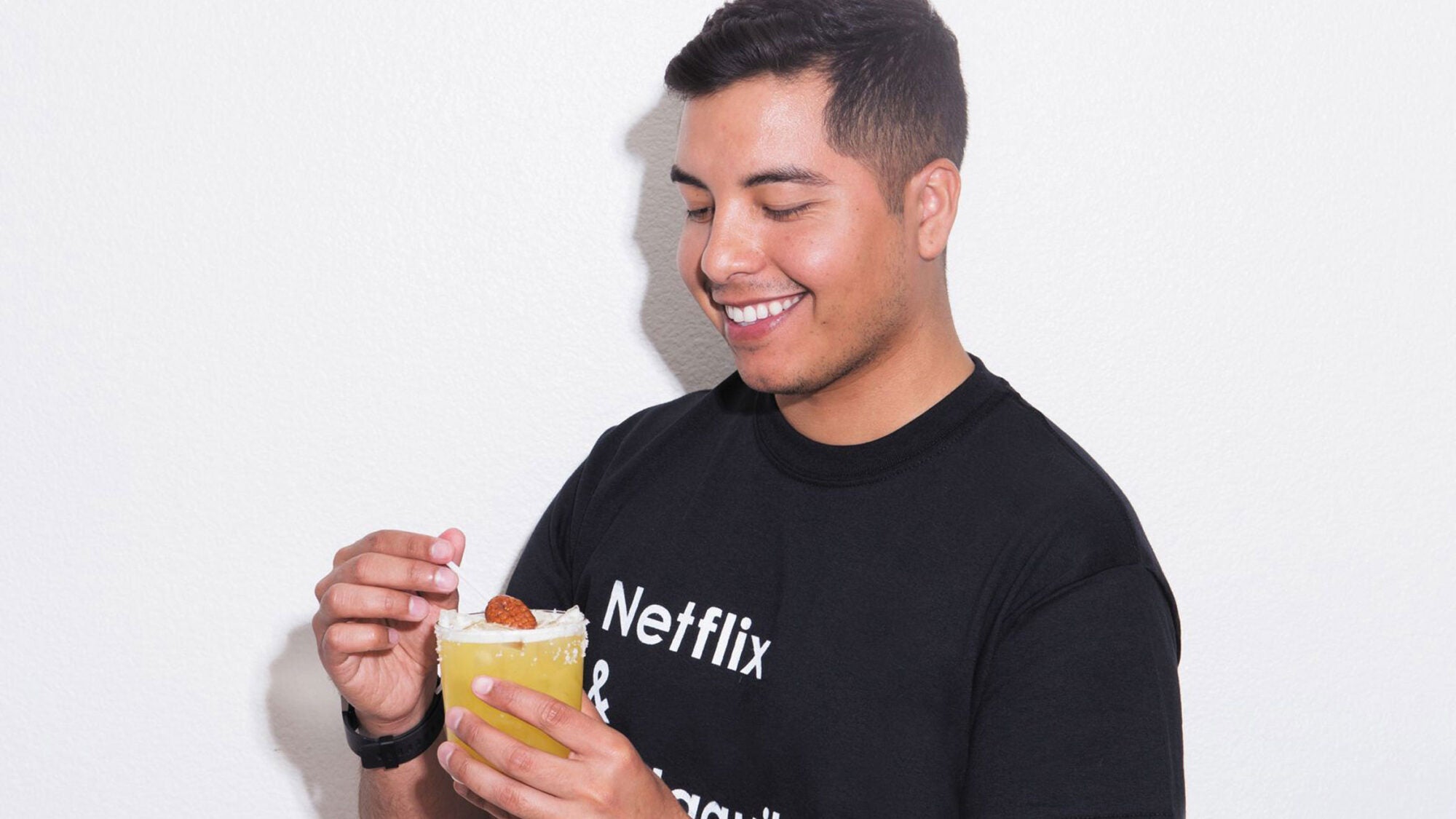 In his new cookbook, Chicano Eats, Esteban Castillo sets out to show Mexican food's colorful side.
Paging through Chicano Eats is a little like walking through a kaleidoscopic candy store display. Vibrant jewel tones and geometric shapes come into focus, whether you're looking at a shelf of clay cookware or a bowl of ruby-red frijoles charros. And then there are the recipes that are literally inspired by classic Mexican candies, like the Duvalin-hued Jell-O mold, and the spicy, charred wings that take after Lucas Gusano tamarind candies.
The new cookbook is by Esteban Castillo, who writes and photographs an award-winning blog of the same name. Like the blog that he founded in 2016, the book documents some of the most memorable food that Castillo grew up eating during a childhood split between Mexico and California. There are also glimpses into the confidently carefree way that he cooks now, at home in Fresno, from the roasted garlic and poblano tagliatelle, to the brownie tart swirled with cajeta and cream cheese.
I recently caught up with Castillo to talk about some of the ingredients, color theory, and family memories that inspire his work, and what it was like to translate this all into a cookbook.
How long have you been blogging at Chicano Eats, and what made you decide to start the project?
I have been blogging for just under four years now! What really pushed me to start blogging was that I just didn't see any other voices like mine, and I could never find any of the recipes I had grown up with, either. The food-blogging space is very white-centric, and seeing big publications turn to them to share our recipes and stories led me to ask myself, "What can I do to change that so that we can have a seat at the table and also be able to share our own stories?"
Both your blog and the book have such a distinct visual identity. When it comes to visualizing dishes and how you want to photograph them, where do you find inspiration?
The way I shoot my dishes has always been intentional, and a lot of my inspiration comes from geometry and color theory and the way shapes and shadows all work together. There's a strong perception that Mexican food is cheap and is nothing more than tacos or burritos, and so I've shot everything with a colorful and minimalistic approach to help change that. I want you to be able to take a step back and see one of my photos and challenge your biases.
When you set out to write a book, were there any nonnegotiable recipes you knew you wanted to include in there?
Just like with the blog, I wrote this book because I hadn't seen anyone else write a cookbook from the perspective of someone who grew up in between the United States and Mexico, who was also queer. The recipes in the "Essentials" chapter were especially important because they are the foundation of our cuisine and a great introduction to my culture. Growing up, my parents had very little money to work with, so we'd often have a pot of beans and rice for dinner, and I've always been taught that if you can learn to make a great pot of stovetop beans, you'll never go hungry.
The book really weaves together dishes that you grew up eating in Southern California and Colima, Mexico, with the way you think about cooking now. Were there any childhood dishes that you had to learn how to make (or re-learn) specifically for the book?
One of my favorite dishes in the book (that almost didn't make it into the book) is the Beef Birria (a stew braised in a chile guajillo broth traditionally made with goat). I tested the recipe a few times, and it just didn't taste like home to me, so I gave up on it. Months later, before turning in my completed manuscript, I gave it one more chance, and I called my mom for advice. I made it the next morning, and I just remember walking into the kitchen and it smelling like my mom's house—and I knew then that the recipe was perfect, and it was!
I love how much hibiscus comes into play in the book—an ingredient I mostly tend to associate with teas and aguas frescas. What do you like about hibiscus, and do you have any advice about working it into both savory dishes and desserts?
Hibiscus is just such a diverse ingredient, and I love that you are able to use the tea to infuse barbecue sauces with it, but then again use the rehydrated flowers for jam and salsas, or sauté it with spices for tacos—I think it just comes from having to be resourceful and doing the most with what's at hand. Taste your ingredients, and let your mind wander—you never know what you might come up with.
I kept gasping while reading the "Postres" chapter because of all the brilliant uses of gelatin. There's the layered pastel beauty of the Duvalin Jell-O, and the crisp cross-section of the dulce de leche chocoflan. Can you tell me about where some of these ideas came from, and why you find Jell-O such a source of inspiration?
Jell-Os are just such great vessels for ideas, and this chapter was heavily inspired by the kinds of Jell-Os and desserts my aunts used to make. The Duvalin is a frosting-like candy that comes in a combination of flavors, but my favorite was always the one that had the hazelnut, strawberry, and vanilla layer, so for me, translating that into a Jell-O was a no-brainer.
A few other recipes in the book were also inspired by some of the candies I grew up with, like the tamarind wings in the appetizer chapter. I re-created the flavors of the spicy tamarind  Lucas Gusano candy, and made a tamarind ancho chile sauce to mimic the flavors to toss wings in.
This interview has been edited and condensed for clarity.
4 RECIPES WE LOVE FROM CHICANO EATS
MICHELADA RIBS WITH HIBISCUS BBQ SAUCE
With its saturated magenta color and soft floral flavor, hibiscus has a savory side that's worth getting to know, especially in these beer-braised ribs.
MI ABUELITA'S TACOS DE PAPA
These crispy tacos are filled with a garlicky potato mash and a bright adobo sauce.
MAC AND QUESO FUNDIDO
Castillo combines creamy, melty queso fundido with cavatappi pasta for a mac you can eat straight from the skillet.
DULCE DE LECHE CHOCOFLAN CAKE
Defying all logic and gravity, it's a fudgy chocolate cake on the bottom, and a creamy dulce de leche flan on top.
MORE COOKBOOKS TO BUY, READ, AND COOK FROM
Random House has put together a free summer sampler of recipes from Ina Garten, Danny Trejo, Toni Tipton-Martin, Bryant Terry, Aaron Franklin, and more.
Last week, we talked to John deBary, the author of Drink What You Want. He has opinions about Singapore Slings and swim-up bars.
As big Spam fans, we obviously excited to see The Ultimate SPAM Cookbook.
Sports and tailgating may be on pause, but that doesn't mean you can't eat your fill of pulled pork and BBQ wings this summer. Let Tailgreat, by John Currence, show you the way.
Whether or not you've realized it, you've probably seen an Instagram photo of her famous pan-banging chocolate chip cookies at one time or another. If you've tried them yourself, you won't want to miss Sarah Kieffer's 100 Cookies, which comes out in August.