The Life and Death of Pizza and Pipes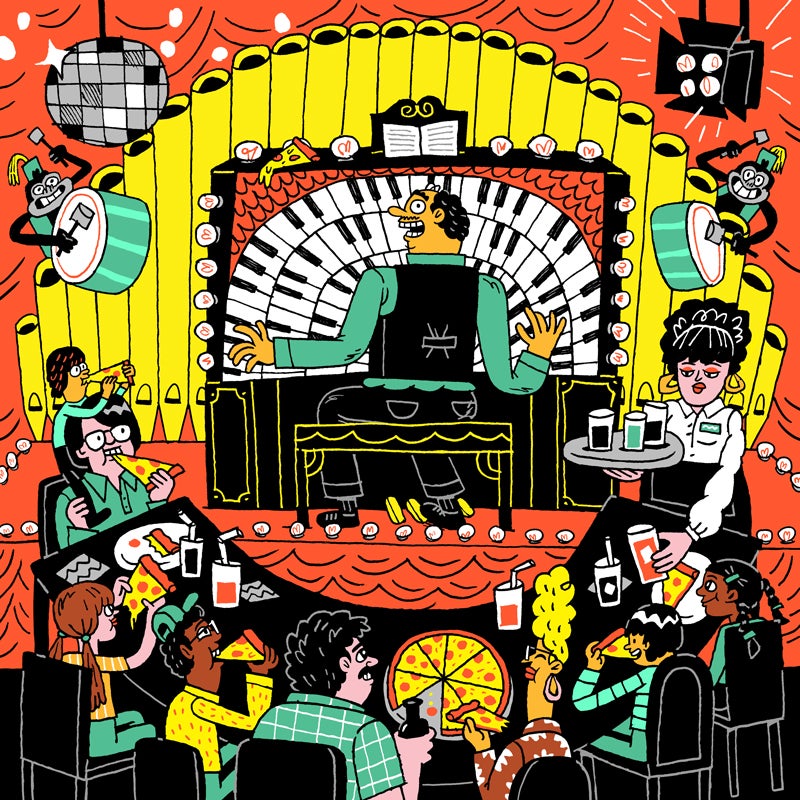 Back before Chuck E. Cheese's and animatronics, a pizza dinner with the family came with a side of prog rock played on a live organ.
In the 1970s and '80s, live pipe organ music could be heard in more than 100 pizzerias across the country. By the 1990s, they were nearly all extinct. Just as life began on Earth when all conditions were inconceivably correct at the exact right moment in time, the "pizza and pipes" phenomenon (as it came to be known) was a synergistic super team of several seemingly disparate cultural themes that all happened to have been huge in the 1970s.
Family-friendly pizzerias were suddenly juxtaposed with—and inexplicably improved by—cinematic scores and synthed-out prog rock played on antique, churchy pipe organs sitting right in restaurant dining rooms. This was dinner theater for the whole family, from the era that brought us the children's menu and "parenting" as a noun and social construct. This was music that miraculously sounded old and new at the same time: the jarring, futuristic sounds of the '70s, played on glorious vintage instruments from the 1920s.
Organ Grinder Pizza, in Portland, Oregon, was the first to serve me pizza that wasn't a frozen Totino's. Its most memorable menu item was a hamburger-topped taco pizza called the Percussion, to be exact, and it was served under the twinkling light of disco balls, to the euphony of live organ music. Seated on a platform in the middle of the dining room sat a gleaming, gilded organ played by the Liberace du jour, accompanied by a mechanical monkey playing the cymbals. The organ was a four-manual Wurlitzer with 51 ranks and nearly 4,000 pipes. There were arcade games in the back of the restaurant, and gilding the lily was a hurdy-gurdy player stealing kisses from a real live capuchin monkey named Pizza Pete, who jumped around the dining room, tipping his hat to the audience members and shaking them down for cash with his little tin cup.
Pipe organs had been fixtures in theaters during the silent-film era of the early 20th century, and most pipe organs in pizza joints were repurposed from old theaters—the Organ Grinder's Wurlitzer was originally located in Portland's Oriental Theater (razed in 1970). With the widespread adoption of "talkies" during the 1930s, silent films and the theater organ were effectively dead. Hundreds of beautiful, perfectly functional organs spent decades hiding in theaters, waiting for their moment to once again shine.
Meanwhile, American soldiers stationed in Italy during World War II returned with a taste for pizza. (That's not to say that pizza hadn't already been around in the U.S.; it came to New York with Italian immigrants in the late 1800s.) In the Bronx, Baker's Pride Oven Company launched its line of commercial pizza ovens in the mid-1940s, and soon pizzerias began cropping up around the country.
Because of the crowd-friendliness of their primary offering, pizza parlors are generally a louder type of restaurant. There's typically one large dining room, which lends itself well to the unsubtlety of a pipe organ. In 1962 (four years after opening), Ye Olde Pizza Joynt in Hayward, California, was the first to put the two together. This coincided neatly with the birth of dinner theater, which picked up momentum in the 1960s and '70s. In the mid-1970s, the pizza-and-pipes trend spread like fireweed; by the 1980s, there were close to 150 organ-boosted pizzerias in North America.
Organists played everything from the predictable "Toccata and Fugue in D Minor" and the jaunty ragtime stylings of Scott Joplin to thunderous renditions of "Pinball Wizard" and "Tubular Bells" (better known as the Exorcist theme). Star Wars medleys were likewise in heavy rotation; the colorful mixtures in a tutti-heavy "Cantina Band" were always met with rapt enthusiasm. These pizzerias were so acutely popular that some of the organists even cut albums, which were sold in the restaurants.
But all good and pure things must die. In 1977, Atari founder Nolan Bushnell opened the first Chuck E. Cheese's Pizza Time Theatre in what would become the Silicon Valley, a mere 30 miles from Ye Olde Pizza Joynt. Bushnell admitted in a 2013 interview with The Atlantic that he'd gotten the idea from a pizza parlor called Pizza and Pipes and then applied Disneyland's animatronic tech to the "pizza + entertainment = $$$" formula. Whereas pipe organs were charmingly old-fashioned, video games were newfangled tech, and anthropomorphic robo-critters were positively mind-blowing.
"Whoever coined the phrase 'fun for the whole family' obviously never had fun—and never had family," wrote marketing industry expert Jim Joseph for Entrepreneur. "You simply can't be all things to all people. There's no 'fun for the whole family' in marketing." But Chuck E. Cheese's, like many of the pizza parlors with live music, sure tried.
The lower-tier food and drink program scarcely made up for the lawless hellscape of a Chuck E. Cheese's, despite the spectacle of the animatronic furries in Munch's Make-Believe Band. But it seems that the kid-pandering chain may be yielding to the urge to satisfy all needs, like its predecessors did; in August of 2017 Chuck E. Cheese's announced that it would phase out its animatronic critter-band and try a more parent-friendly menu.
Of the legions that once graced the North American dining landscape, only three pipe organ pizzerias remain in the U.S.: Organ Piper Pizza in Greenfield, Wisconsin; Beggar's Pizza in Lansing, Illinois; and Organ Stop Pizza in Mesa, Arizona. When Portland's Organ Grinder ran out of money and closed in 1996—14 years after a Chuck E. Cheese opened a few blocks away—the organ was dismantled, with bits and pieces going to collectors around North America. Those giant diaphones went to Organ Stop Pizza in Mesa, and the building now houses an all-you-can-eat Chinese buffet.
Though its remains have been scattered across the country, I still periodically revisit the Organ Grinder by listening to "Over the Rainbow" while eating taco pizza. Thanks to YouTube (and my own copy of the Organ Grinder record album, scored on Amazon), I can always take a dewy-eyed stroll down memory lane.