The Life and Death of Tart Frozen Yogurt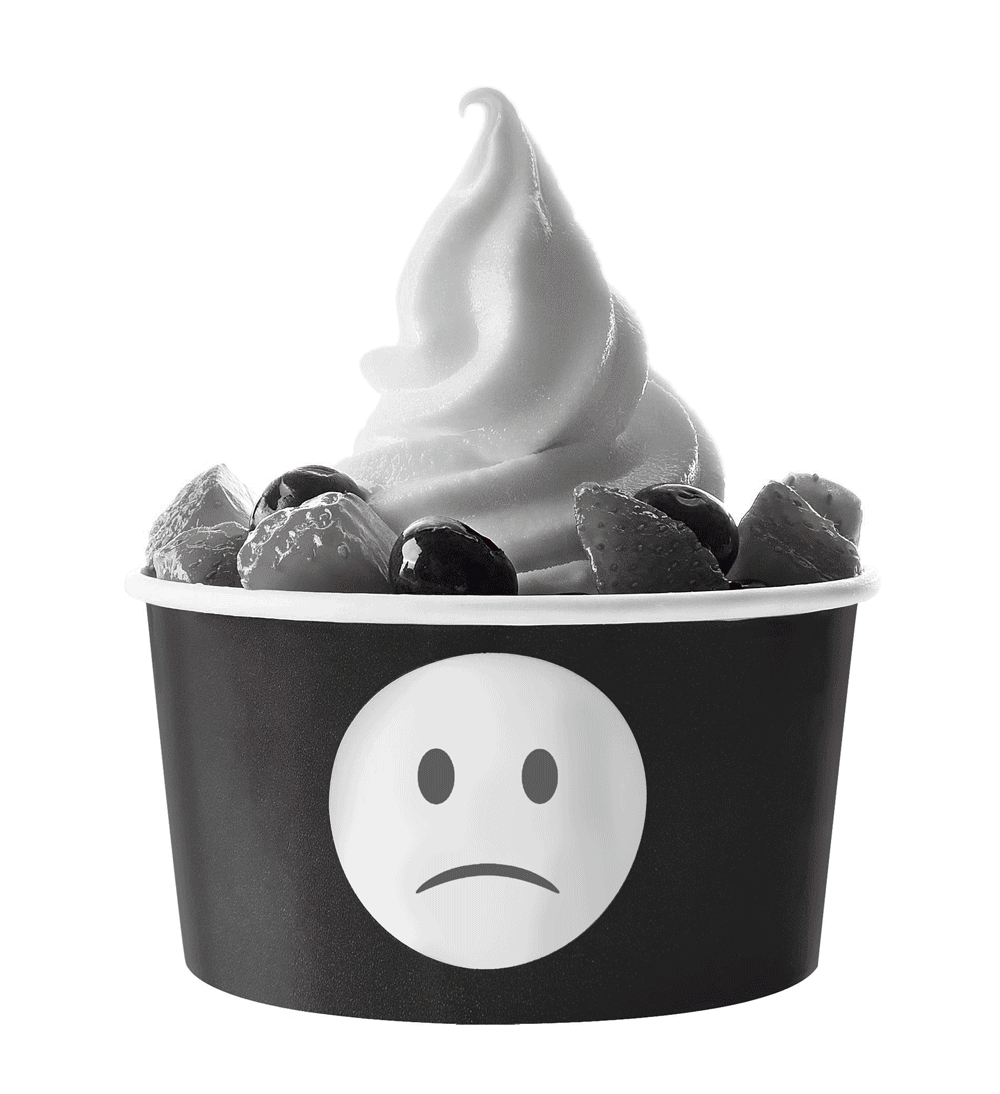 Never forget Red Mango, Pinkberry, and 16 Handles.
In 2003, Dan Kim hit upon a brilliant idea.
A South Korea native living in southern California, he had noticed that in his hometown of Seoul, the popularity of European sweets and flavors—almond croissants, pistachio macarons, and the like—was exploding. The rise of Korean bakery chains like Paris Baguette and Tous Les Jours was bringing a wave of these snacks to the country of nearly 48 million people. Frozen desserts like patbingsu, a shaved ice topped with condensed milk and chopped fruit, were already popular. As were probiotic products like Yakult—the tiny shot of drinkable yogurt that famously ends a grilled meat feast—and not-too-sweet dessert flavors like red bean and green tea. Kim saw an opportunity.
"The idea was, how do you take that Italian-tart-flavored gelato and put it into soft serve?" he says, adding that he was a longtime lover of the yogurt-flavored gelato that was ubiquitous in Italy, as well as the creamy frozen yogurt he ate at Penguin's as a kid.
The result was Red Mango, a frozen-yogurt chain whose prime offering was a highly specific, and addictive, style of tart frozen yogurt—a swirled dessert made by mixing and freezing yogurt, milk, and sugar. It was both smooth and refreshing, with a pleasant tang that leaned into sour more than sweet. And in South Korea, it was an immediate hit.
Back in the U.S., tart frozen yogurt had already experienced its first wave in the 1980s, during the rise of the low-fat, low-sugar diet craze. As quickly as the trend had proliferated across middle America, though, it was eclipsed by places like TCBY and Tasti D-Lite, which offered sweet flavors like chocolate and vanilla along with drastically cut calorie counts, earning cameos on Sex & the City and Saturday Night Live. But as those fad diets fell out of fashion, so too did frozen yogurt. The New York Times reported that frozen-yogurt production in the United States went from 117.6 million gallons in 1990 to 65 million gallons in 2005, according to the International Dairy Foods Association.
Then, in 2005, as Red Mango was taking off in Seoul, Pinkberry happened. Entrepreneur Shelly Hwang and architect Young Lee turned a small storefront in West Hollywood into a splashy lime-green shop suffused with plants and modern-looking globe pendant lights serving signature "tart" and green tea frozen yogurt spun in a soft-serve machine. The zippy, low-calorie swirl—often topped with fresh strawberries or granola—fit perfectly into California's trend-obsessed, health-conscious culture, and Pinkberry won over fans like Charlize Theron, Oprah Winfrey, and David Beckham.
Sales for Pinkberry exploded, and soon, tart frozen yogurt was not just a California thing—it was literally everywhere, thanks to dairy manufacturers like Danone and Pregel, which marketed liquefied and powderized forms of yogurt that any entrepreneur could use to start a frozen yogurt shop. Kim, seeing the Pinkberry effect Stateside, launched Red Mango in the U.S. in 2006. And so began the great Asian frozen-yogurt wars of the early aughts: There were lawsuits over copycat branding! Major drama ensued over whether there actually were live active cultures in Pinkberry fro-yo (but that didn't seem to bother people all that much)! You could not walk five blocks in most major cities without spotting a frozen-yogurt shop.
People were completely sold on tart frozen yogurt as a dessert that could also count as health food. "There was a heightened awareness of the probiotics in yogurt being good for you" in America, thanks to brands like Activia and Greek yogurt, says Kim.
Because of the nutrition angle, "it gave people permission to eat whatever they want," says Bret Thorn, a longtime editor at Nation's Restaurant News, which heavily covered the tart frozen-yogurt craze during its heyday. "If people think it is good for them, they will jump on that."
The period also marked the dawn of social media, and places like Red Mango and Pinkberry took full advantage—tart frozen yogurt had that photogenic swirl, and a decade before those made-for-Instagram statement murals became a dessert shop's best marketing tool, the spaces where you ate it were designed to be contemporary and colorful gathering spots.
"We just noticed a lot of millennial interest in things that were good for you, looked good, tasted good, and could be enjoyed in a good environment," Kim says.
This younger audience was also excited by the unfamiliar taste of tart frozen yogurt, says Solomon Choi, the founder of 16 Handles—a showy frozen-yogurt chain serving a veritable rainbow of flavors. "Baby boomers were meat and potatoes; they didn't like to try new things," he says. "The younger generation was willing to try anything."
But as the market became saturated with tart frozen-yogurt shops, new places started to seek out ways to innovate. Around 2008, the self-serve, multi-handle frozen-yogurt format was born.
"I wanted to build a brand that wasn't just going to rally around the trend of tart yogurt, but make it a lifestyle similar to Baskin-Robbins' 31 flavors, where it is about choices," recalls Choi, whose brilliantly named 16 Handles was the first self-serve frozen-yogurt shop in New York when it debuted in 2008. Even though tart was popular at the time, "we understood that the consumer palate in the U.S. still liked things that were overly sweet and indulgent."
16 Handles, along with places like Menchie's and Yogurtland, offered tart flavors alongside more cloyingly sweet flavors, like birthday cake, peanut butter, and Oreo. The first location of 16 Handles, opened on a particularly dense stretch of Second Avenue in New York's East Village, was located within walking distance of a Pinkberry and a Red Mango—yet by 2009, 16 Handles was earning $1 million in annual revenue in just that store. 
The introduction of self-serve frozen yogurt, like 16 Handles, where customers paid a single price to pick among dozens of flavors and apply limitless toppings, was the beginning of the end for tart frozen-yogurt shops, Kim firmly believes. "It took away the uniqueness and specialty of the product," he says, "and the focus was more on indulgence and getting as much as you can." The integration of sweet flavors, he adds, "confused people. It was harder to convince people that this was good for you, because it was so similar to ice cream." Frozen yogurt was less about the measured, less-is-more approach of a place like Pinkberry or Red Mango, and more an all-you-can-eat buffet of sugary toppings.
History began to repeat itself. "Frozen yogurt was once again seen as a substitute for ice cream, but that had to happen for it to go mainstream," says Susan Linton, the president of the International Frozen Yogurt Association (this is a real thing). "The reality is a lot of people don't like tart frozen yogurt," especially kids. These new places, like 16 Handles, "were trying to get a larger market" by presenting a product that could appeal to multiple generations during the same visit.
By 2010, 16 Handles went from offering several tart flavors to just one or two, and the popularity of tart slipped considerably. "People were asking for indulgent flavors and sorbets," Choi says. "There was no point in dedicating three of our handles to plain tart."
The end of the decade also saw the introduction of salad chains like Fresh & Co and Sweetgreen, which changed people's mentality about health. They were less interested in eating moderately healthy all of the time, says Thorn. "It was more they wanted to be extremely healthy most of the time, and then they cheat and indulge with their burger and fries." Artisanal ice cream shops like Salt & Straw and elaborately decorated doughnut spots were on the extreme upswing. "Something that fits in the middle, like frozen yogurt, might have less appeal."
Case in point: Sweetgreen offered tart soft serve as its sole dessert when it first opened in D.C. in 2008, but by 2014, it had moved away from this completely in an effort to focus more on sourcing seasonal ingredients and rolling out grain bowls, says cofounder Nicolas Jammet.
The final blow to the tart frozen-yogurt craze was likely the rise in vegan and dairy-free diets around 2015, and the plentiful cafés and cookbooks that followed, says Thorn. Almond milk became the new it beverage, and dairy-based desserts were no longer in vogue among the healthy set.
Pinkberry stores were closing left and right, including the original West Hollywood location (it certainly didn't help Pinkberry's sales that in 2014 its cofounder Young Lee was sentenced to seven years in prison for assaulting a homeless man). Red Mango integrated juicing in 2014 in order to boost sales. 16 Handles—which still operates 35 locations in four states (plus two in Saudi Arabia)—recently started offering a cashew-milk-based vegan frozen yogurt.
"Something that fits in the middle, like frozen yogurt, might have less appeal."
The void of tart frozen yogurt has been quickly filled with other desserts that felt newer and splashier: There was Thai rolled ice cream, with its enormous visual appeal; then Halo Top, which promises high indulgence and low calories and saw an explosion in interest in the summer of 2017 that has since cooled; and Kakigori, a dramatic-looking shaved-ice treat from Japan.
"There is something kind of universal" about these sorts of foods, Thorn says. "In ancient Rome, they put sweetened things on snow, and in the Philippines they do halo halo." Anyone can appreciate a frozen treat. Tart frozen yogurt brilliantly capitalized on that mentality while fitting nicely into the cultural zeitgeist of the time.
It's hard to know in advance which foods will turn into full-fledged trends or what the latest health obsession will be. But if tart frozen yogurt taught us anything about the next big thing, it is this: It will probably be cold, and it will probably be marketed as dessert.
The Country's Best Yogurt Column is an exploration of all things coagulated milk solids — how to cook with it, the fads that have surrounded it, and the many ways it has come to fit into our kitchens, grocery aisles, and restaurant menus.