Less Stress, More Streusel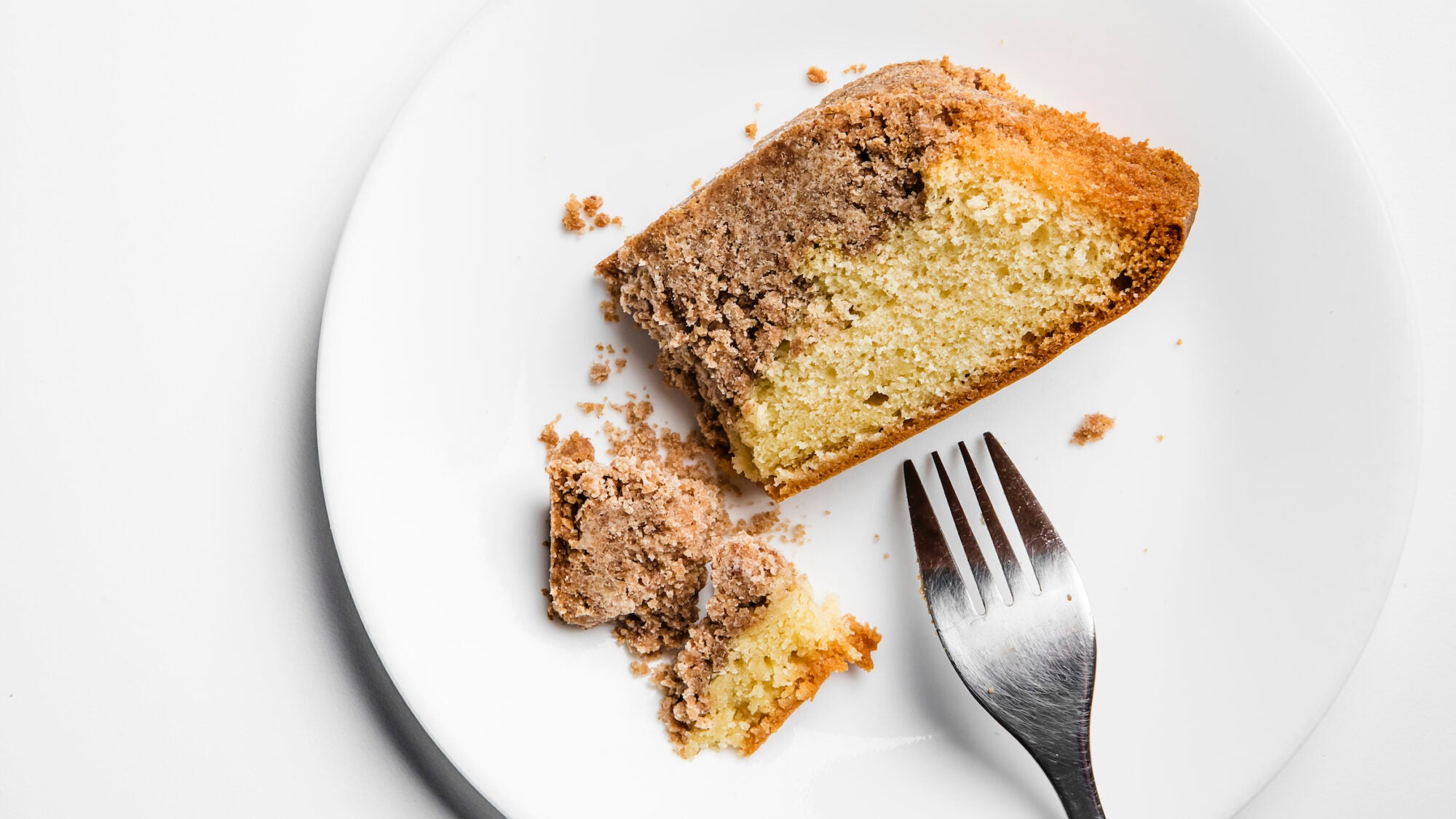 A make-ahead batch of sheet pan streusel will give your improvised crumbles, yogurt bowls, and ice cream scoops a pastry chef polish.
My ideal summer dessert is fruit-forward, extremely unfussy, and takes no more than 30 minutes to make, tops. Because, when the sun is out and the water is calling, the last thing I want to do is fuss over pie dough or, frankly, make anything that requires forethought. After numerous summers spent tussling with my rolling pin and waiting for icebox cakes to miraculously coalesce, I've zeroed in on a formula that delivers an easygoing yet aspirational, composed summer dessert: seasonal fruit + something creamy + something crunchy. What really delivers the wow factor and turns it into a dinner-party-worthy dessert is the crunch. For this, I turn to sheet pan streusel.
From the moment the first crimson stalks of rhubarb show up in May at the market until the final raspberries disappear in September, I put this template on repeat. Think: grilled peaches with whipped mascarpone and chunks of salted browned butter streusel, or ripe figs with chocolate mousse and toasted pistachio streusel. A medley of flavors and textures, the trifecta is the perfect union of sweet, tart, soft, and crisp.
Streusel is indisputably the best part of, well, everything it is a part of. If you strip away the buttery crumb topping from coffee cake, muffins, or a crumble, is there even a point? It is at once both homey and sophisticated. You're just as likely to find a crispy crumb topping on a Michelin-starred dessert menu as you are at a local farm stand. Typically a combination of butter, flour, sugar, and spices, with the occasional cameo of nuts, seeds, and oats, the sweet crumble instantly adds texture, variety, and intrigue to whatever it's scattered across.
While most home cooks are probably familiar with using streusel as a component of a recipe, layering it on top of sour cherry pies and cinnamon-swirled coffee cakes before sticking them in the oven, pastry chefs have been known to bake off batches of the stuff directly on sheet pans. Baking the crumb topping separately not only allows for it to crisp up and caramelize without any risk of sogginess, it also extends its shelf life by months. I first caught wind of this technique in Dorie Greenspan's cookie tome, but it was Emma Laperruque's absolutely bonkers (in the best way possible) Food52 flowchart that opened my eyes to the endless possibilities.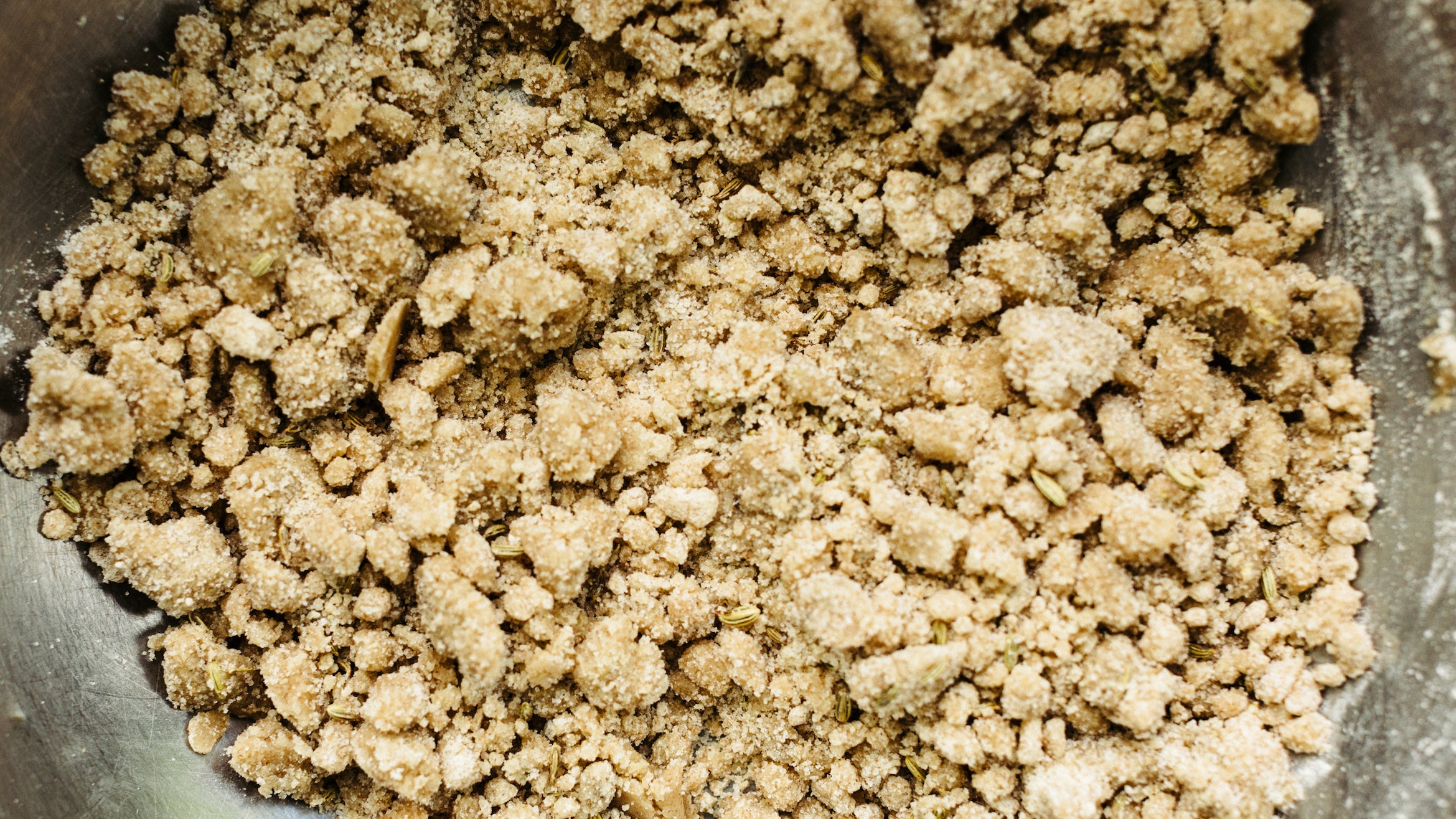 As long as you've got a sweetener (cane sugar, maple syrup, honey), a fat (butter, coconut oil, nut butter), and a flour (AP, almond, spelt), you can pull off a streusel. Unlike many baking projects, there's no need to bust out the kitchen scale, bring ingredients to room temperature, or plan ahead. The whole process takes about 30 minutes, start to finish, and once the mixture is cooled, you can store it at room temperature for a week, or pop into your freezer, where it will last for months. Armed with a container of crumbs, you're well on your way to dessert on demand.
Depending on the type of fruit you're using—and whether it's at the beginning or the end of its life span—you can serve it raw or cooked, but macerating it with sugar and spiking it with citrus juice and zest is almost always a good call. While it's unnecessary to cook perfectly ripe fruit, squashed berries and bruised stone fruit can be rescued and turned into a heap of caramelized goodness with a trip to the oven.
As for the creamy component, both dairy and plant-based options are welcome. You can go as simple (store-bought ice cream) or as complex (silken tofu panna cotta) as you'd like. Whipped cream, coconut cream, cashew cream, pudding, and ricotta are also great choices. When composing the final dessert, you can get as whimsical as you want with layering the fruity and creamy components—the only rule to follow is to scatter the streusel on top.
My go-to streusel is sweet, salty, and laced with fennel seeds. Reminiscent of taralli, the circular Italian crackers frequently spotted at aperitivo hours, the fragrant crumble complements the acidic jolt of tart summer fruit. In the beginning of the season, I like to sprinkle it over panna cotta doused with roasted strawberries and rhubarb. When juicy stone fruits appear, it is divine with grilled peaches and whipped cream. And later, when the grapes arrive, it plays well with roasted Concords and whipped mascarpone. But I also like to just sprinkle it over a bowl of plain yogurt with a spoonful of jam and tell myself it's "granola."
Lead photo by Lizzie Munro. Second photo by Emily Ferretti.