Seasoning Lentils: A Two-Act Play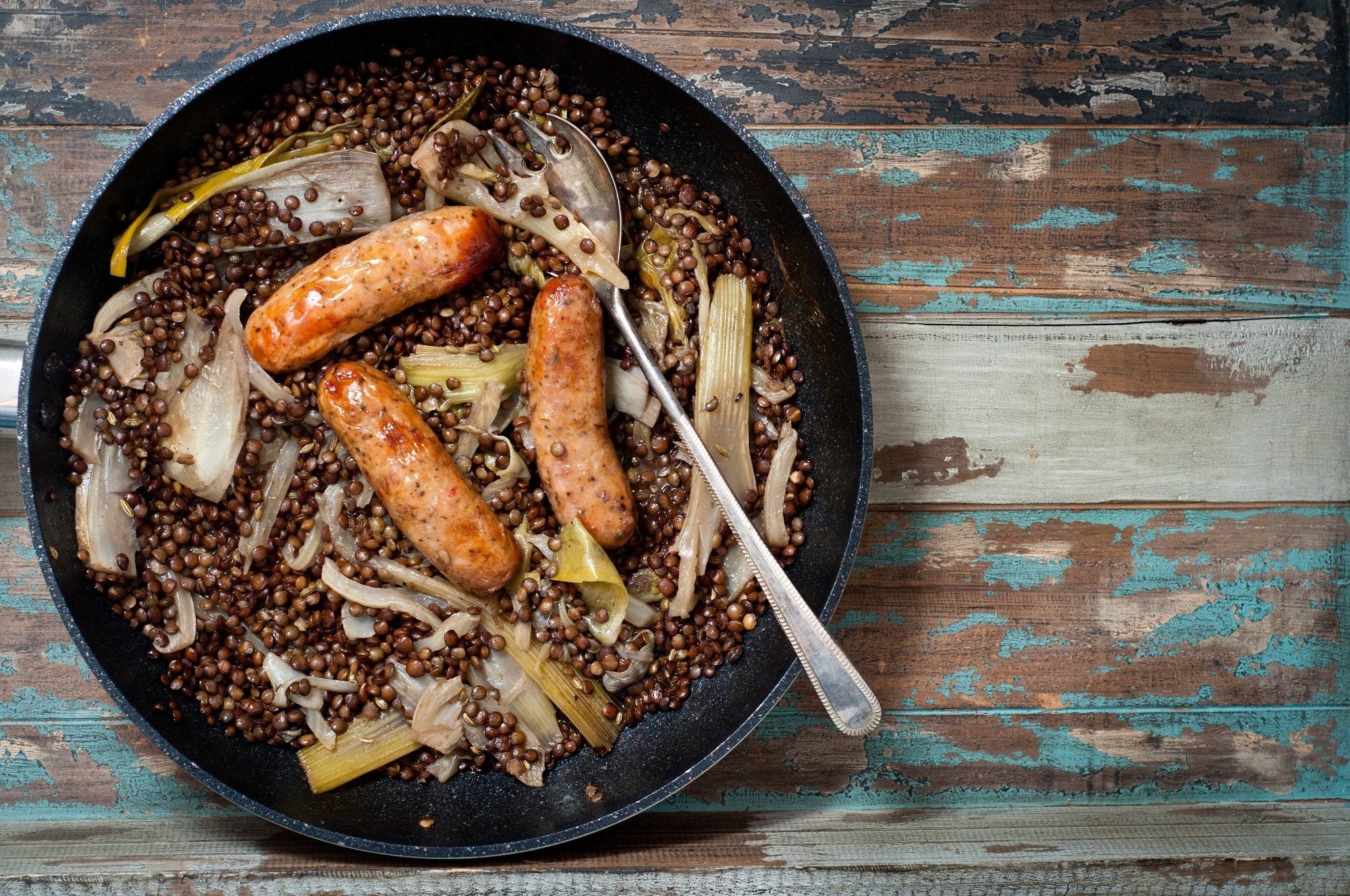 For the French, lentils are a national treasure, and with the right amount of sausage, white wine, and care, they can be pretty exciting too.
At their worst, lentils can be overbearingly practical and overpoweringly bland. I've made enough unfortunate lentil stews to know that they can feel like punishment on the third or fourth day of packing them for lunch. But at their best, lentils are buttery, silky vessels for flavor, from berbere to coconut milk to fennel and leeks.
The tiny legumes have a special place in French cooking, where they're often nestled into herby salads, savory stews, and hearty soups. Julia Child made a shortcut cassoulet using lentils, sausage, and a sauce made from wine and mirepoix, which she cooked altogether in a casserole dish topped with breadcrumbs. Jacques Pepin steeped lentils in a broth of cloves, bay leaves, and onion, and then turned them into a salad with a mustardy vinaigrette and plenty of shallots and chives. Daniel Boulud served them with braised pork shoulder and endives.
Part of France's love affair with lentils revolves around its native Le Puy green lentil, which has a Destination of Origin distinction that dictates that they must come from the Le Puy commune, near the Loire River. Puys are especially prized for holding their integrity and structure even after being cooked for a long time. Clotilde Dusoulier, the Parisian blogger and author of Tasting Paris, says, "It's a variety that has been grown in that same region since the 17th century—with the traditional method of cultivation, without fertilizer or irrigation. From a texture perspective, it strikes just the right balance between firm (it keeps its shape) and tender (it's neither tough nor mealy)." She is also a fan of the lentille blonde de Saint-Flour (another native of France, with a lighter color and soft, sweet taste) and the lentillon rose de Champagne (a pink lentil from the Champagne region).
The best way to think about lentils in a French way is to think about adding flavor at two stages—into the liquid that the lentils cook in, and after the lentils have cooked. If you have some on hand, you can cook your lentils in stock, but if you're using water, salt it well, and consider tossing in some thyme, bay leaves, cloves, onions, celery, leeks, or other aromatics. "Proper seasoning is key," says Dusoulier. "Lentils need salt to shine."
In the soupe de lentilles from Tasting Paris, the lentils soak up a savory, sweet base layer of flavor in the form of lightly browned Toulouse sausage stewed with fennel and onion.
Once the lentils are cooked, you have an opportunity to add crunchy, fresh, acidic elements, whether you're draining them and adding a crunchy shallot dressing, or a squeeze of lemon and some herbs. After adding stock and cooking, Clotilde tops her lentil soup with a scoop of crème fraîche and a little handful of chopped parsley—two simple gestures that add a shock of brightness.