The Legend of Lebanon Bologna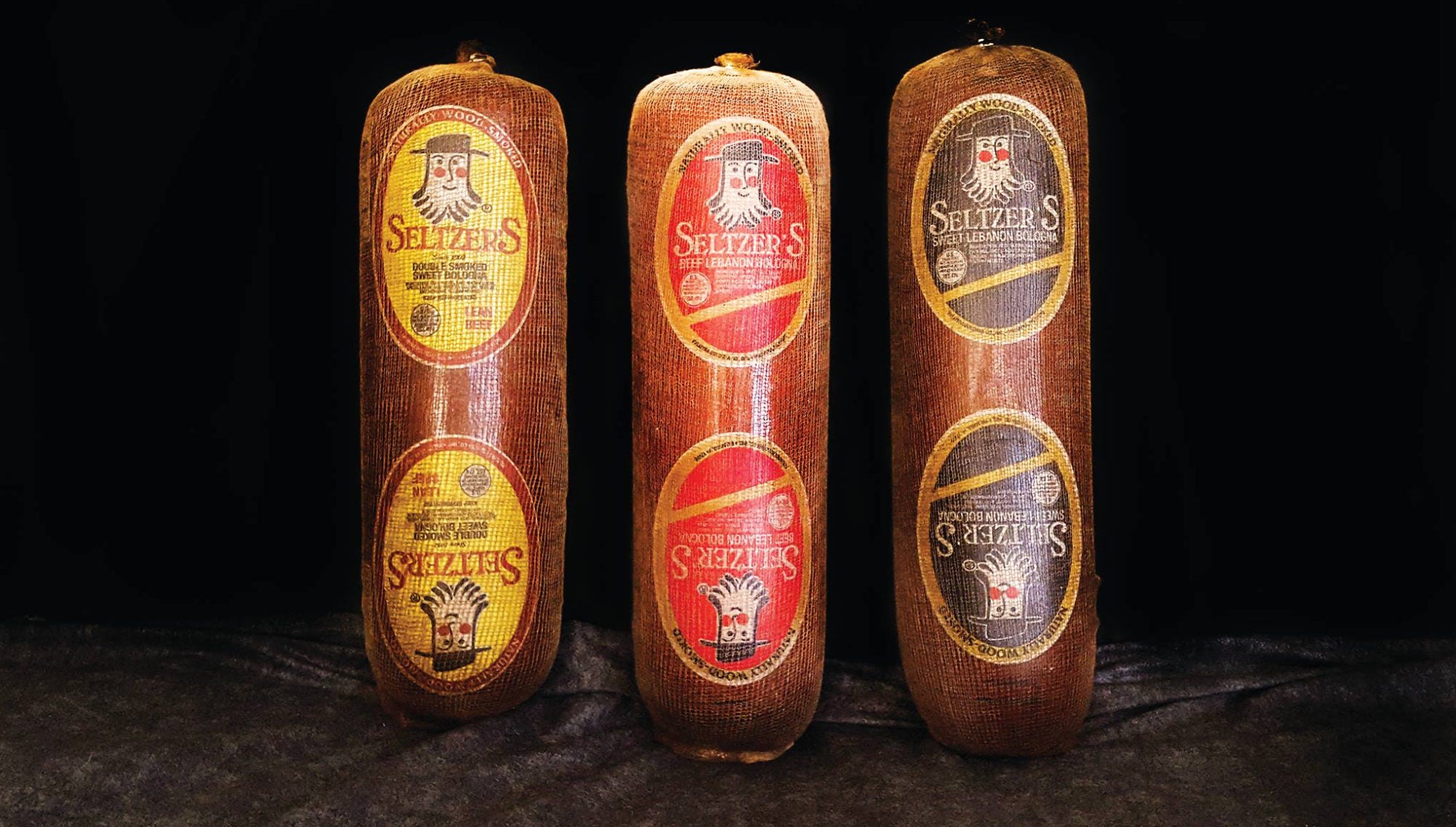 This Pennsylvania Dutch specialty lunch meat is far from the bland bologna of your middle-school lunch table. The sweet and tangy cult favorite is beloved by locals and Pennsylvania expats across the United States. Bless mail order.
Two summers ago, while driving back to New York from Philadelphia, I made a detour to Lancaster, Pennsylvania, and since then have been returning on a regular basis. While you can now stay in boutique hotels built on the sites of renovated tobacco warehouses, it's the top-tier restaurants, honor-system farm stands, and the busy Central Market that shout loud and proud that the food here is really, really great.
Since that first trip I've been back many times and have become well acquainted with the region's specialties, like shoofly pie—a rich, molasses-filled sugar bomb topped with a buttery crumb topping—Martin's pretzels, and jars of Long's horseradish, made by the same family for five generations.
But I was late to the game in my appreciation of Lebanon bologna, so beloved that the namesake town, located in south central Pennsylvania about 30 miles east of Harrisburg, rings in the New Year with an annual "bologna drop," where a 12-foot, 200-pound Lebanon bologna is gently lowered from a large crane into the midst of a crowd of revelers (the giant bologna is later donated). Last year the Kaiju-sized bologna was replaced with a papier-mâché likeness of a mascot, known as the Bologna Ranger, who was armed with smaller sticks of bologna. But the bologna spirit very much lives on.
Also known as sweet bologna, Lebanon bologna (pronounced "leb-nun ba-low-nuh" by true locals) is not the processed, bland bologna from your middle school lunch table. The all-beef bologna technically falls under the umbrella of semidry fermented sausage but more resembles salami, with a distinctive red-wine hue and white specks of glistening fat freckling the surface. Its smoky aroma lingers like a meaty campfire, and the first bite reveals a funky tang, with aromatic spices rounded out with a pronounced creamy sweetness.
Lebanon bologna dates back to the early 19th century, when immigrant farmers from the Rhineland-Palatinate area of Germany settled in the area and perfected the slow-cured sausage-making of their homeland. (The more common moniker Pennsylvania Dutch has nothing to do with Holland but derives from the dialect spoken by the German settlers.)
My friend Tom Nissley, owner of Phinney Books and Madison Books in Seattle, had been following my Lancaster chronicles on Instagram and, as the son of two Lancaster County natives, encouraged me to seek out Lebanon bologna at the S. Clyde Weaver's stand at the historic Central Market.
"I grew up on it, but it felt like our family secret," Nissley recalls. "It starts with the smell—a sour, smoky pungency that tells you exactly how it's going to taste." And after following his tip, the artificial blood-orange scent piped in through the lobby and hallways of the hotel where I was staying was soon overtaken by that distinctive smell of Lebanon bologna emanating from my room's mini-fridge.
Seltzer's in Palmyra, Pennsylvania, about five minutes from Hershey Park, is the leading producer of Lebanon bologna and has been making it since 1902. The process starts when 85 to 95 percent lean beef from forequarter cuts is coarsely ground and laced with salt, sugar, and a proprietary blend of spices. The only one listed on the Seltzer's label is paprika, but I suspect cinnamon, clove, ginger, white pepper, and allspice are involved in the mix.
A probiotic lactobacillus starter culture is added at this point to aid with the curing and fermentation process and lower the pH level. The seasoned blend then goes through an additional grind and is formed into various sizes ranging from eight-ounce "chubs" to four-foot, 25-pound logs. After being enrobed in porous, fibrous netting, they're transported to the smokers, where they'll hang from the rafters in stocking nets.
"The old-fashioned part of our process is definitely the smokehouse," says Seltzer's sales manager Perry Smith, referring to the 10 narrow, three-story buildings where the bologna is cold-smoked in a haze of hardwood smoke for up to three days. Seltzer's is the only federally inspected meat plant in the country still using natural smoke; most producers have adopted automated stainless-steel smokehouses, which speed up the process to hours instead of days by relying on a smoke generator to provide clean, consistent, continuous smoke
In addition to offering the bologna in beef sticks, picnic-ready "chubs," and deli slices, Seltzer's sells its bologna in a number of flavors, including the original (also called sour bologna by many), sweet (made with white sugar), double-smoked sweet (made with brown sugar), smoke'n honey (made with brown sugar and honey), and low-salt and low-sodium.
While Smith's favorite way to eat Seltzer's is a sweet bologna sandwich with Swiss cheese, Dijon mustard, lettuce, and tomato on a pretzel bun (what he calls "a good summer sandwich"), he hears from fans who are a bit more experimental. "There's some crazy sweet-on-sweet applications," he says, noting examples of people who like their bologna topped with peanut butter or molasses, or the one devotee who wraps a slice of sweet bologna around a banana for a favorite snack.
Dan Zeiders, the bar manager at Luca in Lancaster, Pennsylvania, grew up with Lebanon bologna, but it wasn't until after college when he moved to Portland, Oregon, and he could no longer find it, that he realized it was such a regional specialty. Although his Pennsylvania Dutch grandfather was never a fan and equated its somewhat acquired taste to "skunk meat." Now living back in Lancaster, Zeiders always stocks a cache of Seltzer's double-smoked sweet bologna at home. "I would say it's my secret eating food," says Zeiders. "For me it's almost like candy." One of his favorite snacks is a pinwheel of Lebanon bologna covered with a schmear of horseradish-spiked cream cheese wrapped around a pickle spear, a popular variation that's standard fare for area church picnics, potlucks, and holiday gatherings.
Joe Beddia, owner of Pizzeria Beddia in Philadelphia, grew up in Lancaster, and while he hasn't had Lebanon bologna in years, he has fond memories of the local lunchmeat. "I remember being a little kid, and my mom would have the kind of dinner parties where she'd carve a basket out of a watermelon, and she would take the Lebanon bologna and put cream cheese in it and roll it up and slice pinwheels out of it and serve it speared with a toothpick," says Beddia. "My mom was very precise in her design. That was a fancy hors d'oeuvre in Lancaster in the early '80s. It was such a treat. It was so comforting, you know?" Beddia wouldn't think of cheffing up Lebanon bologna and likely wouldn't offer it as a pizza topping or work it into a combo in Pizzeria Beddia's private "Hoagie Room," but instead he'll stick with his mom's pinwheel approach for a perfect one-bite canapé.
Beddia's high-school classmate Matt Russell is also a chef and with his wife, Starla, owns Lancaster's iconic Horse Inn, the oldest continuously operating restaurant in the city. He grew up in the area but spent some time in Charleston cooking alongside Sean Brock at McCrady's. "When I moved south, I started missing all the things from home and I'd always have to bring back Lebanon bologna for the kitchen crew every time I traveled to Lancaster," recalls Russell, whose arms are covered with colorful tattoos celebrating Pennsylvania foodways.
At the Horse Inn, Russell has featured what he calls the Market Slider, a sweet bologna sandwich made with Long's horseradish, spicy mustard, mayonnaise, a slice of Guernsey's Gift white American cheese, and crushed-up potato chips on a Martin's potato roll, but he generally likes to keep his Lebanon bologna appreciation simple. "It's salty; it's smoked; it's a little bit fermented. It is what it is. Some people don't like it for sure, but I think it's too good on its own to kind of mess with."
Photos: Seltzer's Smokehouse Meats (lead) and S. Clyde Weaver Smoked Meats And Cheese.