Leah Chase Expanded Horizons for Black Women in Food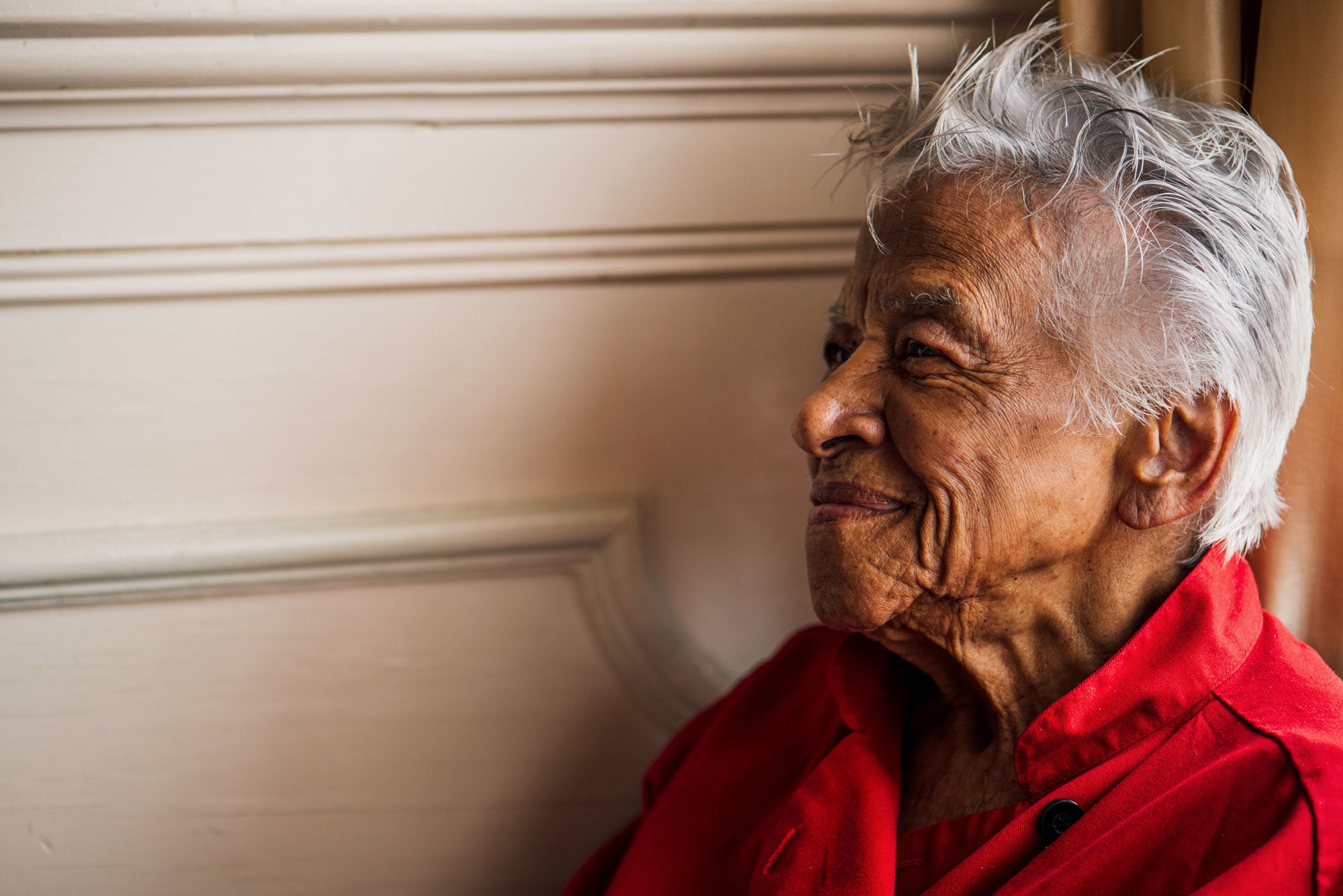 Remembering the New Orleans chef's legacy.
I first met Leah Chase and her husband, Edgar "Dooky" Chase, Jr., at their restaurant Dooky Chase in 2008. I was a law student on an alternative spring break trip to New Orleans. It was the first trip to Louisiana for many of my USC classmates, but for me, this was a trip home.
Two and a half years had passed since Hurricane Katrina, and part of me felt like a stranger. Post-Katrina Louisiana was not a place I knew—I'd moved to Los Angeles in 2003. Structures were still tattered, and many residents remained displaced. A reddish-brown line appeared horizontally across the sides of buildings, showing how high the floodwaters had risen. But what was recognizable was the resilient spirit of the residents who returned, and the Chases exemplified that resilience.
They greeted us with grateful eyes and generous hearts. My school's service efforts included helping their restaurant, which was damaged extensively during the storm, as they prepared to reopen full-time. Fifteen of us spent the week cleaning equipment, polishing chairs and tables, and arranging restored furniture in the dining area. What I envisioned as a service project quickly became a cultural exchange, and we were the beneficiaries of something much greater than a private dinner at the end of the week to thank us for our efforts. Dinner began with gumbo and shrimp corn chowder with garlicky toasted French bread, followed by creamy lima beans with shrimp served over rice, crawfish étouffée and grits, and Ms. Leah's signature dish, fried chicken. Before we feasted, Leah Chase addressed us in a speech that would alter the trajectory of my career.
She had a special way of commanding a room. Wisdom poured from her mouth, melting barriers and filling our souls in a way that was just as satisfying as her crispy fried chicken or shrimp Clemenceau. She told us the story of how Dooky Chase—the restaurant—served as a safe haven during the civil rights era, a place where black civil rights leaders could strategize with white activists without the threat of police intervention, even though it was against the prevailing laws of segregation.
She spoke about the joy of doing what you love. She confided that she found comfort and gratitude by waking up each morning and working, prepping the trinity: chopping celery, onions, and bell peppers—the base of many Creole dishes her restaurant served. I was nourished by her words before ever being delighted by her food.
I was born and raised in Baton Rouge, just an hour west of the Crescent City. The values of cooking with vegetables from the land, with love in your heart and skill passed down from previous generations, permeated our community. When something is close to you, it can be hard to see how it has a place in the bigger picture. Up to that point, my understanding of soul food was home-cooked meals reserved for holidays and special gatherings like my family's annual Father's Day cookout or a cousin's college graduation party. Cornmeal-coated fried catfish was passed at backyard barbecues in an aluminum tray lined with paper towels to soak up the grease. Jambalaya was cooked outside in a giant pot that was too large to move, so you would have to take your plate to the pot to fill it.
Wisdom poured from her mouth, melting barriers and filling our souls in a way that was just as satisfying as her crispy fried chicken or shrimp Clemenceau.
Dooky Chase was different. It was fine dining through and through, with white tablecloths, fine china and silverware. Paintings from black artists like Jacob Lawrence and Elizabeth Catlett adorned the walls, and diners felt most comfortable enjoying a bowl of gumbo dressed in their Sunday best. It memorialized creole cuisine in a way that only a restaurant that endured World War II, the Jim Crow South, and the civil rights era could. It was a monument to the depth and resilience of black culture, and Leah Chase stood firmly in the center.
I returned to Los Angeles after the service trip and heeded Ms. Leah's counsel to do what I love. I started memorializing food culture in my own way: by writing stories and sharing recipes on a blog. That blog led me to a stint selling French macarons and, eventually, transitioning from being a lawyer to a full-time baker, writer, and television personality.
Since meeting Ms. Leah in 2008, I visited her several more times. She shared how her life trajectory changed during WWII when women were permitted to join the labor force. The segregated French Quarter restaurants allowed a few "Creoles of color" to work as waitresses. In addition to serving tables, she would wash dishes to get closer to the cooks to learn the dishes they made, like Lobster Thermidor. It was during that time that she fell in love with food service and restaurants (her experiences even inspired the background story for the first black Disney princess, aspiring chef Tiana in the film The Princess and the Frog.
Last fall, I visited Dooky Chase with a group of black food writers and restaurateurs for Gumbo Jubilee, an event celebrating the New Orleans Tricentennial, organized by Nourish host Howard Conyers and soul food historian Adrian Miller. Ms. Leah told us the story of trying to put Lobster Thermidor on the menu at Dooky Chase back in the 1940s. She concluded that her restaurant's clientele didn't like the dish because it was markedly different from the food they had access to due to segregation. She shared that in today's postsegregation era, African Americans now have access to education and culinary training: We too can cook and serve any type of food we want. Emotionally, I thought about the opportunities I've had, from making French macarons to beignets, and how women like her paved the way.
Since her passing on June 1 at the age of 96, I've reflected on the impact she's had on my career. I did not realize back in 2008 that a service trip would lead me to meeting the woman who blazed the path, and whose steps I now follow in. She attained the trifecta of chef, restaurateur, and author, but Leah Chase built her life around a much simpler trinity: work, prayer, and doing for others. Simply by doing what she loved, she encouraged other black women, showing us all how to stir up magic with even the humblest ingredients.