LA's Taco King Is Staying Busy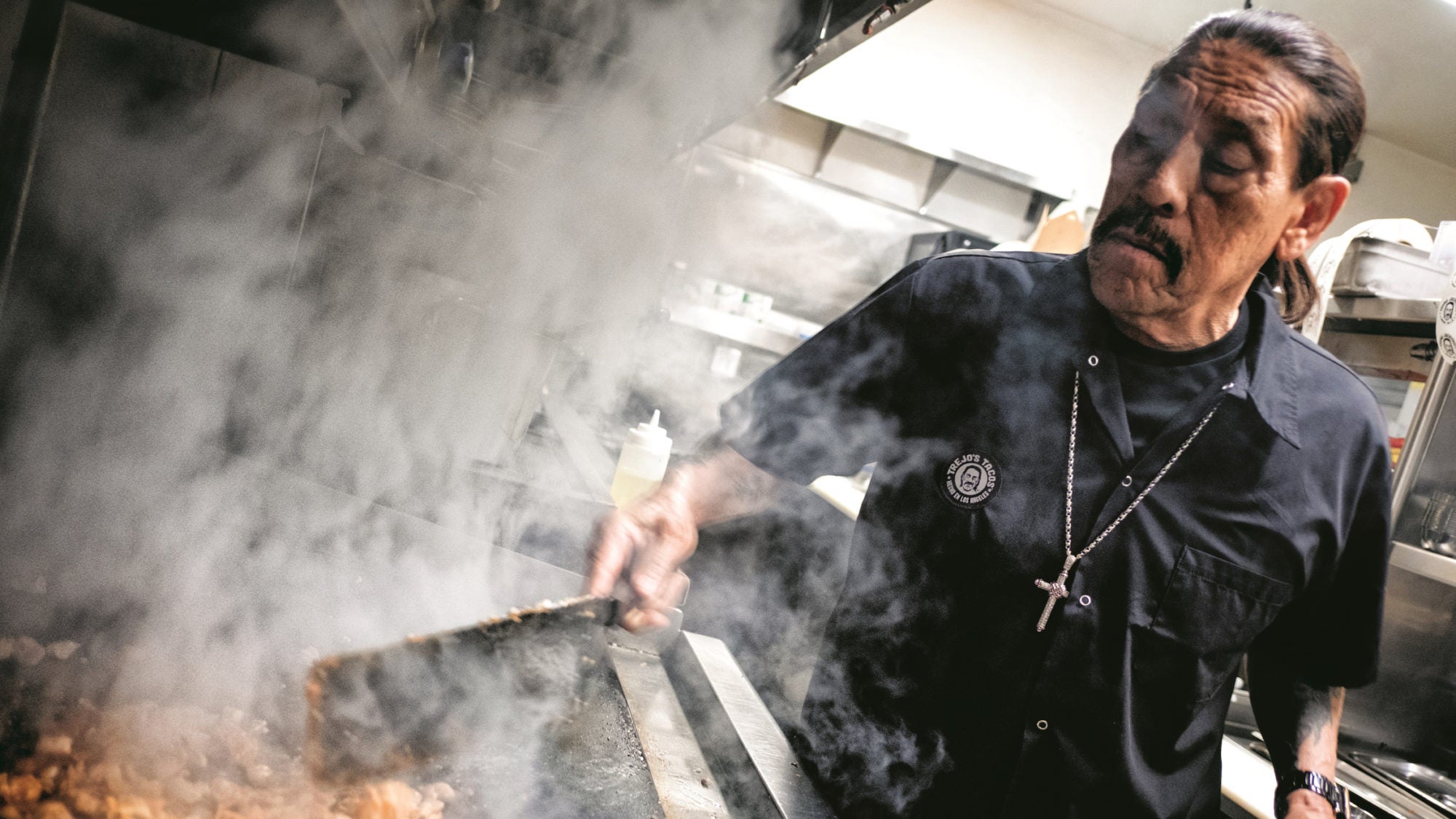 Between five restaurants and a new cookbook, Danny Trejo still has time for volunteering, gardening, and even a little Animal Crossing.
Lest you think that a man known for playing grisly boxing coaches and machete-wielding federales on the big screen might be an odd person to run a restaurant empire, let Danny Trejo prove you wrong. Cooking is part of his DNA, and the 76-year-old actor still remembers dreaming about restaurant ownership alongside his mother, in the Los Angeles neighborhood of Echo Park in the 1950s, when most of the city's Mexican food was relegated to informal stands.
Today, Trejo runs eight restaurants in LA and has published a brand new cookbook, Trejo's Tacos, to immortalize all of the carne asada, vegan-friendly roasted cauliflower tacos, and doughnuts that his restaurants, Trejo's Tacos, have come to be known for. The book is full of California soul, stories (for instance, sneaking into Los Angeles Rams games as a kid in the '50s), and all of the welcoming food that goes along with that spirit.
Even though the cookbook came out in mid-April, as most of the country was screeching to a halt, Trejo was cheerful when I checked in with him last month over Zoom. Between coordinating his restaurants to feed hospital workers and people in need, tending to his garden, and preparing for a documentary about his life that comes out this summer, he offered a sunny outlook about the cookbook, the future of Mexican food in LA, and much more.
How have you been the last couple months, and what have you been up to?
Well, we've been passing out a lot of food. We pass out about 500 meals a day. And tomorrow, we're passing out about 50 boxes of Pampers. We work with different agencies, like Western Pacific Med Corp. Tomorrow we're going to be with a group called a Homies Unidos. So we work with them, and they pass out food. We pass out food, and we pass out Pampers. So really just helping the community, trying to keep our community safe.
Have you had to put any film or TV stuff on hold over the last couple of months? I know you have your documentary coming out later this summer.
The documentary's coming out, but everything else is on hold. Everything. I had about four or five films ready to go, and this hit. So everybody's going broke, and we're just trying to help each other.
I saw on Instagram that you have been on the Animal Crossing bandwagon. How has your island been coming along so far?
My island is absolutely gorgeous. I have a Trejo's Tacos stand now, but pretty soon we're going to put a brick-and-mortar. Gary Whitta and I are going to do Danny's Diary on "Animal Talking." So I'll have a diary on this show. I'm really excited about that.
I don't like shooting everybody in video games. I do enough of that in the movies. So when I found this game—my stepson Theo turned me on to it after he had checked it out and seen that it wasn't violent—I've been playing it nonstop. Really. It's a lot of fun. My island is awesome.
And you have a brand-new cookbook in the middle of it all.
We're having a lot of fun with that. A lot of the recipes are homegrown. You know, my mom used to cook for my dad and me. And my mom and me always talked about having a restaurant, but this was in the '50s. In the '50s, I don't want to say women weren't allowed to work, but women didn't really work. They were housewives, and basically that term, it came out because they were married to a house.
Women woke up in the morning, cooked breakfast for their husband, the husband went to work, and then they started cleaning the house and had basically gotten ready for dinner at 2:00. I would always just piss my dad off by saying, "Mom, let's do a restaurant." My dad was like a Mexican Archie Bunker.
I want to talk about LA and the LA restaurant scene a little bit. What was it like growing up? Were there Mexican restaurants at that time at all?
I rode streetcars in Los Angeles. That's how far I go back. In the '50s, you could ride streetcars all over, and basically, it was a lot of stands. You didn't have a lot of Mexican restaurants. The restaurants that had been around—like the Pantry [Café] has been around since 1924, and a restaurant called Musso & Frank been around since 1919—those were the main kind of restaurants. They didn't have Mexican food at them. Now, I love a restaurant that's called Tres Hermanos, and it's right down the street from my house. So that's the, uh, the one other Mexican restaurant that I'll eat at now besides Trejo's Tacos.
Tacos and Mexican food are so integral to LA. It's such a big part of the culture of the city. And now, so many restaurants and taco trucks both are suffering from coronavirus. Do you think it's going to permanently change the landscape of Mexican food in this city?
I think that as soon as this is over, people will be dying for Mexican food. They gotta be, because our takeout is packed with people calling up for Mexican food. I think the landscape is going to come back.
Is there one recipe in the book that you want everyone to give a try?
I'm going to tell you something. I love our nachos. I will get the carnitas nachos, and I will cook two eggs over easy on top, and that's breakfast and lunch. And it's delicious.
This interview has been edited and condensed for clarity.
RECIPES TO TRY FROM TREJO'S TACOS
Carne Asada Tacos
Marinate and grill those cheaper cuts of meat for these flavorful carne asada tacos.
Grilled Spicy Diablo Shrimp Tacos
These shrimp tacos are spicy, sweet, and very California.
Roasted Cauliflower Tacos
A vegan taco to convert even the staunchest carnivore.
Nachos
Do like Danny does, and turn these into breakfast with a few fried eggs.
MORE COOKBOOKS TO BUY, READ, AND COOK FROM
Last week, we talked to Sami Tamimi about his newest book, Falastin.
Bryan Ford's new cookbook, New World Sourdough, came out last week. Dayna Evans spoke to Ford a few weeks ago about why it's time to broaden our ideas about what sourdough can look like.
If your summer travel plans have been relocated to your backyard, Eventide has you set, with all of the clambakes and lobster rolls you can imagine.
The pescatarians don't get to have all the fun. Bryant Terry brings the vibrant, savory, smoky vegan dishes with Vegetable Kingdom.
Working from home has the TASTE staff missing one of our favorite takeout lunch spots near the office, so we're pretty excited for the Xi'an Famous Foods cookbook to come out this fall.
Each week, we talk to an author of a new or upcoming cookbook we love. Subscribe to our newsletter to get these previews (plus excerpted recipes) in your inbox.