12 Gift Ideas for the Obsessive Home Cook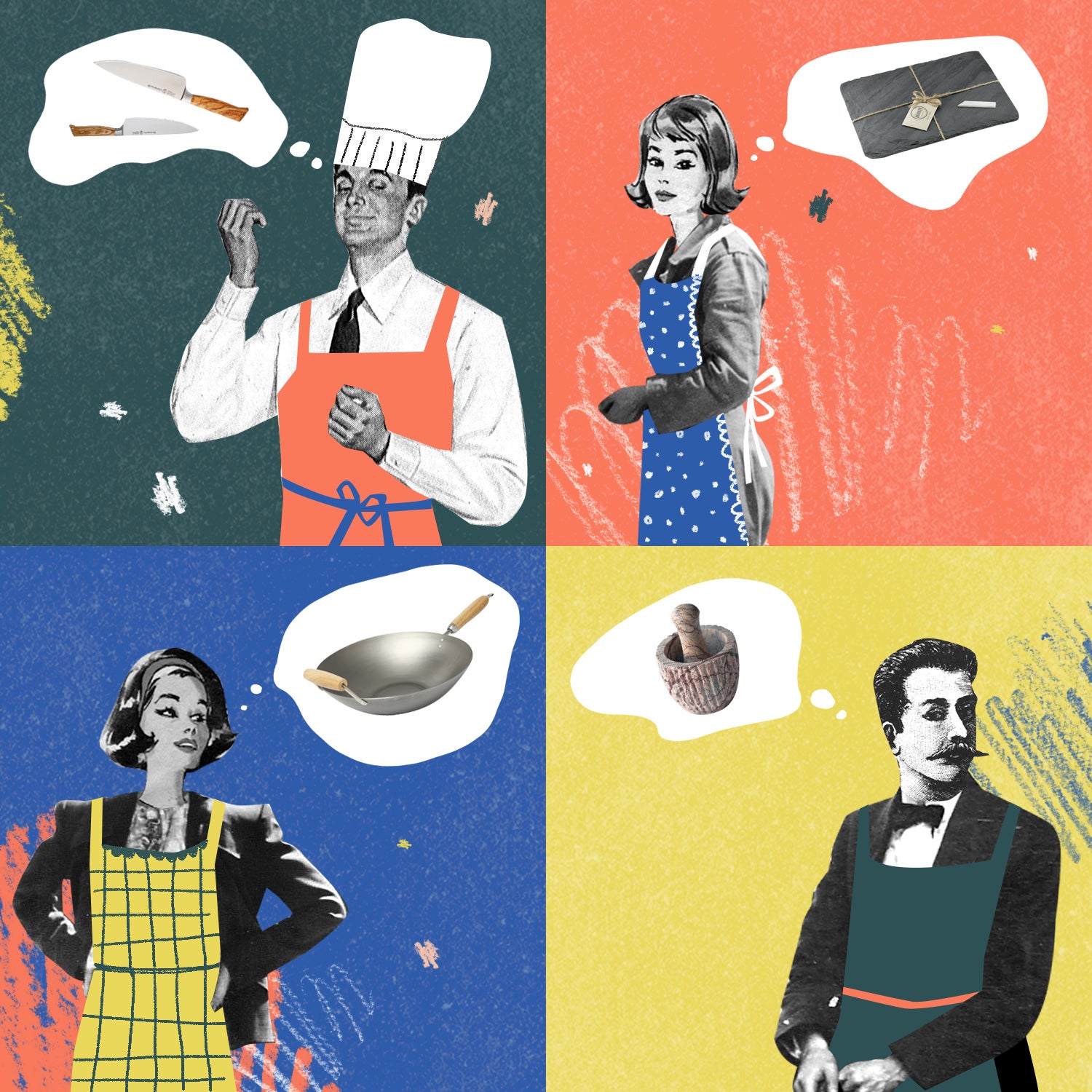 Your brother-in-law who loves the Seahawks, and aunt who's into vintage cat figurines? They're easy to shop for. As for the discerning home cook—the ones who know their Ottolenghis from their Oringers, their brown butters from their béchamels—are a bit trickier. Even we food writer types find ourselves scratching our heads at the prospect of stuffing their stockings. That's exactly why we reached out to the folks at Brooklyn-based cooking supply store Whisk. They offer a small, neurotically curated selection of kitchen items sourced from all over the world.
Whisk's team of buyers helped us put together this guide, tipping us off to worthy trends. "Copper, soapstone, slate, acacia, and olive wood have just been flying off the shelves," says store manager Tux Loerzel. With that in mind, here is a list of the store's top sellers and coolest recent finds—in addition to longtime favorites that always hit the spot during the holidays, like Bundt pans, expertly sharpened blades, and smartly designed serving bowls.
Messermeister 8" Olive Wood Chef's Knife
The bladesmiths at Messermeister have been making knives for roughly half a century. So yeah, they know their points from their buffs. This hand-crafted chef's knife is a fine example of their craftsmanship, featuring a full-tang German steel blade fitted into an Italian olive wood handle, no two of which are the same. $150
Be Home Mortar and Pestle
The mortar and pestle is the Ivan "Pudge" Rodriguez of kitchen equipment: wildly underappreciated. With the simple bowl-and-pounder combo, one can prepare everything from pastes to spice rubs. This marble version from Be Home is sturdy and well weighted, and its forest marble material and ridged exterior complement any kitchen counter. $32
Vitaclay 4.2 Quart Slow/Rice Multicooker
Think Gary Oldman has range? Check out the Vitaclay. Not only does it cook rice, steam vegetables, and make yogurt, but it also coddles your chili con carne as a slow cooker. Eschewing the standard ceramic or stainless steel inserts of most similar cookers, it features eco-friendly clay pots that help those low-and-slow meals cook more quickly. No word on whether it can do a mean Commissioner Gordon impression. $105
Brooklyn Slate Company Slate Board
In this world nothing can be said to be certain, except death, taxes, and the appearance of an artfully curated cheese plate at holiday parties. Present your favorite fromage fiend with this slate board. Sourced from Brooklyn Slate's family quarry, the stone server looks as good holding hunks of Camembert and Gouda as it does hanging in your kitchen during the off-season. $34
Mac 6.5-inch Vegetable Cleaver
Even if you've given it some love on a whetting stone, the most well-forged chef's knife will encounter difficulty—and danger—slicing through a butternut squash or sweet potato. That's where this cleaver comes in: Featuring a v-beveled steel blade, the six-inch Japanese tool is built for hacking through even the stubbornest vegetables. $85
Joyce Chen 14″ Carbon Steel Wok
The secret to cooking in a wok is to get it blisteringly hot. This wok, made from a single piece of hammered carbon steel, does just that—and heats up faster than Tim Hardaway in NBA Jam. Its classic sloped sides and excellent retention make it ideal for stir-fries; wooden handles keep your fingers from getting blistered like bok choy. $32
Brazilian Home Soapstone Cooking Pot
This three-liter pot, embellished with a copper band and handles, looks great. But it's more than just a pretty face: Soapstone offers some of the best heat retention of any material and can handle everything from stews to slow braises. It needs a little love in the form of some pre-use seasoning and general upkeep, but such beauty always requires a bit of extra maintenance. $126
Osaka Coffee Cone Dripper
This reusable stainless steel filter saves the environment—and your morning cup of coffee. Why? Well, paper filters tend to leech many of the oils that make your Bolivian single-origin roast worth the $15 you spend per pound. The cone's double filtration system also ensures no grounds slip through into the mug. Works with most pour-over methods, including the Chemex and Hario V60 #2. $25
Acacia Wood Salad Bowl
You put a lot of effort into your salads, julienning mango into shoelace-thin strips, toasting that country bread into croutons, emulsifying your famous dressing until it's just right. So why would you set it on the table in some soulless ceramic bowl? This one, sourced from Acacia wood and boasting a dark stain that emphasizes the natural grain pattern, is a far more suitable vessel for your hard work. $30
Takeya Double Wall Glass Tumbler
Travel mugs don't need to be fancy; they just need to do their job. The Takeya does what it does and does it well: The double-walled design of this travel mug keeps your pour-over hot and your cold brew cold, while its silicone wrap offers a sturdy grip so you don't drop it as you haul ass for the train. A secure lid cover makes sure the coffee goes in your mouth, not down your dress shirt. $20
Olive Wood Pie Server
It's taken a lot of practice, but you've finally nailed the perfect bourbon apple pie (look at that crust!). Don't let it fall to pieces by serving slices with some flaccid utensil that buckles under the weight of the filling. This server is more than up to the task. Handmade in France from olive wood, its wide olive wood surface is strong enough to hold even the most generous slices. $25
Nordicware Jubilee Bundt Pan
On first glance, this pan looks like a rendering of the future structure we'll all live in after the world crumbles. In fact, the heavyweight cast-aluminum pan was built in homage to the queen of England's Diamond Jubilee. The Whisk folks like that the cutout pockets allow the 10-cup cake inside to brown better than other pans. Bonus: A nonstick exterior means you won't have to jam a spatula inside to loosen the finished product. $34