The Key to True Irish Porridge? The Right Oats.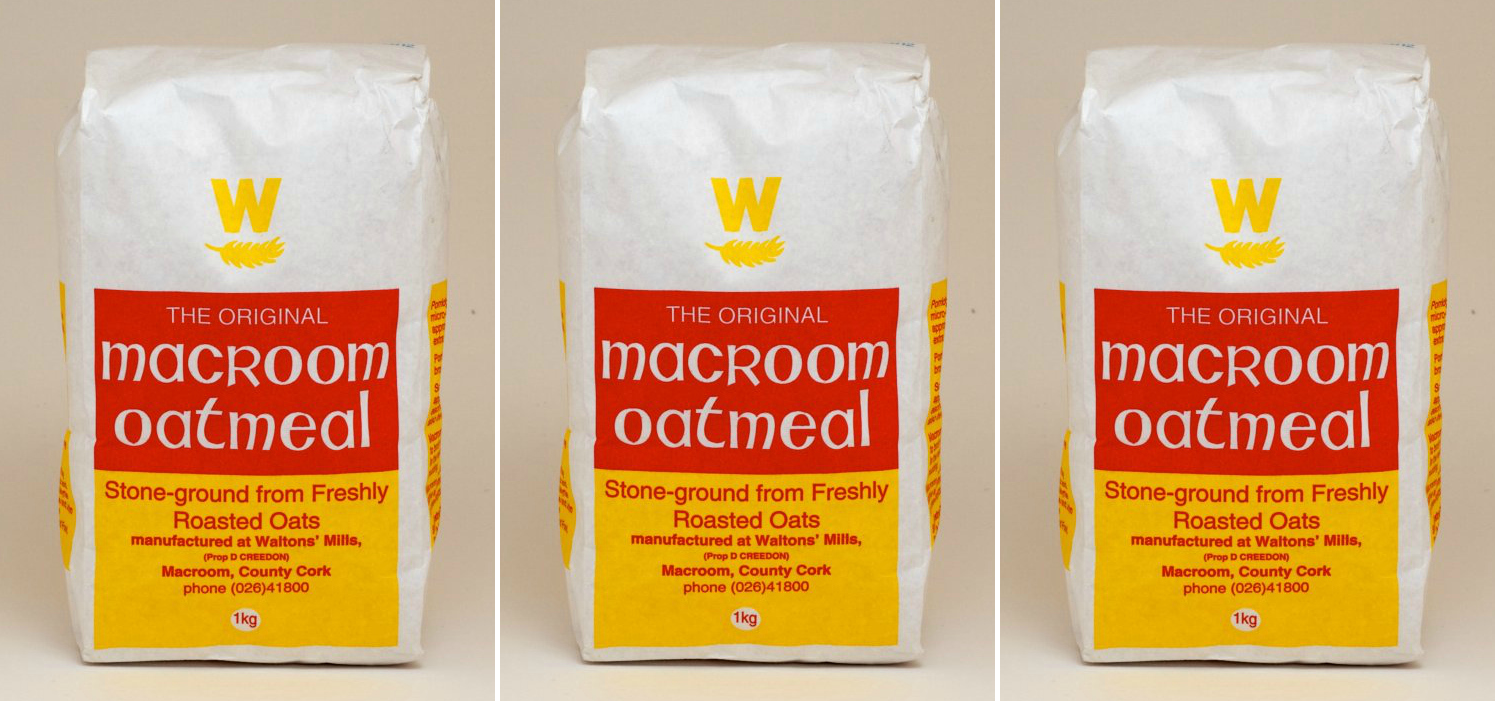 And sometimes flavor needs to rise above convenience.
"Lumpy porridge would be a sin in Ireland," Dervilla O'Flynn tells me over the phone. O'Flynn is the chef-manager of Ballymaloe, the famous hotel, restaurant, and cooking school located on an organic farm in East Cork, in the south of Ireland, and I've called her up to talk about Irish oatmeal, specifically Macroom Irish oatmeal.
Macroom is truly old-fashioned oatmeal and the last of its kind. It is made at the last stone mill in Ireland, Walton's Mill, in the namesake town between Cork and Killarney. Today, the oats we see in the grocery store are typically removed from their husks, sliced, steamed, and flattened as they are transformed into a quicker-cooking form. The process also removes their natural oils, along with those richer flavors, so that they are less prone to spoilage and have a longer shelf life.
At Walton's Mill, which has been in operation since 1832, the emphasis is on flavor, not convenience. It is one of only seven Irish products to earn the Slow Food Ark of Taste, a catalogue of exceptional international heritage foods. Donal Creedon—whose great-great-great-great-grandfather Richard Walton first started milling the 1700s—selects bushels of organic oats at local farms each season, toasts them lightly for two days in a kiln, and then grinds them in a stone mill into a coarse meal. The stone milling leaves the natural oils intact, so the flavor is nuttier and richer than commercial varieties.
Creedon delivers the oats himself to Ballymaloe. (In the United States, you can buy them online from Michigan specialty food store Zingerman's.) Most of the work for the oats has been done by Creedon, but they take slightly longer to cook than rolled oats (about 20 to 30 minutes in total) and require more water because of that (about a 4:1 or 5:1 ratio of water to oatmeal). The technique is important, too; the oats are made in a similar fashion to Italian polenta. "Make sure you don't put the oatmeal in too fast," O'Flynn advises, which would result in that Irish culinary sin of lumpiness. After bringing water to a boil and adding salt, she says one should, "with a fistful of porridge raised quite high," let the oatmeal lightly fall into the simmering water while whisking with the other hand. You can then leave it at a low simmer, whisking it from time to time and adding more water as needed, until it has absorbed the water and is quite soft, with a texture similar to that of risotto.
At Ballymaloe, the oatmeal is a staple of the hotel's breakfast buffet. On the buffet spread, it's served along with sweet, crunchy, and dairy-rich toppings, including sugar, raisins, jams, toasted pumpkin and sesame seeds, yogurt (made fresh on the farm), and poached fruits (also made on the farm), like saffron- and cardamom-spiced pears or gooseberries, black currents, raspberries, and apples. "It keeps you going for hours," says O'Flynn of the satisfying and nutrient-rich breakfast. Serving it with fresh yogurt gives it a creamy tang. But it can also be turned into something completely decadent: At the cookery school, the porridge is accompanied by whipped cream and Muscavado sugar. But no matter what you top it with, make sure it's whisked smooth.