Kenny Gilbert's Southern Food Cannot Be Contained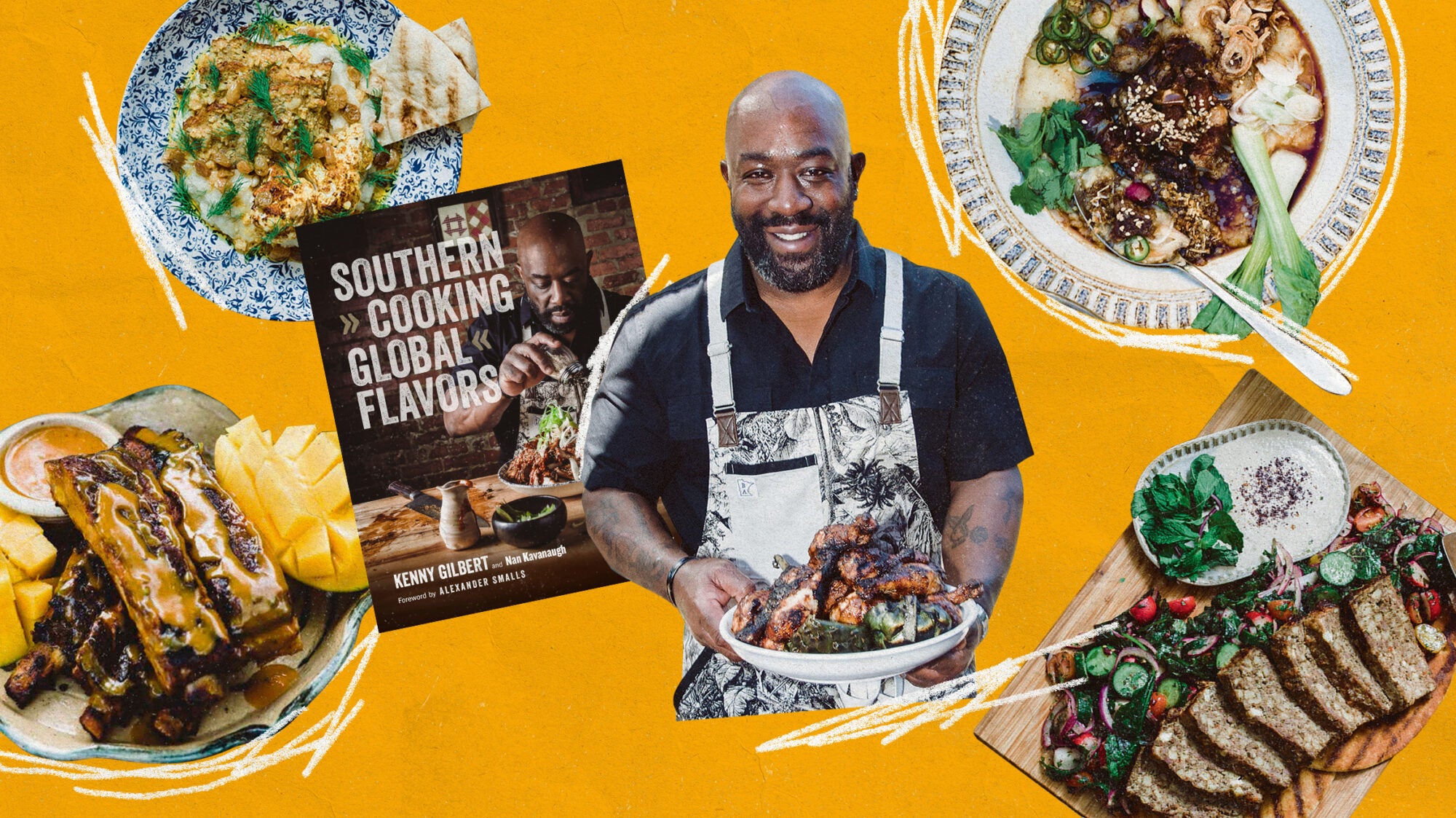 In Southern Cooking, Global Flavors, the Top Chef alum (and one of Oprah's personal chefs) mines the diversity of the American South.
Kenny Gilbert had dozens of ideas for his first cookbook, but the Florida-based chef behind Silkie's Chicken and Champagne Bar in Jacksonville kept coming back to one: a recipe collection that could double as an autobiography. And so it would be a classic Southern cookbook, but not only that, because that would ignore the global influences—the global flavors—that have made him who he is. 
Born in Ohio, Gilbert started scrambling eggs at the age of three, and he's been cooking ever since: working his way through the Betty Crocker Cookbook as a kid, flipping McDonald's burgers as a teenager, running high-end resort kitchens, and opening restaurants of his own. Most of his adult life has been spent in the South, but the South—he'll be the first to point out—is not a monolith. Gilbert's cooking has been shaped by the people and cultures he's met along the way: his introduction to Korean barbecue, courtesy of a former colleague at the Amelia Island Ritz-Carlton; a lesson in the art of Guyanese pepperpot from his time living in Barbados.
The result is Southern Cooking, Global Flavors, which uses iconic Southern recipes—fish and grits, ribs and slaw—as a portal into the diversity of American cuisine. It isn't just the classics but the variations that tell the story of a nation, the riffs and substitutions that organically blend cultures. It is a book, Gilbert writes, designed to "give you the confidence to cook authentic meals for friends of other ethnic backgrounds, use ingredients you may not be as familiar with, and spark interest in the variety of cultures that make up America." As he prepared to open a new project in Miami this summer—House of Birds and Drop Biscuits, which will be exactly what it sounds like—I caught up with Gilbert to chat about blending cultures, Southern misconceptions, and the many, many possibilities of collard greens.
You've got restaurants. You've got spice blends. You've got Oprah. Why a cookbook?
I felt like I had a story to tell about my journey as a chef, growing up with a Southern mother from St. Augustine, Florida, and a Midwestern dad from Chicago. I've always looked for ways to integrate them into dishes from other cultures, because the South is a melting pot. Down in Jacksonville, for example, you have a big naval base, and a lot of Filipinos are stationed there. A husband who might be Filipino, a wife who might be white—say she has an Irish and Italian background—and then her parents are deeply rooted in the South. I wanted to be able to celebrate the ingredients of the South but also respect the other cultures that reside here, finding ways to integrate Southern ingredients into the things that are traditional to their culture. 
The format of the book is really cool, and it's not something I've seen a lot: each chapter lays out a dish, and then you present it five different ways, each with different global influences.
I was like, let's take ten iconic, great Southern dishes, and have the traditional Southern version that I love for the first, and then we can create variations. How do those flavors and techniques change to tie into other cultures? If I want to do a chicken parm version of fried chicken and biscuits, what does that look like? Okay, well, you can take the buttermilk drop biscuit and add crushed red pepper flakes and some basil, some garlic, some Asiago cheese, and now you have something that's going into the Italian realm. We put the chicken through a standard breading procedure, but we make a nice fresh pomodoro tomato sauce with basil and fresh mozzarella, and now you have a chicken parm biscuit.
I love collard greens and cornbread—a great, classic combination. But why not take the classic Thai green papaya salad and, instead of using green papaya, add a chiffonade of collard greens, and then make a little coconut cornbread crepe? Someone that is Southern may say, "Oh, I love collard greens, I love cornbread—wait a minute, that's a crepe? I've never had Thai flavors before!" All of a sudden, now we're merging two cultures together in a very respectful way. With the book, I wanted to be able to tell a story about how I learned about the different cultures—whether it was at a friend's restaurant, like my friends Lake and Russell's place Pattaya Thai in Jacksonville, or whether it was because of my travels going into that country. 
One of the things that stood out to me was how much you've learned about different cultures just by working in restaurant kitchens.
Absolutely. My best friend is Filipino, and the first time I ever learned about chicken adobo was because he made a family meal one Saturday. I was just blown away by how craveable the flavors were. We were at the Ritz-Carlton on Amelia Island, working in the grill room. I was the chef. He was the sous chef. And the executive chef of the hotel was always looking from afar, seeing how we could get better, and he had suggested that one of the best ways is to have everyone make something unique to their cultural background for family meal. At the time, the kitchen was like the United Nations. I had a chef that was from Israel, so I learned about shakshuka and sumac, a lot of these different Israeli dishes. All the amazing stuff Michael Solomonov was doing with Zahav and K'Far and all these different concepts? I was learning about a lot of that food just through family meal on a Saturday.
What are the misconceptions you run into about Southern cooking? What do people outside the South tend to get wrong?
Everything isn't fried chicken and biscuits, or mac and cheese, or collard greens and cornbread. At the end of the day, it's the ingredients, which are indigenous to Africa and made their way over here through the slave trade, that define Southern food. So the way that you cook black-eyed peas—it doesn't always have to be a big pot of braised black-eyed peas. You can take those black-eyed peas as an ingredient. Is it an ingredient indigenous to Africa? Yes. But if you love hummus, you can make hummus out of black-eyed peas. You're still celebrating Southern, African ingredients.
The food that we actually had during slavery was basically scraps—we had to learn how to preserve products. We weren't given prime cuts. It was, "Here are the ham hocks, go figure it out," and so you cured them, and then smoked them, and then you had to braise them in order to be palatable. And you put them in a big old pot of beans to flavor them, and that's how we were able to eat. You took some corn and dried it out and ground it up and mixed it with some hot water and put it into a skillet over a fire, and that became our supper. That would basically keep you full to go out to the fields and pick the cotton. We survived on that, because that's all that was given. But now it doesn't have to be that way. Everything doesn't have to be heavy and cooked with lots of animal fats. We still need to celebrate that food, because that's what built America. But it can also be light; it can be flavorful; it can be elevated.