Keeping Up with King Arthur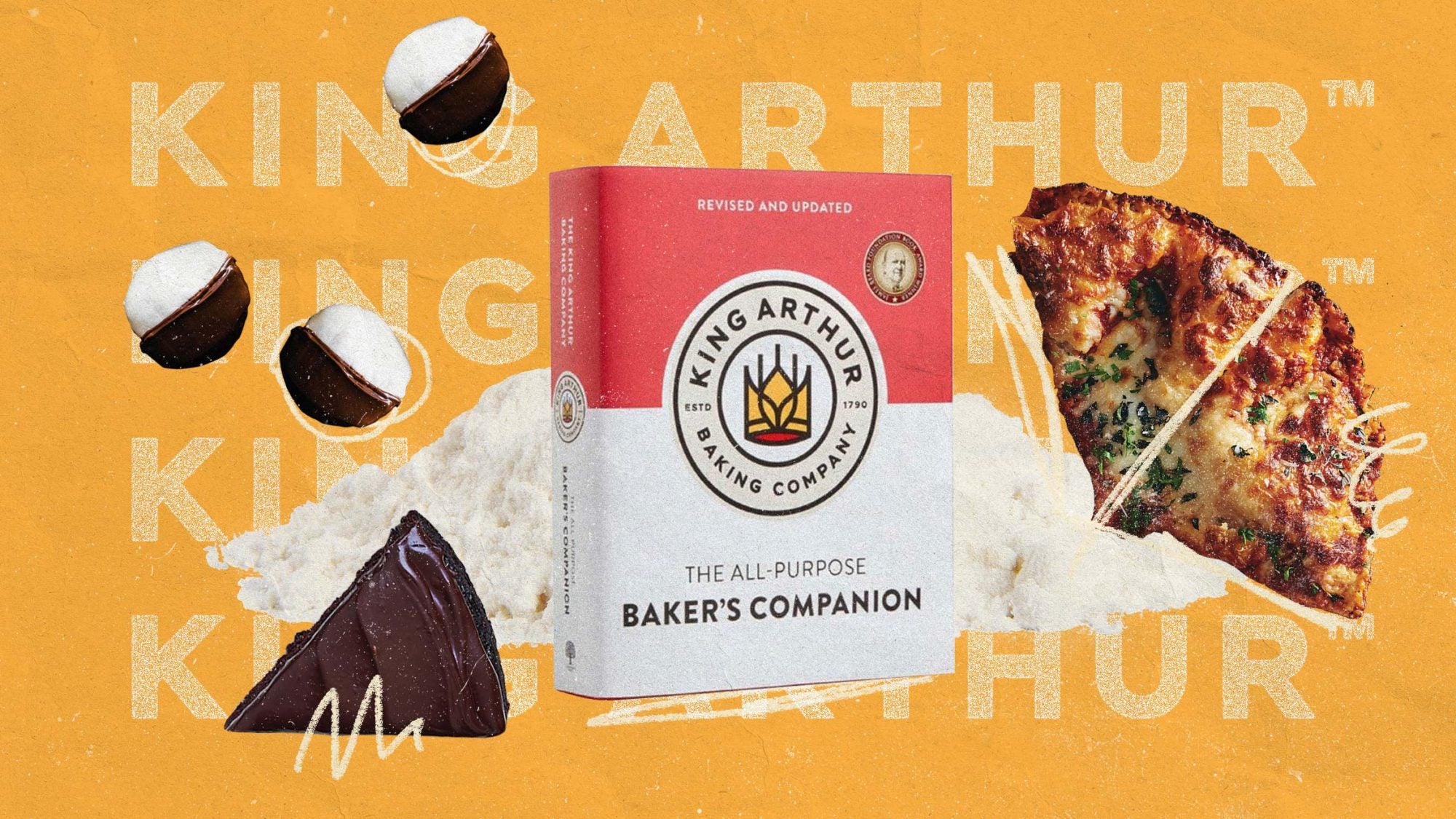 The 200-year-old company has managed to stay in touch with America's baking habits, from skillet pizzas to pandemic cinnamon buns.
In the 200-plus years since its founding, King Arthur Baking Company has become more than just a familiar logo in the baking aisle of the grocery store. The employee-owned flour brand has become an arbiter of cool in the world of home baking. Its flagship campus in Norwich, Vermont, has become a place of pilgrimage for those looking to brush up their brioche skills or stock up on Bundt pans. And, through flour shortages and supply chain hiccups, the company's online store has kept our pantries full of bread flour, salted caramel chips, and powdered cheddar cheese.
In addition to its expansive online recipe archive, the company has published books on plenty of baking topics over the course of its history, but its most recent contribution to the baking library is a newly revised edition of The King Arthur Baking Company's All-Purpose Baker's Companion, which gives a fresh second look at the original 2003 edition.
I caught up with King Arthur content editor Posie Brien about how baking has changed in the intervening 18 years since the book's original publication, and about how the past year of sourdough mania and skillet pizzas has changed life in the (now-virtual) King Arthur test kitchen.
Baking, and especially bread baking, has changed so much over the last year and over the course of the pandemic—how much has that changed the role of recipe development at King Arthur?
It hasn't changed what we do. We all feel really thrilled that there's so much attention on baking and so much interest. We have an amazing test kitchen team, and it's changed a lot over the years, but I think the core of what we do—our baking school's been around for a long time, and education has been a really important part of King Arthur for a long time. We had been trying to convince people for so long to make sourdough bread, and suddenly it was like, "Hey, yeah, we're on board. Whaddya got?"
It's very energizing working there. And it just happens to be a beautiful time for the book to come out, too, because it's a book that's really nicely geared for bakers of all skill levels. It's not so much that there are beginner bakers and advanced bakers. There's just a whole spectrum of everything in between. I think what King Arthur does really well is to offer something for everybody, and you don't have to be in a bucket. I often liken it to the Patagonia model. They're just people who love to be outside, so they talk about that, and people come and hear that. I think King Arthur's the same, in that we're made up of people who just love to bake.
What is the test kitchen volume like? How many new recipes do you put out every month, every year?
It does vary from month to month. Some months might be 20 recipes. Some months might be more. It really depends on what we have going on brand-wise. Our archive of recipes is incredible—we've actually gone through a pretty rigorous cleanup process to look through all of our recipes and just sort of audit. Are there duplicates, are there ones that are a little bit outdated? If you ever read the reviews on King Arthur recipes, they're amazing. People are just very vocal and very supportive, and they really offer helpful advice and things like, "Hey, this didn't work for me."
So, a lot of what our test kitchen does is revisit recipes and make sure that they really do work. And sometimes it's that tastes have changed, and we are really thoughtful about that. So now, we can look and say that the collection of recipes online really works and has been tested by our test kitchen.
I've noticed at least 600 people I follow on Instagram have made the Crispy Cheesy Pan Pizza in the past year. Are there any other recipes that have really blown up in the last year?
I think sourdough has just had a huge wave of interest. We have a ton of really amazing sourdough discard recipes, which I am low-key obsessed with. We have these buttery sourdough biscuits—they're just so good, I can't even begin to tell you. Beyond that, even just our basic sourdough breads, definitely.
The pizza was our recipe of the year last year (we're doing cinnamon rolls this year). We thought that the pizza would be pretty successful, but Food52 wrote about it as a Genius Recipe, and the New York Times featured it. It was really cool to see people get into that, because it's a great introduction to yeasted dough if you're unfamiliar or nervous about it.
To shift over to the book a little bit, the original King Arthur Flour Baker's Companion was published in 2003, which was almost 20 years ago. How much do you think has changed about the way people bake?
There have certainly been shifts in how many people bake, and I think, in general, it's less about the audience changing than the way we fundamentally bake. Just more broadly, people are more likely to bake and try it out. And I think, with the proliferation of food media and Instagram and all of that, there are more people who say, "Hey, that looks cool. I'll try it."
I think a lot of what we've seen change over time is things like ingredients becoming more available. One word I always think about this book (I grew up with it in my kitchen) is that it is very timeless. Neither version of the book really thinks about or responds to trends. But there are things more broadly that change over time. We were talking the other day about how funny it is that in the original book, back when they wrote it, you couldn't walk into the grocery store and find lots of yogurt. And now the yogurt aisle is a beast. And, vice versa, there were some things that people would lean on more often in the original book (like shortening) that now are not as common. We tried to be thoughtful about that.
Do you think that people's home kitchens have changed at all between that original book and this book, in terms of technology or the tools that people have?
I think, with baking, far less than cooking, probably. Things that work still work, and so much of baking is pretty fundamental. There are a few things. I would say that, when the book first came out, bread machines were way more of a thing—whereas now, that's not something we use as much. It's interesting that you ask, because there's a pretty robust tool section in the book that sort of breaks down a glossary of tons of baking tools, and we made very few changes to that.
I think it's sort of a testament to the fact that many of the tools we use and have always used are pretty basic, for the most part. There's not a lot of super fancy technology that we're using.
Are there any recipes from the new book that you're really excited about that are unique to this edition?
The Crispy Cheesy Pan Pizza—since we developed it in the intervening years—is in the new book, which I'm thrilled about. There is a chocolate mousse layer cake with raspberries, and I love it, and it's always recommended by King Arthur employee-owners. Whenever we ask staff what they're making for birthdays or for their favorite recipes, someone always says that cake. It just says "celebration," and it's delicious, and it's not difficult for anyone to make.
This interview has been edited and condensed for clarity.
THREE EXCITING RECIPES FROM THE KING ARTHUR BAKING COMPANY'S ALL-PURPOSE BAKER'S COMPANION:
Crispy Cheesy Pan Pizza
The perfect entry into the world of yeasted doughs.
Chocolate Pan Cake
The dark, moist epitome of how simple cake can be.
Black and White Cookies
It's all about nailing that soft and cakey cookie texture, with the faintest hint of lemon zest.
MORE BOOKS TO BUY, READ, AND COOK FROM:
A few weeks ago, we spoke to Zoë François about her colorful, meringue-coated approach to baking and her new book, Zoë Bakes Cakes.
Hetty McKinnon's brand-new book To Asia, With Love is full of nostalgic photos of dishes that will quickly join your regular repertoire.
Michelin-starred chef David Kinch lets us in on what he eats on his nights off in his new cookbook At Home in the Kitchen.
Welcome to the sweet, sour, salty, spicy world of Chaat.
Michael Twitty's Rice shows that the grain is much more than just a plain, starchy side.