Keeping Our Eyes on the Pies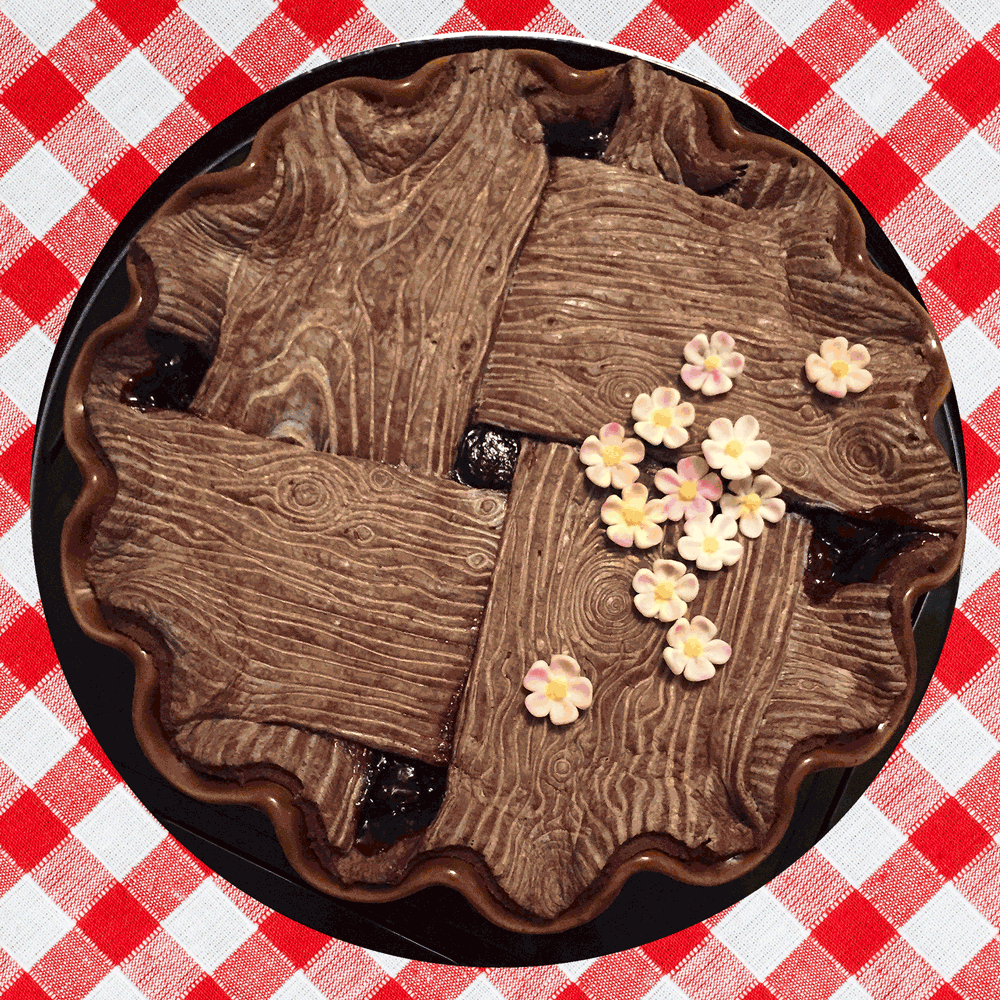 On the ground at the American Pie Council National Pie Championship in Orlando.
The road to the title of best pie baker in America is a long one—for us, it's about 450 miles. Every spring we drive from our home in Atlanta, Georgia, to Orlando, Florida—the longtime host city of the American Pie Council National Pie Championship. The competition is America's toughest piemaking contest and is open to all comers, with contestants competing in separate divisions for amateur bakers, culinary professionals, and larger-scale commercial bakeries. While the drive is long, the seven-hour trek is actually the easiest part of the journey.
For the past six years, we have spent the majority of our post–New Year's winter designing, testing, and retesting the recipes that we would enter in the hopes of winning at the championship. While we devote this time to developing recipes, our ideas for entries are usually hatched much earlier—often on the drive home immediately after the championship has concluded. On our drive north, we discuss the likely weaknesses of the pies that did not do so well. Were they flaws of design or execution? How did our pies compare to the winners? Were our decorations too simple or our flavors too garish?
While there is beauty and elegance in crafting a perfect apple pie with a tender, flaky, and crisp crust, toothsome tart apples, and just-sweet-enough apple goo, how does that stack up against one augmented with caramel, white chocolate, and whipped cream? We've had a range of outcomes over the years. The first year we competed, we came home empty-handed. Since then, we've racked up a dozen blue ribbons, plus a handful of second- and third-place awards between us, earning a few more awards each year than the year before. Last year, however, we shot the moon: Chris's Checkerboard Peanut Butter Pie earned a blue ribbon and went on to earn Best of Show in the amateur division. It was an incredible feeling to finally win the big prize—humbling but also satisfying because it validated all of our hard work testing and retesting recipes over the years.
We were eager to enter this year, but we knew it would be more difficult than usual. Since last year, our circumstances had changed. We had been featured in a New York Times article, which led to a contract to write a pie cookbook with publisher Clarkson Potter. While we were the same amateur pie bakers developing our pie creations in our home kitchen, the rules of the contest saw us as something else: food writers who had to compete in the professional division. Competing as pros not only meant that our fellow competitors were trained pastry chefs and pie shop owners, but it also meant that our odds of winning were much slimmer. The categories in the professional division only bestow one first-place award and one honorable mention—fewer chances of winning than in the amateur division with its more traditional first-, second-, and third-place awards. While we aren't pie newbies, we also aren't seasoned pastry chefs with careers of culinary practice to draw on. Gulp.
In the early morning a few days before the competition , we loaded up our blue Mazda hatchback with all of the kitchen equipment we would need. We would be baking our pies in a rented house, so we had to be sure we brought everything we needed to fully stock our kitchen in Florida. In addition to basic kitchen tools, including fistfuls of spatulas, whisks, and saucepans, we brought along our specialty equipment, including a food airbrush, an immersion circulator for our sous vide setup, and silicone impression mats for texturing pie dough. Nestled between the rolling pins and measuring spoons, we also packed our premeasured pantry ingredients to save time on measuring. With our goal of baking 15 pies between us—in little more than one day—any minutes saved would be valuable. We also packed a large cooler filled with frozen raw pie dough and a countertop convection oven. With our ambitious slate of pies, there isn't enough time in the day to rely on one oven. Even with two ovens, the timing would be tight for us to finish everything in one day.
We arrived at our rental house, a three-bedroom ranch with a kitchen equipped with the basics—an oven, microwave, and fridge-freezer combo and just enough counter space that we didn't get in each other's way too much. After unpacking the car, our first task was to test the oven for temperature accuracy, evenness, and level. This year we lucked out. Our thermometer confirmed that the oven was properly calibrated, confirmed by the 15 slices of white bread scattered across an oven rack and toasted evenly (indicating no hot spots), and the level from our toolbox reassured us that our custards would not be slanted due to uneven racks. We created stations for dough rolling, sous viding, and dishwashing before heading out to buy the ingredients we knew we could easily find at the local grocery stores, including two dozen eggs and a gallon of heavy whipping cream (diet food these pies are not).
Because pies are delivered to the Rosen Centre Hotel on Saturday at 8 a.m., we preheated the ovens at 5:30 a.m. on Friday—we needed the entire day to make our 15 entries. What followed next was a nonstop cascade of carefully choreographed activities. Because most pies bake for at least an hour (including our blind-baked crusts for cream pies), we each try very hard to remain on schedule—a few minutes here and there could set us both back significantly. When one of us removes his pie from the oven, the other should be ready to replace it with another.
Weeks before, we had both created schedules to manage our own pies and the valuable shared oven space. Most of Chris's cream pies had multiple components, so his crusts are usually blind-baked first to allow the crusts to cool so he can begin building and chilling the layers over a period of several hours. Paul's fruit fillings often use the sous vide method of cooking, ensuring that the fruits are cooked just enough to optimize flavor without compromising texture. The precision cooking also provides the opportunity to match the quantity of thickener used with the actual juiciness of the fruits. Because of the central Florida humidity, we try to have all of Paul's fruit pies cool enough that we can cover them overnight in order to stay as fresh as possible. Bedtime arrived 18 hours after we turned the ovens on in the predawn morning.
On the day of judging, we rose before the sun at 5:30 a.m. to add the final decorative flourishes of glazes and whipped creams as closely as possible to the time of judging. The final roll call: 15 pies, each in a different category: Apple Blossom (apple); Lemon Blueberry (blueberry); Chocolate Hazelnut Crunch Pie (chocolate); Chocolate Cherry Tree (cherry); Chocolate Cherry Jackpot (Comstock canned filling); Roasted Grape (handcrafted artisan); E.T. The Extra Terrific Reese's Pieces Pie (Hollywood movies); Iced Pink Lemonade Pie (citrus); Black Bottom Bananas Foster Cream Pie (cream); Tropical Punch Pineapple (other fruit/berry); Concord Peanut (nut); Peanut Butter and Jelly Sandwich Pie (peanut butter); Caramel Cheesecake Pumpkin Pie (pumpkin); Jelly Doughnut Pie (open); and Crowning Glory Royal Wedding Pie (royal wedding). We placed all of the pies in plastic domes and carefully loaded up the car with the precious payload. With just enough room, we headed out for the slow and careful 10-mile drive to the hotel.
Upon arrival, we carefully unloaded the pies onto wheeled sheet pan racks provided by the hotel. Because of the number of pies, we had to unload in two trips in order to get them all inside safely. After five years, we've established a pretty good system of loading and unloading the pies from the car and fortunately, no stumbles. After the pies are delivered, the blind judging begins behind closed doors. To be determined a winner, a pie has to be more than just a really good pie. These pies are judged comprehensively by teams of judges both before and after cutting into them. Judges score the overall visual appeal of the pie. The pie is then sliced. Ideally, it has structural integrity and does not slump, slop, or ooze across the plate. Finally, the smell and taste are evaluated. Naturally, it is not as simple as just a score for deliciousness. Judges evaluate the pie on the balance of flavors and sweetness, mouthfeel, and aftertaste.
Dessert pies should always be sweet, but the best pies have their sweetness tempered by other flavors (no one wants a syrupy-sweet pie). The all-important crust is also separately scored for its flavor and structural qualities, and points are awarded for creativity and originality (these are original recipes, after all). The pie bakers have to walk a fine line with their pies. A successful competition pie will need to attract the judge's attention and thrill them with a clever new flavor combination without going too far. Will elderflower liqueur be a welcome accent to that slice of Apple-y Americana and make it stand out from (and ideally above) the crowd, or will it be rejected as a trendy gimmick? These are the questions we agonize over when developing competition pies. Once we arrive and unload the pies, the waiting game begins.
We returned to the house for much-needed showers and then drove back later in the morning to sit in on some pie-focused education workshops given by pastry chefs on a range of topics, including new ways to decorate pies, a master class on chocolate, and a primer on creating savory pies. The classes were a welcome distraction from our typical Type A agonizing over the minutiae of our entries: "Could I have tried harder with my whipped cream decorations?" "Was that one piece of golden brown crust a little too dark?" "Will the judges get the flavors I was trying to evoke?"
This year, we were both very happy with our creations—they struck the right balance of traditionally compatible flavors with the occasional unexpected twist. The tasteful and whimsical decorations all worked, and there were no baking disasters to ruin the hard work from months of prep.
After some social time with our fellow pie competitors—a fabulous group of friends we've made over the years competing at the championship—we hunkered down in a hotel ballroom in nervous silence to await the announcement of the winners. The very first ribbon of the night, an honorable mention in the apple category, went to Paul's Apple Blossom Pie—the night was off to a good start.
The first award usually takes off some of the built-up anxiety because now you know that you're not walking away empty-handed. Between us, we had entries in all but one category, so we awaited the winners in each category on tenterhooks. We struck out in quite a few categories, but we were called up to the stage six more times to collect ribbons. Paul won a first-place blue ribbon for his Tropical Punch Pineapple Pie, and we each earned three honorable mentions (remember, that means second place!).
While we certainly would have preferred a few more blue ribbons, we were proud to have garnered seven awards—22 percent of all of the professional awards between just the two of us! After the Best of Show winner was announced (neither of us), we gathered our leftover pies and gifted them to a hungry troop of spring breakers at the hotel. We went out into the neon-lit Orlando night to celebrate with a nice dinner and a few glasses of wine.
The next day, we loaded up the car and began discussing how we could have done better and what we could have changed. As we started the drive back to Atlanta, Chris kept a pen and paper handy to record pie ideas that came to us as we drove north. The road to 2019 had begun.