Meet the Mighty Kalamansi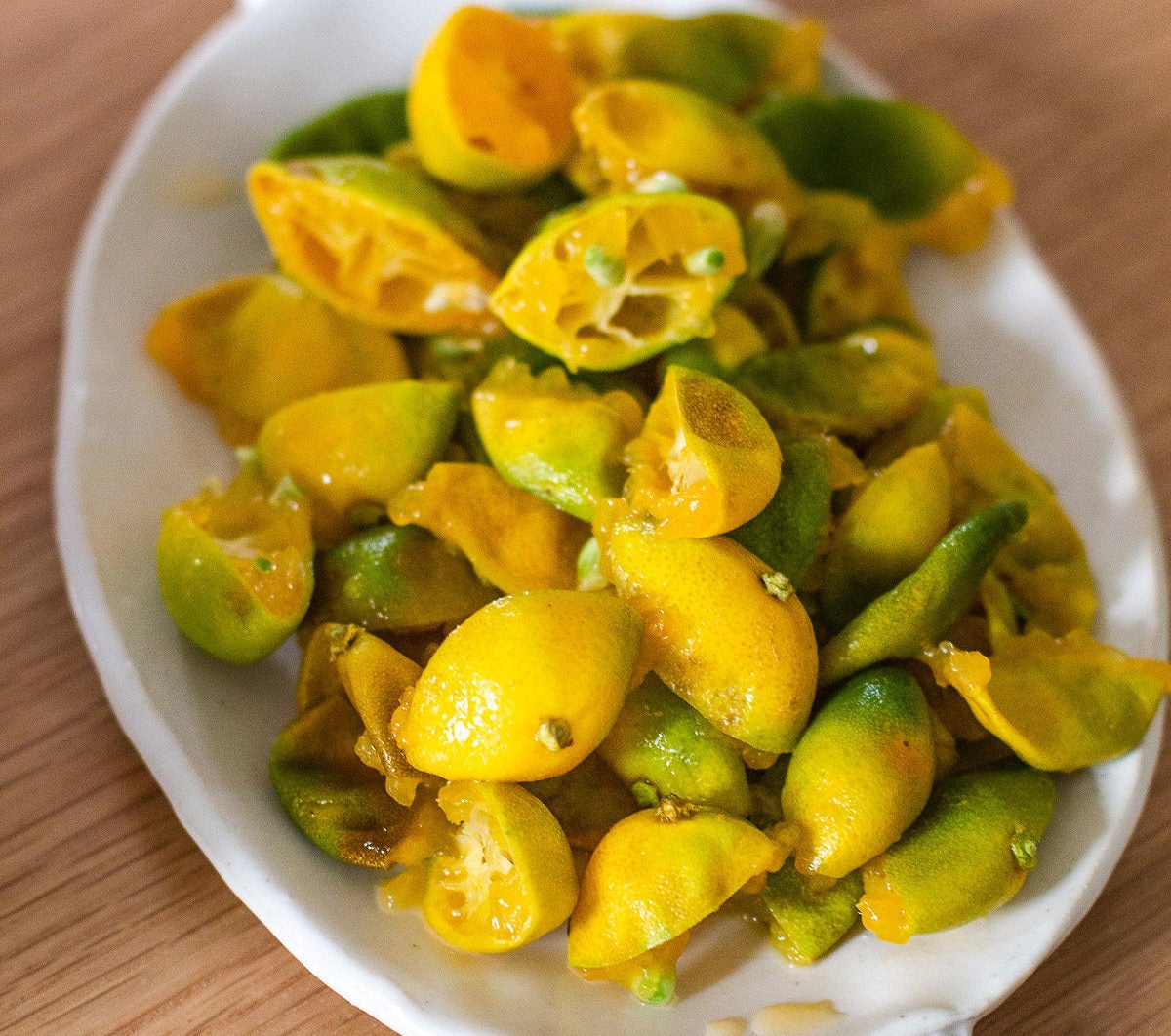 This tiny Filipino citrus is here to make your pastas brighter and your lemon bars a lot more exciting.
On particularly hot days when I was a kid, my mom would make me an ice-cold kalamansi juice drink and after one sip, I would feel a jolt bring me back from the brink of lethargy. I had no idea then that the tiny fruit is full of electrolytes. When my family lived in the Philippines, my grandmothers would always make my brother and me warm cups of water with a few squeezes of vitamin-C-bolstered kalamansi, sweetened with local honey, whenever we had a cold.
In Filipino cuisine, the fruit is used in both savory and sweet dishes. It can be found in barbecue marinades, as a sour agent in soups, or as a flash of acidity in dipping sauces. We also use it as a finishing touch in dishes like aroz caldo and pancit. You can imagine my surprise, after a lifetime of eating and cooking with kalamansi, when I noticed it on a Washington Post list of trend predictions for 2019.
The teeny, tiny green citrus fruit (also sometimes called calamansi) ranges in size from a dime to a quarter. The flavor profile is a cross between lemon, tangerine, and passionfruit. It is super tart with a slight floral finish. Fresh kalamansi is elusive, but there are a few places where you can find it pretty dependably.
In cities where there are huge Filipino populations, like San Francisco, Los Angeles, Seattle, and New Jersey, you can most likely find the fruit at a grocery store called Seafood City, which is as expansive as Whole Foods but filled with fresh Filipino produce and dry goods. There you can either buy fresh kalamansi and squeeze the juice yourself, or buy frozen kalamansi juice sold in one-tablespoon packets. It doesn't sound like a lot, but it packs so much flavor that you don't need much. In some Seafood City locations, you can even buy your own tree to keep at home.
If you live in California, Hawaii, Seattle, or Florida and there's a Filipino-run farm nearby, you might even luck into finding kalamansi at the farmers market. Befriend the farmers so you can become their "suki" (the Tagalog word for best customer). The best customers always, always get the best produce saved for them.
Apart from cooking traditional Filipino meals, like chicken inasal, which is a BBQ chicken dish marinated in soy sauce and kalamansi juice, you can swap kalamansi in for any recipe calling for lemon juice. I've replaced lemon juice with kalamansi juice in curds, meringue pies, and lemon bars. I even like a few squeezes stirred into a buttery pasta with miso and chives.