Just Wing It With Furikake and Potato Starch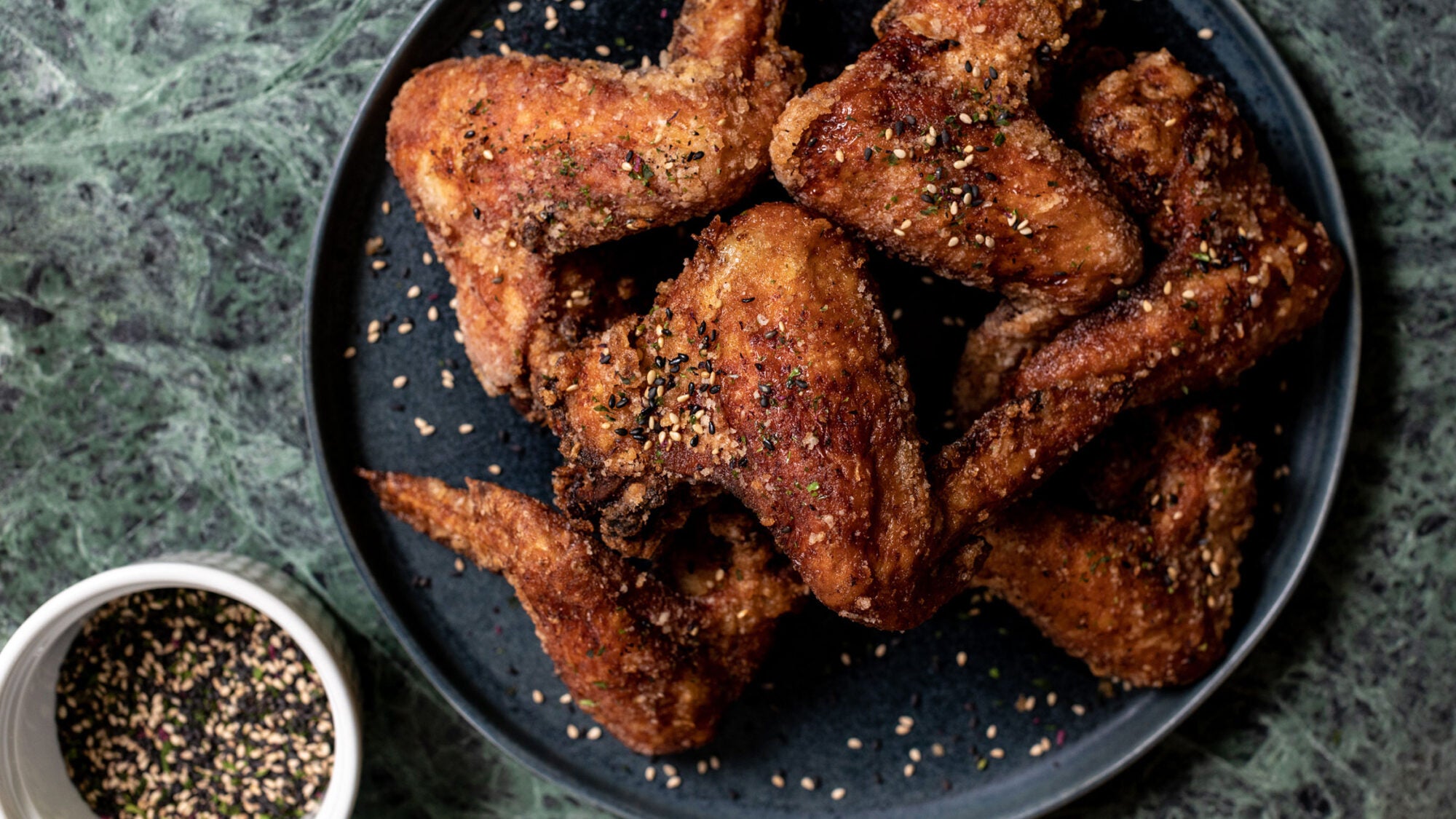 The key to a better chicken wing starts with a starchy coating and ends with a dusting of seaweed.
If there's anything we've learned about making chicken wings at home, it's that there's no shortage of ways to reinvent the template. You can stuff them with noodles, or toss them in a sticky, tangy tamarind glaze, or even skip frying them altogether in favor of braising them in soy sauce and Coca-Cola. 
In this furikake-dusted version from recipe developer Catherine Yoo, flavor is infused during every step of the cooking process. You start with a quick, 30 minute marinade—a heap of minced garlic and ginger mellowed out with the boozy sweetness of mirin—before fully coating the wings in potato starch. Favored for its ability to achieve a deeper golden brown than all-purpose flour and to soak up moisture, potato starch forms that delicate yet craggy outer crust you likely associate with your favorite bite-size pieces of Korean fried chicken or Japanese karaage. And to really lock in that shattering crunch, the wings are double fried, with a five-minute rest in between dips. 
From there, you could sprinkle the crispy wings in flaky Maldon salt, or you could make your own spicy mayonnaise dipping sauce, but we like the simplicity and ease of just a few shakes of furikake. Think of the Japanese seasoning mix as a counterpart to typical dry spice rubs that call for a shake of paprika, chili powder, and onion powder. Yoo opts for her personal favorite, seto fumi (bonito-and-egg-flavored) furikake, but feel free to choose your own adventure and go with the classic aji nori blend of seaweed and sesame seeds, or a spicier wasabi-flecked mix. 
Truthfully, shallow-fried wings are best when they're freshly seasoned and still cooling on a wire rack. You can easily make a meal out of these with a warm scoop of rice (dusted with even more furikake, if you like) and a small helping of quick-pickled rice vinegar cucumbers. But for the impatient kitchen-counter snackers, just accompany them with a squeeze of Kewpie mayonnaise.