Just Checking in on Steak Sauce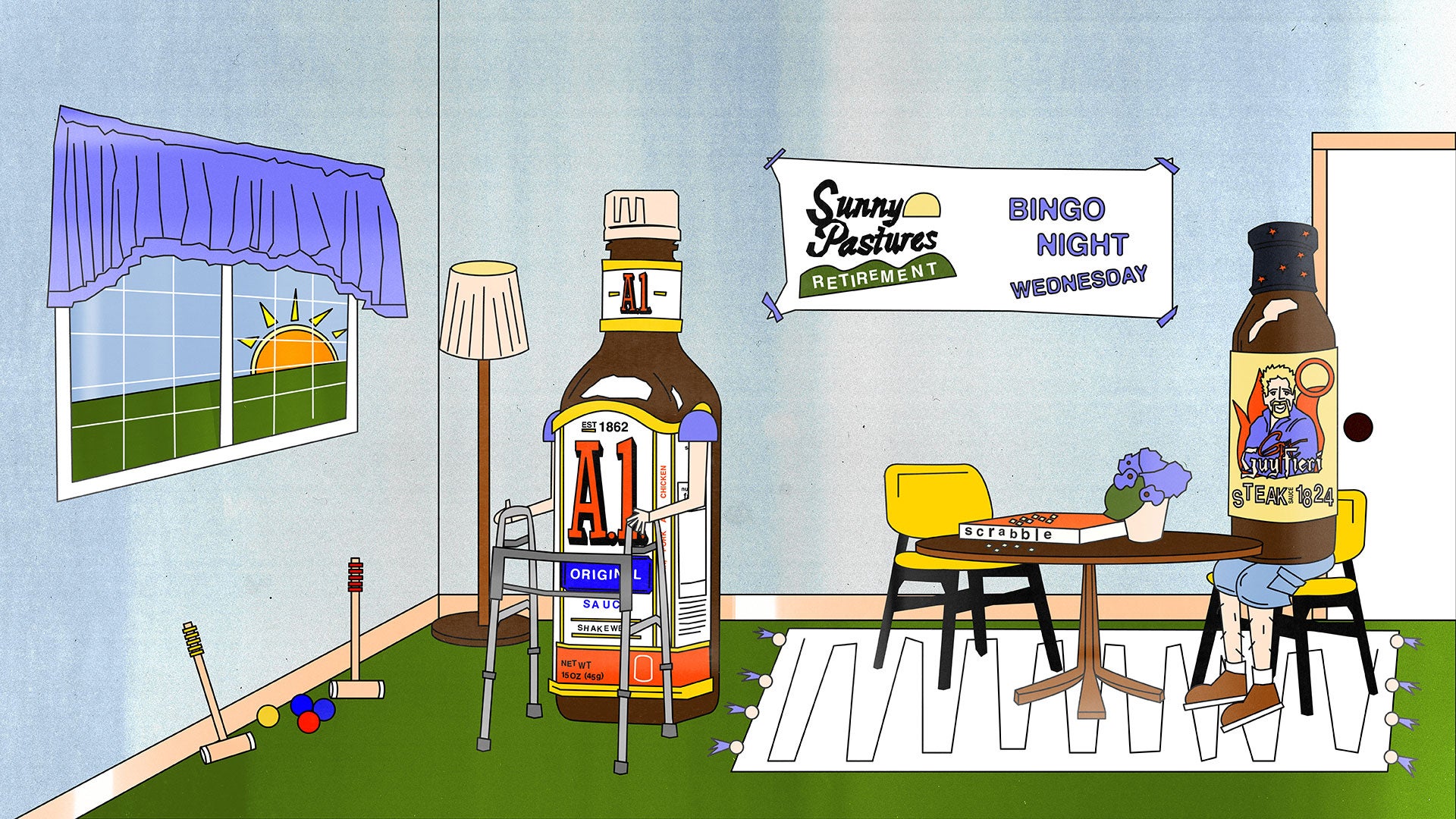 The one-size-fits-all steakhouse staple has gone to pasture, but a new herd of tangy, sweet sauces is ready to take its place.
There was a not-so-distant time when steak sauce had its guaranteed spot in condiment caddies across America. Growing up in the '90s, I remember coveting the square-sided bottles of A.1. in my friends' refrigerator doors. My Japanese-American family's pantry was stocked with Kikkoman soy sauce and miso, and I didn't even taste my first burger until high school. Bottled steak sauce struck me then as quintessentially American, not just for its beefy, macho connotations, but also because, like most things that are quintessentially American, it came here from somewhere else.
This "brown sauce" style of steak condiment—tangy (thanks to tamarind and malt vinegar), sweet (hello, raisins and dates), and savory (officially unspecified "spices")—shares an Asian lineage with aged, often fermented sauces that utilize fish, vegetables, fruit, or some combination of the three. Cooked up in Britain in the early 1800s for use on assorted meat and game, A.1. and its kin, Worcestershire sauce, were an approximation of tamarind-based chutneys—perhaps saunth chutney, often eaten with chaat, pani puri, and other snacks—for which the British aristocracy had developed a taste while colonizing India.
For much of the past century, the vinegared acidity, throaty sweetness, and low hum of spice in these steak sauces were synonymous with steak, a status symbol of middle-class America.
A.1. is the original, said to have been developed by King George IV's chef in the 1820s. (HP Sauce came later, in the 1890s, and Heinz 57 Sauce—originally Heinz Beefsteak Sauce—debuted in 1911.) For decades, A.1. was marketed for more than just steak—as this commercial from 1963, with a suggestion for a "cream cheese sundae" to dip crackers into, makes all too clear. But for much of the past century, the vinegared acidity, throaty sweetness, and low hum of spice in these steak sauces were synonymous with steak, a status symbol of middle-class America. Now, dousing good steak in A.1. seems decidedly retro—an act of defiance, even—and elicits the question David Chang posed in a recent episode of Ugly Delicious: "Is that . . . taboo?"
"It's a memory thing," says Sohui Kim, the chef-owner of Insa and The Good Fork in Brooklyn. She recalls the first time her mom tried her signature Korean-style steak and eggs dish, which is marinated with gochujang and served with house-made kimchi fried rice. "She asked my server for A.1. sauce," she recalls. "I was laughing so hard. A.1. was the go-to American steak sauce, and us being Korean transplants to America in the late '70s and early '80s and assimilating to the culture—whenever we thought of steak, everybody had A.1."
To Kim's family, and to many others, bottled steak sauce guaranteed a certain flavor at a time when high-quality steak was hard to come by. Ryan Angulo, the chef-owner at French Louie, a Brooklyn restaurant modeled as a French-bistro-meets-steakhouse, has such fond memories of A.1. that the restaurant created its own version to go along with three variations on steak frites: bavette steak, 28-day dry-aged steak, or lamb. "I like it because it adds a nice foil to steak, whether it's really fatty or gamey or bland. It's kind of like a one-hit wonder," he says. (French Louie's house sauce, developed by former chef de cuisine Ian Alvarez, includes dried chipotle, molasses, and anchovies alongside tamarind, cardamom, cloves, and raisins.)
Hillary Dixler Canavan, Eater's national restaurants editor, connects steak sauce's drop in popularity to evolving restaurant culture. "As steaks moved from steakhouse to upscale chef-driven restaurant, those chefs do not give diners the chance to doctor up their own food, so that takes steak sauce away," she suggests. Even sauces at serious steak institutions like Peter Luger—which makes a sometimes beloved, sometimes contested horseradish-forward sauce—are slathered on the tomato and onion side, not the steak.
Perhaps influenced by restaurants, home cooks are also seeing A.1. as more of a nostalgic novelty or occasional Bloody Mary ingredient than as a staple for meat cooking. Dawn Perry, a food writer and cookbook author, has fond memories of steak sauce and even developed a recipe for Bon Appétit in 2014—a blend between Heinz 57 and A.1. Even so, Perry prefers to season her steak more minimally, with just salt and pepper or fresh herbs and vegetables, to highlight the flavor of the meat.
"We're approaching all our ingredients with more reverence . . . It's like, 'I want to taste [the steak], not the sweet, salty, acidic sauce." Even so, Perry moved to a new apartment with a now-expired bottle of A.1. "We've KonMaried a couple times, yet I was not willing to let it go," she laughs.
Canavan theorizes that steak sauce may have gotten left behind in recent years "for being both too strong and not strong enough." She sees two divergent trends in American palettes, whether they belong to professional or home cooks. "If you're into pure ingredients, then you don't want [steak sauce] because it masks the beauty of the beast. You're having this great piece of meat that you want to pay some respect to." On the other side of the spectrum, "[Steak sauce] isn't punchy enough to survive the world of Hot Cheetos and barbecue sauces and sriracha."
Meanwhile, many of us, if we cook steak at all, are having it with Argentinian-ish chimichurri, Korean-ish gochujang, French-ish mustard—leaving A.1. in its wake.
In 2014, Kraft, which owns A.1., made the marketing decision to officially remove "steak" from the sauce's name after it had added it in the 1960s. Meanwhile, many of us, if we cook steak at all, are having it with Argentinian-ish chimichurri, Korean-ish gochujang, French-ish mustard—leaving A.1. in its wake. "The American way of eating steak really is about the global pantry," says Kim. Decades after I felt weird being the friend with a bottle of Kikkoman, soy sauce—to say nothing of sriracha, harissa, and gochujang—has become a pantry staple for Americans of all cultural backgrounds.
On a grocery trip earlier this year, before the mission-efficient shopping necessitated by this COVID-19 reality, a classic, rounded-rectangular bottle of A.1. spoke to me, so I brought one home. When I tasted it, for the first time in years, I realized that its flavor was smackingly familiar—almost identical to Bull-Dog "Vegetable & Fruit" sauce, a Japanese condiment (dating from 1905) modeled off Worcestershire sauce that I'd grown up eating on trips to Japan—just a little bit thicker and less acidic.
Like A.1., Bull-Dog has been around in Japan for decades, but it's gaining traction here as an indispensable flavor in katsu sandos and other newly trendy Japanese comfort foods. Ototo, a sake bar and restaurant in Los Angeles's Echo Park, serves my favorite stateside katsu sando. Its co-owner, Courtney Kaplan, first tasted Bull-Dog as a college student while abroad in Japan. "It is a familiar flavor—it's a Western-style sauce—with onions, carrots, tomato, apple, vinegar," she says. "It doesn't take any translation to understand a fried chicken cutlet on white bread with this tangy sweet sauce."
"This notion of strong-flavored sauce—no matter where it originates—is to lessen the shine on the piece of steak that you're eating at home, because it probably isn't a prime cut," says Kim. "You mask it with a crazy amount of A.1. sauce." When options are limited, resourcefulness in the kitchen goes a long way to perk up the taste buds. Good home cooks have always known this, skipping a trip to the store, looking instead to the bottles and jars already in the fridge, swapping and riffing to bring new glory to a pot of beans or some frozen dumplings. It's our culinary heritage of invention and evolution, and it's never been more useful than right now.