JB Prince Is the Chef's Third Hand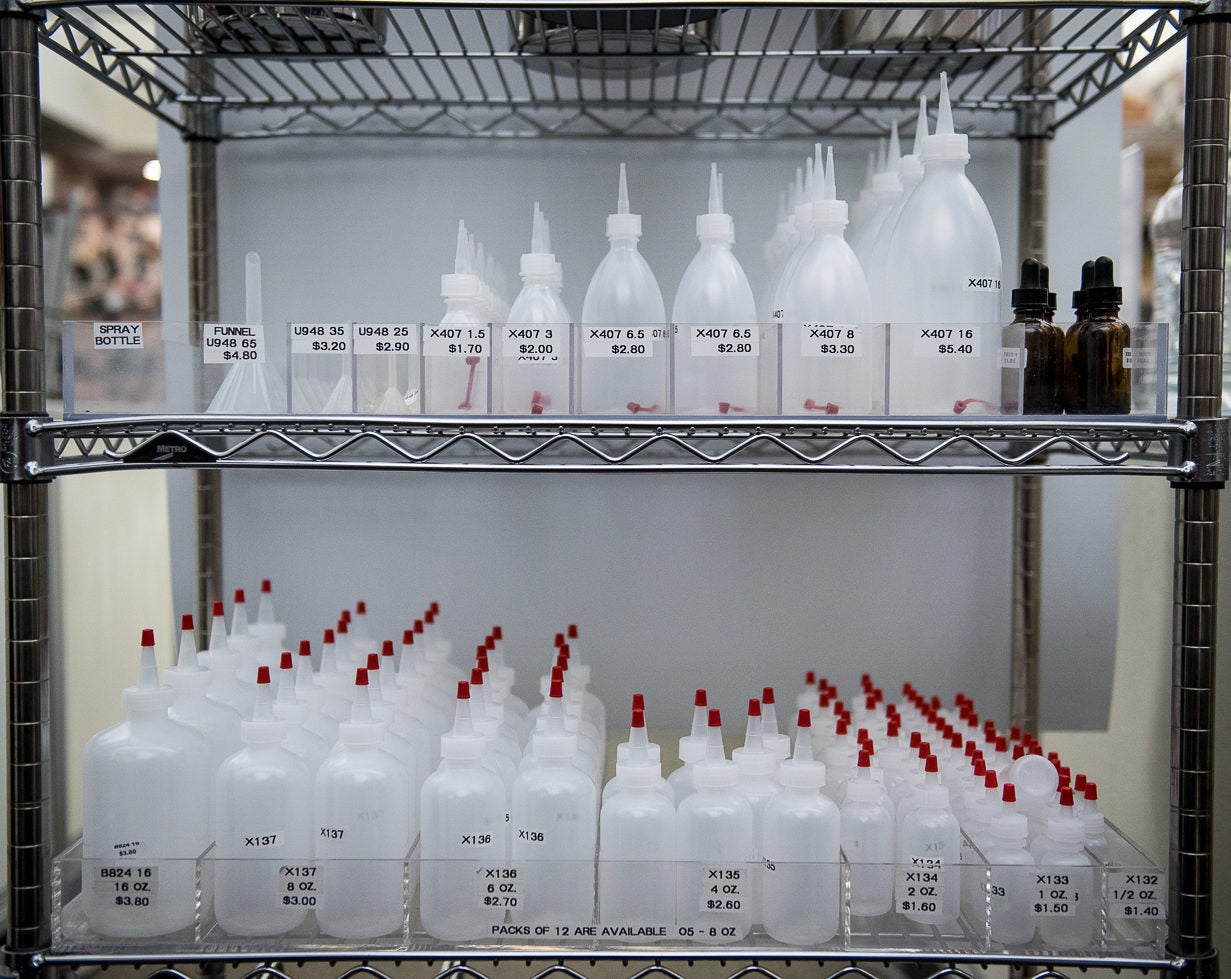 This mythic Manhattan kitchen store is where sous vide circulators, Global knives, and the Gray Kunz sauce spoon became legend.
When Amazon ran its annual Prime Day in July, the Anova sous vide circulator was one of the most popular items sold. It was a good reminder that we're living in a golden age of kitchen appliances, one in which expensive and esoteric devices traditionally seen only in commercial kitchens are becoming increasingly ubiquitous.
In a roundabout way we owe this to JB Prince, a kitchen-supply store tucked in a nondescript office building in midtown Manhattan. Back in 2005, Alinea chef Grant Achatz introduced Judy and Larry Prince, the store's founders and owners, to a sous vide manufacturer called PolyScience. At the time, the technology was mostly being used in Europe, but Achatz and other innovative chefs were eager to experiment with it. Achatz's enthusiasm inspired the Princes to start carrying sous vide equipment, making their company the first in the U.S. to do so. That in turn made sous vide accessible to a wider pool of chefs, giving it its first nudge toward the mainstream.
JB Prince wasn't necessarily the first kitchen-equipment business aimed at professional chefs, and these days it's far from the only player in the high-end kitchen-supplies game. But since its founding in the mid-1970s, the store has stood out for its skill at providing hand-picked, high-quality equipment geared specifically toward the needs of professional chefs.
It carries much of its inventory as a result of very specific requests. The reason JB Prince became the first American company to carry induction-compatible cookware, for example, is because Gray Kunz was having major problems with cooks fainting from the intense temperatures in Lespinasse's kitchen and needed cookware that would work with the induction burners he had installed to cut down the heat.
JB Prince traces its origins to 1976, when the Princes lived in a Park Slope, Brooklyn, brownstone apartment where they had access to the fifth-floor attic. At the time, Larry was an executive at Pfizer, and Judy was a new mother and housewife trying to figure out what sort of work she might be able to do from her home. Eventually she decided to transition a deep interest in kitchenware into a mail-order business and enrolled in night courses at Brooklyn Tech, where she learned the basics of French cooking.
She also sent 50 letters to various European factories that manufactured kitchen tools like truffle cutters and ice-carving equipment. "I thought I could import these things," she recalls. "I had relatives in Germany who were sort of in the same business." While they weren't involved with her new venture, it did become a family effort. With some assistance from a professional photographer and a graphic designer, Judy and Larry made their first catalog and filled the attic with goods from the factories Judy had contacted. A few years later, Larry quit his job at Pfizer to join the company full time.
The Princes succeeded in ways that have made a meaningful—but also relatively hidden—mark on the culinary world in the United States. If you own a knife made by Misono or Global, it's because JB Prince was the first company in the U.S. to import and sell them. The same goes for Silpat nonstick baking mats and Flexipan silicone molds. And truffle cutters and ice-carving equipment (both of which were a big deal in the '80s and '90s).
Jeremiah Stone, the chef and co-owner of three NYC restaurants including Contra and Wildair, recalls that when he started his career about a decade ago, he would buy ersatz equipment wherever he could find it. "I used to go to Pearl [Paint] to get squeeze bottles that were small for oils and stuff like that," he says. But that changed when he discovered JB Prince.
What also sets the store apart, Stone adds, is that everything the company sells is thoroughly vetted. "There are chef brands or cook brands that will try to follow the trend, but the quality isn't good," he says. "There are tweezers where I don't even know if they're really for food originally; maybe they're more like forceps or something."
The Princes have also built their reputation by focusing not just on the needs of kitchens but of individual chefs. "Our customers are people who are very talented, intelligent, very dedicated," says Larry Prince. "They are also under the gun to produce things immediately, and they do. And they work seven days a week sometimes, when necessary, and the oddest hours when nobody else is working." That's one reason that, unlike many other kitchenware stores, JB Prince keeps the vast majority of its stock in its warehouse: If a chef needs a piece of equipment quickly, she or he can usually get it within 24 to 48 hours. They can make that happen.
The company has also been known to manufacture specialty pieces, like the legendary Gray Kunz sauce spoon, which in the chef world is widely considered to be as close to perfect a spoon as you can find. "This spoon has a balance to it," explains Judy Prince. "It has a weight to it. It has a bowl that slices through the product and delivers it at the other end, and it doesn't fight you. It becomes part of your dance that you're doing when you're plating up the food and saucing it."
These small, bespoke pieces sometimes pull in chefs like Danny Bowien of Mission Chinese Food. Although he goes to the store once a month to poke around, it's the Kunz spoon that he buys most frequently. "When we were opening Mission Chinese Food the second time in Manhattan, they came out with this gold-plated [Kunz] spoon," Bowien recalls. "We were going to have this private dinner. Rene [Redzepi] was in town. Wylie [Dufresne] was around. All of these chefs came to this little dinner, and I picked up a handful of these gold Kunz spoons." They were a hit and were soon being gifted from chef to chef to celebrate special occasions.
Another part of JB Prince's appeal is that, beyond the sous vide circulators and legendary spoons, it's just a fun place to hang out. Chefs like Stone and Bowien attribute this to CEO Tim Mussig, a former chef who left the kitchen to take a job as a JB Prince customer service rep almost 20 years ago.
"He's always kind of in the loop about each field," Stone says of Mussig. "From what they're doing in Europe to what they're doing in hotels, [from] big organizations to small boutique restaurants around the country that are placing orders and having conversations with him." Plus, he adds, Mussig can talk about hip-hop and graffiti, areas where their interests align.
For his part, Mussig's experience working in restaurants like David Bouley's Danube means that he gets what chefs go through on a daily basis. "It's like a rite of passage thing," Mussig explains; if you did your time in New York's fine-dining world, "people have this respect or understanding."
That kind of camaraderie underscores the pull of JB Prince; even though it's small and not particularly designed for browsing—more than 90 percent of the company's business is done online—you will always find chefs and culinary students milling around, buying offset spatulas, staring longingly at expensive Japanese knives, and paging through the latest issue of Toothache. "It's like being in a toy store as a kid," says Bowien. "You just go and look at things and you think, Maybe someday I'll get that."