I've Fallen Out of Love With Sriracha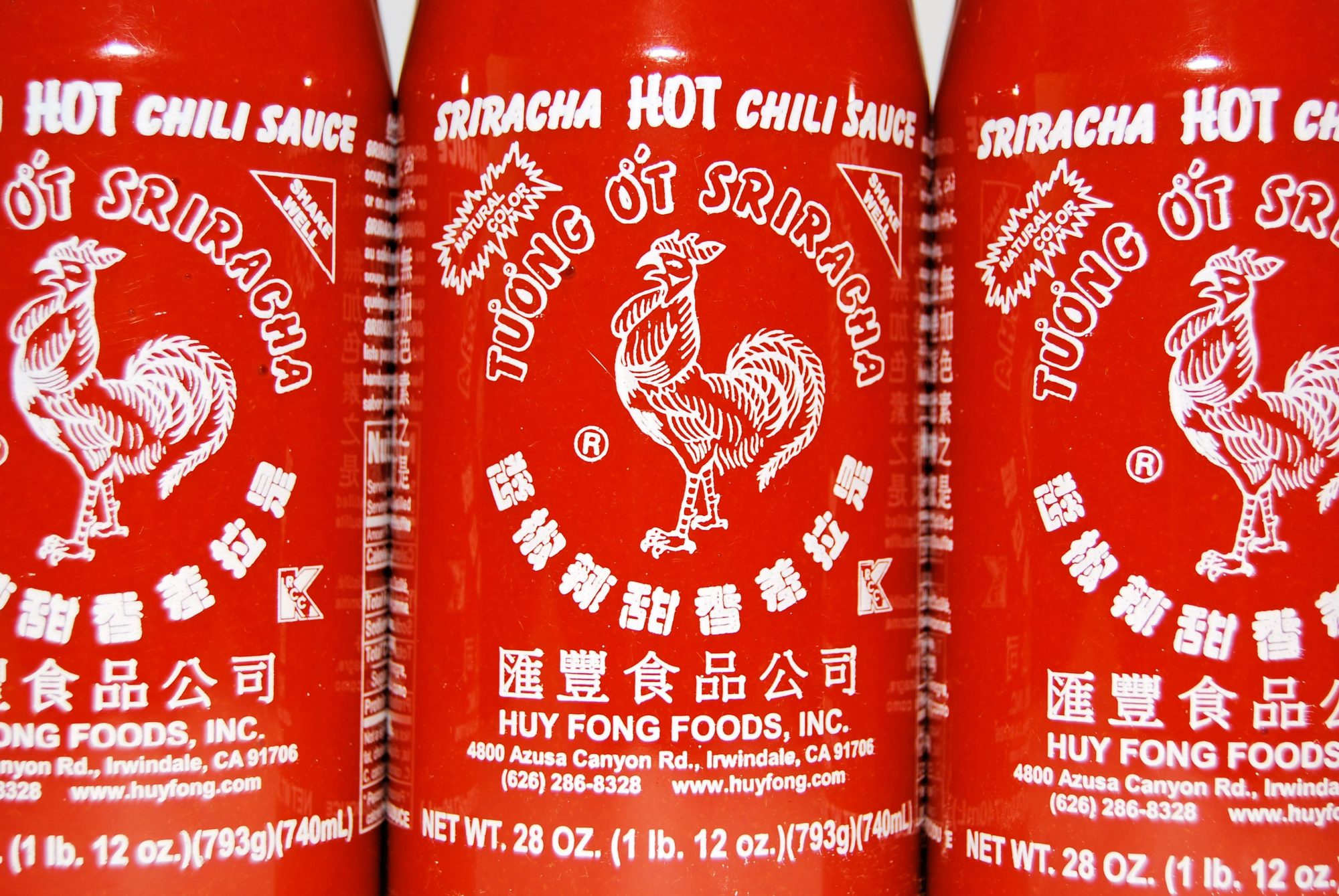 It's a condiment for 21st century American taste and a quintessential American food. But with ubiquity comes backlash. 
The woman working in the Mexican burrito place at JFK's Terminal 4 was rushing through the usual questions as she kept her eyes on the steel bins of ingredients in front of her: Pinto or black beans? Cheese? Spicy or mild salsa? And then she asked something that caught me by surprise: "Sriracha?"
I remember the first time I saw a bottle of Sriracha sauce: It was on the table at a Vietnamese restaurant in San Francisco's Sunset District sometime in the late '90s, its distinctive green cap and the confident, proud—even cocky, if you will—rooster on the label etching itself into my memory. Over the next decade, I began noticing bottles on the shelves at international food markets in cities like Los Angeles, San Francisco, and New York. And then by 2010, this tangy and sweet concoction made up of chiles, garlic, vinegar, salt, xantham gum, and sugar had become a staple at Asian restaurants across America.
In the last few years, though, America's obsession with the sauce has gone to the next level. It's not just a fixture of the condiment section of our refrigerators and on restaurant tables. Chain restaurants and fast food chain outlets have even incorporated it into their offerings. Is there a better indication that this ingredient has gone completely mainstream than Applebee's—in its 2,000-plus locations around America—serving a predictably tame dish called Sriracha shrimp or McDonald's doling out Sriracha Mac Sauce? It's now found itself a spot in the pantheon of American condiments, along with Heinz ketchup, French's mustard, and Miracle Whip. It's even become a part of American pop culture: Cookbooks have been written. Songs sung. Documentaries filmed. All in homage to "rooster sauce," as Sriracha is belovedly referred to by its legion of followers. It's even made its way into space, having scored a lofty place in the galley of the International Space Station.
No one is quite sure where exactly Sriracha came from, though a pretty good theory is that it hails from the coastal Thai town of Si Racha, about 60 miles south of Bangkok. Local versions of the chile-laced condiment are sold in markets around the country and squirted on eggs, or used as a dipping sauce to cut richness of fried seafood.
Sriracha, a sauce re-created in America by a Vietnamese-born, ethnically Chinese immigrant named David Tran who fled Vietnam in the late 1970s, has become a quintessential American food. A condiment for 21st century American taste. Which is why anyone who has concerns about the current political climate and the anti-immigrant rhetoric coming from the White House should be rooting for Sriracha. After all, it is a product of refugees, a dream fulfilled for someone who simply took one giant and desperate leap for a better life.
But recently, as I found myself mindlessly squirting some of the red sauce into a bowl of pho ga in New York's Chinatown, I wondered: Is Sriracha overrated? I was so busy loving the sauce as a symbol of a new, spicier, and culinary diverse—dare I say woke?—America that I never really even bothered to examine if I liked the stuff very much.
Huy Fong Foods Inc., David Tran's Los Angeles–based company that makes Sriracha sauce, also makes a straightforward chile sauce called sambal oelek. I put it in tom yum soup or even in plain old chicken soup. I mix it into steamed rice. Once you add sugar and garlic to the chile mix and puree it, it becomes Sriracha. When I really started to think about it, it's at that moment that chile sauce transforms into a heavy-handed hot mess.
I was so busy loving the sauce as a symbol of a new, spicier, and culinary diverse—dare I say woke?—America that I never really even bothered to examine if I liked the stuff very much.
Devoid of its historical and cultural context, the heat-meets-sweet taste of it has a tendency to overtake instead of complement other ingredients. Rather than simply adding an extra layer of spiciness to a dish that may also include sweetness, sourness, saltiness, it bullies my palate with its need for attention. After a few squirts in a bowl of pho, the balance of the subtle taste of the star anise, the umami notes of the fish sauce, and the lingering feel of cinnamon are gone, replaced by the Sriracha's unwieldy and officious tangy sweetness that I just can't wrap my taste buds around.
This doesn't seem to bother many other people, including food professionals, or they just disagree. Bangkok-based Thai chef Ian Kittichai, for example, told me that he loves the kick the sauce gives to the dishes he makes, even going so far as to say that it "really complements and elevates milder dishes like kai jiew, Thai omelets, and dadeow moo, deep-fried sun-dried pork." His only issue with Sriracha, in fact, is that—perhaps thanks to Tran and Huy Fong Food—people think it's Vietnamese. "As a Thai person, this really irritates me, as the sauce is named after the town Si Racha in Thailand."
Thailand-born chef Hong Thaimee, who runs Ngam and Thaimee Table in New York City, loves using the sauce as a dipping component and often adds it to noodle soups. She also likes the idea that Sriracha has conquered the American palate. "Its presence everywhere is convincing Americans to try Asian flavors." Besides, she added, "Ketchup is boring. Big flavors are fun." Moreover, Thaimee said, Sriracha is like a "gateway drug" for Americans to further deepen their knowledge and appreciation of Asian cuisines.
For Randy Clemens, author of The Sriracha Cookbook, it's all about the flavor, whether it complements a dish or not. "I think Sriracha strikes a really great balance of heat and flavor," he told me when I asked what he likes best about the sauce. "The acidity of the vinegar, the little bit of pungency from the garlic, salty/sweet, with peaks and valleys of heat—it's like it just makes every bite a little more exciting."
In the 2013 documentary Sriracha, chef Harold Dieterle, the chef at now defunct New York City Thai restaurant Kin Shop, said, "Someone who tells you they don't like Sriracha is full of shit."
I'm not full of shit, but I'm clearly in the minority about what has become America's favorite condiment. As I boarded my flight at JFK, one Sriracha-less burrito in hand, I was still thinking about the fact that Sriracha has snuck into Mexican food now, too. I don't have to like Sriracha, and that's a matter of personal taste. But what isn't is living in a place where a sauce with an Asian flavor profile can intermingle with Mexican cooking, and few people will give it a second thought. I might not want Sriracha on my burrito, but I'm happy to know most of us do.