It's Time for a Coconut Shrimp Revival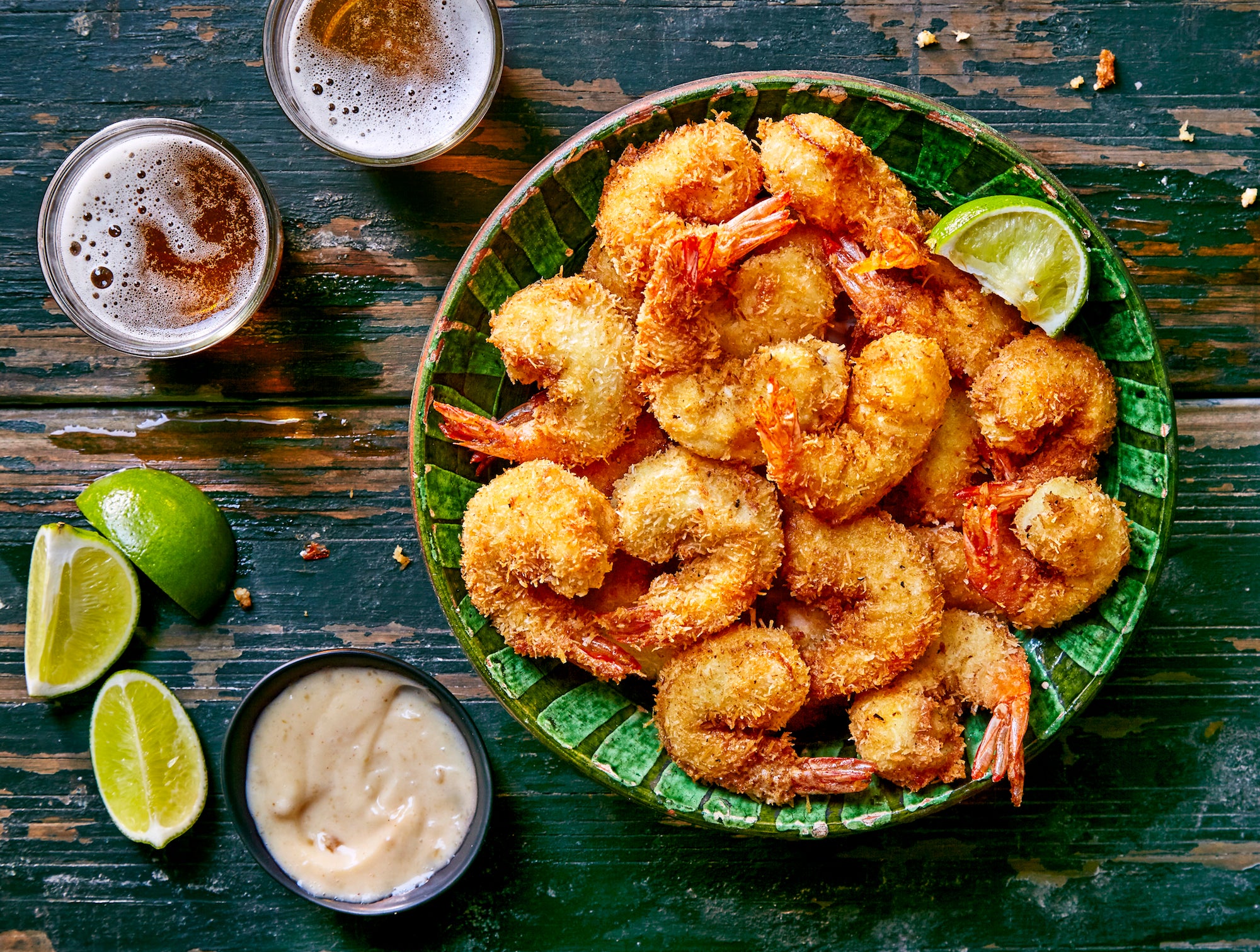 At country clubs and famous restaurants like the Rainbow Room, a unique style of fried shrimp was booming in the 1960s and '70s. So, what happened?
Of all the summer vacations of my youth, my happiest memories are centered around buffet platters of coconut shrimp. Every summer, I would go to a beach resort with my "rich friend's" family from the geographic middle of Mississippi to the resorts that line the Emerald Coast beaches of Gulf Shores, Alabama. All week long, we'd lie out in lounge chairs by the pool and listen to the Jimmy Buffett tribute band play "Cheeseburger in Paradise" and "Margaritaville." Across the pool there sat a buffet table with platters full of fresh fruit, insipid, too-warm cheese cubes, and the star of the show—freshly fried coconut shrimp, lacy and frayed from their shredded coconut coating.
If I was lucky, the shrimp were still fresh from the fryer, and I'd grab a fistful to put on my plate, my hand stinging from the hot grease. Compared with the fruit and cheese next to them, these shrimp were the closest thing to local cuisine the area had, as they were made with huge Gulf shrimp and sweetened with shredded coconut. Eating them was bliss. I'd take a swig of a piña colada from the bar (a treat my friend's mom would let us indulge in, even though we were underage), and the two slightly chemical-tasting coconut flavors would mingle and dance on my tongue. The piña colada–and probably the shrimp, too–felt like fire going down my gullet, but I knew there was something about that coconut flavor that I loved.
Thus began my love affair with coconut shrimp (and piña coladas, but that's for another time). A classic holdover from postwar tiki culture, coconut shrimp were a symbol of exotic decadence in the '60s and '70s, making their way onto menus at country clubs and swanky cosmopolitan restaurants like the Rainbow Room. Deep-fried shrimp existed before this era, but it's not difficult to see how an enterprising tiki restaurateur could've decided to toss shrimp with sweetened, shredded coconut (another postwar innovation) and deep-fry them to create a crisp, nutty-sweet appetizer that pairs pretty damn well with a fruity rum cocktail.
As a kid, I'd eat them at weddings, pool parties, and especially at Red Lobster on the rare occasion that my family went out for a "nice dinner" to celebrate a milestone. It's just these types of festive, boozy occasions where coconut shrimp really shine. Even today, I love to have platters of coconut shrimp out for a party, especially since I'm currently in what I like to call the "rum phase" of my life.
Of course, the coconut shrimp I serve now are nothing like the Alabama buffet version that gave me comfort from the vocal stylings of whoever the hell the Jimmy Buffett tribute singer was. Today, I make sure I use local shrimp that I peel and devein myself, rather than reaching for the bag from the freezer aisle of the supermarket. And for the coconut part, I go berserk: I marinate the shrimp in coconut milk spiked with lime juice, zest, and a chopped habanero chile for some heat to counter the coconut's inherent sweetness.
Next comes a dusting in coconut flour, which is simply very finely ground dried coconut. This dusting helps the eggs adhere, which in turn aids the dried shredded coconut in making a full, thick coating. The final hit of coconut comes from shallow-frying them in unrefined coconut oil, which transfers even more coconut flavor to the shrimp. Jimmy may have been singing about smelling shrimp "beginnin' to boil," but if he'd smelled these coconut shrimp back then, he'd have been singing a better tune.