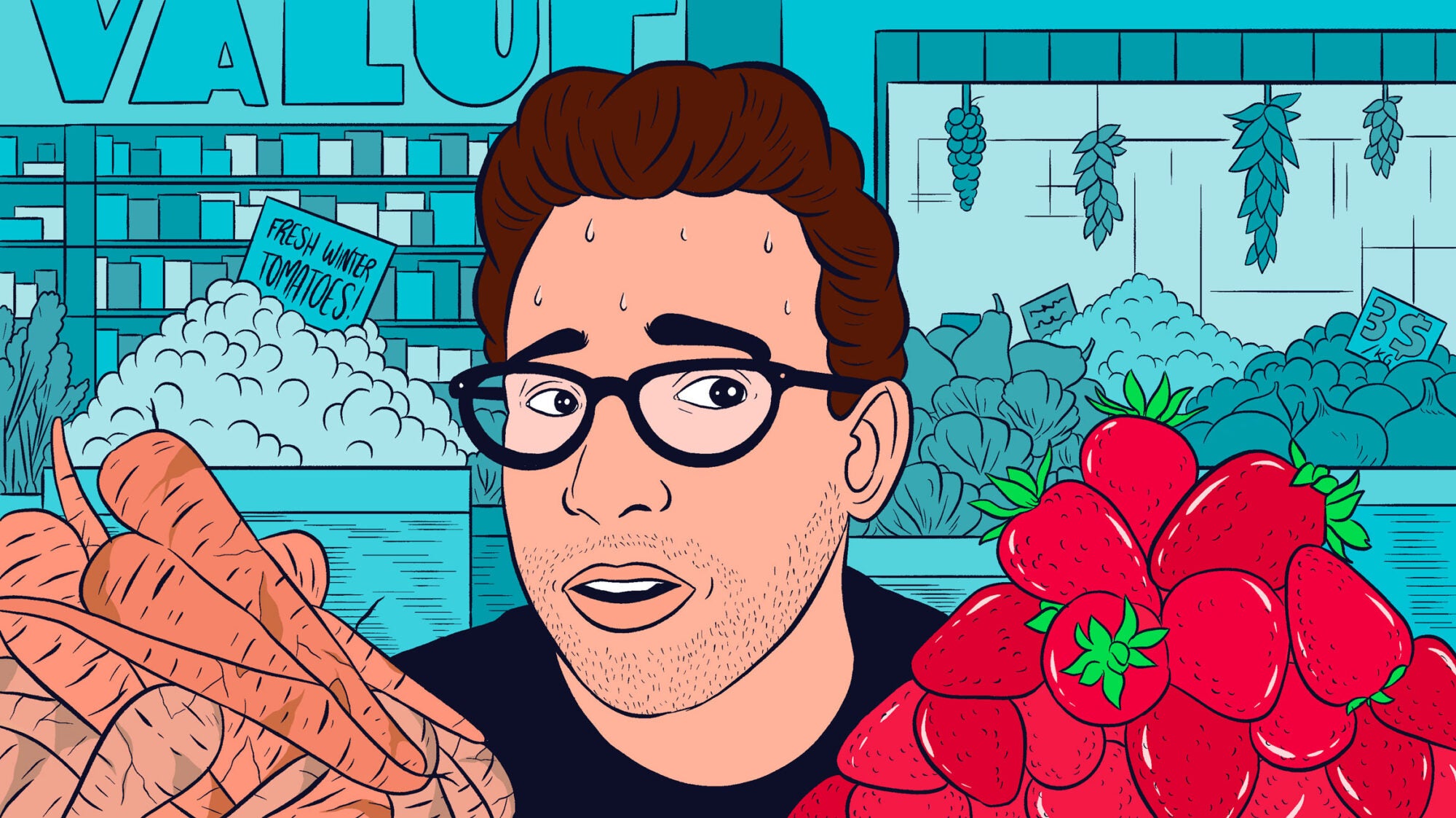 Even among the most fastidious locavores, there's a time and a place for boxes of baby spinach and waxy red bell peppers.
It's February in New York, the time of year at which most upstanding food publications run paeans to parsnips or odes to the versatility of the cellared carrot. Indeed, only a few years ago, I, too, might have used this opportunity to launch a full-throated appeal to braving the Northeast tundra in order to buy three watermelon radishes and a rutabaga, or a plea to consider the turnip, because that's all a principled locavore can eat for the next 87 days.
Yet here I am divulging that I haven't visited the farmers market since Concord grape season. Instead, I've been pushing a cart through the vegetable department of my neighborhood Key Foods, ogling the pyramids of lemons, crates of ginger, and boxes of baby spinach. And last month, as fires raged far away and snow fell outside my kitchen window, I roasted gleaming, Twizzler-red bell peppers that I'd found for $1.99 a pound, dousing them in oil and vinegar. They were delicious.
Among the professional cooks, orange-wine-swilling writer types, and Brownstone Bernie-backers with whom I tend to dine, seasonal cookery is religion, the farmers market is church, and only nonbelievers doubt the virtues of a $3 peach or the quest for a particular heirloom chile. We understand that financial immolation and botanical idolatry serve a higher truth. We believe that the value of tree-ripened, organic, local stone fruit or the Jimmy Nardello pepper isn't just in their exquisite flavor.
It's that the purchase represents an act of devotion to a sustainable food system that might just save us all—even though stocking up on spigarello and Caraflex cabbage when we should be giving up burgers and butter is a bit like retweeting Greta Thunberg when we should be marching on Washington. And so, I'm here to acknowledge, with no small amount of guilt, that I love winter, not because it reveals those with Job-like devotion to my flock's doctrine, but because it's the season of sin—it's the season of the supermarket.
Under the fluorescent lights, the world is yours. Here, you can always buy tomatillos and serranos to make salsa, radicchio to compose fancy-seeming salads, and cantaloupe to avoid mutiny from your melon-obsessed five-year-old. Here, shiitakes, compared to pricey farmers-market fungi, are practically free. The Brussels sprouts might not be affixed to the stalk, but they're so preternaturally large that trimming them is a goddamn pleasure. You're not quite sure where it all comes from or how it arrived, but it's always there for your blasphemous convenience. As such, abstinence is hopeless.
I love winter, not because it reveals those with Job-like devotion to my flock's doctrine, but because it's the season of sin—it's the season of the supermarket.
Before my fall, I was far along the path to enlightenment. I grew up in suburban New Jersey, where my favorite fruit was the Crunchberry, but thanks to Jeffrey Steingarten's The Man Who Ate Everything and a few months lurking on eGullet's discussion forums, I emerged from college a starry-eyed foodie wannabe. I moved to New York City in the aughts, when faddish restaurant menus name-checked the source for virtually every Hakurei turnip and Thumbelina carrot. Cookbooks of the era pumped out so much produce propaganda—virtually every other page was a photo depicting chefs ogling bunches of rainbow chard or back-clapping overall-clad men whose weathered faces and dirt-stained fingernails evoked communion with the earth—that it seemed contractual. I ate it up, lusting after Tristar strawberries grown by Franca Tantillo at Berried Treasures and the snap peas harvested by the Migliorelli family like most young adults my age did tickets to Arcade Fire.
My eventual job, helping chefs write cookbooks, only cemented my fervor for the farmers market, inculcated as I was by people who received daily deliveries of bronze fennel and purple pole beans, trawled beat-up folding tables for Brandywines and Yellow Beauties so ripe they were near bursting, and got their kicks lacto-fermenting okra to preserve the summer's bounty. Soon my enthusiasm hardened into zeal, and I became excessively excited about ramps, scoffed at the thought of cooking asparagus too far from the vernal equinox, and never planned meals before visiting the market—the better to let whatever vegetables were at their peak dictate dinner.
A decade and two kids later, I can barely find time to shower, let alone attend Saturday culinary mass. While I don't wish to raise the ire of my employers or wake up next to a decapitated head of broccoli on my pillow (a little message from Don Alice Waters), I'll admit that the years of fetishizing Romanesco zucchini (which some chefs prize for its earthy flavor, but I think tastes like plain old zucchini) and Fairy Tale eggplants (which taste like reality-based eggplants), have made me feel a bit like Lev Parnas in Ukraine—desperately searching for what the boss told you was there, only to suspect, after a while, that he might be a little crazy.
In August, piety is easy. February, however, tests the faithful. Most of us, I imagine, do what we must to endure the months of vegetative desolation that stretch from the last sighting of curly kale to the emergence of rhubarb. Some of you might even survive it free from emotion. But for this eternally conflicted cook, my shame is compounded by the members of my former congregation.
When every cold-weather party includes red kuri and honeynut squashes, each winter Manhattan bistro menu features Brussels sprouts and obscure chicories, and Food Instagram seems suspended in a state of perpetual autumn, it can seem like everyone in your milieu is Dan Barber–ing dinner except you. That is, until you remember that it's 27 degrees and the arable land within a 300-mile radius is as barren as Mitch McConnell's soul.
In August, piety is easy. February, however, tests the faithful.
Yet just as the deacon quietly covets his neighbor's wife, my fellow parishioners and I do not often confess our sins. We're all Jerry Falwell, Jr., but instead of preaching biblical righteousness while carrying on an inscrutable relationship with the pool boy, we're evangelizing for small-scale agriculture while making summery Italian dishes during a snowstorm.
Leaving our transgressions unspoken does damage. Unreachably high standards beget failure, failures beget surrender, and next thing you know, your happy place is behind that cart in a timeless void where bundles of asparagus and pints of blueberries coexist with butternut squashes and grapes, to hell with Mother Nature. Where you can indulge your desires and resist submission to the tyranny of the orbiting earth's axial tilt—unless, of course, what you crave is a decent tomato, strawberries that are red all the way through, or a livable planet.