It's Difficult to Talk About Soviet Food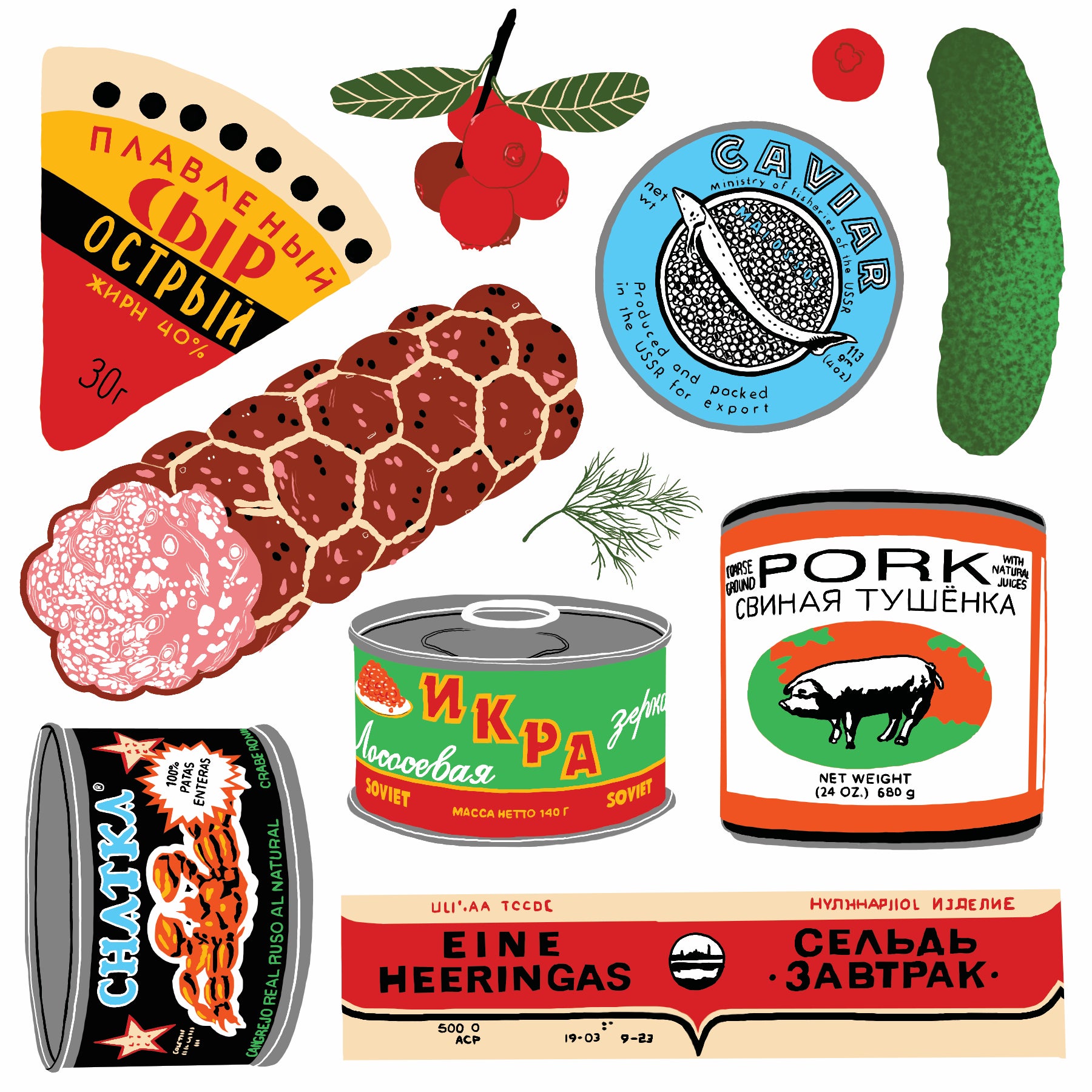 Long after the Soviet Union collapsed, its cuisine—from the kitchens of Russia, Georgia, Azerbaijan, and beyond—is resurfacing in the United States. Tumultuous history in tow.
Like just about everyone else, I have been thinking a lot lately about Russia. This has to do with the election-fixing headlines, obviously, but also my sudden and alarming interest in genealogy that I can only assume comes from turning 30. My family is "from Russia"—which is to say someone, at some point, emigrated from a shtetl that was located within what would later be the Soviet Union. Which is to say that I feel some ancestral attachment to the country, and also that, with the exception of a potato-heavy childhood and a healthy appetite for gefilte fish, it is not particularly "mine."
I was thinking about all this when I noticed what seemed to be a wavelet of Eastern European cookbooks being published this past fall: Olia Hercules's Kaukasis, a "Culinary Journey Through Georgia, Azerbaijan, & Beyond," appeared in October, followed by Bonnie Frumkin Morales's Kachka, which is subtitled "A Return to Russian Cooking." (And both of those titles, it should be noted, were preceded in 2015 by Olga and Pavel Syutkin's CCCP Cook Book.) Around the same time, an Uzbek restaurant opened on my block. I also found myself patronizing the New York outpost of Teremok, the Russian fast-casual blini chain, and later spotted a seasonal pelmeni kiosk in Bryant Park.
Was this all some sort of trend? I wasn't sure. Perhaps the restaurants and cookbooks had been there all along, and I was only noticing now. That is the problem with trends. It is always possible you are just gazing at yourself.
Trends also have a way of glossing over and simplifying, and in her introduction to Kachka, a cookbook named after the Portland restaurant that she opened in 2014, Morales makes it clear that where Russian food is concerned, nothing is simple—or even, necessarily, Russian.
"THIS IS NOT A RUSSIAN COOKBOOK," Morales writes, ignoring the caps-lock light. Her food is the food of the former Soviet Union. And that food, she continues, was "very much its own thing—both culturally and culinarily."
This was by design: Defining the food of the budding empire was an intentional state project. If all food is political, then Soviet food was even more so. After the Revolution of 1917, "old-fashioned Russian food was deemed ideologically inappropriate," explains Anya von Bremzen, whose Mastering the Art of Soviet Cooking traces the history of both post-revolutionary Russia and her own family in meals. "And anyway, it used ingredients that were no longer available."
The official replacement was a utopian vision of ecstatic multiculturalism. The Soviet culinary canon incorporated dishes from all over the empire: the area that is now Russia, but also Ukraine, Georgia, Armenia, Uzbekistan, Azerbaijan. "People dismiss it," von Bremzen says, "but in a way, it was a very progressive cuisine."
A recipe involving suckling pig wasn't a meal idea, it was propaganda by pork.
It was all codified in the Book of Tasty and Healthy Food—or as von Bremzen calls it, "the totalitarian Joy of Cooking." Curated by Stalin's food commissar, Anastas Mikoyan, and first published in 1939 (and thereafter regularly revised to keep up with changing regimes), the book is grimly romantic, part actual cookbook, part socialist-realist fantasy. It does not, for example, mention drastic food shortages when it advocates a four-meal-a-day New Soviet diet. But it does offer tips for service. ("Each dish," it advises, "should be delicious and have visual appeal.") And that was the point.
"It was aspirational," von Bremzen explains. "You almost weren't supposed to make it." A recipe involving suckling pig wasn't a meal idea; it was propaganda by pork. But, von Bremzen points out, plenty of the recipes were accessible, or at least accessible with adaptations and subtractions and replacements, depending on what was available. Like mayonnaise and canned goods—symbols of industrial progress—extreme scarcity was a key tenet of the new national cuisine.
Cooking styles from different corners of the Soviet Union were cross-pollinating in real life, too, thanks in part to a ban on outside travel. If you were going to relocate (or flee), you were going to do it within the USSR. The Kachka chef recalls that her own grandfather developed a hunchback and was prescribed yearly pilgrimages to a health spa in Uzbekistan, returning to Belarus with ingredients in his suitcase: tkemali, a central Asian plum paste, and spices for adjika, a spicy red pepper sauce. In the '50s, Hercules's grandmother, starving in Siberia, fled to Tashkent, where she learned to make manti, Uzbek dumplings traditionally made from lamb. A decade later, when she moved to what is now Ukraine, she couldn't get lamb; today, both she (still in Ukraine) and Hercules (in London) make their manti with pork.
Some of this cross-cultural exchange was even more brutal. "I mean, they literally moved whole peoples against their will from one part of the former Soviet Union to another and then replaced those people with ethnic Russians," Morales says. The list of groups—ethnic Koreans, Latvians, Lithuanians, Estonians, Azeris, Kurds—"transferred" to Siberia and Soviet Central Asia under Stalin is long. (The Book of Tasty and Healthy Food does not mention this, either.) There is a reason her restaurant is devoted to it, the cuisine of a country that no longer exists; you can taste it in dishes like vetchina, a hot-smoked pork loin with persimmon mustard, and golubsti, pork-stuffed sweet-and-sour cabbage rolls.
That said, the foods of the former Soviet Union have been a tough sell to Westerners. "The preconceptions are huge, actually, and probably our biggest challenge," Morales says. People know borscht, cabbage, and bread lines—none of which are inaccurate—but not much else. When von Bremzen was shopping her first cookbook, the 1990 Please to the Table, publishers were skeptical. "Their response was kind of, 'I'm not interested in carp or sour cream or shortages. Russia, at the time, had a very bad image," she says. "Nobody wants 'USSR' in the title of a cookbook." (Conveniently, a year after her book came out, the Soviet Union ceased to exist.)
A generation later, Hercules had similar problems. "Why would you want to write about Ukrainian food, and why would anyone want to eat it?" an editor asked her. He'd gone to a restaurant in the Czech Republic in the '70s and it had been terrible, he told her, and Hercules agreed it almost certainly was. "But what if he'd had the opportunity to go to my grandmother's house? He would have had a completely different experience," she says. But he didn't, and neither did most visitors: What foreigners had access to was restaurant food, and restaurant food was bad.
The Soviet Union "just didn't have a developed restaurant culture," says Glenn Mack, a food historian who started working in Russia in the '80s and has been traveling back and forth ever since. "You go to the market, it's one of the most amazing sensory experiences you could have," he says. (That the vast majority of Russians could not actually afford these experiences is another issue entirely.) "You go to a state-run restaurant, though," he says—one without access to black market ingredients—"and it's one of the most frustrating and limited things that you can imagine."
Meanwhile, Soviet immigrants like Morales's parents, who came to the U.S. as part of a wave of Jewish refugees in the '70s, were not necessarily falling over themselves to bring Soviet food culture with them. With few exceptions, people "basically just tried to get as far away from that as they possibly could," Morales recalls. "Also, if you're immigrating to a new country, you're automatically going to try as hard as you can to assimilate." The political history of U.S.-Russian relations didn't help, either. "In the U.S. specifically, Russia's always the enemy," she says.
"'Soviet' is still a pejorative term. Nobody says, 'Oh, I'm in the mood to eat something Soviet.'"
And then there is the issue of classification: To talk about "Soviet food" experiencing some kind of baby revival in the West is not quite right. "When you say Soviet food—well, there's Russian food, and there's Georgian food, and there's the food of Azerbaijan. They're really separate countries now," von Bremzen says. At best, the classification is nostalgic. "I mean, I think 'Soviet' is still a pejorative term. Nobody says, 'Oh, I'm in the mood to eat something Soviet.'" For Kachka, Morales ultimately settled on "Russian," she writes, but with "a big, fat asterisk implied."
Admittedly, it's also difficult to generate much excitement for a cuisine invented and defined by politics. "Everything was grown, canned, sold, and marketed by the government," Von Bremzen says. "By digesting the food, you digest[ed] the ideology along with it."
"There was no soul in anything the Soviet government produced," Hercules adds. "Because it was all state run, nobody cared about ingredients. It was all horrendous."
But both in the West and in Russia, that's not so true anymore. Even if the some of the recipes are not so dissimilar from what you'd find in the Book of Tasty and Healthy Food, the philosophy has changed. Ingredients are abundant. The peas in Kachka's Salat Olivier—a legendary showcase for the prized Soviet canned version—are fresh. And Morales's elevated version of strawberry soup, a childhood favorite made from mashed berries mixed with sugar and sour cream, now involves sheep's cheese mousse, roasted green strawberries, and green peppercorns.
And so despite its numerous obstacles, "Soviet" food—or Russian-food-with-an-asterisk—does seem to be gaining something like momentum in America. "It's because it's new and novel," Mack says, noting that the country has only really been open to the West for the last quarter-century. Americans like new things, especially when they are not too spicy.
"I think if Russian food is having this moment," says von Bremzen, who is not totally convinced, "it's because of the New Nordic." Meaning it's a simple function of geography: the surrounding regions are booming, culinarily speaking, with Middle Eastern to the South and East, and Scandinavia to the North. It is also a matter of branding, von Bremzen adds, citing a generation of younger chefs—Hercules and Morales among them—who know "how to use the right words." No one cares about pickles, she says, but everyone cares about "fermented blah-bity-blah with pickled ramps." If there is one thing millennials love, it's fermentation.
But it is also, as always, a matter of politics. "I feel only now we are kind of reviving what's been lost and what's been suppressed by the Soviets for so many years," says Hercules, citing a return to artisanal techniques. "In the '90s, people were just so busy kind of trying to survive that they didn't really think about these things."
"I think maybe you need to be one generation removed," says von Bremzen. If you don't have the firsthand political baggage of someone who actually came of age in the Soviet Union, then there's "freedom to say, 'Oh, that's something really cool!' As opposed to the previous generation saying, 'Oh, there were long lines and deprivation.'"
This generational divide is perhaps best encapsulated by Herring Under a Fur Coat, an electric-pink Soviet classic, a triple threat of beets, herring, and mayonnaise. "It's heavy, horrible, proletarian," says von Bremzen. "It was something you had at bad weddings."
At Kachka, Morales was understandably nervous about putting a dish with so much baggage on her menu. But it has become one of the restaurant's trademarks—sensuous and vibrant and singularly photogenic. "Now," she writes, "there would be riots if I ever took it off."
The restaurant's Herring Under a Fur Coat is not just a dish you order. "It photographs well," von Bremzen says. "And the name is cool. You can see how it could become a hit, without the overtones of the past." Millennials bring more than distance. They also bring Instagram.