It's a Great Time to Hunt For Rare Fruit Online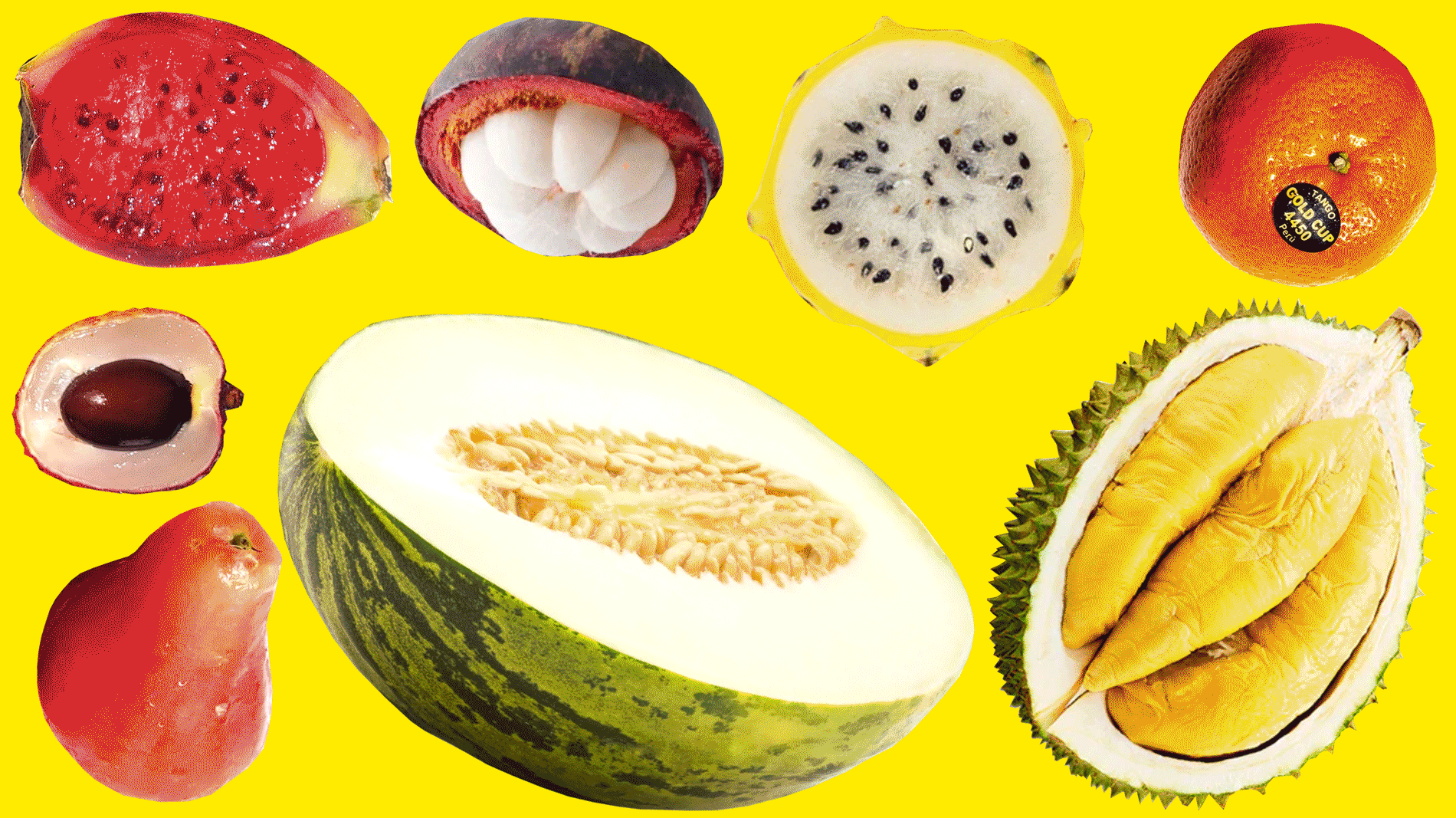 Chefs and home cooks are finding Hana yuzu, Meiwa kumquats, and hundreds of hard-to-find fruits just a click away.
It started with seven trees in the backyard of their Central New Jersey townhouse. It was the early 2000s, and Seema and Vivek Malik were infatuated with Japanese food. After falling hard for the cuisine in restaurants, the Maliks turned to home cooking to replicate their favorite foods from Hokkaido to Okinawa. They bought a copy of Nobu: The Cookbook by Nobu Matsuhisa and learned to simmer a perfect dashi, fry a crackling tempura, and purchase the best soy sauce and miso. But they got stuck when it came to whipping up a fresh yuzu-spiked ponzu.
"We started to look for [ yuzu], but we couldn't find it anywhere," says Vivek. After eventually tracking down a few golfball-size, exorbitantly priced yuzu at the Japanese grocery store Mitsuwa in Edgewater, New Jersey, they promptly planted the seeds in pots. As proud DINKs—dual income, no kids—they had the energy to nurture a serious hobby in yuzu agriculture. A few years later, the Maliks had more yuzu than they could put on their hamachi, and they began asking local chefs if they'd like to use the citrus. Most were stunned when they were told that these fruits were locally grown and just picked from the tree.
In 2017, the Maliks left their jobs in finance to focus full-time on Flavors by Bhumi, a specialty fruit grower and distributor. Today, they grow in an indoor facility in Bordentown, New Jersey, and they partner with dozens of farms in California and abroad to offer delicacies like Hana yuzu, Meiwa kumquats, sudachi, calamansi, Rangpur limes, green ume, and many more on a seasonal basis.
"Demand has skyrocketed," says Vivek. "We have calls from as far away as Alaska from people asking for all kinds of citrus."
The Maliks aren't alone in their fervor for rare and exciting fruit. In restaurants, chefs are wielding finger limes at the garnish station and arranging splashy fruit plates for dessert. In home kitchens, cooks are squeezing calamansi for cocktails or casually grating yuzu zest into cake batter. In addition to an increased presence of specialty, often tropical fruits in grocery stores, niche fruitmongers are popping up across the internet, from mom-and-pop indoor citrus orchards to next-day-delivery e-retailers and dry-ice-packed durian tasting menus in a box. (There is also a whole illicit underground of fruit importing, such as with fragrant mango varieties for homesick Pakistani Americans.) It all points to increased trade in fruits as esoteric as mangosteen or notorious as durian to this side of the Pacific. And it's boom time for anyone looking to access these fruity flavors.
"There's been a lot more curiosity since March 2020, because America was forced to cook at home," says Robert Schueller, director of public relations for Melissa's, the largest specialty produce distributor in the United States. "That got people interested in something beyond your common banana or apple."
Founded in 1984, Melissa's has seen steady double-digit growth for the last few years for several types of tropical fruit, including rambutan (12%), young coconut (13%), passionfruit (14%), Caribbean Red papaya (16%), and dragonfruit (20%). Even during the height of COVID-19, there was a stronger demand for many types of tropical fruit than ever before.
"The specialty produce industry has been growing by leaps and bounds ever since then," says Schueller. He expects the interest in tropical fruit varieties will only continue: "Once they start to catch on, it plants the seed for awareness and networks out from there."
Often, the yearning for hard-to-find fruit is tied up with nostalgia and family heritage.
"Every chef, especially one like me, gets lost in cool citrus ingredients," says Nico Russell, chef and co-owner of the celebrated restaurants Oxalis and Place des Fêtes in Brooklyn.
Growing up, Russell's grandfather always brought back calamansi juice from the Philippines in Ziploc bags whenever he visited his native country. He'd freeze the bags and thaw them occasionally throughout the year to make a refreshing calamansi drink to share. "It was just important to him," says Russell. Despite the frozen juice being a frequent presence in his childhood, Russell had rarely seen a fresh calamansi fruit—until he heard from some other chefs about Flavors by Bhumi. Now, he buys their calamansi to add to desserts and jams, or to squeeze over a recent tasting menu dumpling with tapioca and wood ear mushrooms—as well as Santa Teresa lemon, an Italian variety that he says reminds him of the wild lemons where he grew up in California. Last winter, he preserved 40 pounds of them whole and uses the peel and brine, like for a chermoula sauce with herbs and lemon brine over grilled mackerel.
"There's always a cult following behind some fruit," says Joe Boo, founder of Asian Veggies, a New York City–based online delivery service for Asian ingredients. The company launched in 2020, soon after the pandemic upended his father's wholesale produce business because so many of its customers were Chinese restaurants. Offering next-day delivery in New York City and parts of New Jersey, Asian Veggies provided a safe alternative for elders and others wary of shopping in physical stores due to the pandemic, as well as a new revenue stream for the family business.
"We have calls from as far away as Alaska from people asking for all kinds of citrus."
Early into its creation, Boo decided to focus on specialty fruit rather than peddling the same old apples and pears you can get at any grocer or bodega. Each morning, employees hustle to procure the best fruit from importers in Maspeth, Queens ("If you don't speak Chinese, good luck") to bring back to their 10,000-square-foot warehouse, also in Maspeth. Every so often, something rare and cultishly followed, like wax apples or mangosteen or cacao pods or custard apples, is available—and often sells quick. Customers can be especially emotional when they see a rare and favorite fruit on the site. "Someone wrote me, like, 'Oh my God, my mom teared up when she saw it was custard apple,'" says Boo, who often posts images and how-to videos of unique fruit drops on Asian Veggies's Instagram account.
He can understand the allure. Growing up in New York City, Boo spent a month each summer in Malaysia, and there, he became accustomed to enjoying starfruit, the crisp and juicy pointed fruit that resembles a star when sliced. Outside of Malaysia, they were hard to find. "You crave it even more because you're like, man, if I don't buy this now, I'm not gonna see it until next year, or else I gotta fly to Malaysia," he says.
The ability to view, click, and ship straight to your door fruit that one can't get elsewhere may also be creating new legions of specialty fruit fans. Hank Seltzer works in renewable energy in Nashville, Tennessee. Growing up in Appalachia, his family kept a home garden where they grew tomatoes, cucumbers, and squash. Always interested in food, he learned about Flavors by Bhumi by following chefs and restaurants on social media. "I'll go a month or two without ordering anything and then get eight or ten pounds of citrus," says Seltzer, who last ordered mandarinquats, a cross between mandarin oranges and kumquats, and Persian limes.
The fruit goes into gin and tonics, sauces for grilled steak, and in salads as supremes. He adds yuzu juice and zest to pancake batter (following a cue from a lemon-zested pancake recipe by Deborah Madison) that his kids love. Each order sates his curiosity for new flavors. His favorite discovery so far has been Oro Blanco grapefruit: "The aroma smacked me in the face—it was funky, floral, and had some earthiness to it," he recalls of receiving his first box.
When it comes to fruit superfandom, there are few cults as fiendish as that of durian, the "king of fruit," as it's known in Southeast Asia. Spiky on the outside, squishy on the inside, the fruit is better known for its polarizing stench in the West. But it has a rampant following in its native Southeast Asia, where there are festivals and restaurants devoted to durian. For the durian-loving diaspora in the United States, however, a truly formidable fresh durian can be hard to come by.
"They're being picked underripe, and they don't ripen properly," says Lindsay Gasik, founder of the blog, tour, and retail business Year of the Durian, of the durian available in the United States. As a result, the sugar content of fresh durians in the United States is only about half what it should be when picked ripe in Southeast Asia, she says. And the sulfur-producing proteins in the fruit are more likely to break down in ways that release off-flavors, or "go to fart," as Gasik puts it. It's similar to when a bottle of wine develops off-flavors like "barn" or "mushroom." "It's not a desirable trait—it means something has gone wrong in the way it's been handled," she says.
Gasik fell in love with durian at a vegan festival in her native Oregon in 2009, and she started Year of the Durian in 2012 as a blog while traveling in Southeast Asia. Soon she began giving durian-tasting tours to friends and family, and it gradually evolved into a business where she and her partner, Richard Koivusalo, offer durian tours in Southeast Asia to the public and sell boxes of frozen durian shipped with dry ice (to prevent off-flavors). It's all an effort to explore the diversity of flavors found in durian varieties, which can range from notes of burnt caramel and honey to almond and pistachio or blueberry and raspberry. The textures can be creamy, chewy, sticky, and syrupy. Year of the Durian provides cards describing the flavors in their boxes, which might feature varieties from different regions or a single country of origin.
Currently, the outfit sells approximately 2,000 boxes of durian per year to Europe, Australia, and the United States—with an average price around $100 per order. They also recently began selling other Southeast Asian fruits like jackfruit and cempedak. Many of their customers are Malaysian or Singaporean Americans or Canadians, who sometimes threw Zoom parties during the pandemic to eat durian together. Others have never tried durian and are simply curious, or they are considering signing up for a durian tour led by the team but want to have a primer on the fruit before going in blind. It can be tricky the first time you try durian, says Gasik. There's so much nuance that you have to focus your palate on something. She finds that when people new to the fruit are guided through the experience—whether on a tour or through a box—then they start to really like it.
Gasik predicts that consumer interest in durian will grow and change the durian trade for the better in the future. Currently, a lot of the good durian grown in Southeast Asia is sent to China, while the United States and other destinations get bottom-of-the-barrel scraps when it comes to quality. But this industry bias may also need immediate change, because COVID-related lockdowns in China are forcing distributors to seek other markets for their fruit. And, of course, there are those who've loved certain fruits all their lives and will stop at nothing to get them.
"There are some hardcore durian heads out there," says Gasik.
How to buy cool fruit online!
Shelve It explores the world of groceries, from the fluorescent-lit aisles to the nooks and crannies of your cupboard. We dive into why certain ingredients got pantry staple status, the connection between cookbooks and buying habits, the online-ification of grocery shopping, and what gets shelved along the way.