Italy's Great Garlic Divide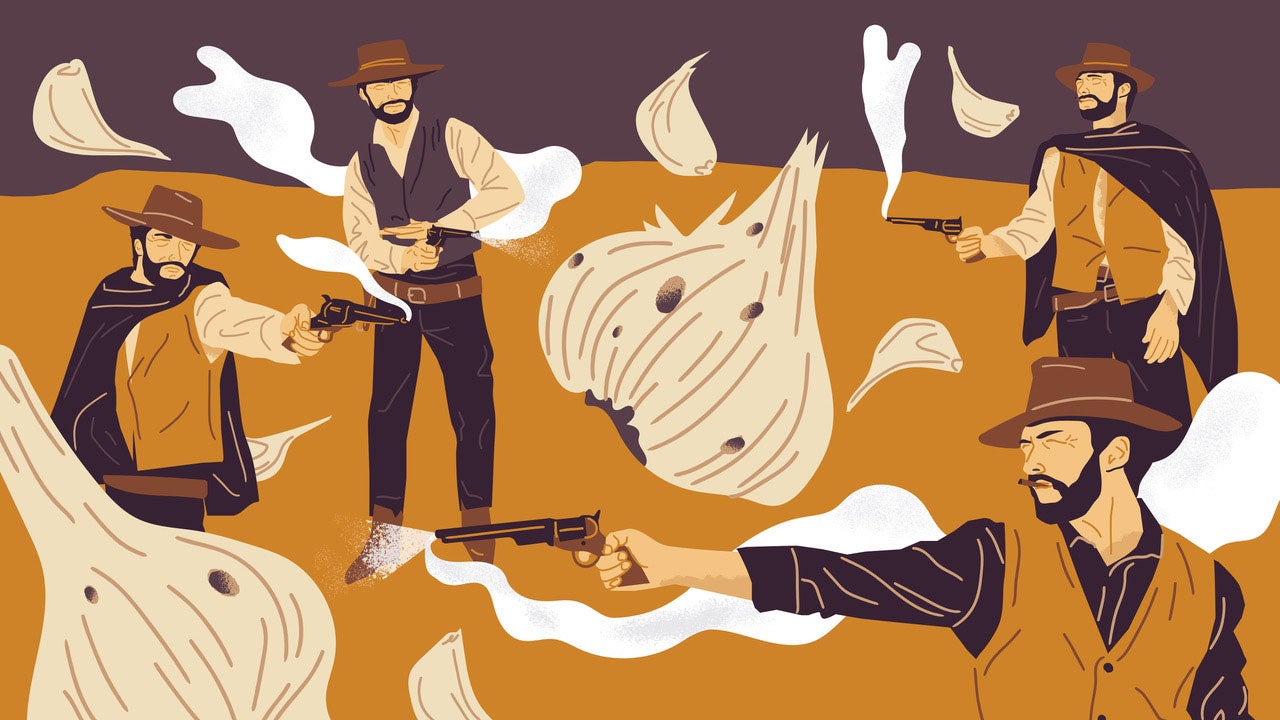 In the United States, garlic is woven into every pizza, pasta, and breadstick. But in Italy, it's more complicated.
In a famous ancient Roman poem entitled "Moretum" (meaning "the salad" or "the pesto") that is sometimes attributed to Virgil, a poor farmer named Simylus puts together a meal from what he can find in his garden: leeks, onions, bitter greens, coriander seeds, a few kinds of cabbage, and "stinking garlic." The recipe doesn't sound half bad, but the poem emphasizes that the rustic flavors and overpowering, tear-inducing flavor of garlic are meant only for men like Simylus who plow the fields with the beasts of burden. This vision of garlic as a poor ingredient for poor people had a powerful influence on Italian cooking, and even today, many Italians look at garlic—an allium that is cheap, abundant, and thus available to anyone—with suspicion.
But for the average American, garlic couldn't be more inextricable from Italian cuisine. From Olive Garden's unlimited, garlic-dusted breadsticks to the 30-clove pomodoro served at Lilia in Brooklyn, here, garlic is peeled and smashed liberally—a badge of honor for the cook and eater alike. Instead, in Italy, the story of Simylus and his humble harvest is shorthand for the connection between the scent of garlic and the "stink of poverty," as historian John Dickie puts it in his book Delizia! The Epic History of the Italians and Their Food.
While garlic is as central to Genovese pesto and Piedmontese bagna càuda as it is to any spicy Calabrian tomato sauce, there is a sense that strong flavors like garlic were initially introduced to mask the absence of better ingredients in times, and especially regions, of scarcity. Former prime minister Silvio Berlusconi famously wouldn't allow anyone in his cabinet to eat garlic when they were around him—a taste that suited his "successful businessman" persona. And when Italian cookbook author Marcella Hazan called the overuse of garlic "the single greatest cause of failure in would-be Italian cooking," she was not denigrating any region or class of Italian food per se, but rather attempting to distinguish her recipes for dishes like delicate risotto alla parmigiana or luxurious vitello tonnato from the cucina povera that had dominated Italian-American cooking up to the mid-20th century.
Hazan wasn't wrong about garlic's entrenchment within Italian-American cooking. In fact, the majority of Italian immigrants who landed in the United States were escaping this poverty, in particular after the unification of Italy in 1861 had left vast swaths of the peninsula economically depressed. Anyone who had left Italy to pursue the American dream was used to incorporating garlic into their diet because it was tasty, easy to grow, and always cheap. The result was that Italian-American cuisine had a significant garlic presence, whether or not that was "authentically" Italian.
A 1939 Life magazine feature about Joe DiMaggio—the first issue to feature an Italian American on the cover—lauded him for "not reeking of garlic" in spite of his background.
To be sure, when Americans first met Italian food, it was far from love at first sight, and they harbored the same suspicion toward garlic-eating and its country of origin. A 1939 Life magazine feature about Joe DiMaggio—the first issue to feature an Italian American on the cover—lauded him for "not reeking of garlic" in spite of his background. Similarly, a feature in the Turin-based newspaper La Stampa from the same year noted that many children born in America of Italian parents were lighter-skinned, thanks to diets that had more meat and fewer vegetables and alliums like garlic.
In the years following World War II, as more mainstream and less "ethnic" culinary figures, like James Beard (whose 40-clove chicken was quickly canonized) and Elizabeth David (who encouraged her readers to try "cooking smacking of the soil") began to open the Anglophone world's eyes to vibrant Mediterranean cuisine, the appreciation for garlic grew.
By the time Daniele Uditi, chef at Los Angeles pizza mecca Pizzana, arrived in the United States a decade ago, garlic use was so abundant that it was offensive even to his palate, which he emphasizes has no prejudice against the ingredient: "American chefs were totally overdoing it with garlic" and in particular "cooking it poorly, so that every dish just tasted like burnt cloves." Now, Uditi says, chefs have begun to understand that garlic can be "either your greatest aid or your worst enemy," and he notes that many of the worst Italian American offenders, like marinara sauce, have today become more balanced.
But if garlic use in Americanized Italian dishes has slowly begun to reach an equilibrium, the battle over garlic rages on in Italy. Sarah Cicolini, chef at SantoPalato in Rome, known for its updated takes on traditional Roman cuisine, notes that "garlic isn't demonized here like it once was, and luckily we're no longer in a moment in which avoiding garlic is something to brag about, but Italian chefs are still very cautious with it."
Cicolini isn't afraid of garlic, and she uses it to her advantage in dishes like a popular ox tongue and tail terrine or chicken giblet frittata. However, she remains respectful of classic recipes, especially the traditional pork jowl and tomato sauce from Rome, amatriciana, where even a whiff of garlic can provoke ire from locals. When, a few years ago, Milan-based Michelin-starred chef Carlo Cracco dared to pop a clove of aglio in camicia (a clove of garlic still in its sheath) into his amatriciana, he was promptly subjected to a violent media storm. The irony, of course, is that the highest form of Italian cooking is now considered to be supreme simplicity, as in the iconic spaghetti aglio, olio e peperoncino, which, without garlic, is hardly worth fighting over.