Italy's Answer to Sashimi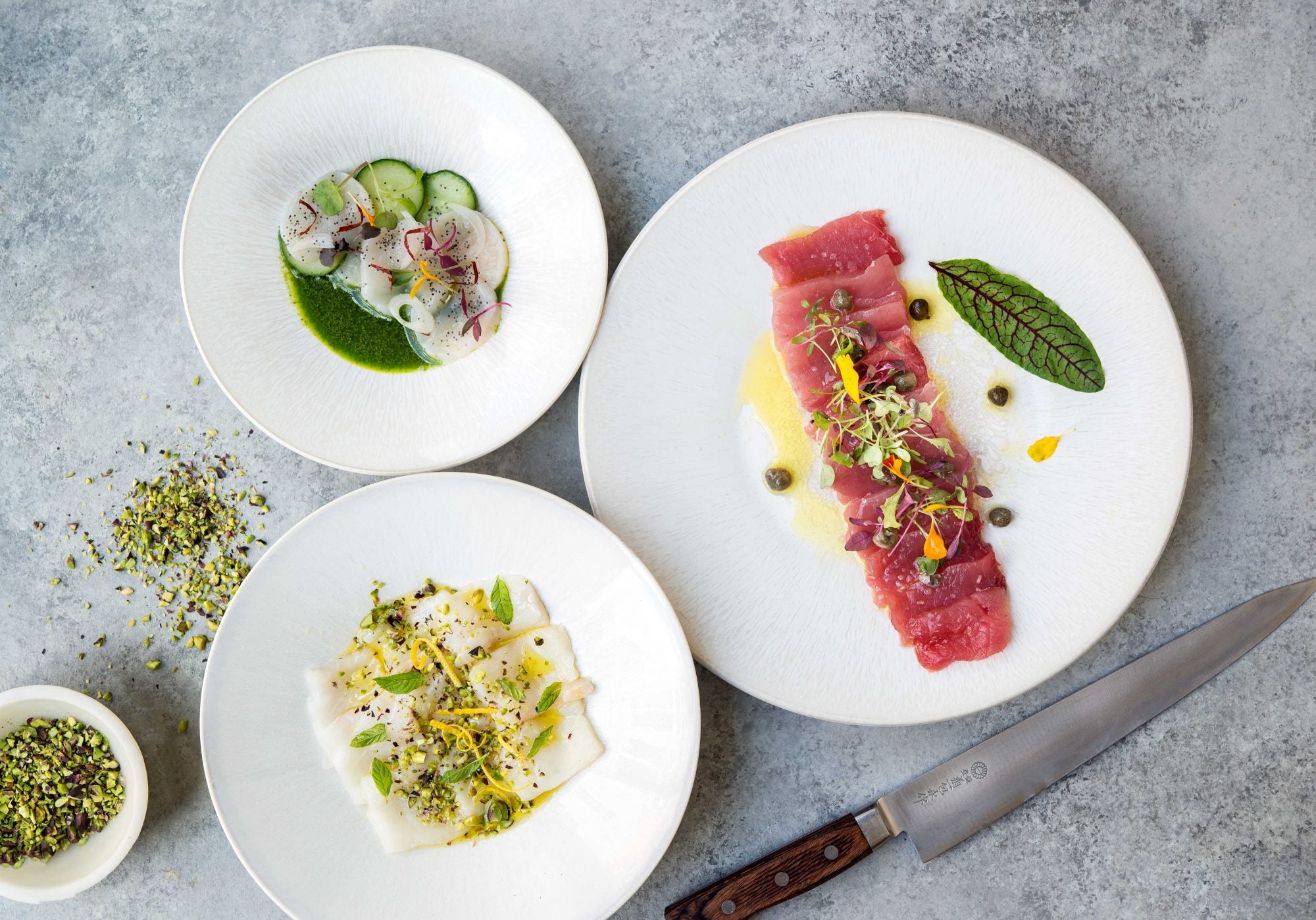 You don't need advanced knife skills or a lot of ingredients to make crudo at home—just a bit of fresh fish and good olive oil.
Japan has sashimi, Hawaii has poke, and Peru has ceviche, but in Italy (and Sicily in particular) it's all about pesce crudo.
I became well acquainted with pesce crudo (Italian for "raw fish," unsurprisingly) during a recent trip to Sicily. I did my best to sample it all over the island in the name of "culinary research"—sweet and succulent red shrimp, briny and buttery sea urchin, pleasantly chewy abalone, umami-packed anchovies, and baby squid.
What became quickly apparent is that crudo is not about detailed techniques or impressive knife skills, but rather about appreciating seafood at its peak freshness. Crudo at its simplest is nothing more than raw seafood dressed with olive oil, sea salt, acid (such as lemon juice or good quality vinegar), and sometimes pepper.
Pesce crudo is light and delicate, making it a great way to start a meal. It's also easy and quick to prepare at home. The key part is tracking down quality fish—sometimes referred to as sushi grade. Your best bet is to buy fish from a fishmonger whom you've done business with (better still, make friends with a fisherman). With advanced refrigeration and science on the customer's side, finding quality fish is as easy as driving down to your local Whole Foods, or fish shop.
Once you've procured your seafood, there are a few pointers to keep in mind. First, be sure to use a very sharp knife when portioning, and always cut the fish against the grain. Keep the seafood refrigerated while prepping the other ingredients to ensure freshness (you can even pop your fish into the freezer for 10 minutes or so to make it easier to slice). Finally, it's always a good idea to wait to add the lemon juice until just before serving, since too much acid too early will turn your fish into ceviche.
Since there's no cooking involved, the quality of the complementary ingredients, particularly the oil, can really make a difference as well. Depending on the type of fish, this could be a full-bodied, fruity, herbaceous Sicilian extra-virgin olive oil or perhaps an extracted nut oil, such as pistachio oil or hazelnut oil. With a stronger-tasting fish (like Hamachi or salmon), you could use an extra-virgin olive oil with a more assertive, bolder flavor profile. With a milder-tasting fish (like white fish or scallops), consider a more subtle, nuanced oil so as not to overpower its delicate flavor. That being said, it's all about personal preference, so don't be afraid to experiment a bit.