It Was a Big Year for TikTok Foraging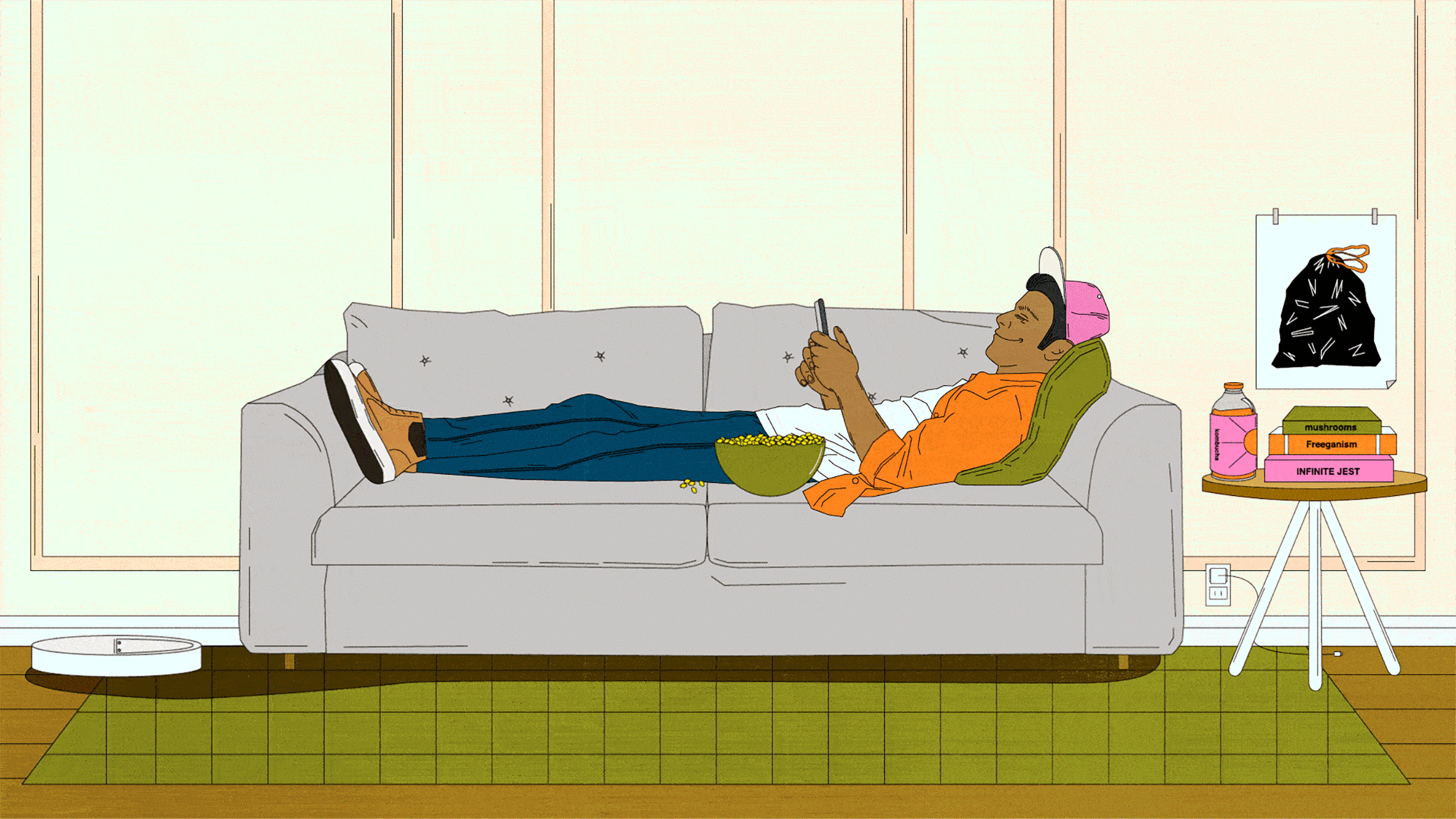 A crew of internet personalities are bringing attention to all the puffball mushrooms, morels, mulberries, and crabapple blossoms hiding in plain sight.
Over the last year, during the height of a global pandemic, I wandered through a patch of Technicolor coral mushrooms, harvested razor clams on a windswept beach, and dove headfirst into a lilac bush, gathering blossoms to infuse honey with the heady essence of spring—all without leaving my couch. These flora and fauna adventures came courtesy of my cell phone, Instagram, and my growing obsession with internet foragers—an online community of plant nerds who share their passion for wild edibles on social media.
It's not so different from the way my baseball-obsessed seven-year-old spends his screen time watching a bunch of shouty dudes play baseball video games on YouTube. Cringing along to a 30-second clip about getting attacked by stinging nettles and delighting over berries that supposedly taste exactly like Sour Patch Kids fulfills a certain wanderlust for me. And judging by the millions of views these posts get on social platforms like TikTok and Instagram, I am not alone.
More than just living vicariously through other people's wild forays, these videos also speak to a deeper, darker impulse—namely our fear of survival and search for meaning on this pandemic-ridden, climate change–addled planet we call home. Some folks prepare for the apocalypse by stockpiling water and building million-dollar bunkers. Others develop low-key fetishes for survival skills.
More than just living vicariously through other people's wild forays, these videos also speak to a deeper, darker impulse—namely our fear of survival and search for meaning on this pandemic-ridden, climate change–addled planet we call home.
The reigning queen of the online foraging kingdom is Alexis Nikole Nelson (@blackforager), who brings her 1.6 million TikTok followers (plus more than half a million on Instagram) along as she explores King-Lincoln, her Columbus, Ohio, neighborhood, for crabapple blossoms and pawpaws, and makes a convincing argument that spending your beach day collecting seaweed lets you "turn your kitchen into a Michelin-starred restaurant while also making sure no one on the beach bothers you."
Before the pandemic, Nelson's TikTok account had about a thousand followers, mostly other like-minded foragers. But in April 2020, she posted a video about neighborhood foraging that changed everything. "A little afraid to go to the supermarket right now?" Nelson asked viewers. "That's okay! I'm going to show you some things that are growing in your neighborhood that you can eat." That video tapped into people's spiraling pandemic anxiety—and offered them a way out. After that, the followers started flooding in.
Nelson's plant knowledge is extensive (she has been foraging since childhood), but it is her outsize online personality and self-deprecating humor ("My butter is vegan because I'm a *filthy vegan*" she sings while making a mock spinach and artichoke dip with foraged burdock root) that captivates. Her relatable, hyperenthusiastic vibe—one part Bill Nye the Science Guy and one part Crocodile Hunter Steve Irwin—makes activities like seeking out field garlic and lambsquarters seem like great fun.
Nelson might be internet foraging's breakout star, a status solidified by a slew of media attention, including a recent New Yorker profile and an appearance on the Drew Barrymore Show, where she taught the host to make color-changing lemonade with violet syrup. But she is joined online by several ecology departments' worth of like-minded foragers, largely people in their late 20s and early 30s living their best Blueberries for Sal lives.
For Gabrielle Cerberville (@ChaoticForager), it was literally blueberries that turned her on to foraging. "My family moved from New York City to the Pocono Mountains when I was five, and tasting a wild blueberry solidified for me from a young age that wild food is just better," she said.
Cerberville launched her TikTok account one year ago as a way to explore and document her foraging trips in her new Michigan home, where she moved, mid-pandemic, to begin graduate school at Western Michigan University. "It started as a video journal and grew into an education channel," she said about her posts on picking mushrooms sustainably, or telling the difference between edible and poison sumac. Last September, her Calvatia gigantea (the giant puffball mushroom) reached the coveted 1 million views on TikTok.
Scott Stimpson (@woodlandcravings) also has a mushroom to thank for his social media success—specifically a variety that immediately turns an oceanic blue when sliced open and exposed to oxygen. That smurfy 'shroom captured the imaginations of more than 3 million viewers, and it gave Stimpson a platform to share his lifelong love of fungi ("I've been drawing mushrooms since I was a child," he said), ecology, and conservation.
The relationship between social media and foraging makes a surprising amount of sense, considering that one is virtual and the other deeply rooted in nature. Until recently, aspiring plant watchers have largely relied on guidebooks to help them build identification skills and avoid harmful plants. Stimpson said he still carries around a well-worn copy of All That the Rain Promises and More, a pocket guide to mushrooms published in 1991 by mycologist David Arora. But books are limited by page counts and lengthy publishing schedules, and they too often contain incomplete or outdated information. Social media, on the other hand, lets foragers share information with their followers directly and in real time.
Foraging is also a godsend for TikTok and Instagram creators who are pressured to post a never-ending stream of new content for their admiring throngs. The natural world changes by the second (Mushrooms popping up after the rain! Buds unfurling into blossoms! Unripe berries that are suddenly plump and color-saturated after a daylong sun bath!) and is incomparably photogenic to boot. And since so many of the things foragers pick are edible, a video about, say, harvesting acorns from a nearby park naturally parlays into a follow-up post about making acorn-flour pancakes.
All of this might seem a bit precious, and perhaps even frivolous, if the pandemic hadn't completely shifted our definition of leisure time. Between fleeing an airborne illness and fighting the claustrophobia that comes with months of involuntary at-home time, the great outdoors became a place of refuge and entertainment. "People were grounded and forced to look at the things around them," says Cerberville. Spending time outdoors was something people could safely do together.
There is a certain satisfaction in knowing that morel season has started, even if I, personally, am nowhere near an actual forest.
Aside from bringing my kids to pluck mulberries from our Brooklyn neighbors' trees (an early summer practice my dad taught me when I was a kid), watching other people pick milkweed flowers has not inspired me to take any real-world foraging outings. But it has sparked that curiosity in others. "Wildman" Steve Brill, who has been leading foraging tours around New York since the 1980s (and now co-leads them with his 17-year-old daughter, Violet), briefly closed down his tour business during the first few months of the pandemic. But once he started up again last July, the tours were regularly slammed with registrations. "We were getting tons of big turnouts," he says. "We had a group of 70 join us in Prospect Park a couple months ago!"
Still, for everyone who has tried their hand at mushroom identification, dozens more simply watch from home, content to be armchair foragers. The sense of wonder at discovering hidden plants translates surprisingly well through a computer or phone screen—especially when narrated by someone as engaging as Nelson. There is a certain satisfaction in knowing that morel season has started, even if I, personally, am nowhere near an actual forest.
Meanwhile, foraging for wild plants can have an air of rebellion to it—a way of subverting the grocery store routine and instead turning to the world around us. The notion of finding "free" food and making meaning and sustenance out of something that others overlook speaks vividly to those of us in the downwardly mobile, largely unsupported millennial and zoomer generations. (The appeal is likely even more acute for anyone who lost their job in the pandemic's wake.) "When you grow food, you're essentially growing money," Stimpson said. And, by extension, picking food is like plucking dollar bills from the proverbial money tree.
We might not all be ready to give up our daily routines and start foraging for our suppers. But the pandemic slowed down our hectic lives enough for us to realize that we are not as connected—to one another, to the planet, or to ourselves—as we arguably need to be. "The world just went through a crisis that got people thinking about the 'what ifs,'" Stimpson says. "What if I lost power? What if I didn't have heat or food? How would I take care of myself and the people I love?"
Now that pandemic restrictions are easing and the regular onslaught of distractions is returning, Cerberville says she expects that interest in foraging will wane. "Some people might move on to things that are a little more dopamine-efficient," she says. That said, the "what ifs" Stimpson mentioned aren't going anywhere fast. The more we can continue to connect and learn from one another before the apocalypse (or the next pandemic) arrives, the better off we'll be. "Ultimately, we are a part of nature," Cerberville said. "Once you have reconnected with it, it is hard to move on."