Who Invented Flaming Hot Cheetos?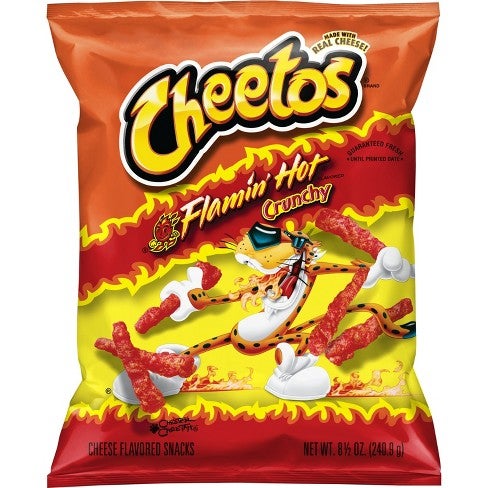 How a high school dropout janitor created a junk food icon.
It's hard to imagine Frito-Lay's cheesy snack line without the brand's lip-burning Flamin' Hot Cheetos right in front. The spicy snacks, first released in 1991, have earned an enduring following. And we have janitor Richard Montañez to thank. Montañez, the son of Mexican immigrants, had dropped out of school because he struggled with English. He was mopping floors at a Frito-Lay factory when he was inspired by the CEO encouraging every employee to feel some ownership over Frito-Lay in a company-wide broadcast.
One day, the machine that dusted crispy Cheetos with cheese powder broke down, leaving a heap of the corn puffs un-flavor-blasted. Montañez, who had an entrepreneurial streak even in his school days, when he sold his mom's burritos to classmates at lunchtime, took some of the puffs home to experiment.
As he said in an interview with Lowrider Magazine, Montañez noticed Frito-Lay offered few products aimed at Latinos, and inspired by a Mexican street food—cheese-slathered and chile-dusted grilled corn cobs called elotes—he made a small batch of spicy Cheetos at home. He even designed bags for them. Then he called he company CEO and, in a display of heroic chutzpah, made a cold pitch. CEO Roger Enrico was so taken with the idea he flew down to meet Montañez in person, and the idea took off from there. Montañez rapidly rose within the company, eventually becoming an executive vice president, and is now a business icon in the Hispanic community. Last year, Fox announced they'd be making a biopic about his life. It's called Flamin' Hot.