Interview With the Vampiro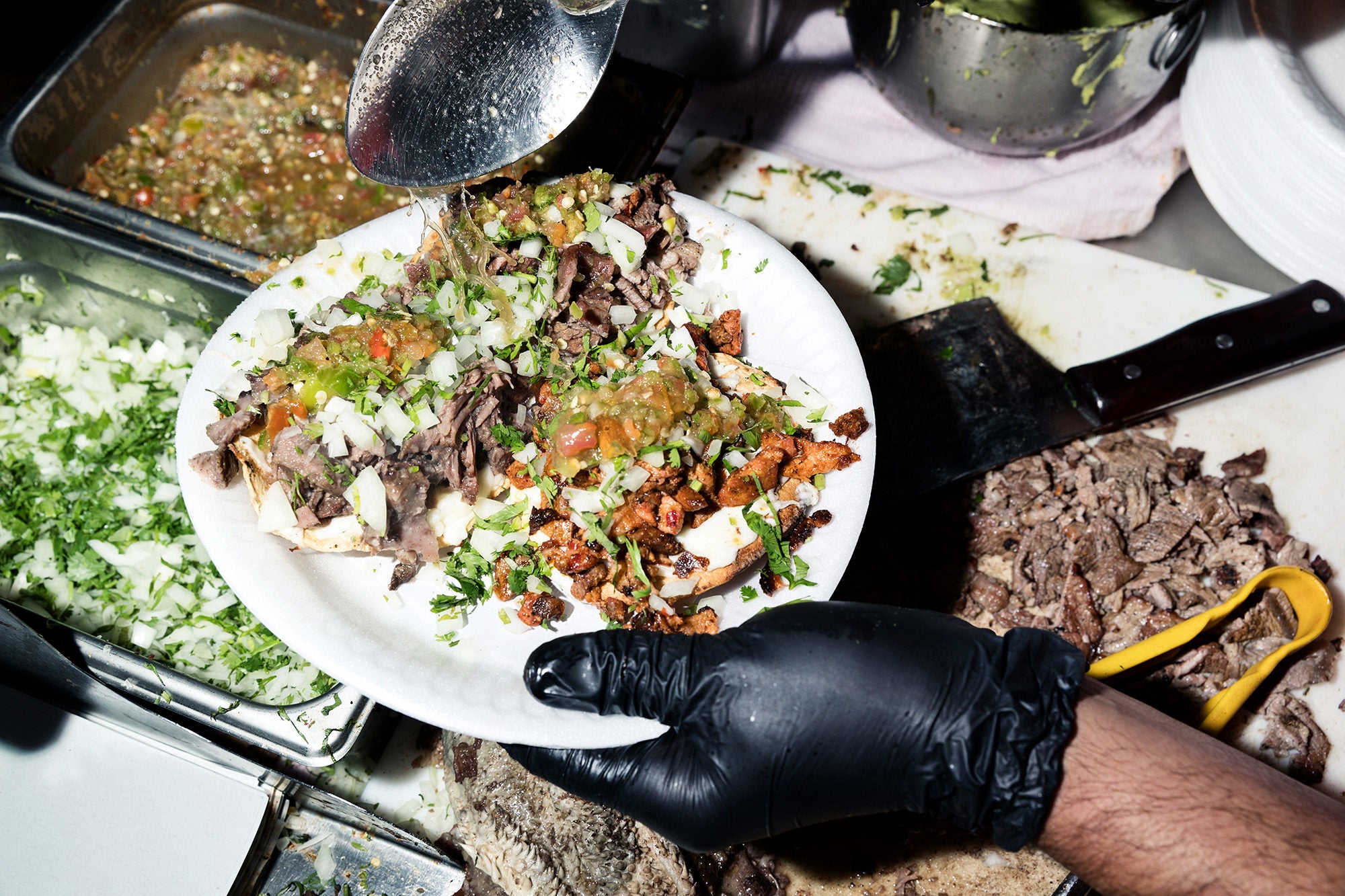 How the vampiro, a crunchy antojito from Sinaloa, Mexico, came to captivate the South Los Angeles street food scene.
Of the many possible combinations of meat, cheese, salsa, and tortilla that make up an essential portion of Mexican cuisine known as antojitos (snacks or "little cravings"), there's nothing I would rather sink my teeth into more than a vampiro—Spanish for vampire. On the surface, a vampiro appears to be a taco-like object with the usual accoutrements. It sometimes resembles a tostada, but it's grilled over charcoal or griddled a la plancha rather than fried, which keeps the tortilla intact and crispy.
A tostada is more brittle, and it's meant to break apart easily for scooping or shatter like glass once bitten into. But once a vampiro is in your hands, there is a burning promise for something more than a taco; it would be criminal to equate the vampiro to a taco, because it's more than that. The vampiro—with its origin in Sinaloa, the state slinking along the coast of northwestern Mexico—exemplifies and celebrates the deft skill set and ingenuity of a taquero (a taco cook/purveyor). It's revelatory—and likely one of my last meal requests.
First, and most important, the standard soft corn tortilla is replaced by a slightly concave one, its deformity a result of being toasted over a high-heat griddle or grilled over mesquite charcoal. It has burn spots, craters, and cracked bubbles that resemble the surface of the moon, holding the promise of intense textural delight.
There's gooey, melted Monterey Jack or mozzarella cheese melted over the tortilla, which some taqueros in Los Angeles find to be the closest thing to queso panela or queso fresco, sometimes served still bubbling or caramelized until slightly crispy. There are shiny, juicy cubes of marinated carne asada (usually chuck steak or skirt steak), covered by finely chopped cabbage and red onions, or simply a spoonful of pico de gallo.
And finally, it's topped with colorful splashes of tomato and guacamole salsa and spritzes of lime. A plate? There is no plate needed, as the vampiro serves as its own eating vessel and can be stacked quite high with a hefty payload—there is no chance of crumbling. Each bite is met with different tastes, textures, and temperatures—hot, cold, melty, meaty, smoky, spicy, and crispy; each subsequent bite better than the one before. And before you know it, the vampiro itself has disappeared from your hands, into your stomach…into the night.
Like many other vampiro fans, I've scoured the internet in English and Spanish for explanations on the origin of its name. Aside from a few articles and cooking videos online, the provenance of this dish remains in the dark, even for Mexicans who grew up eating the real deal—and for the taqueros who prepare them.
Although the term "vampiro" originates in Sinaloa, there are different, regional names for the same exact dish throughout the country. In Sonora, where some of the best beef in Mexico is raised, they call vampiros "lorenzas." In Mexico City and in Guadalajara—where I first experienced this dish—vampiros are referred to as volcanes (volcanoes). Looking at it from the name, volcanes makes the most sense visually. The crisped tortilla and cheese resemble uneven terrain, with a mound of steaming-hot carne asada rising into the shape of a mountain, capped with red salsa resembling an erupting volcano, spewing lava.
Some people say that the name "vampiro" refers to the way a tortilla loses its original form through grilling and resembles a bat wing. Some taqueros, rather than chop the meat, lay the thinly sliced asada steak directly on the tortilla, also resembling a curvy, angular "bat wing." Some say that the tortilla, when grilled to desiccation, is "sucked dry" à la Dracula and becomes crunchy. Some say a vampiro is so delicious that it literally "sucks up all of your hunger." But I'm not truly convinced by any of these speculations.
The person who first came up with the name might have been deeply fascinated with American and Mexican vampire movies popular during the late '80s and early '90s (like Bram Stoker's Dracula, Interview With the Vampire, Wesley Snipes's Blade, and Guillermo del Toro's Cronos.) The vampiro is so good that it makes you want to "sink your teeth into it" with the same voraciousness as a vampire on helpless prey. According to the Sinaloan taqueros I spoke to, this was coincidentally around the same time that the vampiro emerged in Sinaloa's street food scene—at least three decades ago. Yet none of the taqueros have a concrete explanation for it; they simply serve them.
My curiosity led me down the 710 freeway toward South L.A. on a recent summer night, where some of the best taqueros in Los Angeles can undoubtedly be found. LA's taco landscape is loosely bordered by the 10, 110, 91, and 605 freeways—and a whole world of Latino cuisine awaits you if you're willing to comb the streets. Where there is a strong Mexican population, there will inevitably be a strong Mexican food scene, particularly in the neighborhoods of Compton, Paramount, Lynwood, Bellflower, and South Park.
I exit off Alondra Boulevard, and it becomes evident I'm in the right place as the scene changes appropriately. Billboards start to speak to me in Spanish. A whole range of music from ranchero to cumbia to Mexican rap becomes part of the street symphony, blaring from cars and street corners. Street vendors in trucks and stalls pop up at major intersections and outside residential homes with large queues of families, friends, and young couples. There's a contagious excitement and electricity that reminds many people of what it's like to eat street food in Mexico. Eating tacos is a social part of Mexican culture, and South Los Angeles is one of the best places to hunt for tasty Mexican offerings outside of Mexico.
While the Tijuana-style taco scene is currently fashionable—spots like South Park's Tire Shop Taqueria and Tacos Los Poblanos and Compton's Taqueria El Poblano—their style of vampiro is completely different than the Sinaloan style. It's easy to recognize, with its huge dollop of neon-green tomatillo guacamole and smoky meats grilled over mesquite charcoal. The build is high, the salsas are plenty, the crunch is at a maximum—it's truly delicious. When juxtaposed, the Sinaloa version has a more manicured build, and both are equally delicious in their own right.
Last year, I befriended taquero/owner Daniel Alonso de Coatzingo and his wife, Brenda, of Taqueria El Poblano in Compton, a go-to for many locals for his signature charcoal-grilled vampiros and tortas. On any given night, you can hear the sound of his spatulas and tongs twanging his griddle and grill, like he's playing a musical instrument. He tells me that he honed his taquero skills in Tijuana, like many other Pueblans (Poblanos), and eventually moved to South L.A. during the 2000s. Most taqueros, like Alonso de Coatzingo, can assemble a vampiro within a few seconds, probably even blindfolded, and it is fascinating to watch it happen.
"Do you know where the vampiro name comes from?"
"I don't know why it's called a vampiro; I just make them."
"Did you learn how to make a vampiro while working in Tijuana?"
"No, one of our customers who tried them in Tijuana loved it and asked if we can make it here. Since then, it has become one of our top sellers."
He tells me that in Tijuana that the demand is high for skillful and nimble taqueros—thus the strong presence of many hardworking Pueblans, Oaxacans, Jaliscans, and Sinaloans in the food scene there. When anyone moves from their homeland, they will inevitably bring a piece of their home with them. It was likely Sinaloan migrants who first introduced the vampiro to the Tijuana food scene, only to have it adapted for current food trends.
While I love the aforementioned spots, I am more intrigued by the Sinaloan-style vampiro and its opaque history. So I drive further south into Compton and park at a carreta (food cart or trailer) in Compton called Tacos El Culichi, and as I'm waiting for my vampiro, an angel suddenly appears.
"What brings you out here?," asks a friendly young man eating a papa loca, another signature antojito from Sinaloa.
"I'm from here," I joke back.
"Haha, right.…"
"I'm here for vampiros."
"Yeah? You like vampiros?"
"I live for them."
The young man goes by Chuy, and he hails from Culiacán and has been a longtime resident in the Compton/Paramount area, which he tells me is locally dubbed "Paramount Sinaloa" and "Little Culichi" for its concentration of Sinaloan establishments and residents. "Culichi" is Spanish for people from Culiacán, the capital of Sinaloa.
He tells me about the other signature antojitos from Sinaloa, like chorreadas, a dish that is in between a vampiro and a sope, but with a slathering of magical, unrefined pork lard with browned bits called asiento—and the papa loca that he was eating earlier, a delicious foil-packed mashed potato topped with asada, cheese, onions, salsa, and cream. I eventually end up trying them from other taqueros, but I remain loyal to the vampiro.
"Do you know how vampiros got their name?" I ask.
"I have no idea, but the best ones are from a pueblito called El Verde. It's about 65 kilometers away from Mazatlán, the beach resort town."
"Oh yeah? Why this particular town called El Verde?"
"Not sure, but they're famous for tacos. There's a famous saying in Sinaloa. In El Verde…doctors, lawyers, and artists aren't born there. Taqueros are. Many of the best taqueros that work in Mazatlán and Culiacán come from El Verde."
"That's amazing."
"You should look for Don Memo of Tacos Al Carbon; he's a legend from El Verde. That's where I go for vampiros."
My eyes widen. That bit of knowledge passed on by Chuy the angel thus became the first breakthrough in my quest to exhume the vampiro's origin. I began searching for as many Sinaloan taqueros offering vampiros as I could find in South L.A. and beyond, meeting close to a dozen taqueros. And what I would learn is that this dish represents home more than a thousand miles away. Admittedly, my only experiences with Sinaloan cuisine has been at seafood restaurants called marisquerías, which are abundant in Los Angeles. These taqueros could go the common route of serving mariscos, but it seems they've decided to offer something unique from their hometown. We're fortunate in Los Angeles to be able to experience another side of Sinaloan food.
On a weekend afternoon in Compton, I arrive at Tacos El Palomas, a sparkling truck offering an outdoor dining experience with folding tables, chairs, and canopies. The owner and taquero, Carlos Pardo, is a carpenter during the week and a taquero during the weekend; he has no day off. Recently, he was serving food to the community out of a house, but he graduated to a truck just this year and pied-pipered his customer base to his new location.
At 2 p.m., it's packed with families. I order a vampiro and a chorreada, and a jovial Pardo responds with a big smile, a complimentary foil pack of papa loca, and a refreshing barley version of horchata from Sinaloa called agua de cebada. Behind the glass, Pardo is hacking away at freshly griddled diezmillo steak with a cleaver, his family helping out with front-of-house operations. Everything is absolutely delicious.
"Which part of Sinaloa are you from?" I ask.
"Mazatlán," says Pardo.
"In the city center of Mazatlán?"
"No, outside of it. Nearby."
"Would it happen to be…El Verde?"
"Yes! How do you know about El Verde?"
A massive smile of pride forms as I tell him what Chuy told me about El Verde, a tiny town of about 1,500 inhabitants famous for their taqueros. I ask why El Verde is famous for their taqueros, and he explains that he personally pays attention to the details of serving a proper taco—and I understood what he meant as I've certainly eaten some mediocre tacos in Los Angeles.
The fresh diezmillo meat is grilled over charcoal, seasoned, and cooked properly. The pico de gallo chopped finely. The salsas exact. While Tijuana-style vampiros can be ordered with your favorite type of meat, Pardo insists that the tried-and-true vampiro of the Mazatlán region has to be carne asada. When I ask him how the vampiro got its name, he answers back with a smile and a shrug and continues hacking up more carne asada.
In the city of Downey, just northeast of Compton, I meet Ramon Lizarraga of Tacos Estilo Sinaloa "El Grullo," a proud taquero and family man. I walk in, and his wife looks at me like I'm a solicitor or asking to use the restroom, but she seems relieved once I order a vampiro and a chorreada. Lizarraga hails from Zavala, Sinaloa, another tiny pueblito less than seven kilometers away from El Verde, the town Chuy mentioned—and he tells me that his town of Zavala is also known for the best taqueros. When I ask about El Verde, I sense some friendly competition, like two rival high school sports teams, as he doesn't care to acknowledge it. Did I mention that he is a proud taquero?
"The best taqueros all come from Zavala. They learn the skills here, and they move on to Mazatlán. I was working in Mazatlán before I moved to California," says Lizarraga.
"Why are the best vampiros from the Zavala region?"
"It's because of our beef quality and our signature tomato salsa. For each vampiro, we top it with one of two kinds of salsa—spicy or not spicy. Sinaloa is famous in Mexico for its tomato farming; they're sweet."
"Where did vampiros get their name?"
"I have no idea."
The following day, I look for the famous Don Memo at his stand, Tacos Al Carbon, located in a residential area across from a high school. As soon as I start walking, I'm lured by the hypnotic rhythm of something being chopped by a cleaver; the aroma of grilled diezmillo growing stronger as the chopping gets louder. If I were blind, I would have thought I was at a traditional Chinese barbecue restaurant. But I'm not. I'm in Compton, witnessing the dexterous chopping skills of a cleaver-wielding taquero named Javier Morales Jr., Don Memo's son. I later learn that Don Memo had long since retired.
Javier is preoccupied, concentrating on fulfilling his taco orders. In his left hand is a folded-up flyer used as a makeshift heat glove to scoop up the freshly chopped asada. After every few chops, he quickly spikes the heel of the cleaver into the wooden block. It's mesmerizing to watch.
I order a vampiro and a chorreada, and, like Carlos Pardo of Tacos El Palomas, I'm gifted with the same two things: a papa loca and a cup of agua de cebada. What I'm not gifted with: an answer as to the vampiro's origin. Nonetheless, I am content because the vampiros are just so clean and delicious.
For my final visit, I head to Tacos La Carreta, as recommended by Javier Jr., on a Sunday afternoon. It's a tiny carreta tucked inside of a former Sinaloan market turned Sinaloan-style marisquería, like one that you would see frequently in Mexico. A mustached man behind the cart is pre-griddling tortillas for vampiros, his son is grilling off diezmillo steak, his wife is preparing salsas, and his daughters are preparing to wait tables.
This is the Morales family, and the head taquero, Jose Morales Sr., is the younger brother of Javier Morales Sr., aka Don Memo. I learn from Jose that his brother was a famous taquero in El Verde back in the '70s, and together they brought their skills to Mazatlán, where the Morales brothers quickly became revered as some of the best taqueros there, according to the son, Jose Morales Jr.
Unsurprisingly, Jose Sr. demonstrates the similar chopping and preparation skills of his nephew over at Tacos Al Carbon, likely passed on from Don Memo. Even though they are relatives, they offer subtly different vampiros. Jose prefers a double tortilla vampiro; Javier prefers a single tortilla vampiro. It's nuances like this that keep things interesting for me.
"Why do so many taqueros come from El Verde?" I ask.
"My brother and I [Don Memo] came from a pueblito, no more than 1,500 people, and there weren't many taqueros around during the '80s. Becoming a taquero was the best way to make money and move to a bigger town, like Mazatlán, and eventually Culiacán."
"Why are the vampiros of El Verde and Mazatlán so renowned?"
"Because we keep it simple and use the freshest ingredients. The asada has to be chopped to order right off the grill. We use finely chopped cabbage and red onion instead of pico de gallo. Our tomato salsa is sweet because Sinaloa has excellent tomatoes."
I pull up a photo of a Tijuana-style vampiro on Instagram to show Jose Jr. and ask what he thinks of the current popularity. He says, "That's not a Sinaloa-style vampiro."
I thank the entire Morales family for their hospitality and for telling me about their taquero life in Sinaloa. While I won't know just how good the vampiros in El Verde are until I actually visit, I love how each of the taqueros I've met stands by their recipe and techniques. Each one is different from the other and all equally delicious. And by now I've asked close to a dozen taquero about the vampiro's origin. I'm used to being shrugged off.
I didn't bother asking Jose because he was busy cooking. Maybe the joke is on us gringos, and it's a secret that is kept tight-lipped among the Sinaloan taqueros. What better way to keep us coming back for more than to create some mystery around it. But then Jose's daughter Adriana is standing next to me as I wait for some food to take back to my wife and, just for the hell of it, I ask anyway.
"Do you know why it's called a vampiro?" I ask.
"Oh yeah! My dad said it's because when you bite into the vampiro, the tomato salsa drips down the sides of your chin, and it kind of looks like blood."
I stare at her in disbelief for a few seconds, processing what she just said. I've spoken to so many taqueros and have eaten numerous vampiros; I let her know that it may be the most convincing and creative theory I've heard so far. I quickly ask for more of the tomato salsa for my uneaten vampiro, lots of it, and I take a massive, shark bite into it. Immediately I feel the wet tingle of watery, tomato salsa oozing unevenly out of the corners of my mouth, some dripping down both sides of my chin. And I realized then that all along…I am a vampiro.
SINALOA-STYLE VAMPIROS
Tacos La Carreta, Bellflower @tacos_lacarreta
Tacos Al Carbon, Compton
Tacos El Palomas, Compton @tacos_el_paloma
Tacos El Paisita, Compton @tacoselpaisita
Tacos El Culichi, Compton
Tacos Estilo Sinaloa "El Grullo", Downey @taqueria_elgrullo
El Sinaloense #2, Eagle Rock
Tacos Sinaloa, Highland Park @tacos_sinaloa
Tacos El Mago de Culiacan, Rosemead/Eagle Rock @tacoselmagodeculiacan
TIJUANA-STYLE VAMPIROS
Taqueria El Poblano, Compton @taqueria_el_poblano
Tire Shop Taqueria, South Park
Tacos Los Poblanos, South Park @tacoslospoblanosestilotijuana
Teddy's Red Tacos, Venice @teddysredtac0s
Angel's Tijuana Tacos @angelstijuanatacos
Carlo's Tijuana Tacos @carlos_tijuanatacos
Ah Carbon! @ah_carbon_tacos
Birrieria La Unica, East LA @tacosybirrialaunica
Birrieria Gonzalez @birrieria_gonzalez
NORTHERN MEXICAN-STYLE VAMPIROS (Flour Tortilla)
Sonoratown, Fashion District DTLA @sonoratownla
Asadero Chikali, East LA @asaderochikali
Mexicali Taco & Co., Chinatown @mexicalitaco
El Ruso, Boyle Heights @elrusola