Instacart. Instant Cooking?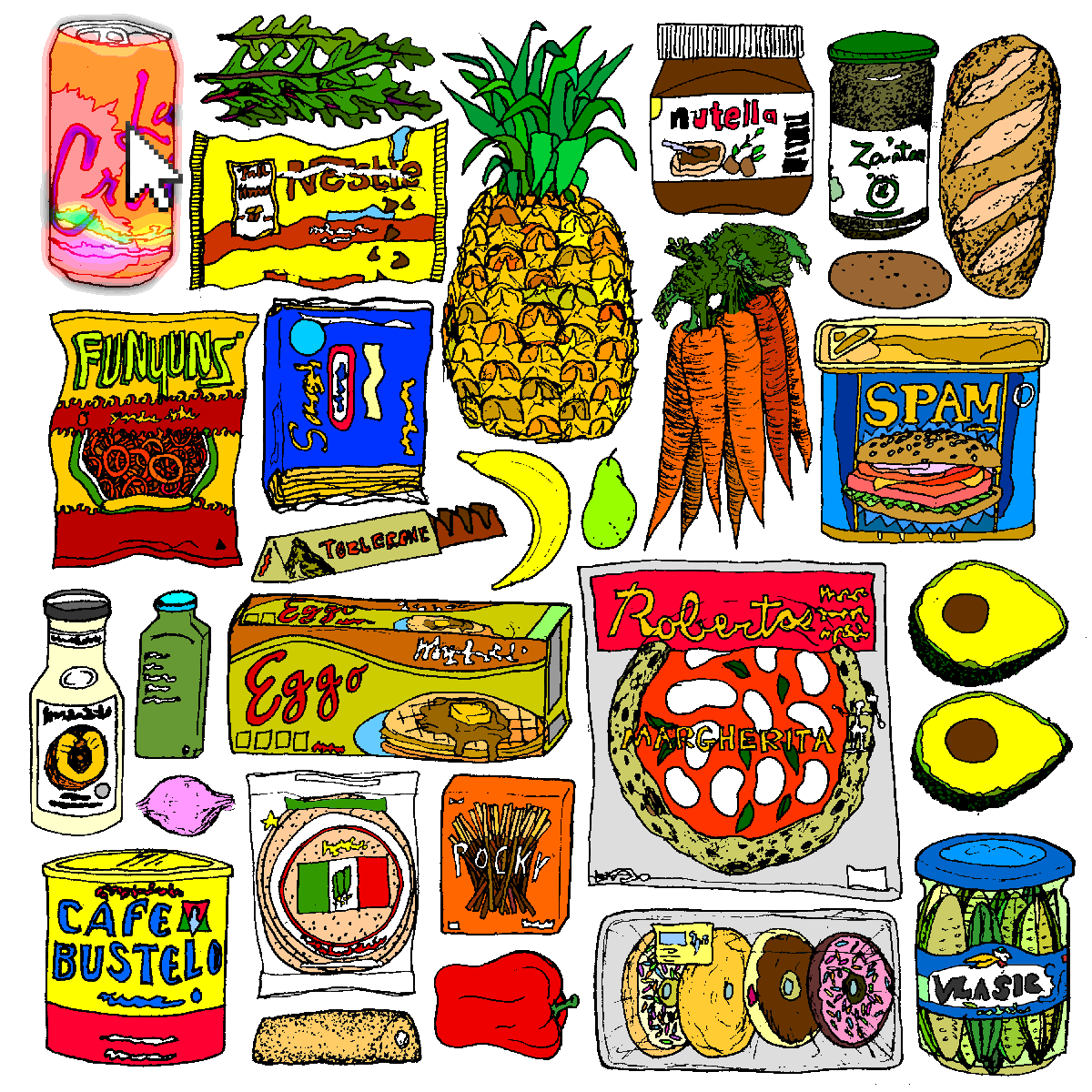 With the rise of grocery shopping on demand services like Instacart, there are more reasons to cook at home. But will anybody actually do it?
To say that I've always been a skeptic of click-a-grocery online delivery services would be a sincere understatement. I relish in-the-blood visits to the butcher and even waiting on line at checkout to say hi to Vivian, my favorite cashier at Sahadi's, a Middle Eastern grocer in my Brooklyn neighborhood. Add to that: I'm a person who prefers to spend my time instead of dollars.
Enter my friend Rachel, who talks about grocery delivery with the enthusiasm of a Big Ten university tour guide. "It's life changing," she proclaimed one day—without irony—listing the impressive dinners she had starting making, like steak over asparagus and peas, more frequently since she started buying her groceries online. "OK!" I give in. I will try it, I said, both for her and for this story.
I figured if I were going to be convinced, it would be the one time I hate grocery shopping: when I'm fighting major jet lag. I had an overseas trip coming up and decided I'd order a round of groceries for my return. Still on vacation, several time zones away from home, I logged on to Instacart, an online delivery service founded in 2012 by Apoorva Mehta, a former Amazon engineer. Unlike FreshDirect, which cuts out the grocery store entirely and delivers items from central warehouses, Instacart allows customers to get their groceries delivered from stores they're familiar with, like Whole Foods, Costco, and regional stores.
I placed my order from Fairway, a popular New York–area grocer: cottage cheese, arugula, tomatoes, scallions, and other essentials. I paid for my groceries using a coupon I received for being a first-timer and was careful to tip my delivery person, rather than paying the company's controversial "service fee" (which goes to the company, not directly to the specific employee), and set the delivery for my address in Brooklyn for the morning after my return.
At 8:50 a.m. I received a text that "Shari" was shopping for me. Soon after, a flurry of texts came in saying some of the items were out of stock and had been replaced with alternatives. I was given a link to "review" the changes. I hurried onto the website saying yea or nay to each. Swapping one brand of cottage cheese for another? Okay. Replacing $1.99-a-pound spinach for $6.99-a-pound spinach? No thanks.
Three hours later, my doorbell buzzed and a petite middle-aged woman wearing an Instacart sweatshirt handed me my groceries quickly and rushed down the stairs, presumably to another delivery. I'm a regular Amazon Prime customer. I order everything from toilet paper to wedding presents for friends via delivery. Logically, getting groceries delivered shouldn't have felt strange, but it did.
Online delivery orders currently constitute only 4 percent of grocery sales in the U.S. each year (grocery and nongrocery sales from traditional food stores reached $571 billion in 2011, according to the USDA), but that number could double or even reach 10 percent by the end of next year, says Phil Lempert, who goes by the moniker SupermarketGuru and has been tracking supermarket trends for 25 years. Add to that the recent acquisition of Whole Foods by Amazon, and we are on the precipice of what could be a radical grocery revolution. Instacart, with its 3,000 employees and 12,000 contractors, according to Mehta earlier this year, is currently steaming toward its goal of being able to deliver to 80 percent of U.S. households by 2018.
But what does this grocery shift mean for the home cooks? Will they, like my friend Rachel, pick up spatulas in droves and start cooking more now that they can avoid the hassle of traveling to the grocery store, waiting on line to pay, and transporting their groceries home? Will they swap that shopping time for cooking time? And will they discover recipes online and instantly enter their orders, or will an algorithm on sites like Instacart gently push them toward items they've ordered in the past? With something gained, is there always something lost? There's no hard data on the matter, so I set off to investigate.
First off, grocery delivery isn't new. "It started back in the 1950s, if not earlier," Lempert says. Customers came to local grocers, picked out what they wanted, and someone brought their haul home for them. Jump ahead to Los Angeles in the late 1980s and there's Pink Dot, a store with a cult following, he says. Shoppers called 24 hours a day, placed their order, and it was brought to their door. Peapod, another delivery service, entered the field with a calling system in 1989 and was acquired by the parent company of Stop & Shop in 2001.
The big shift, unsurprisingly, came with the Internet. In 1999 ex-Fairway Market CEO Joe Fedele and Jason Ackerman founded FreshDirect, and by 2002, the operation was up and running. A decade later, Mehta launched Instacart in San Francisco. Since then, Shipt, another shopping and delivery service, has entered the market.
While Instacart declined to comment on the number of customers using the service, the company was valued at $3.4 billion in March, and a representative says it was in 115 markets as of this summer. Shoppers are broken up into two main groups: those who join Instacart Express, which for an annual fee of $149 (or $14.99 a month) offers shoppers unlimited free delivery on orders over $35, and à la carte shoppers, who pay a $5.99 to $7.99 delivery fee (in most markets) each time they shop.
"We have many different types of customers," Jeremy Stanley, the VP of data science for the company, says. "But the majority of our sales are from customers who are pretty dedicated to Instacart. They've given up on going to the store."
That's true for Clay Coleman, a 22-year-old student at Brigham Young University in Salt Lake City, Utah, who balances two jobs and gets his groceries, like milk and the makings of chicken quesadillas, delivered from Costco via Instacart. He often leaves one tab on his computer open to Google to look up a recipe he's craving and a tab for Instacart to place the order. He swaps the hour he would spend at the grocery store for cooking time, he says.
The ease of getting fresh groceries in your home more than once a week with an express membership is the key, says Mary Seideman, who lives in Philadelphia and orders from Whole Foods via Instacart to feed her family of four. "We eat out less by a lot because it's easier" to put a home-cooked meal on the table, she says. She no longer starts to cook on Friday only to realize that some of the produce from a shop early in the week has gone bad.
"I'm Chinese, and every morning [my mom] would take chicken or pork out to defrost," she adds. In the morning, Seideman says, she forgets while she's busy getting her kids ready for school, adding that without delivery she would have "a freezer full of meat that I wouldn't use." Instead, she uses Instacart to help her and her kids' nanny cook a whole roasted chicken from a Thomas Keller recipe and make Ina Garten's salmon with sour cream, both staples at her family's dinner table.
For shoppers like Coleman and Seideman, the bulk of their purchases are repeat orders. For Coleman, it's the fruit he uses in his morning smoothies and frozen chicken; for Seideman, it's proteins and fruit her 7-year-old twin boys will eat.
The system is designed to help predict repeat orders. A first-time Instacart user will have to enter what they want from scratch, but as users come back on the second, third, and fourth visit, rather than having to search for things again, the company sorts them into how likely you are to buy them again in this session. By the second visit, "we can make a pretty good guess about which items will be repurchased from the first visit," says Instacart's Stanley, adding that this is based on data from millions of purchases on the platform.
That data is also used to rank items a customer might search for—like how Netflix recommends movies to you, Instacart is recommending groceries. That algorithm is helpful for shoppers like Seideman. "It gives me a reminder of what I might be running out of," she says. The same goes for Jennifer Hensell, a tour guide and director in South Philadelphia, who started using Instacart during her peak tour season when she did a side-by-side comparison of ordering Instacart and ordering in dinner from a restaurant.
For some shoppers, myself included, the cost is the rub. In addition to the delivery fee, Instacart's prices don't always match what's offered in the store as they are set through an agreement between the store and the company. Some stores listed in the app will say "Item prices for this retailer vary from the in-store prices in your area," and there have been reports of markups as high as 15 percent for goods from Costco. Other stores featured on the app, however, say "everyday store prices." "It's not cheaper than if I go shopping, but it's cheaper than takeout," Hensell says.
If she's particularly exhausted from work and doesn't have the time or energy to look up a recipe, she appreciates that "I can literally order off of the list of what I've ordered in the past." For her, that's often the makings of a pasta or rice salad.
With that convenience, however, comes a significant caveat: the lack of inspiration that comes from walking through the aisles of a grocery store. When I ask Hensell if she tries new recipes, she says: "If I'm going to experiment like that, I often go to the store." There are recipes on Instacart's website, but they are tucked at the bottom of a dropdown menu. Lempert adds that at supermarkets, demos can also nudge cooks toward trying something new. Delivery is "taking out a lot of the impulse and experimentation," he says.
And getting what you want for your go-to dishes when someone else is doing the shopping isn't always a seamless transaction. One customer said the app can hinder her cooking because Instacart's shoppers may not be able to find a key ingredient for a recipe she's making. The app will prompt customers with news of replacements to approve, but shoppers move through the store at a lightning pace, so ensuring a replacement is something that works for you requires being glued to your phone during the shopping process.
Shoppers like Hensell must be careful to note for each order that certain substitutions, like replacing nondairy products with dairy ones, won't work in their kitchens. Suggested replacements can also be far from what a cook wants. During an afternoon of shadowing Genesis Rodriguez at Fairway Market in the Kips Bay neighborhood of Manhattan, we found that the app suggested replacing a box of Stevia the store was out of with canola oil, instead of another sugar substitute. Rodriguez made what seemed to both of us a more fitting switch, finding another sugar alternative in the same aisle.
Still, Rodriguez explained that if she detects from the shopping list that a customer is making a specific recipe, she'll make an extra effort to get precisely what they want—a key to cooking for many I spoke to.
While the bulk of my interviews with regular users point to the idea that grocery delivery does help individuals cook more, not every shopper was in agreement. One individual who I met recently responded with a flat-out "no" when I asked her about whether grocery delivery helps her cook more. And Lempert, the supermarket expert, isn't convinced. "The person who gets delivery is doing so for convenience…. This consumer is time strapped and just wants to fill the pantry as quickly as possible [and] probably doesn't have time to cook." Those who cook, he believes, are more inclined to go to the grocery store to pick out their items for emotional reasons and to ensure higher quality control. When I ordered a box of organic arugula, approximately one fourth of it had gone off and had to be thrown out.
But, he adds, "We're talking about such small percentages of people," it's hard to be certain.
Back in my kitchen on delivery day, I was grateful for a fridge stocked with my staples for the week. I made some of my go-to dishes: cottage cheese with yellow raisins and almonds for breakfast, fried eggs with za'atar and an arugula salad for lunch. But within two days, my urge to visit my local grocery stores won out. I waved hi to Vivian at the cash register, picked up some tomatoes on sale, and headed home to experiment in the kitchen.