Inside Sticky Toffee Pudding's Gooey American Takeover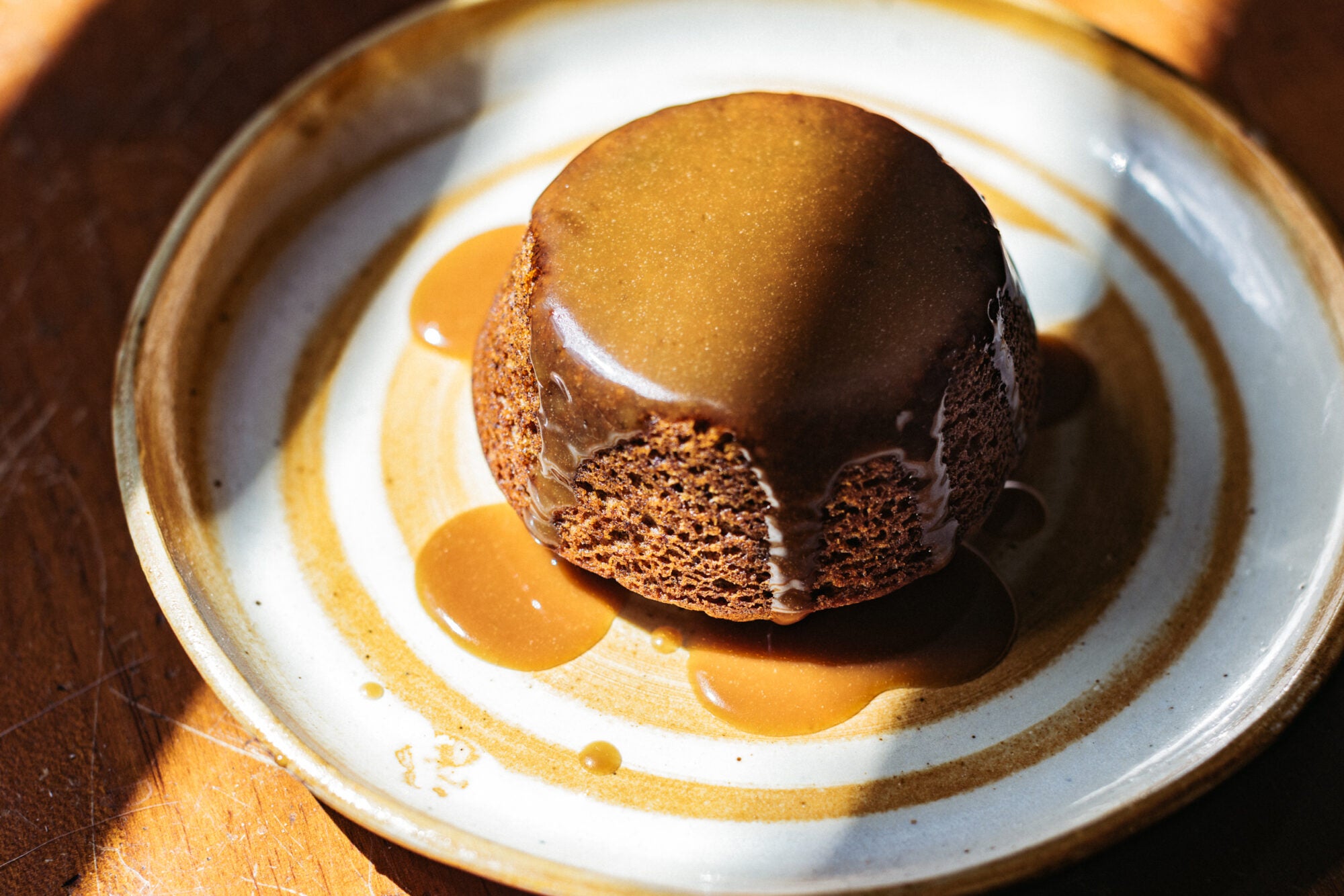 The beloved British classic is popping up on dessert menus across the United States, from natural wine bars to Harry Potter World.
Sticky toffee pudding is a clear communicator. The warm dessert is, yes, sticky from both dates and the accompanying butterscotch sauce. That same sauce, with its dark, caramelized sugars, is toffee in liquid form. Some may say it bamboozles with that final descriptor: "pudding." The moist, muffin-like construction is no cousin of chocolate pudding as it is known in the United States. Instead, this is a pudding in the manner of the beloved style of British steamed dessert, those moist dense confections like plum pudding and suet pudding.
A new dessert, as far as desserts go, sticky toffee pudding has none of the centuries-old nostalgia of, say, hasty pudding. Sticky toffee pudding was popularized only 50 years ago, during the 1970s, when it first became famous at the Sharrow Bay Country House in Cumbria in the United Kingdom, according to the Oxford Companion to Sugar and Sweets. In time, the British gastropub movement of the early 2000s swept the dessert ashore in Manhattan.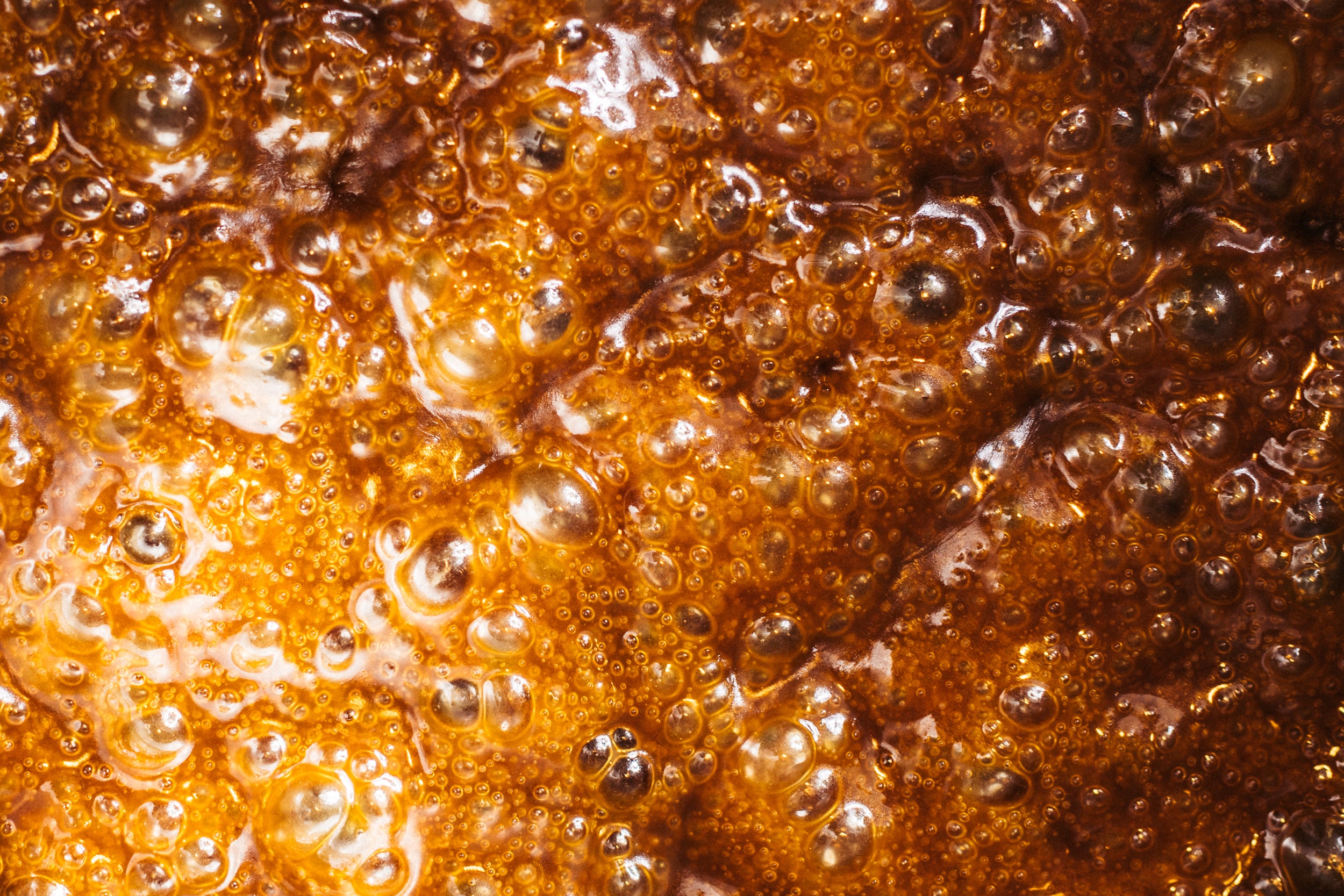 The presence of sticky toffee pudding has waxed and waned in the United States during the last 20 years. It nonetheless grew roots: Sticky toffee pudding is currently the first dessert listed on the menu at Three Broomsticks, the restaurant at the Wizarding World of Harry Potter at Universal Studios Hollywood. It is also becoming legion again in New York, appearing on the menu at the British-focused Dame, the natural wine bar LaLou, and the bar-with-food Runner Up in Brooklyn. Some restaurants have even created sticky toffee pudding stunt doubles, like the apple-prune cake at Bavel in Los Angeles. Sticky toffee pudding has become so prevalent—again—in some dining circles, I will now dub it "STP." Because if SJP can bring the Sex and the City '90s back with And Just Like That . . ., STP has the right to its own abbreviation as it circles the '00s again.
"My first restaurant job after pastry school was at the Dandelion in Philadelphia," says Ali Spahr, the executive pastry chef for Runner Up and its neighboring bakery progenitor Winner. "Sticky toffee pudding was the first plated dessert I learned to make when I started there in 2014."
If SJP can bring the Sex and the City '90s back with And Just Like That…, STP has the right to its own abbreviation as it circles the '00s again.
At the Dandelion, the STP was baked in a loaf pan and served in slices. For Runner Up, Spahr wanted a different, refined approach. She now bakes the puddings in jumbo-size, seven-ounce muffin tin cups and serves them as a lone inverted dome.
Considering STP's creeping ubiquity, it relies on a singular technique to achieve its complex sweet edge: soaking dates in baking soda–spiked water. Chris Taylor and Paul Arguin, scientists and authors of Fabulous Modern Cookies and The New Pie, which sports a crackerjack recipe for sticky toffee pudding pie, cannot think of another example of a dessert that does this. Taylor doubles down: "I would never think that the first stage of making a dessert would be taking a bunch of dates and cooking them with a load of baking soda." They both note that the alkaline pH of baking soda brings out the inherent toffeeness of the dates and also softens their skins. Spahr adds that baking soda helps break the dates down, assists with leavening, and "maybe helps counter the tannins of the dates."
Runner Up's STP begins in such a manner. Spahr soaks chopped Medjool dates in boiling water with baking soda. After half an hour, she spikes the collapsing dates with dark rum and two extracts: the classic vanilla, of course, but also an astringent coffee extract that role-plays the protagonist's acerbic sidekick in a 1990s rom-com. It's the Lisa Nicole Carson to Nia Long in Love Jones, the Rupert Everett to Julia Roberts in My Best Friend's Wedding.
Butter and light brown sugar are creamed together; eggs are added. Flour is spiced with nutmeg, cinnamon, and ground ginger. In a game of tag, the dry ingredients and the date mixture are added to the butter mixture in an alternating sequence. The batter is then portioned into those jumbo-cup muffin tins and baked in a combi oven, that restaurant workhorse featuring a steam mechanism. The result: a moist, cakey object that Spahr warms to order during service, then inverts onto a plate. The finish: a rich pool of toffee sauce, whipped crème fraîche, and a light flurry of grated lemon zest. "There's so much sugar and sweetness, it's nice to have a tangy element and citrus as well," says Spahr.
It's the Lisa Nicole Carson to Nia Long in Love Jones, the Rupert Everett to Julia Roberts in My Best Friend's Wedding
Spahr graciously gave me her recipe. I gathered my strength to shrink the yield from 20 Runner Up portions to a more home-friendly six STP portions. Adapting restaurant recipes for the home kitchen can be a bugaboo; Spahr's sticky toffee pudding was an elastic dream. The biggest shift from restaurant to home was using a water bath in lieu of the combi's steam function. The home-friendly STP recipe works without setting the muffin tin in a water-filled roasting pan. But doing so is worth the meager effort, I think.
Long before the United States' first STP influx, Richard Sax plugged the dessert in his indispensable 1994 magnum opus, Classic Home Desserts. In the recipe's headnote for, as he calls it, "English Toffee Pudding," Sax hints at STP's allure: "'A 10!,' says my number-one tester." Sax died from HIV complications, so he never experienced the dessert's slow transfiguration from English Toffee Pudding to STP and its subsequent gooey, heady conquering of the United States. The subjugation has been wide-ranging. A February 2022 article in the science journal Heliyon about the strategies of persuasion in American-menu descriptions in Jordan references STP. Restaurants in Jordan selling a British dessert as a cultural product of the United States? Nothing is quite so American as an import becoming commonplace enough that it can be re-exported to the world as if it had always been as American as, well, apple pie.