Inside the Great Oat-Milk Shortage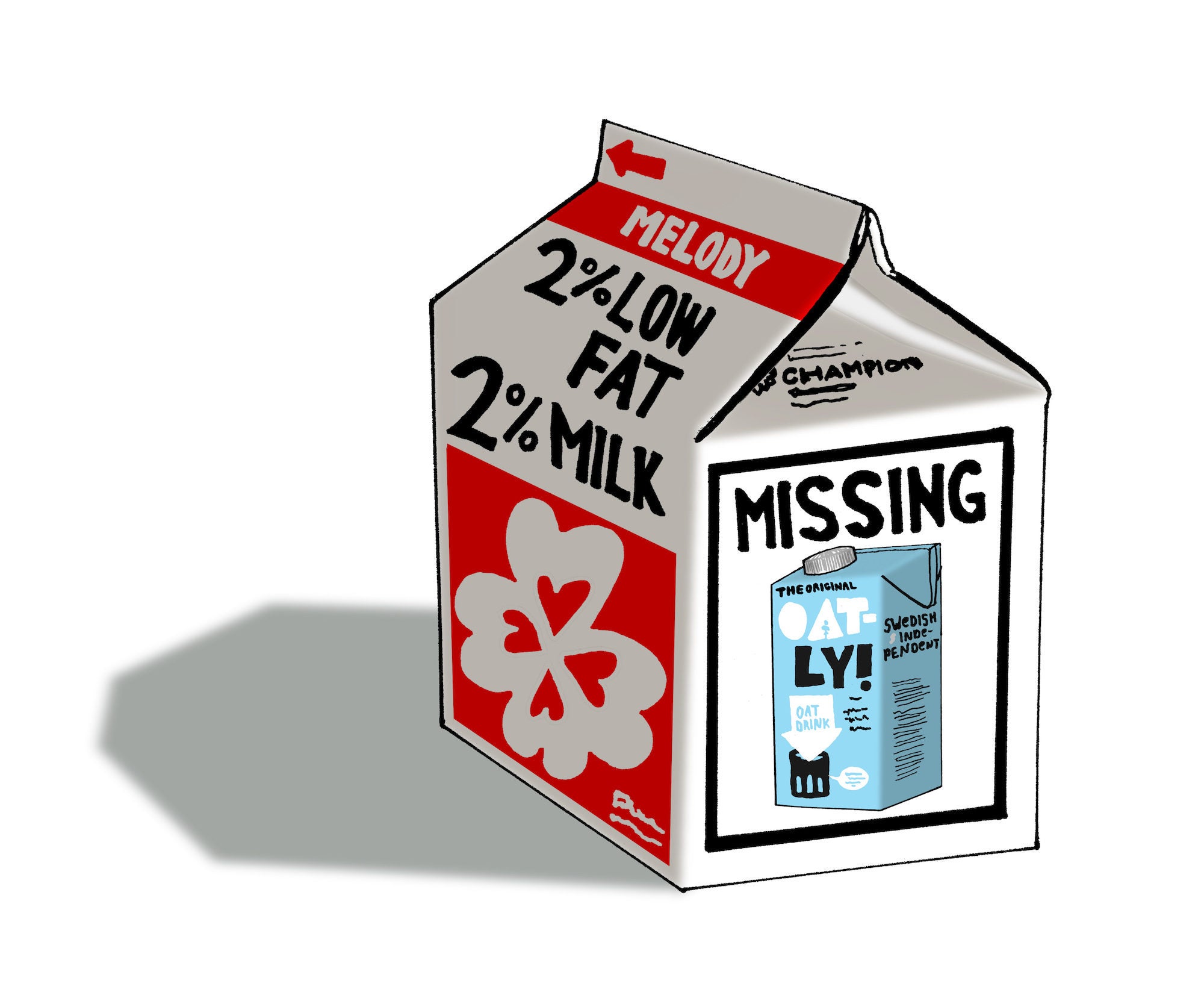 The improbable story of how a revolutionary beige liquid achieved cult status.
In December 2016, Andrew Chau, cofounder of Boba Guys, a mini-chain of 12 bubble tea shops in San Francisco, New York, and Los Angeles, pulled the trigger and ordered $2,300 worth of Oatly oat milk—an entire pallet—without ever having tasted the stuff.
Today, Chau reflects on this move as if it were kismet. Boba Guys was looking to swap out soy milk—he found it was too watery for his bubble teas—and Chau's business partner, Bin Chen, met Oatly's then GM at a coffee festival and thought it might work. A little Googling showed Chau that Oatly was a big deal in Europe, so he placed a two-grand bet on it.
At the time, Oatly was only just entering the U.S. market with its playful, Scandi-vibed cartons. The brand is Swedish, founded in the early '90s by Rickard Oste, a scientist looking to make a nondairy milk that wouldn't strain the environment. It launched in the States before even locking in distributors, which is how Chau wound up having to take 75 cases of oat milk. Lucky for him, Oatly caught on fast. "We would have been drinking oat milk all day for a lifetime," says Chau.
Fast forward to today and—aside from being a revolutionary option for those who can't consume dairy or gluten or nuts—Oatly's become a go-to for those who simply want an alternative. Its milk froths up nearly as well as full-fat cow's milk, and far better than soy or almond milks, making it ideal for nondairy lattes and cappuccinos. And the subtle grassy earthiness of oats coalesce particularly well with green tea, like matcha. "I only have my matchas with oat milk," says Chau. Boba Guys was one of Oatly's first clients, and as soon as it was on the menu at their Mission Street shop in San Francisco, there was no stopping it. Just at the same moment that Boba Guys really took off, so did Oatly; the two have been allied ever since.
At first, there were lots of questions about how Oatly tasted. "We kept saying it was like when you have a bowl of cornflakes and you drink the milk at the end," says Chau. "It tastes like the fortified cornflake milk." Beyond the flavor, Oatly isn't sweet, like soy or rice milk can be. It's intensely creamy and full-bodied enough that it can stand in for half-and-half in coffee without diluting it.
Oat milk's breakout on the alterna-dairy scene over the past year or so came with the same collective eye roll as all of the other "milks" (pea, hemp, macadamia). Oatly devotees might be surprised to learn that oat milk's not actually anything new. Pacific Foods has been distributing it to retail shelves since 1996. According to the latest Nielsen data (a 52 week report ending October 27, 2018), oat milk saw a 28 percent increase in sales year over year. While it's not the billion-dollar industry that almond milk is—not even close at $7.1 million—oat milk has attracted a committed and ever-growing following. This is indisputably thanks to the success of Oatly.
Oatly swears that its secret and patented method for liquefying oats while still retaining the protein and fiber is what it sets it apart from other oat milks. To this oat base is added a little salt, vitamins, and minerals (for the vegans), some stabilizers (important when going into an acidic coffee), and a small percentage of rapeseed (canola) oil, which gives Oatly a little more texture and richness. In early 2018, Oatly launched a line of retail milks in original, low-fat (made without oil), and chocolate varieties. The Barista edition is fuller in fat than the retail options. Whereas some oat-milk companies add cane sugar and some even incorporate the bran of the oat into the mix, Oatly is staunchly against it.
To ready for its U.S. launch, Oatly set up shop in Canada and New Jersey, sourcing oats from Canadian farms. Its first U.S. release, in 2016, was the Barista edition, sold only to cafés. The company started with a small cache of customers, including Chicago's Intelligentsia and Birch Coffee in New York City, but word traveled faster than the company had anticipated; its oat milk is currently in 2,000 coffee shops. The retail business has been just as brisk, with over 1,000 stores selling it in their fridges. The company launched with Whole Foods this year despite already depleted stocks.
The company has ramped up production significantly—Oatly made 1,250 percent more oat milk in September 2018 than it did in September 2017—but it has still not been able to keep up with demand. Even from the outset, Oatly didn't have enough product to provide samples to prospective buyers. Chau says salespeople for Oatly actually had to dip into the cases that Boba Guys had purchased in order to let potential café clients have a taste.
At one point, Oatly alerted Boba Guys to the fact that its inventory was going to run out, and Boba Guys bought the entire stock up from its San Francisco distributor to avoid having to pull it from its menus, but the New York and L.A. shops have definitely had to go without from time to time.
Boba Guys first put Oatly on the menu at their Mission District shop, and "it blew up right out of the gate," says Chau. The company replaced soy milk with oat milk and now only serves Oatly, almond, and cow's milk in its shops.
For the past six months or so, Oatly has experienced shortages from time to time, having to tell customers that it won't be available for varying stretches. Cafés have complained about it on Instagram, with some swapping in Pacific Foods oat milk in a pinch, but for some intangible reason, they just keep coming back to Oatly.
Oatly made 1,250 percent more oat milk in September 2018 than it did in September 2017—but it has still not been able to keep up with demand.
For coffee and tea drinkers, the flavor and consistency of Oatly are the driving motivation, but there's an added value for cafés that are choosing to be more environmentally minded, like New York City's Ninth Street Espresso. "We did a taste test, and for me, it's a little more neutral than soy milk, delicious, really creamy, and also, it's way better for the environment than almond milk," says Hannah Duke, manager of Ninth Street's East Village location. Although almond milk quickly became king of the plant-based milks, almond trees require an exorbitant amount of water—and there just aren't that many almonds in almond milk, anyway.
"Oats are certainly a lot more plentiful than almonds in Sweden," says Mike Messersmith, Oatly's general manager in the U.S. "They weren't going to use an ingredient that can only be grown halfway across the world in jungles or Mediterranean climates. Sweden has amazingly diverse weather and sunlight patterns. And oats can be grown pretty much anywhere."
Duke has seen Oatly make converts of cow's-milk drinkers, in addition to a 50 percent drop in soy-milk consumption. "I had people switch over that are cow's-milk drinkers, especially people who like creamier milk, like half-and-half in their coffee or something a little more decadent—but it's not overly rich."
While Ninth Street has been affected by the Oatly shortfall (they've ordered six cases but only been able to get three), the beauty of having a number of shops is that they can move stock from place to place if need be. When every shop runs short, customers seem to be willing to wait it out.
With this unintentional "make them want what they can't have" scenario, Oatly's been trying to catch up. With the introduction of its new, 19,000-square-foot facility in Millville, New Jersey, in early 2019, Oatly will increase its production eightfold. This couldn't come at a better time, as there are already other companies waiting to capitalize on the oat-milk inroads that Oatly has made. New York's Elmhurst began production this year, and oat milk engineered specifically to go in coffee from U.K. company Minor Figures should be in coffee shops any day now. Messersmith says he's heard there are others soon to come online next year, too.
But Oatly's already looking ahead to more plentiful days, with plans to expand its product line to include things like ice cream (the company has a caravan of ice cream trucks in Sweden), "oatgurt," and single-serve drinks.
How do you milk an oat? You milk it for all it's worth.