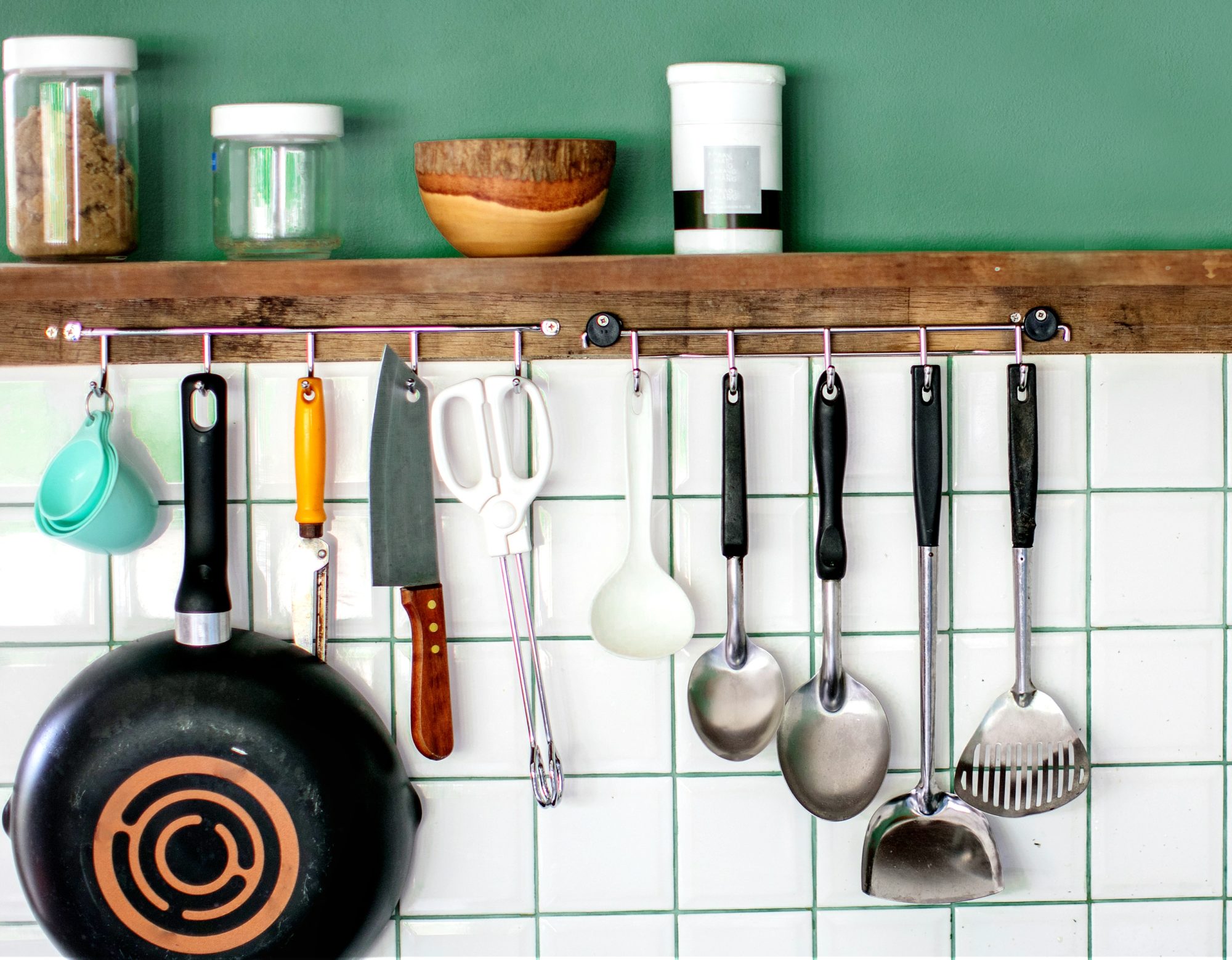 A cautious East Coaster is entrusted with a Los Angeles apartment. Few strings attached.
If you've ever cooked in someone else's kitchen, you know that it's a surprisingly intimate experience. The details revealed in kitchen drawers are akin to the discoveries made while rifling through someone's medicine cabinet—the offhand Darth Vader spatula that outs a science fiction nerd; the neatly stacked, arranged-by-color tea towels that suggest you should be careful to put everything back in its proper place; the over-the-top collection of antique tin coffee grinders that betray more, perhaps, than a mere caffeine addiction.
Many of us have done it. After all, firing up other people's stoves has become practically second nature these days, thanks to the explosion of Airbnb. We're just as comfortable sautéing onions and dicing carrots in a stranger's kitchen as we are sleeping in their bed for a couple of nights. That is, unless you've rented an Airbnb that's been set up specifically to rent to travelers (you know the sort: nondescript Ikea starter plate set, a couple of banged-up nonstick pans). But the majority of the time, by cooking in your host's kitchen, you can piece together a picture of their life by what's there and what's not: Cupboards stocked with copper pans and marble serving platters might reveal a consummate, if potentially pretentious, entertainer; a single set of silverware, nights of eating yogurt in front of Law & Order reruns.
It's a sensation I experienced when I moved from New York city to Los Angeles, ending up in a furnished sublet that opened up my curiosity about another person's life. I knew I wanted to know more about Michael from the moment I opened his kitchen drawers and spotted a single chef's knife.
I don't actually know what to call him. My landlord? A friend I'm renting an apartment from? But I fell in love with Michael's apartment instantaneously when I took a quick tour a month or so before making my move. It was a lofted one-bedroom apartment in the Venice Walk Streets, a magical neighborhood-within-a-neighborhood known for narrow walkways, where you're surrounded by multimillion dollar "bungalows" whose front yards butt up against shaded pathways lined with bougainvillea. I peeked from the top of an open spiral iron staircase at the cozy sleeping nook lined with Oriental rugs and ogled the mahogany dining room table lined with six leather- and velvet-upholstered chairs and—having had only a bistro table in my Chelsea rental—practically Venmo'd him on the spot.
Michael, a 50ish screenwriter who at first glance struck me as part natty hippie, part intellectual goofball, had decamped to Malibu after years of living in the apartment, wanting to be closer to nature. The arrangement would be mutually beneficial: He wouldn't have to pay for two places, and I'd have a soft landing in my new city. I sent him my first month's rent, then returned to NYC to finish packing what little I'd be bringing to California.
Before boarding my one-way flight to L.A. a few weeks later, I'd done the requisite amount of research (read: light stalking) to know this much about who I was renting from: Michael had gone to Harvard; his father was a Pulitzer Prize–winning journalist; he'd worked on a TV talk show with one of my favorite SNL alums. But I didn't ask him much about cooking during our initial meeting at the apartment or spend much time in the kitchen, for that matter. Plus, personal cooking habits are a little harder to glean from a Google search, and there was no Instagram account to deep-dive into.
He'd told me it was "fully stocked"—but as soon as I moved in, I realized that that phrase meant something entirely different to each of us. The kitchen itself is nothing special, maybe a minuscule step up from most NYC kitchens, with one small white tiled countertop, a true "apartment" stove/oven situation, and a small fridge jutting out from the corner of the room. And despite the fact that I'd never considered myself a high-maintenance cook—my Chelsea apartment had had the essentials and then some: tools, a set of All-Clad pans, and a full knife set, but no spiralizer or Instant Pot in sight—I was surprised by the starkness of his kitchen. For instance, there was a single blade: a sleek eight-inch Henckels chef's knife and nothing else.
My curiosity was piqued beyond the knife, though. The rest of Michael's collection had a functional, slightly romantic air: a few pans, one large stock pot, a shiny chinois, a well-worn Boos block, a brick orange Le Creuset—stained a shade of charcoal on the inside and flecked with blackened bits where it had been licked with flames on the outside—a smooth wooden Morel Design mortar and pestle, a wooden pepper grinder that was worn down to a shade of cream in sections, one bartender-style bottle opener, one wooden spoon and spatula. Even his compact cookbook collection veered toward the nostalgically classic, with dog-eared, splattered editions of The Grand Masters of French Cuisine, Julia Child's The Way to Cook, and Marcella Hazan's Essentials of Classic Italian Cooking. At one point, there was a cast-iron pan, but on a visit to pick up his mail, Michael brought it back to Malibu with him. I imagined the type of cook he must be: perhaps a little scattered (there was no real sense of organization) but resourceful, not needing a lot of space or accoutrements to throw a meal together.
The serveware was doubly intriguing. My setup back in NYC, for instance, had been your standard-issue Crate and Barrel white plates. In L.A., instead of the everyday stuff, my host had left me in the charge of cream and robin's egg-blue Haviland china etched with actual gold. And in lieu of Ikea forks and knives, there was a full set of Wallace silver, complete with rose-emblazoned stems and whimsically ornate ladles. On one of the open shelves just off the kitchen, I spotted a mug with a photo of Michael's father and President Nixon. Behind the stacks of plates and pots hung photos of his parents in Hong Kong in the '60s. I thought about how different our childhoods must have been: mine, a quiet, rural upbringing in Nowheresville, New Jersey; his, in far-flung lands within earshot of world leaders.
As a cautious East Coaster, I reveled in the trust he'd put in a near-complete stranger to use and care for these objects. It spoke to not only a California open-mindedness, but of someone who'd spent a lifetime around beautiful things, lightening their importance. I spotted pewter candle holders with the nubs of burned-down candles still in them and envisioned the dinner parties he must've thrown, with fragrant roasts pulled from a weighty stainless steel roasting pan that upon first glance I wasn't entirely sure would fit in the oven. I imagined the conversations and the types of people he would have had over, a mix of intellectuals, screenwriter types and artists that undoubtedly plucked the guitars from his bedroom and played them after dinner.
I've gotten to know Michael over the past couple of months, and I would say that most of what I imagined is pretty spot-on. He's well traveled, was in fact born in Hong Kong, has a deep fabric of friends in L.A., and talks nonstop. He also doesn't care much about what other people think. Small nuggets, like the fact that he took cooking classes as a teenager in Washington, D.C., with a bunch of housewives, or hosts frenetic, everybody-lends-a-hand pizza parties, made in his outdoor oven in Malibu and followed by, yes, guitar playing with friends, have revealed a serious cook with few inhibitions. At a dinner party for 20 that I helped him cook recently, with the ovens heating, Michael pivoted from roasting to grilling whole branzinos for no other reason than deciding that he wanted to cook something over an open flame, piling them on a plate with charred lemons after crisping them up. I personally would have stuck to my initial plan, but watching him improvise was thrilling.
And being in his kitchen has pushed me to explore my boundaries, too. My cooking has become at once more imaginative and less fussy. I've found that you actually don't need more than one good knife when you can slice through the juicy, sweet tomatoes you can find at the Santa Monica farmers' market in the middle of November, or the gorgeously ripe $1 avocados that you can find anywhere. The solitary chef's knife works just as well for the usual stuff (chopping garlic, carving roast chicken) as it does slicing the Superba sprouted wheat that I char under the broiler to make toast. December's piles of Meyer lemons and Buddha's hand and limes made adding flavor to one-pan dishes dead simple. I've tried to follow Michael's lead and let myself be a little more loosey-goosey in throwing things together, because with produce this good, you're almost never going to go wrong (almost).
When I do finally give up the sublet (although I don't really want to), I'll have enjoyed inhabiting someone else's world for a while. And I'll miss the joy of discovering what might be hidden in the back of a drawer, waiting to reveal one more detail about Michael.