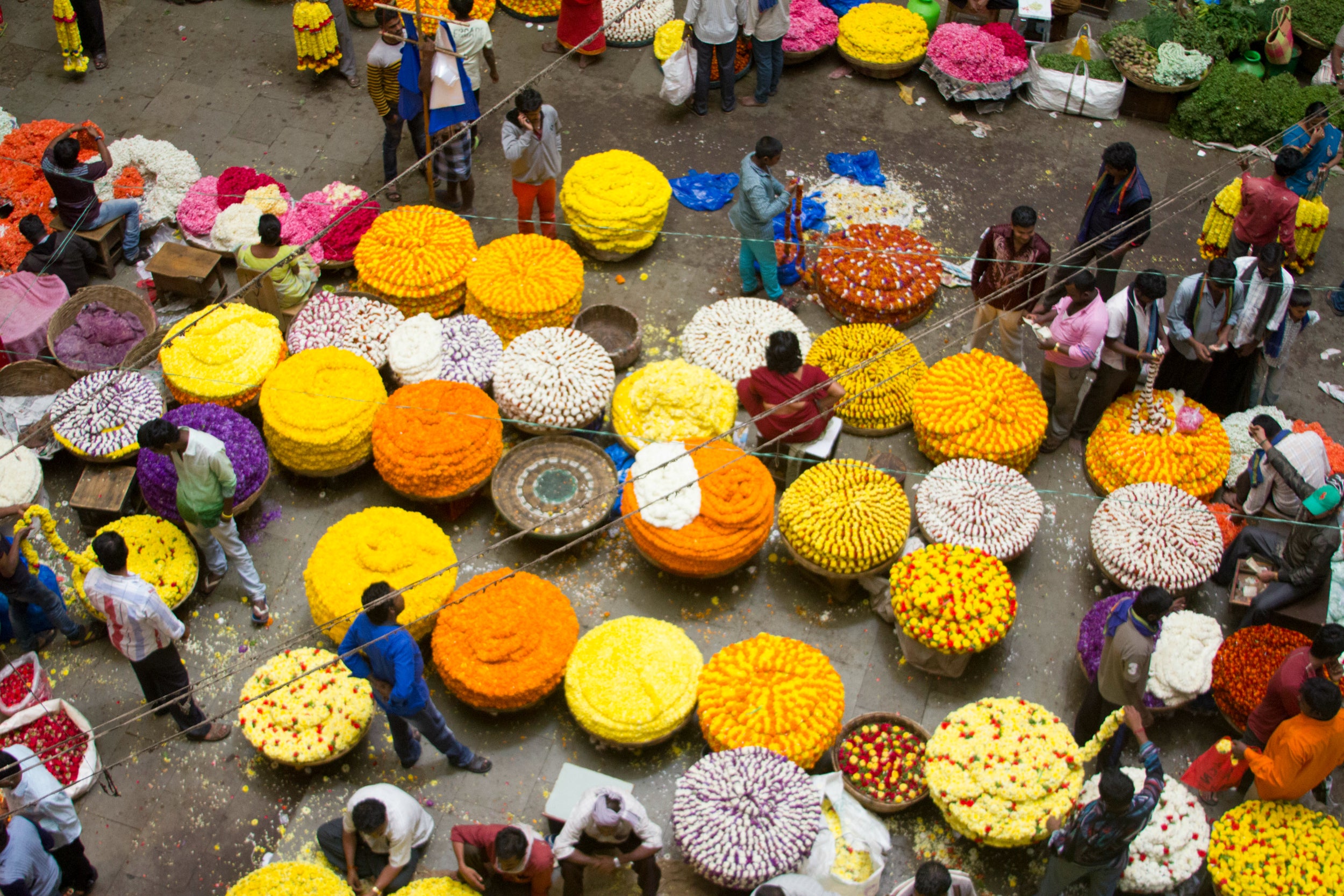 I'm very excited. Chitra Agrawal, condiment queen and owner of the Brooklyn Delhi, is making me lunch. Arriving at her Brooklyn apartment, I'm greeted by a woman in her 30s with long, dark hair, a thick fringe of bangs, and a bright smile. She's very pregnant. I look down—she's wearing flip-flops (with socks) and offers me a pair. As I slip my feet into thongs that are about two sizes too small, I realize that I recognize her from a wedding we both attended a few months ago. I didn't know her then, but I remember the roasted garlic pickle that was served that night. Now I realize she's the one who made it.
Agrawal is also the author of the new cookbook Vibrant India: From Brooklyn to Bangalore, a catalog of foods from South India that she grew up eating, as well as her Brooklyn-based takes on them. Think simple snacks of pan-roasted masala peanuts with fresh curry leaves and turmeric, or summer squash in a creamy, yogurt-based curry sauce. And lots of lentils and rice. It's a vegetarian home-cooking book for every day—that is, if your pantry staples include things like tamarind paste, curry leaves, shredded coconut, and cardamom powder. The book is a spinoff of her blog, The ABCD's of Cooking, which stands for "American Born Confused Desi," a term used to describe South Asians born and raised in the U.S.
Agrawal came by blogging honestly. "I got really interested in cooking the recipes I grew up eating, especially because I wasn't living near home," she says. She logged hours in the kitchen with her parents at their home in New Jersey and traveled to Bangalore multiple times to cook with her extended family. Blogging was her way of sharing the recipes she'd learned.
Today, Agrawal is cooking from the book, in a manner of speaking. But actually, she's cooking from memory. Following her lead, I shuffle into the kitchen. It's cozy, lined with plants, watering cans, and reused glass jars filled with beans and things. It's lit the way you expect a blogger's kitchen to be—with the glowiest afternoon sun. There are already carrots and potatoes simmering on the stove, in ghee with a slew of spices, which I soon learn will become a lentil stew called sambar.
Agrawal's way of eating requires some explanation for Americans who are only familiar with the greatest hits of the Indian restaurant, which are usually rich, Westernized versions of North Indian food. Agrawal's cooking hails from the South, whose hallmarks are spicy, fragrant dishes with a vegetable focus that use regional ingredients like coconut, lentils, and black pepper. Agrawal's mother belongs to a group of South Indian Hindu Brahmans that adhere to a vegetarian ayurvedic diet, which, among other restrictions, forbids garlic and onions and further informs her cooking.
An ingredient used to replace the alliums is called asafetida, or hing, which Agrawal introduces me to today. The powder is ground from a vegetable in the fennel family and has a marvelous bite, at once vegetal and sharp. Toast it in oil with black mustard seeds, dried chiles, and curry leaf—a method called tempering—and you have the foundational flavor of South Indian cooking and the basis of many of the recipes in the book. According to Agrawal, tempering, i.e., frying, spices at once deepens and opens up their flavors, creating the flavor base for your dish.
While the sambar simmers, Agrawal demonstrates the tempering method with the spinach raita, a yogurt-based condiment. Agrawal uses a tiny ladle to scoop oil into a pan from a metal pot next to the stove. Once the oil is shimmering, she throws in a few black mustard seeds to gauge the heat. They promptly pop off the pan. Now it's time to add the hing, curry leaves, and chiles. The combination is a beguiling interplay of heat, savory flavor, heady fragrance, and earthy must. "My husband now makes popcorn with these four spices," says Agrawal. "And nutritional yeast," she adds, erupting in laughter.
Agrawal adds the spinach to the tempered spices and stirs it until it wilts, transfers it into a bowl, and puts the whole thing into the freezer. Once the spinach has cooled, she stirs in sweet shredded coconut, a staple in South Indian cooking, which is a balancing act of sweet, tart, spicy, and savory flavors. Then the yogurt and lime juice go in.
Coconut, Agrawal explains, is an ingredient less common in North Indian cooking. Curry leaves, which she is also cooking with today, are similarly more common in South Indian cooking. What differentiates South and North Indian cuisines is both stark and nuanced—South Indian food relies on rice and lentils, with dishes like dosas or idli, whereas Northern dishes incorporate things Americans might find more familiar, like bready naan and samosas. Garam masala is the go-to spice blend in North Indian food, whereas a saarina pudi (also called rasam powder), made with curry leaves, black peppercorns, fenugreek, and plenty of other spices, is used in South Indian food. Both cook with many overlapping ingredients, though often in different ways.
At this stage, Agrawal has three dishes going simultaneously—she's frying peanuts for vangi baath, a kind of South Indian fried rice that gets its name from vangi baath powder, an intoxicating mix of lentils, coriander, chiles, cinnamon, and cloves, which Agrawal grinds herself. Then she stirs in tamarind paste, a deeply sour molasses-y concentrate, to hit a tart note in the lentil stew—all while casually pivoting from stove to counter to fridge to sink and back, chopping here, stirring there, tasting as she goes. Agrawal makes cooking seems so intuitive, so easy, that you're convinced you can do it, too.
And just like that, lunch is ready. She opens a jar of rhubarb-ginger achaar, her North American twist on a South Indian pickle. Agrawal's passion for crafting sour-spicy condiments, made using fresh produce such as tomatoes, rhubarb, and gooseberries, may be inherited from her grandmother. "She always had crocks going with all different types of Indian pickles," she recalls. When Agrawal met her future husband, Ben Garthus, who happens to be a food packaging designer, he jarred her insanely good achaar and encouraged her to sell it. Brooklyn Delhi, Agrawal's South Indian pickle brand, was born.
I dip a spoon in to taste the achaar plain and marvel at the silkiness of the stewed fruit, the bracing acidity, and the slow-burning heat. Agrawal pulls a couple of bowls down from a shelf and we carry them to a table in the next room, along with the sambar, tinted yellow with turmeric and floating with sweet bits of coconut; the raita, which is creamy and bright; the jar of achaar; and the vangi baath, which she's made with winter-appropriate red cabbage instead of the usual eggplant and is riddled through with those crunchy fried peanuts, a meaty countertop to the fluffy rice. "A lot of the vegetables that I got in winter from my CSA I put into recipes in the book," says Agrawal, who encourages using what you have on hand. "The recipes are kind of like templates."
As we sit down to eat, I take my cues from Agrawal, who first spoons some of the rice into her bowl, then the stew, followed by the raita and the achaar. I try to mimic her ratios, realizing halfway through that ratios don't really matter. This is a casual meal—that's the point. I take a bite and moan like a Food Network cliché. But the pleasure is real. On their own, the dishes are fairly simple. Together, they're alive. The spices ignite the starch, vegetables, and legumes with warmth, while the yogurt and the achaar created little jolts of tang.
But to Agrawal, it's just another quotidian meal. "This is home food, you know?" she says between bites.
The South Indian Pantry
Asafetida (Hing)
A pungent powder made from the ground root of a plant in the fennel family. It's used in tiny doses as a stand-in for onion and garlic in stir-fries, rices, stews, curries, and Indian pickle (achaar). You can also find it in ayurvedic medicines.
Black mustard seeds
One of the bases of South Indian cooking, these are related to yellow and brown mustard seeds but have a stronger, funkier flavor. They can be ground into powder or paste or tempered in oil to release their fragrance and are commonly incorporated into stir-fries, rice dishes, stews, curries, spice powders, chutneys, and curry pastes.
Curry leaves
These fresh, green leaves have nothing to do with British curry powder. Rather, they're full of oils that taste lemony and grassy when fried. You can find them in rice dishes, curry pastes, chutneys, and other staples.
Chiles
Agrawal recommends buying dried whole chiles from the Indian market that are simply marked "whole chiles." The ones in the Indian stores are not labeled specifically, and most resemble dried cayenne chile peppers. In South India a popular dried red chile pepper that is used in cooking is Guntur Sannam. In a pinch, you can use dried cayenne or chile d'arbol. Chiles make it into much of South Indian cooking, from dosa batters to curries, stir-fries to achaars. Large peppers are sometimes batter-fried and eaten whole.
Black Pepper
The ubiquitous seasoning is originally from South India. Its floral heat preceded chiles', which aren't native to the region—black pepper was the original source of heat in India before chile peppers came to the country in the 15th century by way of the New World. It's used in stir-fries, stews, spice powders—you name it—and is often fried in a bit of ghee or butter to make the flavor bloom.
Coconut
Coconut is used in all sorts of South Indian dishes: curries, stir fries, desserts. You can rehydrate the dried stuff, but barring cracking and shredding your own fresh coconut, Agrawal recommends a brand of frozen shredded coconut called Daily Delight.