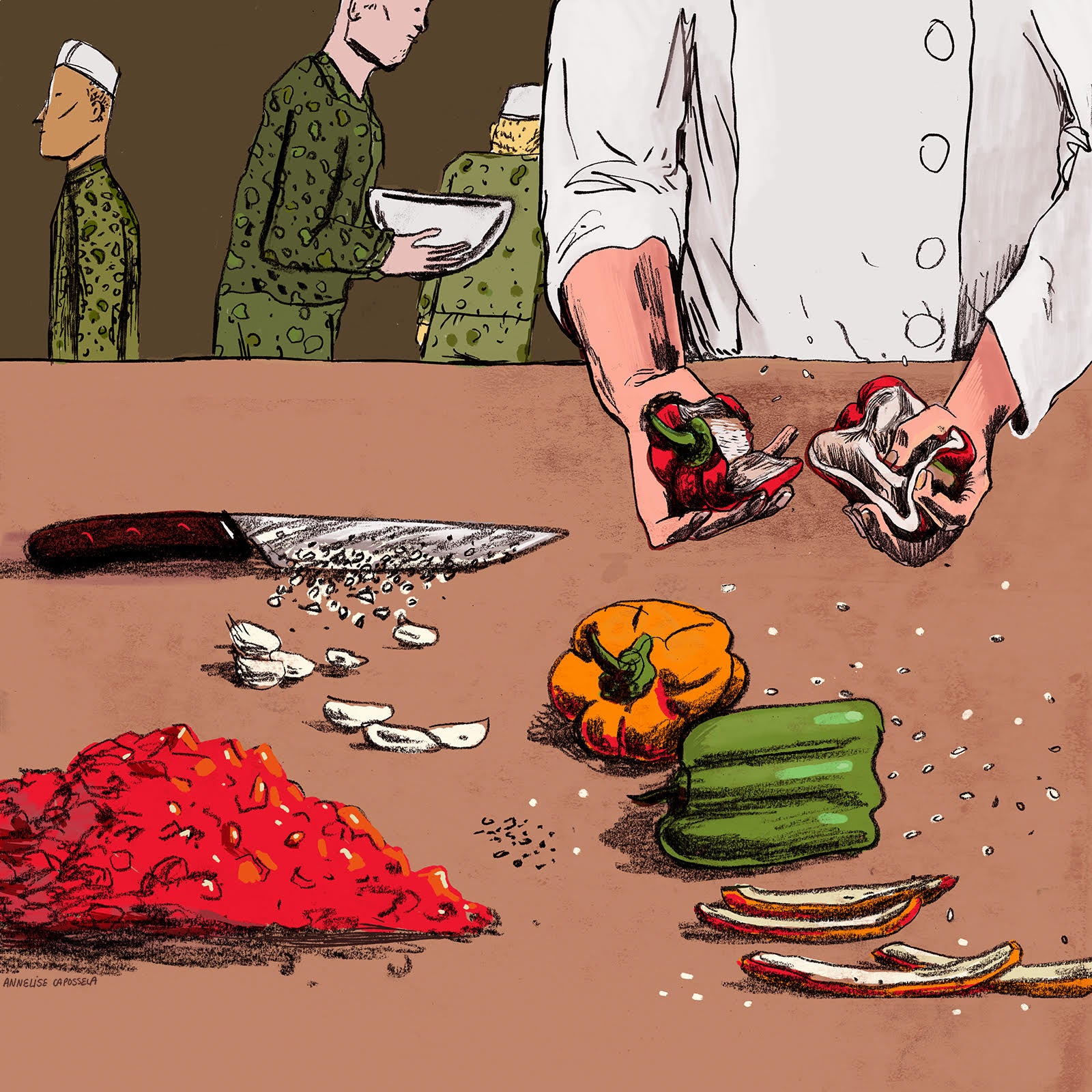 The commander of an Israel Defense Forces mess hall is not a man to mess with.
He was a tall, sad man with thick, dark eyebrows and a magnificent mane of silver hair. Every morning he would pass through the gate of our army base in his three-wheeled army tuk-tuk, drive uphill to the main kitchen, and park in his reserved spot, near the big garbage cans. I'm sure he could feel us soldiers looking at his vehicle. I'm certain he could sense our grins. In a better world, a man as tall and imposing as himself could have been anything, even a concierge in an intercontinental hotel in a Central-Asian republic-stan. But in Israel of the early '80s, for a commander of a military kitchen, riding a tuk-tuk was the pinnacle of his career.
His soldiers loved him. Naturally, they were a bit afraid of him, too. They all came from not the best backgrounds, and he took it upon himself to see to it that they keep clean. He would go ballistic if he came across a cook who was not as neat and polished as he expected his subordinates to be. "You are cooking for the Israel Defence Forces' intelligence!" he would roar. "And that is how you enter my kitchen?!" Then he would grab the terrified victim by his neck and say, "Now, listen to me, buddy. If I hear you were drinking or taking drugs again, I am going to call your grandma, do you hear me? I know her from Baghdad."
He was both a loving man and a benevolent dictator. Yes, it was the kitchen of the IDF intelligence headquarters, and yes, he had to keep control over a motley crew of soldiers: his team of full-time cooks and we baby spies-in-training on their weekly kitchen duty. But he made sure we all got along and that each of us got the respect we deserved. I think the best gift I ever received from four years of service in the intelligence division of the IDF was the knowledge that army cooks from less-privileged families could be so much better than me.
That, and the ultimate tip for cutting peppers, of course. Each morning, after having his black coffee, the chief would cook breakfast for himself: a killer shakshuka made with seven eggs, hot sausage, and spicy crimson Marmooma sauce, made from crushed tomatoes, tons of peppers, and a whole head of garlic. Sometimes he would let us peel the garlic or cut the peppers, but the actual frying was a ceremony to be conducted by him and him alone.
One day, while on yet another round of kitchen duty, I was ordered to cut peppers for the chief's customary breakfast. It took me a while because I was trying to julienne three colors of bell peppers as meticulously as I could. Suddenly, I felt the chief's huge presence in the room. He was looking at me and my peppers with utter disgust. "Corporal," he said. "You do not win a war by julienning bell peppers!" He grabbed a big red pepper and broke it into chunks with his bare hands. "That's the way to do it," he said "Like this. No knife. Think of it as the enemy."
I have never used a knife to cut a pepper since. Nor have I lost a war. Whenever I travel the world, I always look askance at hotel concierges. What do they know?