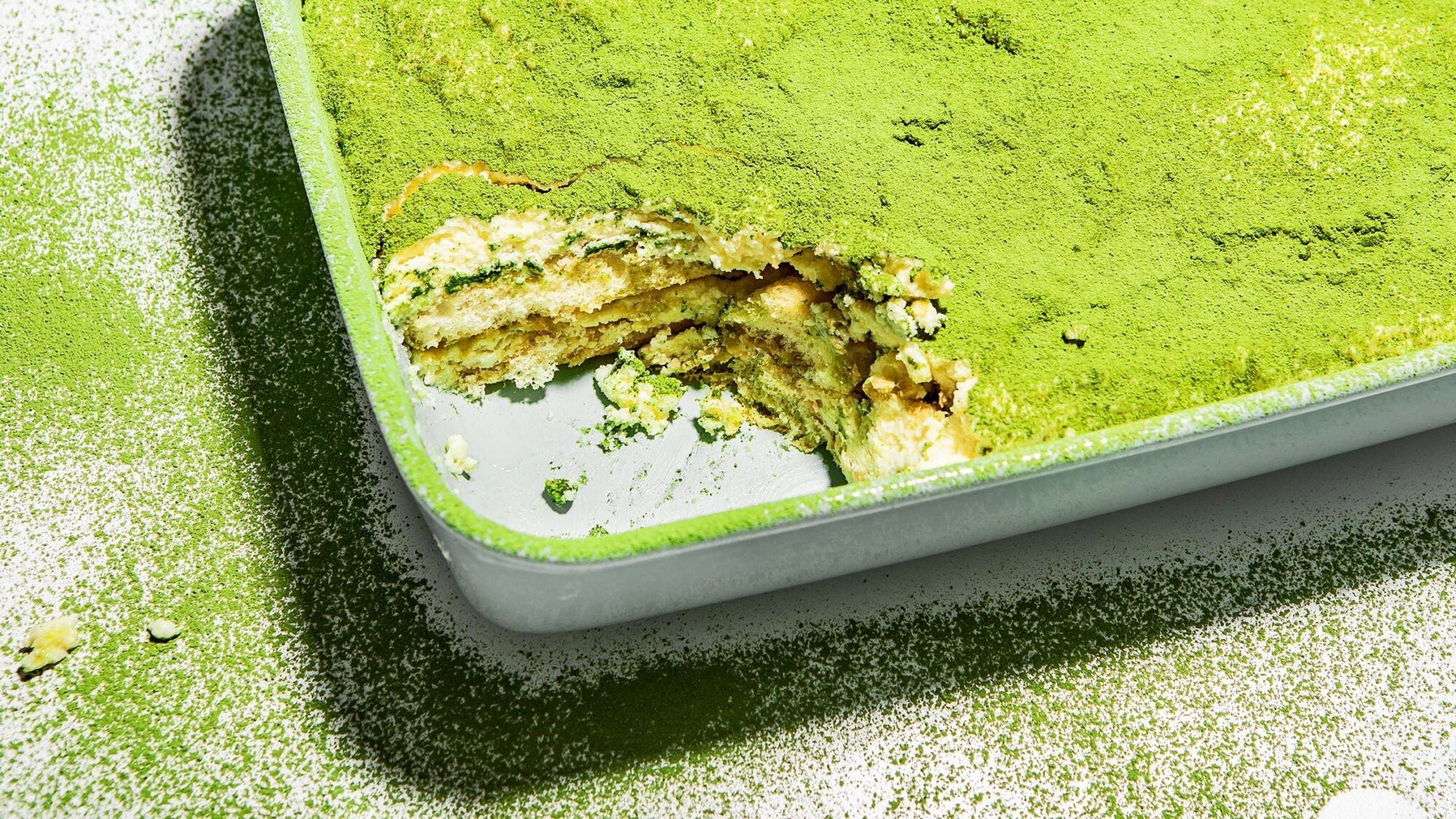 Swap coffee for matcha, and the Italian classic takes on a whole new persona.
Trawl through the menus of every red-sauce joint in New York City, and you'll find a recurring character in the dessert section: tiramisu. A cascade of mascarpone-rich zabaglione, layered with spongy ladyfinger biscuits drenched in shots of bitter espresso and sweet, Morello cherry–scented Marsala wine, the no-bake closing dish is an Italian-American classic. Constructed in a casserole dish, martini glass, or even snuggled into your everyday coffee mug, it's a dessert that, while not fancy in its parts, feels fancy as a whole.
But with any layered dessert comes opportunities for riffs, and with tiramisu, that swap involves the coffee—replaced with a close, caffeinated cousin. Tea.
Tea brings out the soft plushness of the mascarpone and cream, working in tandem with the dairy, where coffee would dominate. With tea, tiramisu's flavor profile expands exponentially, with floral fragrances that lend themselves to a more supple sweetness. A tearamisu, if you will.
Enter earthy and grassy matcha. Each velvety-soft aspect of tiramisu—the cream, the mascarpone, and the sponge—tones down the harsh, tannic hit of the tea. Those floral, subtly astringent notes meld with the pillowy mascarpone and within the folds of the cream and sponge.
While the tea is releasing its sweet, herbaceous scent, beat some egg yolks and sugar over a steam bath to make zabaglione, then fold in mascarpone and whipped cream for a triple dose of buttery richness. Once you build your tiramisu tower of spongy biscuits and cream, dust the final coating of cream with a verdant blizzard of powdery matcha—in lieu of the typical cocoa—to really double down on the palate swap.
Matcha is just the gateway tea to a full-on tiramisu revolt. Those free bags of Twinings and Lipton from your hotel stays? Brew them together in a hodgepodge tea to infuse into the ladyfingers. Then blend up more loose tea leaves in a spice grinder until ultrafine, and tap it through a sieve to top the tiramisu. To introduce more smoky sophistication, consider a sooty black tea like Lapsang Souchong. For something punchier, Thai red tea (cha yen) makes for a strong contender, providing plenty of mouth-puckering tannins that give the cake layers an orange hue.
So the next time you're reaching for a pick-me-up with a little more grace and gumption, think tea, not coffee.