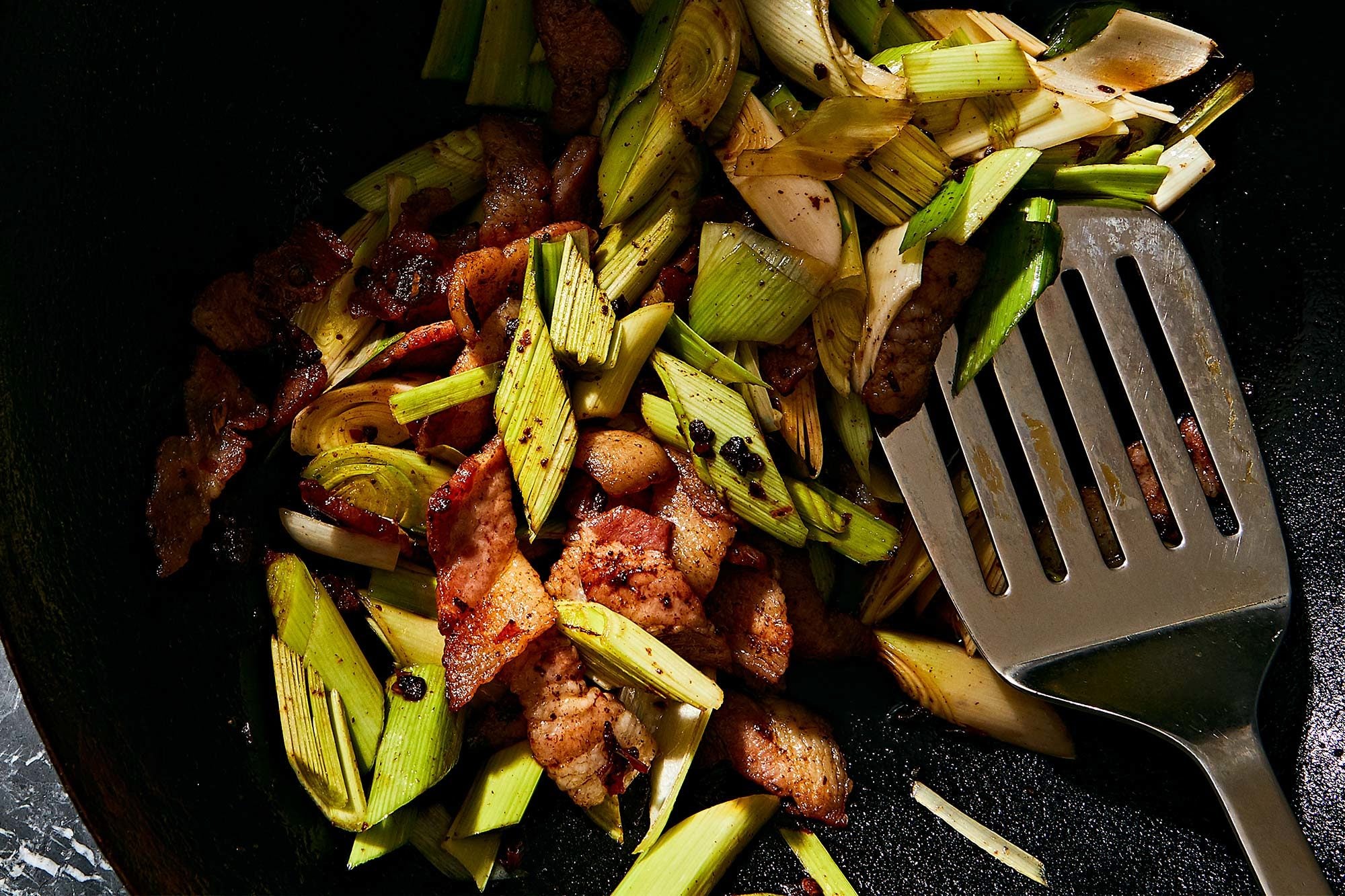 Two ingredients deliver all the smoke and satisfaction of Hunan-style stir-fry.
Leeks and bacon. It sounds like the start of a great dish, but what if that was basically it—kicked around in a smoking-hot wok with garlic and some liquid to strip all the flavors from the pan? Then it would be pretty close to a common Hunanese dish of leeks and smoked pork called larou, made with a distinctive charcuterie from the region.
Called "December pork" because it's traditionally made in the winter, when cooler temperatures allow for dry-curing outside, larou can be hard to find in the United States. You can usually spot these reddish-stained, hardened hunks of cured pork in vacuum-sealed packages at large Asian supermarkets. The south-central Chinese province of Hunan is not the only place it's produced or enjoyed nowadays, but it is its spiritual birthplace. And the slender, deep-green leeks typically used in this stir-fry are not quite the same as the chubby, pale leeks that dominate markets here.
These are details, some might say, that would make or break a dish, but at a certain point, trying too hard to find the right ingredients becomes antithetical to the simplicity of the original thing. And so I use thick-cut American bacon and American leeks in my stir-fry, and it turns out to be something very close to the original—a marriage of smoky, cured pork and sweet, green allium.
It takes just seconds to cook. The leeks are chopped into inch-long sections—halved lengthwise, too, for large ones. In kitchens throughout China and Taiwan, an equal amount of larou would be thinly sliced to about the same length; for bacon that's already sliced, I just cut it into inch-long sections. I'll skip a fresh chile for a dab of fermented chile bean paste, doubanjiang, which adds both salt and pronounced spice. On hand, sliced garlic and michiu, clear rice wine, await the wok. Once the oil in the pan is hot enough, all systems are go: bacon, leeks, garlic, stir. Wait. Doubanjiang, rice wine, stir. Taste. The finished dish should be pungent and fatty enough to serve with a much greater ratio of plain white rice.
My grandparents on my mom's side were both originally from Hunan province before fleeing to Taiwan with China's Nationalist Party. But my grandmother's palate never really left Hunan, according to my mother. She carried hot sauce in her purse and braised pork joints in soy sauce until they glistened red as larou. She also tried to hang marinated pork belly to cure in the manner of larou from her clotheslines in Taipei, but it was much too humid there for it to work well.
In my mother's kitchen in New Jersey, spicy, marinated pork-and-vegetable stir-fries play out like variations on a theme. There might be diced ham in fried rice, and there might be slivered five-spice tofu stir-fried with leeks, but she never cooked with larou—nor with bacon. So the first time I tried larou and leeks at a Hunanese restaurant in New York, it was pleasantly smoky, fatty, yet familiar. Chasing a flavor profile in lieu of exact ingredients, you can experience it at home easily, too. When it's as good as this dish is, the little details matter less.