A Cake to Snack On (and On and On)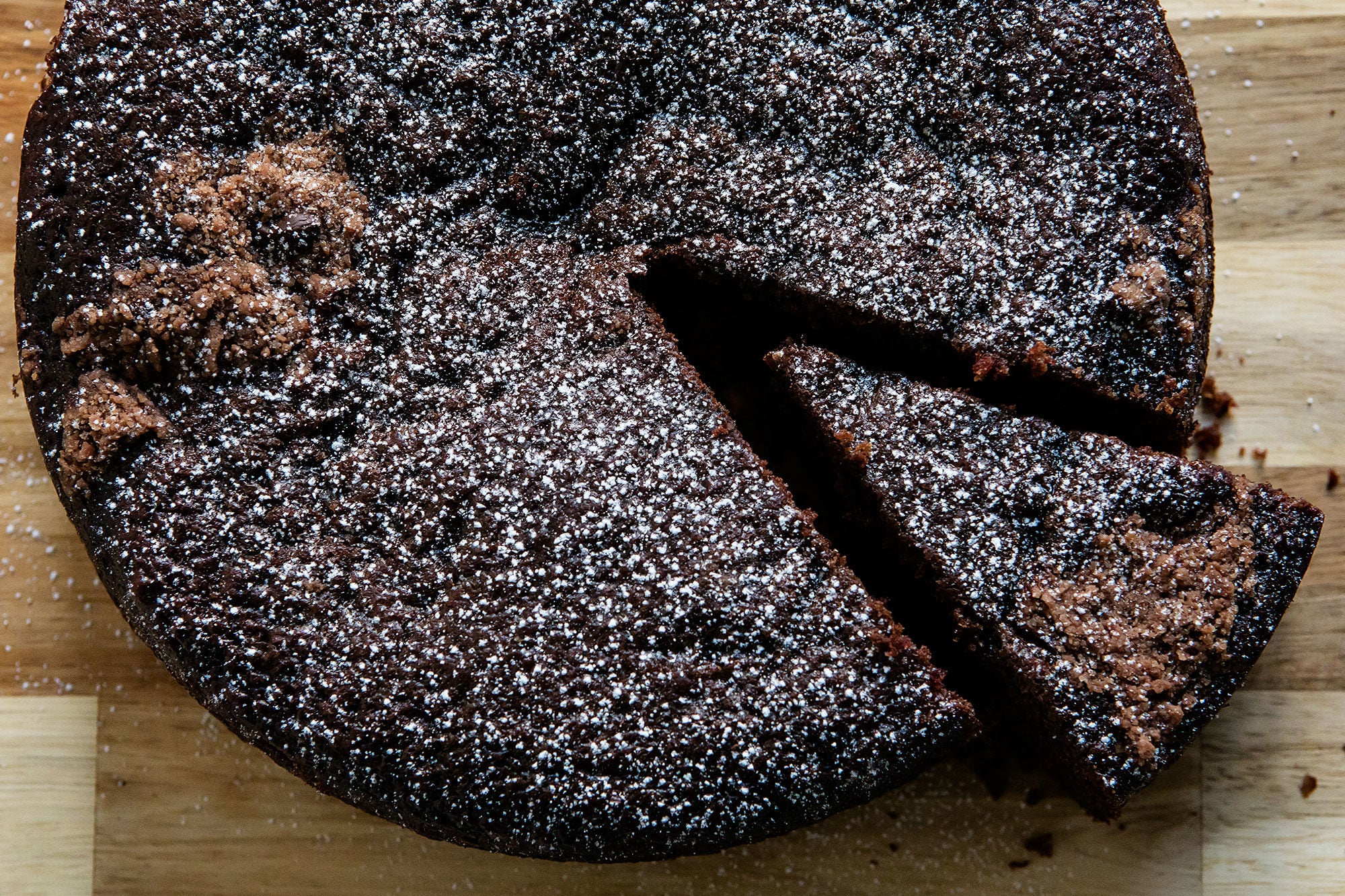 Simple and adaptable, everyday snacking cakes are perfect for chiseling away at over the course of a week.
A simple snacking cake recipe won't ask much of you. It will bake as a single layer and require no special knowledge or equipment. Two bowls, a whisk, and any common baking pan are all that will litter your sink in the end. You'll likely have all the required ingredients in your pantry and, over time, commit the recipe to memory. Perfect for the impatient home baker, these minimal cakes don't need time-consuming, extravagant toppings, though they aren't opposed to them—a dusting of confectioners' sugar, a lightly flavored glaze, an à la minute syrup, or a dollop of whipped cream are all easy enough.
In the United States, these unfussy cakes have quietly begun grabbing attention away from the over-the-top bakes of recent times: frosting-piled, sprinkle-filled, reality-TV-inspired sugar bombs. With the sweetness curbed, they can be eaten anytime, on any occasion—a sliver with the morning coffee, a sturdy afternoon pick-me-up, or an undemanding dessert that will please any and all. Recently, Melissa Clark praised snacking cake in the New York Times; we both chatted about the style for The Splendid Table. Also in the Times, Dorie Greenspan resurfaced her classic lemon spice visiting cake.
So why is America having an awakening to this old-school style of cake? While researching my book Simple Cake, cultural historian Alysa Levene, author of Cake: A Slice of History, explained to me the progression of cake from special occasion to everyday food: In the late 19th century, as industrialization progressed in the U.K. and workers began commuting away from their homes, dinnertimes shifted to later in the evening, and the tradition of tea—alongside a slice of something sweet—arose to sate afternoon cravings. Perhaps something similar is happening amid 21st-century America's infamously overworked citizens.
Growing up in Australia, a Commonwealth country that took its baking cues from the English, I also experienced cake as an everyday snack that coincided with the afternoon ritual of teatime. However, the antipodean version is a little more laid-back. We didn't worry about the tablecloth or bone china; instead, we sliced it straight from the cooling rack or bundled it up to take to the park or a friend's house. Most households had a handful of trusted versatile cake recipes: chocolate and vanilla, something citrusy, a fragrant cool-weather number. I've lived in the United States for the last 13 years and still regularly bake my stepmother's coconut cake, a handwritten copy of which she gave to me before I left Sydney. For me, cake is more than a snack. It's a bite of nostalgia.
At Bourke Street Bakery, the iconic Sydney institution, an outpost of which recently opened in New York, Paul Allam has been baking a simple butter cake, similar to the cakes we both snacked on after school growing up. When the base of the cake is moist, flavorful, and not overly complex, it becomes extremely adaptable. Depending on what's available at the farmers market, Allam will add pluots, apricots, peaches, raspberries, and blueberries, allowing their singular seasonal goodness to shine. He advocates for "not overcrowding the flavor profile." At Lilia Caffé, Missy Robbins's all-day outpost in Brooklyn, a slice of the unadorned, moist, golden olive oil cake is well paired with an espresso to go—the same can be found up the street at Archestratus Books + Foods in Greenpoint. This summer, Talbott & Arding, the provisions and catering company in Hudson, New York, baked simple citrus loaf cakes topped with bursting seasonal berries, their buttery crisp topping reminiscent of a summer cobbler.
Perfect day or night, with or without a topping, snacking cakes make everyone happy. My own dark, not-too-rich, chocolaty chocolate cake falls within the realm of snacking cakes—baking well in ramekins, a loaf pan, or as a sheet cake; the next time you have friends over, serve it warm with a dollop of Nutella whipped cream or Toblerone ganache and a glass of something bubbly. Or lighten things up with my lemony yogurt cake, topped with fruit crumble and a scoop of ice cream or tangy yogurt whipped cream.
Treat these simple cake recipes like good friends: Keep them close; spend time with them often.