Less Meat, More Kale: It's How to Cook Without a Book 2.0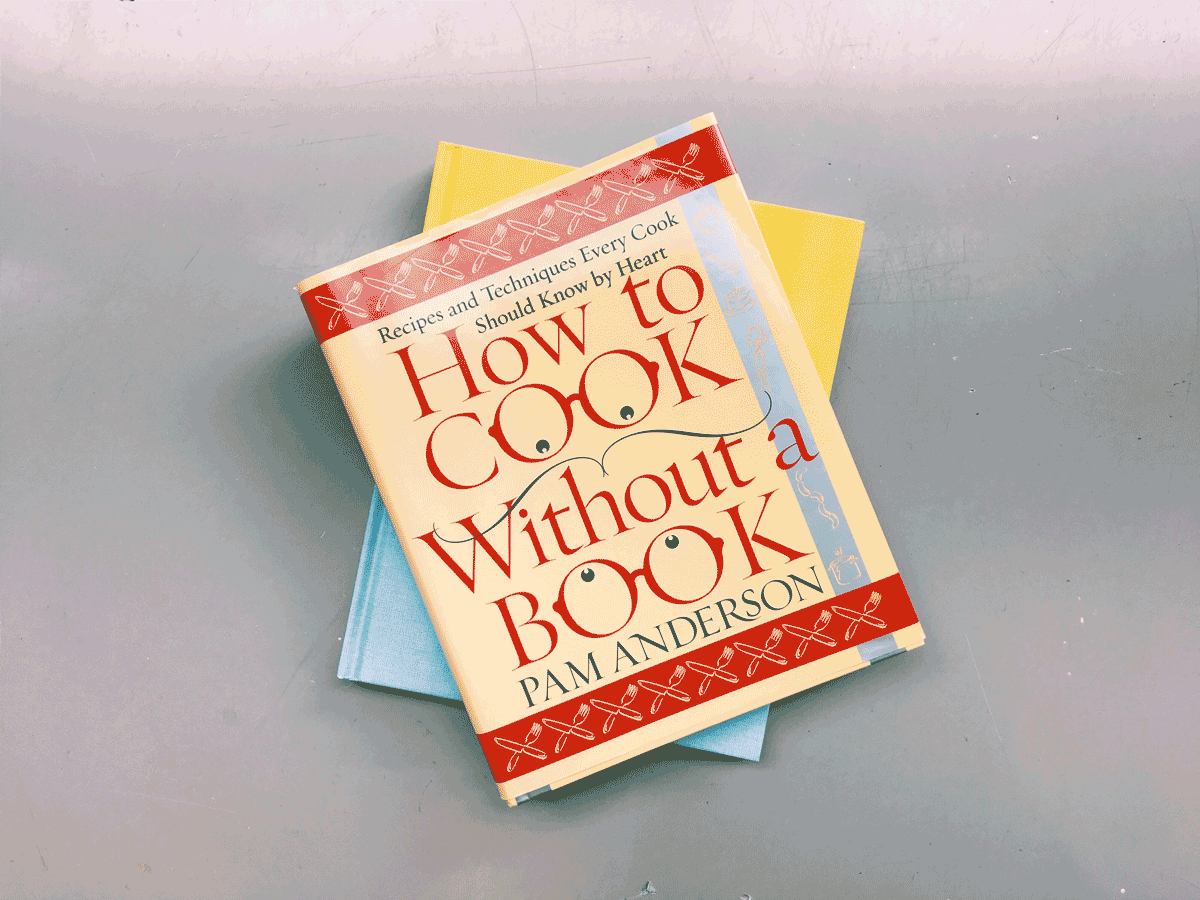 When the best-selling non-cookbook came out nearly 20 years ago, it proposed a new kitchen psyche for the new millennium. But the way we cook has changed a lot since then.
The whole concept might sound absurd on its surface—buying a cookbook that tells you that you don't need a cookbook. But when Pam Anderson, a former editor from Cook's Illustrated, published the first edition of How to Cook Without a Book in 2000, it quickly became a runaway hit and a New York Times best-seller.
The premise was simple: a set of techniques and templated recipes that would help you transform whatever you had lying around in your refrigerator into dinner. Leftover spiral ham? Here's how to turn it into an omelet or a potato soup. Leftover cooked spaghetti? Here's how to turn it into a pad Thai that will taste very different from the mushroomy pasta you ate last night. Rather than sending readers out on an obsessive hunt for a lengthy list of ingredients, the book was built around working with what you have, adapting, and building confidence around your own instincts in the kitchen.
Almost 20 years later, Anderson has released a completely revised edition, channeling the spirit of the original but updated to reflect everything that's changed in American home cooking—and Anderson's own home cooking—in the past 18 years. "When I first wrote How to Cook Without a Book," says Anderson, "it was a moment of change in the way I needed to cook, and that's always how I've known when it's time to write a book." Gone from the new edition are the chapters on potatoes, omelets, ravioli, and (cough) lasagna. There's a little less meat and a little more kale. Also new to the scene are chapters on grain salads and one-roasting-pan meals.
For Anderson, these are changes reflecting not just the overall home-cooking zeitgeist, but the way she cooks in her own day-to-day life. "Occasionally I still do a protein-at-the-center-of-the-plate kind of meal," she admits. "But now it's more beans, grains, vegetables, one-pot, one-dish, one-sheet-pan, vegetable-heavy kinds of meals."
It's true. The same original sense of resourcefulness and practicality is present in the new book, but you can see a slight shift in the author's worldview. In the original edition, a can of San Marzano tomatoes in the cupboard could mean a topping for chicken or an olive-filled pasta sauce. But in 2018, American cooking is about more than boneless chicken breasts and Mediterranean flavors. In the new edition, San Marzanos are a jumping-off point for a rich vodka sauce, or a tikka masala, or an African chicken stew with sweet potatoes and collards.
There are certain foods, of course, that American home cooks have been cooking for more than just the past 18 years and that they probably always will cook. From her own personal repertoire, Anderson is pretty sure she'll never get sick of the Union Square Café bar nuts, spaghetti Bolognese, chicken noodle soup, simple tomato sauce, and bread.
But there are a few holdovers from the 1990s that Anderson is ready to phase out. For one: diets that hinge on animal protein. "That's not a sustainable way of life, and it's not good for the planet," she says. The other one is what Anderson describes as a fear of food. "That's a trend I'd like to see go away," she says. "Food should be pleasurable, something that unites us."
Photo by Denny Culbert