When Pizza Met Hot Honey: A Love Story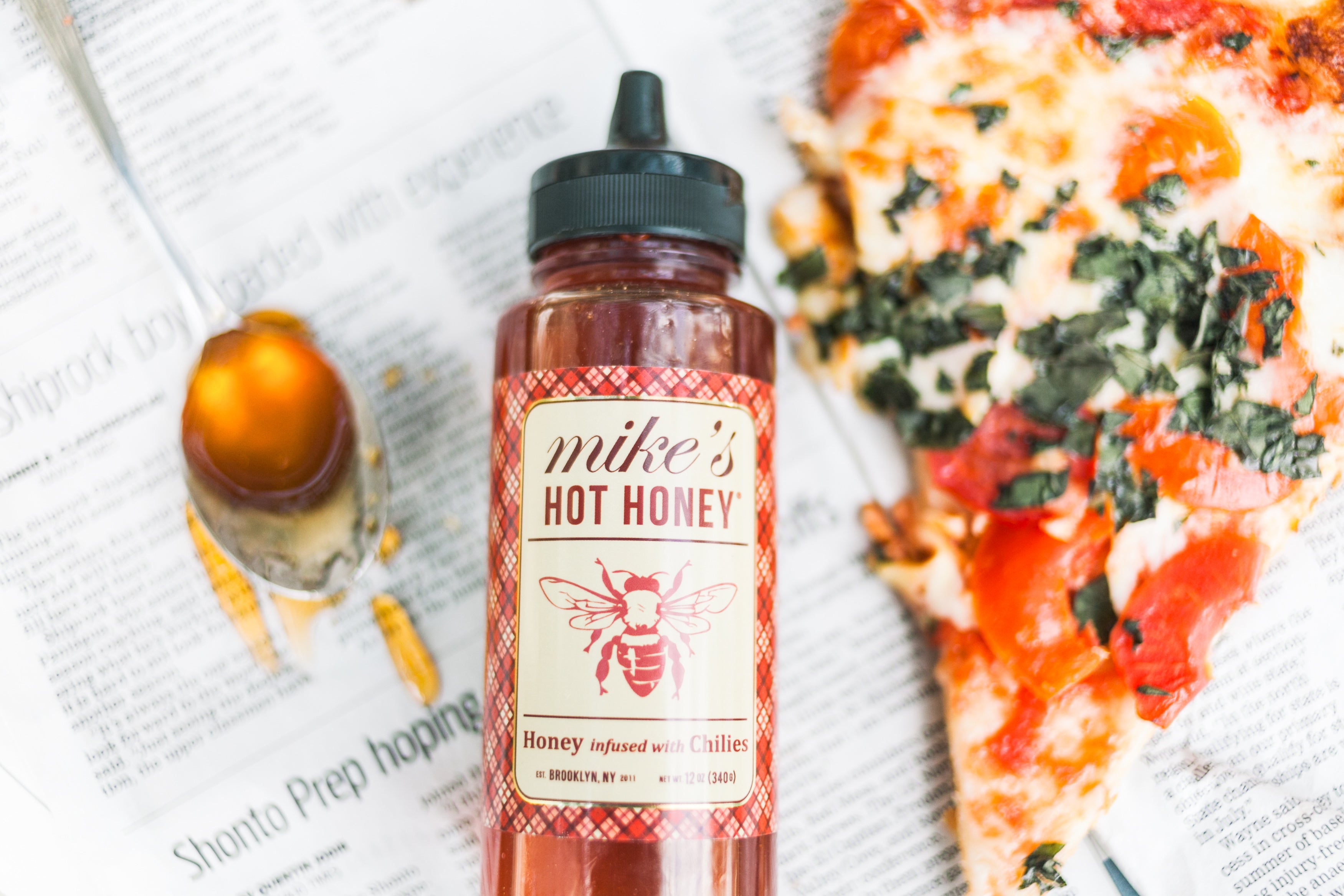 Whether drizzled on pizza, poured onto ice cream, or stirred into a cool-dude cocktail, hot honey makes many things better. But you knew that. It's nearly ubiquitous in the country's better pizzerias and has landed on food trend lists for half a decade. But here's the thing: Hot honey is not going the way of the ramen burger. It's here to stay.
The hot honey boom can be traced back to a guy named Mike Kurtz, who in 2003 was a pizza-loving college student studying abroad in Brazil. Hiking in Bahia, he came upon a pizzeria that offered guests a jar of spiced honey with whole chile peppers submerged inside. Kurtz tried it and was amazed. "I drizzled the honey on the pizza, and it was a revelation," he says.
"The heat makes it ideal for foods that have a bit of fat because it cuts right through it."
When Kurtz returned home to Brooklyn, New York, he began a career in the music business while moonlighting in the kitchen, experimenting with honey-chile infusions. For nearly six years he toiled away, giving small bottles of his hot honey as gifts for the holidays. In 2010, he read about Brooklyn pizzeria Paulie Gee's and, after visiting, was so inspired by the quality of the pies that he asked to be an apprentice. A few months into the gig, he brought the honey. The owner, Paulie Giannone, loved it and Kurtz began making it for the restaurant, resulting in its most popular creation: the Hellboy Pie. The pizza features mozzarella, tomato, soppressata picante, Parmigiano-Reggiano, and a hefty drizzle of Mike's Hot Honey, which is drizzled on the pie when it's bubbly and fresh out of the oven.
Since the Hellboy debut, Kurtz, still living in Brooklyn, has streamlined production to meet demand. He works exclusively with family-owned Stiles Apiary from New Jersey for his honey and steeps it with Brazilian chile peppers. Despite the product being out for several years, its popularity continues to skyrocket. "We have been doubling our sales every year since we started," he says.

These days, Paulie Gee's is not the only pizzeria in on the hot honey craze. It's a national phenomenon on menus including Roberta's in Brooklyn, Pi Pizzeria in St. Louis, South Creek Pizza Co. in Reno, and Ken's Artisan Pizza in Portland, Oregon.
Cully Eisner-Terrill, the grocery buyer at the Brooklyn Kitchen, a general store and center for culinary education in Williamsburg, admits she will no longer eat pizza unless she has some hot honey to zigzag over the top. "It can be a broccoli rabe and sausage pie or a simple margherita," she says. "I won't eat pizza without it."
Eisner-Terrill stocks both Mike's Hot Honey and Bushwick Kitchen's Bees Knees Spicy Honey at the Brooklyn Kitchen and says it continues to fly off the shelves. It consistently scores a spot on the store's top 10 product list. She attributes the honey's appeal to its versatility, but also to its sourcing (both Mike's and Bees Knees are made with wildflower honey from local apiaries).
In addition to pizza, Eisner-Terrill says customers love it on fried chicken and waffles, paired with cheese plates, drizzled over roasted vegetables, and whisked into salad dressings or marinades for chicken and salmon. "It's an approachable product," she says. "People know honey, and they are really excited about it. The heat makes it ideal for foods that have a bit of fat because it cuts right through it."
Cold comfort foods also work well with the honey's sweet heat. Mike's Hot Honey is spun into milkshakes at Bareburger and is used in a new honeycomb candy ice cream from Ample Hills called Hot as Honey. Sam Mason, the James Beard Award–nominated chef of OddFellows Ice Cream, uses Bushwick's Bees Knees honey in a spiced ice cream. "We love doing something unexpected," he says. "The Bees Knees flavor is not just a slight bit spicy — it has a real genuine kick to it."
Hot honey has also become a darling of the craft cocktail set. At Brooklyn's Butter & Scotch, a bar and bakery owned by Allison Kave and Keavy Landreth, Mike's Hot Honey is used in the Honeychile Rider — Dorothy Parker Gin, passion fruit syrup, hot honey simple syrup, fresh lemon juice, and bitters. "It has become, by far, our most popular cocktail ever," Kave says. It's also in a Jell-O shot made with Owney's Rum, coconut cream, peach liqueur, peach puree, and lime, set with gelatin in hollowed-out peach halves. Kave's newest creation is called the New Phone Who Dis, a long highball made from Espolón Blanco tequila with Mike's Hot Honey, pink grapefruit liqueur, and lemon.
Kave says the best way to use hot honey in a cocktail is to turn it into a simple syrup (recipe below) so that it properly dissolves. She also warns that hot honey can be overpowering in a cocktail and suggests having a plain simple syrup on hand to dilute as needed. "I love the spice," she says, "but you don't want people to get heartburn."