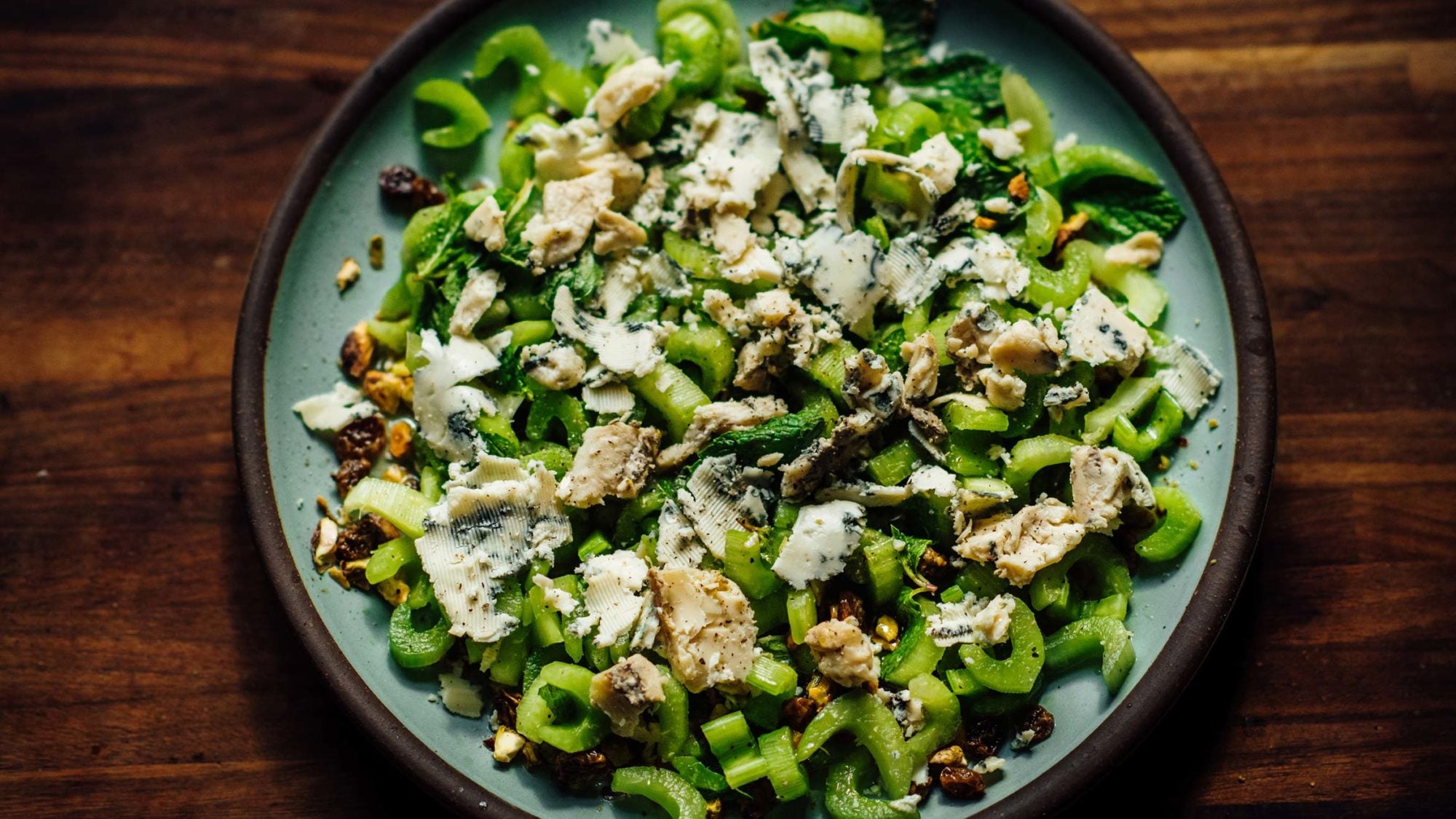 It's the versatile, fridge-stable vegetable we all need more of right now.
A few weeks ago, back when we were all still cavalierly hopping onto crowded trains for hour-long commutes and making impulsive stops at the grocery store every other day, I picked up a bunch of celery. Hungry for a crunchy salad tossed in a peppery sherry vinaigrette, I had no idea that I would be clinging to that bunch of celery for the next two weeks solid, chiseling off a stalk here and a stalk there for slaws, pickle-y garnishes, and full-bodied chicken stocks—to fill in the gaps before a tricky, and possibly dangerous, trip to the grocery store.
Celery may have its chorus of detractors—innocent civilians who suffered through a few too many ants on a log as children, or who associate the vegetable with those miserable and oh-so-fibrous low-calorie diets. But when you pamper your celery, it can be as luxurious as a leek, as crisp and refreshing as a breakfast radish. And if you know how to cook with the whole thing, nose to tail, you can make that $3 bag go very far.
"Aside from mirepoix, tuna salad, or the garnish for a Bloody Mary, it's often overlooked," says cookbook author Molly Stevens. "I'm a big fan of both its bright minerality and crisp crunch." Stevens has snuck at least one celery recipe into each of her three cookbooks, taking the shape of a braise topped with bread crumbs, a salsa verde made from the leaves, and a salad with apricots and candied almonds in the case of her most recent book, All About Dinner.
When you pamper your celery, it can be as luxurious as a leek, as crisp and refreshing as a breakfast radish.
In its raw form, a bit of acidity and sugar (from the addition of ingredients like apricots or punchy vinaigrettes) can help balance out the stalk's natural bitterness. A delicate celery salad from the Estela cookbook by Ignacio Mattos achieves this by soaking some raisins in vinegar before layering them with a creamy blue cheese, fresh mint, and toasted pistachios.
Lukas Volger included a celery and raw mushroom slaw with sesame seeds in his latest cookbook, Start Simple, but says that he's been using the vegetable more than ever in recent weeks as a quick garnish. "I shave it thin and toss it with some acid and salt, and then scoop it on top of a bowl of beans, stews, soups, grains, even toast with a fried egg," he says. And when the celery starts to lose its rigidity after a few days in the refrigerator, he recommends bringing it back to life by soaking it in ice water for a few minutes before using it.
Chef and cookbook author Bryant Terry offers another textural trick in his latest book, Vegetable Kingdom, which contains a recipe for a celery salad with charred lemon oil and parsley. Use a paring knife to get between the tough ribs that run along the outside of the stalk, and peel them away. This extra bit of work means that your finished product will be string-free—less of a concern if you're shaving your celery thinly, but especially handy if you're using longer segments in a stir-fry or a braise, like this classic Marcella Hazan recipe.
When you've worked your way to the tender, leafy stalks at the center of your celery bunch, resist the temptation to throw them away. The hearty, flavorful leaves last longer than your average bunch of parsley or cilantro, and they're great for scenting delicate broths or herby sauces like Stevens's salsa verde.
"People always throw them out, but you can make the most amazing celery salt with them," says Heidi Swanson, the author and blogger behind 101 Cookbooks and the cookbook Near and Far. The process is as simple as drying out the leaves in a low-heat oven, then crumbling them by hand with some of your favorite flaky salt. Swanson loves to sprinkle the end result onto bean or grain salads. Even long after you've said goodbye to the last stalk of celery, you'll have the flavor to hang on to a little longer.