How Do You Make a Kitchen Your Own?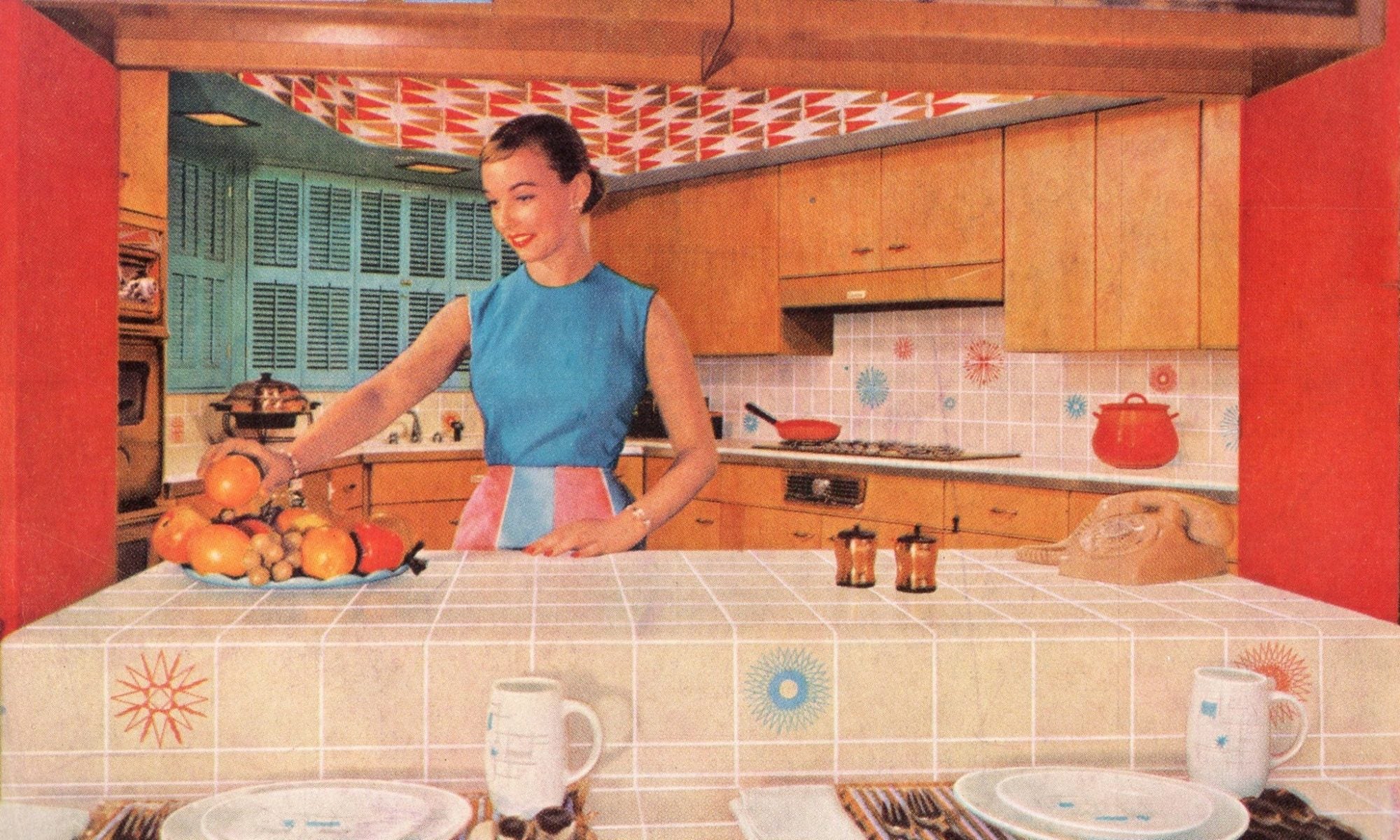 For some, it may be a central appliance or a beautiful knife. For others, it's not quite so tangible.
Jackson Pollock was a baker, often conjuring apple pies in his kitchen, which was famously strewn with handwritten recipes on paper pilfered from his psychiatrist's office. Frida Kahlo's sunflower-bright kitchen wall was festooned with tiny pots that spelled out her name and that of her husband, Diego Rivera. Much like its owner, a kitchen is a panoply of concurrent things, a physical food-space overlaid with intangible import. It's a space that's defined by the person occupying it—complete with their clutter, their handwriting, and their cooking.
As a five-year-old in summery coastal Maine, I miraculously received a shopping list handwritten by Julia Child. I'd obtained it through an invented game in which I demanded a "pass" (in reality, any receipt or slip of paper would do) from anyone crossing "my" sidewalk. At the time, Julia was a fairly common sight strolling along Main Street, visiting often and staying at her husband Paul's family summer home.
"I think I have something!" she trilled, amused, passing me a slip of paper as my horrified mother watched, agog at my gall. I deemed it satisfactory, handing it to my mom, and Julia continued on her way.
But what should've been revered, a framed totem hung prominently in each kitchen of every apartment I would ever live in, eventually was lost to life's clutter. Looking back later, I thought of how that list might have inured my kitchen, adding a "Bon appétit!" blessing to meals solely through its osmotic presence. It was foolish, but the idea charmed me. With that list, I'd have something to make my kitchen wholly unique.
Still, years later, I moved to New York without it, acquiring things (a marigold Le Creuset saucepot, a lusciously curved paella pan, wafer-thin wineglasses that shattered at a glance) along the way. Though I use them all, they're ultimately not that different from the pots, pans, and glasses that every other young food enthusiast in New York has in their kitchen.
Gazing through history's lens, one sees that the traditional kitchen hallmark before gas ovens and electricity was the hearth, which provided a warm gathering place as well as a functional tool for cooking. It's a necessity that's continued to inspire: "The smell of a woodfire awakens people's senses," enthuses Alice Waters in Coming to My Senses. Speaking about that impactful transformation, she outlines how installing a fireplace in the kitchen of the famed Chez Panisse became an agent of constant change for her as a cook. The hearth was a tool, but it was also the kitchen's beacon and centerpiece.
These days, the home kitchen has evolved from its rusticity, often presenting with convection ovens, striated granite countertops, and the mass-produced hominess of Ikea butcher blocks (shout-out to the sturdy Bekväm, on whose unvarnished wood you've likely diced garlic at some point in your life). In an age where our cupboards conceal those cloned KitchenAid mixers and minimalist Target dishes, what really makes a kitchen? What sets one kitchen apart from the next, or provides soul or warmth?
It may be overly reductive to think that you can imprint your personality upon a kitchen with any one object, whether it's an elemental oven, a Ginsu knife, or a handwritten shopping list from one of your heroes. For some, it has more to do with the particular movement and flow of their space.
When food writer Ruth Reichl wanted to build a new kitchen in her Hudson Valley home that felt like her own, she simply had an architect build the kitchen around her body, standing in the middle of the room and stretching out her arms to indicate where every appliance should be placed. But at the end of the day, most people live in homes with kitchens that were not contoured specifically to fit their body or how they move in the room.
After Jon Child (Julia's nephew and an avid cook himself) moved into an upstate New York farmhouse, he began to notice that the kitchen had one corner with its own gravitational pull, a space that everybody seemed to drift toward. "Working in that kitchen, we were always bumping into each other! Everybody wanted to be in the corner between the stove and sink. You wanted to lean into that corner and occupy it," he told me recently. "And we discovered that the woman who designed it had a wooden leg—so you've got one corner, and you lean into it, and you've got everything right there. The kitchen was telling me that."
As much as I adore this idea of customization (is Cribs: Just the Kitchen a thing?), I'm not about to redesign mine around my unwieldy kitchen table, or that sole-survivor wineglass. I doubt my fourth-floor neighbors would welcome a fire pit smoldering through their ceiling. But inspired by Ruth's encouragement and Jon's awareness, I find some takeaways. There are ways to embrace my tenement kitchen's individuality. With time and use, I can conform it to myself, but also keep an ear to what it whispers back—even if it's just that using the burners on the right side of the stove leads to scorched sauces and charred cookies. In the farmhouse spirit, I lean into it. My kitchen's more than where the stove lives—it's the space my love for food, and desire to taste new things, inhabits.