Hot Sugar Is the Icing on This Cake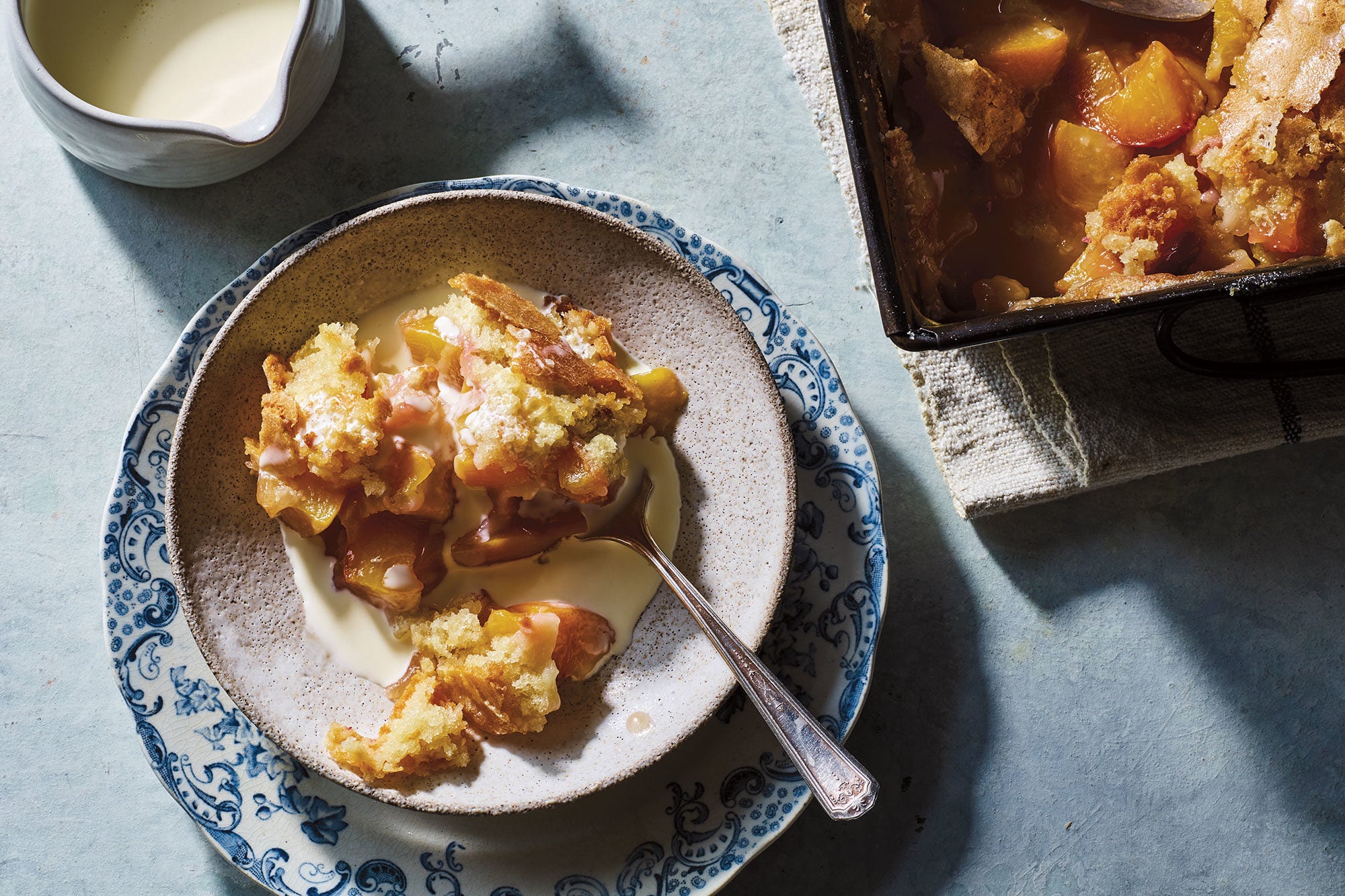 Dump hot water on your cake and watch it crackle.
The layering of textures can be easy to overlook in baking. But don't ignore the power of crunch. A banana bread can go from average to memorable with toasted nuts and shards of dark chocolate. I learned to brulée the top of my bread pudding with a kitchen torch from a Suzanne Goin recipe, and I've never looked back. But it's with a gilding of hot sugar crust—a simple addition of sugar and hot water to the top of the raw batter—that texture can be added to just about any cake or cobbler from the outside in.
For as long as I can remember, I've topped my cakes and quick breads with sanding sugar, a coarse, crystal-like decorative sugar. The large granules don't melt in the oven and add a pretty sparkle and pleasant crunch to everything from the circumferences of shortbread cookies to the golden tops of piecrusts. But Seattle chefs Renee Erickson and Susan Kaplan of Boat Street Café and Boat Street Kitchen cracked a new code in the sugar game. According to Kristen Miglore, who featured their recipe in Food52's cookbook Genius Desserts, Kaplan created a peach cobbler with a shiny, crackly topping created by dousing the cake batter with sugar and hot water before it goes into the oven.
Yes, pouring boiling water over a cake feels like an insane thing to do. But that's exactly the key to creating that perfectly mottled, crunchy, 1/8th-inch candy-like sugar crust.
That's because sugar is hygroscopic. This means it can attract and hold on to water, which is how sugar in a cake batter contributes to its overall moistness. This technique does almost the inverse: When the sugar and water mingle and melt in the oven, they create a shiny, crisp layer that wants to be cracked like the glistening surface of a crème brulée. Some of the water may trickle over the edges into the fruit, but that only contributes to the jammy fruit layer. And in between that wonderful crust and the fruit stew at the bottom is a fluffy and super tender yellow cake that soaks up just the right amount of juice.
In addition to cobbler, the technique is terrific to use with banana bread, pound cake, or apple sheet cake. Hot water poured over a batch of brownie batter covered in a topping of cocoa and sugar results in a self-saucing pudding cake with a crisp crust.
If pouring water directly over cake batter makes you nervous, you can also achieve a hot sugar crust by making a sort of spackle out of sugar and a little bit of water, and painting that over the top of your cake batter cake about 15 minutes before pulling the cake from the oven. It won't have enough time in the oven to create as thick a crust, but it's a pretty good approximation. However, this does involve the precarious work of wrangling a hot, partially cooked cake. Dealer's choice.
Either way, I encourage you to get boiling, and get cracking.